You open up more options when you retouch photos, as you now get access to a collection of visuals that you previously couldn't use and benefit you. By using modern image processing technology, you can not only retouch photos but do so in a concise amount of time. In this top ten online portrait retouchers review, we will be going through a list of photo retoucher apps that will make your images refreshingly new. You can then make use of these images anywhere. When setting up new profile pictures or using them in marketing strategies, prices, and features, information about the apps will be helpful if you know it earlier.
Top Ten Online Portrait Retouchers
The following list contains the best online photo retoucher applications and offline. You can remove acne from the photo and do much more. The list comprises excellent automatic tools such as VanceAI and manual photo editors such as BeFunky. Now let's go through aspects like prices, features, and even the pros and cons of the apps.
1. VanceAI Portrait Retoucher
Price:  $24.99/Pay as you go, $9.99/month, annually plan $4.99 per month.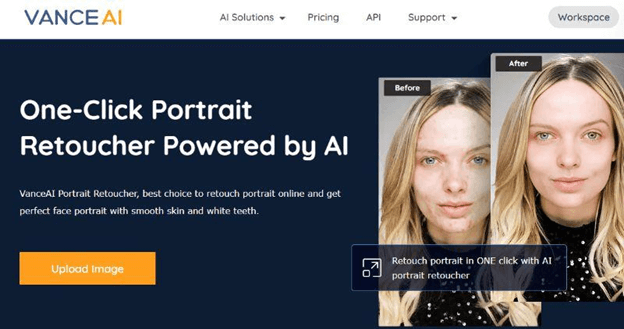 The application offers two features or tools to retouch photos. When you upload an image to the app, you can select either one of the two options. The first option is used to remove image wrinkles from the photo, blemishes, and other issues. The other option is to enhance the quality of the image and portrait simply. The photo blemish remover is powered by advanced AI and Machine Learning, making your job easier and faster.
Pros:
Eliminate fine wrinkles and acne marks

Excellent UI design. 

Enhance facial details and brighten skin radiance
Cons:
More detailed information of VanceAI Portrait Retoucher, also read: This AI Resizes Your Photo to Passport Size Automatically.
2.  Makeup Pho.to
Price: Free/ $4.99-$9.99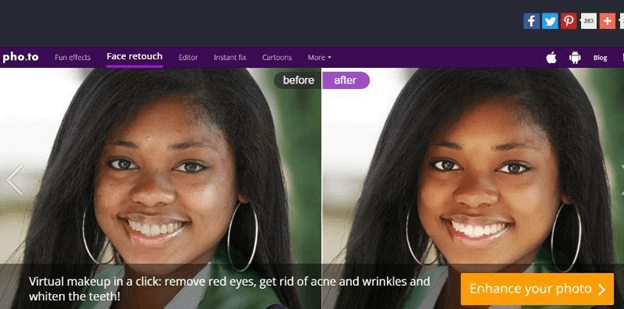 This application is an online portrait retoucher, and it is also available to use on mobile devices such as iOS and Android. This old image enhancer is one of the more accessible apps you will find if you want to retouch photos and enhance them. Talking about retouching photos online with this app, you can click on the upload button and get the image open there. You can use the editor to make adjustments and download the image. The app is mostly free of cost. It contains some in-app purchases on the mobile app version, which can cost anywhere between $4.99 and $9.99. 
Pros:
Good editor mode.

Accessible app. 

Multiple useful features. 
Cons:
Can be unresponsive. 

No automatic processing. 

It can be buggy.
3. 
Fotor
Price: While most of the features from this app are completely free to use, a few exclusive ones require a subscription. However, the Pro version can be bought for as little as $2.67 per month.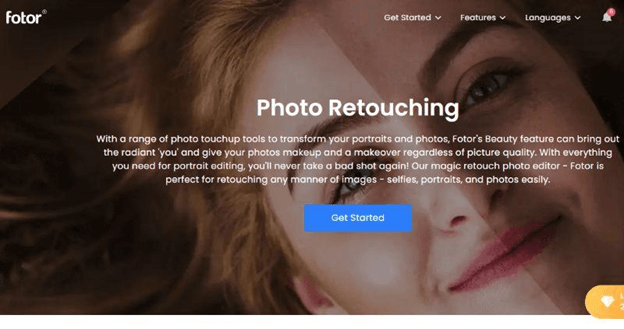 Fotor is a top-rated and helpful image editing platform wherein you can do everything from image cropping to removing acne from faces. Another aspect of this app that pulls in many users is that it is relatively simple to use. You need to pull the slide bar and watch as the app changes the image to remove acne from the photo. 
Pros:
Comprehensive app. 

Many features.

Pretty much free to use. 
Cons:
It can be buggy. 

The UI can be unresponsive. 
4. 
AI Face Retouch
Price: The app offers up to eight free credits that you can use for any of its features and tools. The paid options begin from $9 per month and go up to $19 per month with more credits and features.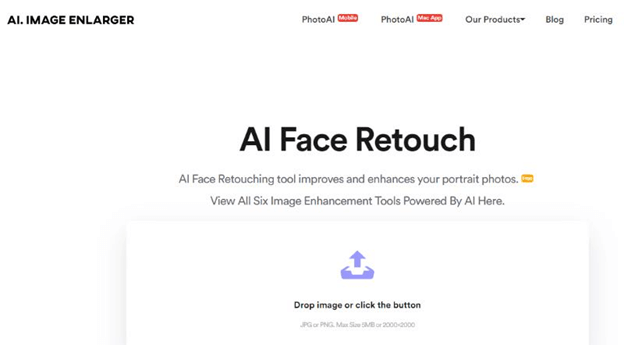 This online platform offers multiple image enhancement and editing options, so users can make a note of this platform and use it for different purposes. When it comes to portrait enhancement, this app is pretty decent. Thanks to AI-based technology, it can provide stunning results and do so within a few seconds.
Pros:
Multiple features. 

Quick processing. 

Good UI design. 
Cons:
Results can sometimes be underwhelming. 

Can offer more retouch options. 
5. 
BeFunky
Price: The paid options for this online retouch photos app are $4.99 per month for the annual and $9.99 for the monthly plan. Although, most features are free to use.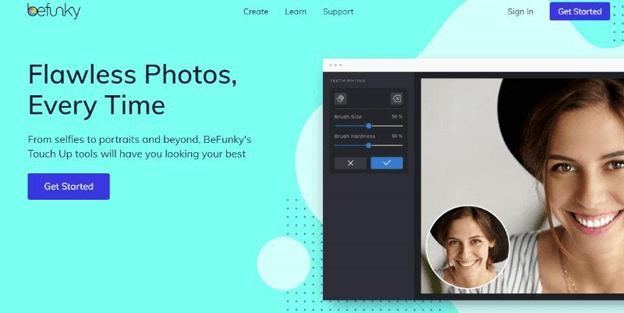 BeFunky is a relatively popular online platform not just for image editing but also for beautification methods for images and visuals. With the editor mode, you can change your photos limitlessly. To remove acne from the picture, select the preferred look and apply it. The app is easy to use and navigate suitable for everyone.
Pros:
Intuitive design. 

The editor offers good performance. 

Excellent features. 

It can add more options to retouch photos. 
Cons:
6. 
Phowd
Price: The pricing you incur from the app's services depends on your order. If you do a simple correction that requires the least resources, you will only have to pay around $0.30. The price goes up as the complexity of the work does.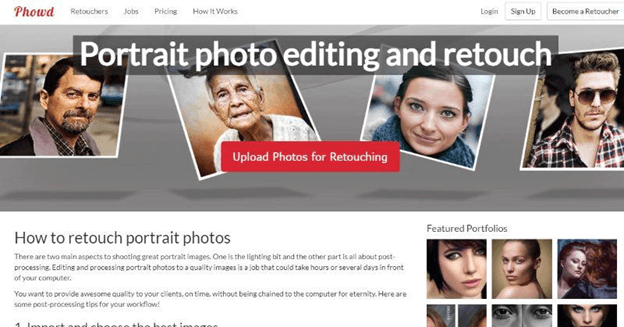 Phowd is a unique app as compared to the others on the list. Here, there is no machine or AI that processes your image to enhance or fix it. Instead, the picture will be given to a human expert who charges a dynamic amount for services. Regardless, the platform is easy to use, and you need to upload an image and find a widely available expert.
Pros:
Unique platform. 

Available service. 

It can potentially be the most affordable option. 
Cons:
Not suitable for beginners. 

Relatively time consuming and costly
7. 
Photza
Price: Like the previous app, Photza can retouch photos through experts. Three payment options cost $3, $9, or $15, depending on your requirements and features.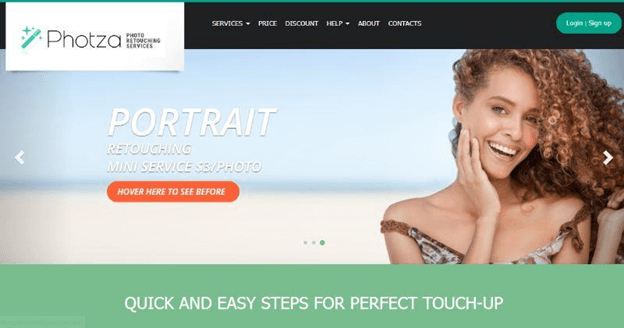 The way this website works is pretty straightforward. Users simply have to upload their images on the website and type in the requirements and preferences. The image will then be up for view by the experts. Someone will work on it and send it over to your profile. You can then download the image. Not to mention that they work on RAW files, making your job easier.
Pros:
Good app system. 

Good results. 

Nice UI design. 
Cons:
No automatic processing. 

Very expensive. 

Can add more communication features. 
8. 
Cutout.pro
Price: The app offers a few free image credits to users to try out. As for the paid options, you can start with a small $5 plan that gives you 40 image credits.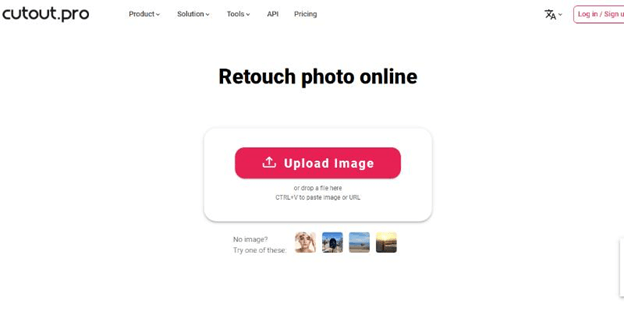 This application is similar to most image editors online because it offers a basic and understandable UI with a few good features thrown in the mix. You can easily upload images or even try out sample images. The app also offers an API version should you need it. 
Pros:
Quick processing. 

Easy to use. 

Affordable price. 
Cons:
It could offer more features. 

Buggy. 

Results can be better. 
9. 
Graphiste
Price: Considering that this platform is an image editing service provider, the charges will depend upon the required task.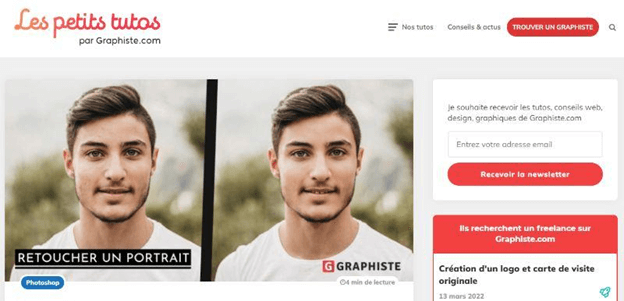 Graphiste is a decently populated website, and finding an expert to enhance your images should not take much time. Of course, you will also need a language translation extension if you choose to visit and use this platform repeatedly since it is originally in French. Other than that, the platform works well and offers good tips on image editing in general.
Pros:
It offers decent service and methods. 

The website runs well and is active. 

Helpful info about image editing. 
Cons:
Not economical. 

It should be available in multiple languages. 
10.
Picmonkey
Price: The app offers up to three paid plans. The Basic paid plan provides almost all of the editing tools for $72 annually, and the plans go upwards, offering more storage and other features.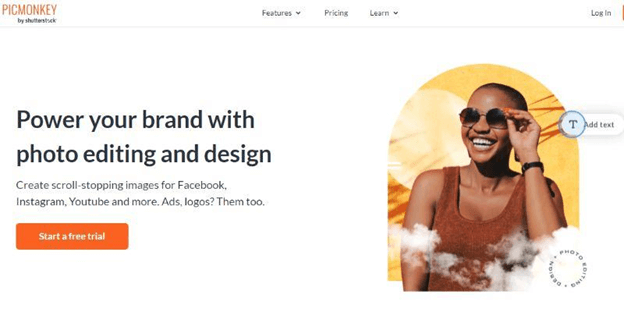 While the platform is a bit more expensive, you can try out a free trial to test out everything and see if it suits your requirements and budget. This platform offers you image editing tools to remove blemishes on the face and more. You can add graphics and select templates, especially for social media. 
Pros:
Many different features. 

Easy to use.

Popular app. 
Cons:
Expensive. 

It has fewer options when it comes to removing acne and similar effects. 
Conclusion
With these applications, you can retouch photos at your own pace and understanding. Many of these apps, such as VanceAI, offer unique AI-based technology for you to simply sit back and enjoy. They are good at providing stunning results at high speed. On the other hand, some platforms instead let you hire experts to handle the work. You can use these platforms effectively if you have a detailed requirement and some time to spare.