Summary: Instagram Logo PNG download websites provide easy access to high-quality images, negating any barriers faced by users when they want to download the logo.
So fore say you are on the internet and search the web for an Instagram logo in PNG; you click on images find multiple photos but are unable to identify the right one. Our main point here is to provide the top 10 Instagram logo PNG websites from which you can easily find out PNG Logos.
All of these websites are easy to use and operate, negating all the possibilities of problems and barriers faced by a user. The images that will be downloaded are available in high definition and resolution pixels.
There could be many websites with those annoying ads popping up and disturbing most often. We will try to portray only those websites that are reliable to use and contain zero or very few ad campaigns (Less annoying). 
Top 9 Instagram Logo PNG Download Websites Review
This complete review is for those who are facing problems finding out the right place to download PNG logos, especially for Instagram.
| | | | | |
| --- | --- | --- | --- | --- |
| Website Name | Image Quality | Ease of Use | Free or Paid | Unique Features |
| Free PNG Logos | High | Easy | Free | Millions of logos available, embed codes for coding and programming |
| PNG Tree | High | Easy | Both | Multiple options for different requirements including vector, clipart, 3D, PSD, etc. |
| Stick PNG | High | Easy | Free | Simple and easy-to-use website |
| Transparent PNG | High | Easy | Free | Provides images in different sizes with high definition results, embed codes to paste onto your blog or website |
| Clean PNG | High | Easy | Free | Contains lots of PNG logos to download |
1. Free PNG Logos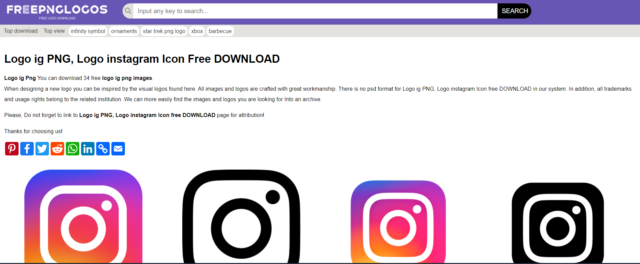 Coming up on #1, This website is free of charge and provides unlimited download access for its users. In order to get the Instagram logo PNG, all you will need to do is open the website and search for Instagram.
Pricing: Free
Free PNG Logos is a great fit if you are looking to get easy access to millions of logos on the internet. The website also contains embed codes to use for coding and programming as well.
2. PNG Tree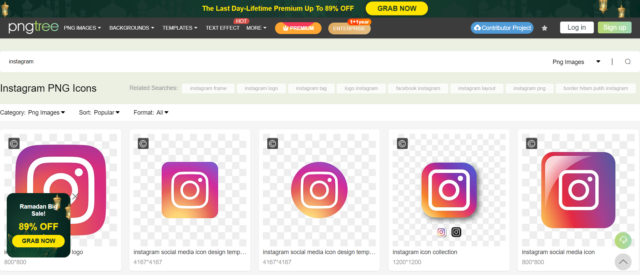 This website is a garden of PNG images containing multiple options for different types of requirements, including; vector, clipart, 3D, PSD, etc. The main categories in PNG Tree withhold many subcategories to meet each user requirement. However, the main concern about this website is its premium features, which come only with a price tag.
Pricing: Premium Started From $59 (3 Months)
In order to enjoy all the craving benefits of PNG Tree, users will have to sign up and pay the minimum starting price. Other than that, some features are completely free to enjoy but still require being logged In.
3. Stick PNG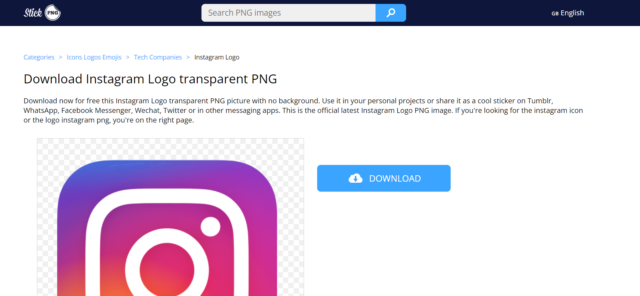 Standing at #3, Stick PNG is another easy-to-use platform that can provide images to download with a single search in its box. There will be multiple options generated in front of you just waiting to be downloaded. Click on the free download button and congratulations, you got yourself a nice Instagram Logo PNG.
Pricing: Free
After the download button is pressed, it will take 10 seconds to start the downloading automatically. All of these features are totally free to get a hold of.
4. Transparent PNG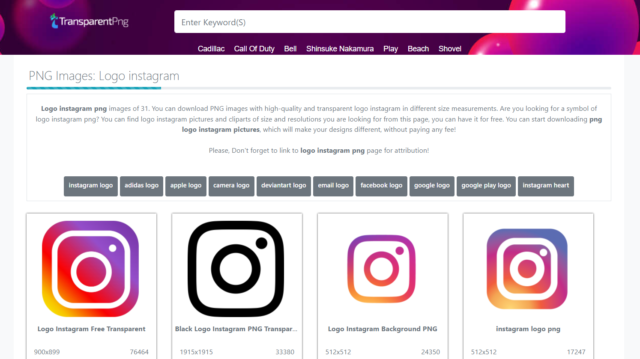 Some people have requirements for different sizes with high definition results. This is exactly what separates this website from many others in terms of competition. Open the website and type in the required keywords, e.g Instagram Logo PNG, once the search is done, you will find hundreds of options to choose from and download for the same category.
Pricing: Free
The listed options will contain their sizes on display. Once you are satisfied with the image, then you can also use the embed code to paste it onto your blog or website.
5. Clean PNG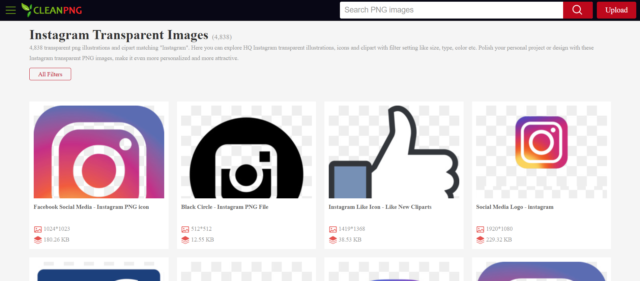 Yet another simple and easy-to-use website that contains lots of PNG logos to download. This free website can be accessed easily, and desired logos can be found using just a simple search bar. Explore high-quality Instagram png Logo illustrations and paste them onto wherever you deem fit.
Pricing: Free
Open it and tap on free download once you have the required logo in front. The file will start downloading automatically.
6. PNG Find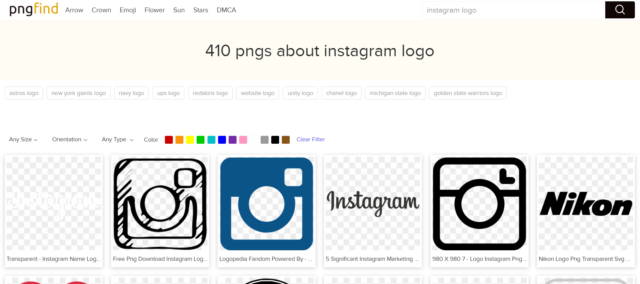 Upload, download & share transparent PNG logos. Just like any other free website, this one is also available to download multiple logo designs with just a few clicks. PNG Find is all about finding the perfect match to your requirements for using in a blog post or creating a brochure, etc.
Pricing: Free
The website will also show which one is operating and running on trends and popularity. There is not an available mention of size on the logos, this can and will be a problem for people that are determined to find suitable options with a scroll of an eye rather than opening each one after one.
7. E-Digital Agency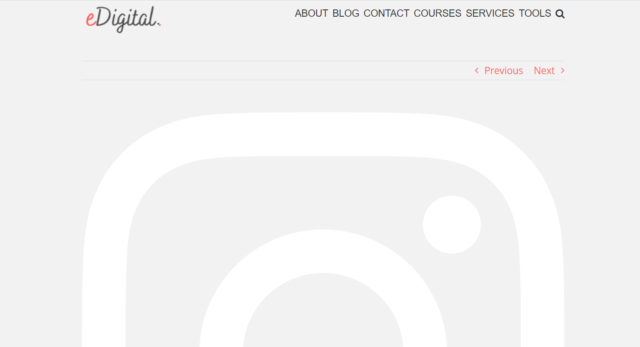 This platform is a go-to website if you require any kind of service for your digital online business. E-Digital Agency is more focused on providing marketing services rather than providing Instagram png logos.
Pricing: Free
The website is great and all, but it doesn't have a lot of options to choose from. There might be a chance that you will find logos here that aren't available anywhere else. Keeping that in mind, the chances for a vices versa are always inevitable in E-Digital Agency. We have yet encountered only a white Instagram logo on this platform.
8. PNG Wing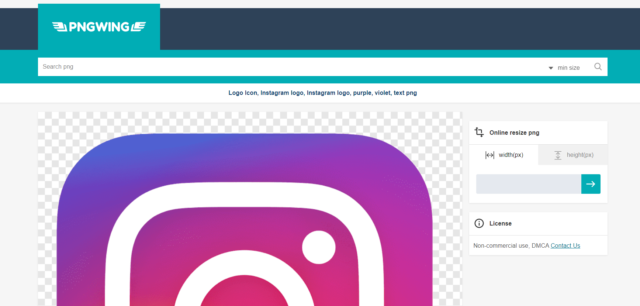 PNG Wing is free and similar to most other websites on this list, and it contains thousands of png logos to download from. Users will be able to find tons of transparent background PNG images from this platform that can get things done easily for a designer or customer.
Pricing: Free

Just like most of these tools, PNG Wing also contains the image information area where the dimensions and size of the picture can be determined. You can acquire access to different picture sizes and dimensions all according to your will.
9. Kind PNG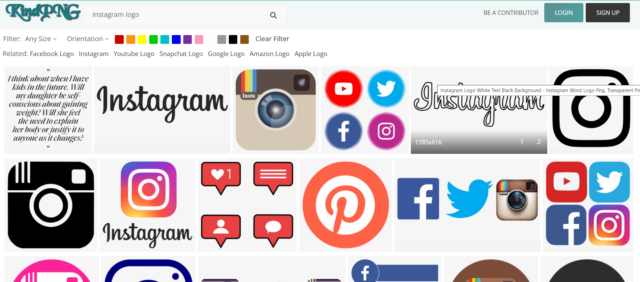 Kind PNG has multiple options available to get their hands on whether options like orientations are horizontal or vertical. You can change the size and color of the products and search for the appropriate ones that you are looking for. On this website, the user will easily download the Instagram logo PNG.
Pricing: Free
At this last stage of the website, the most promising furnishings and decisions towards whether to choose or not are found to be very rational and logical for the time being.
How to Make Instagram Logo PNG White?
Making an Instagram Logo PNG is not an easy task, as a lot of people use adobe photoshop. However, if I were an editor, I would make an Instagram logo PNG white. But for now, all you need to do is give us the potential headings, and we will surely start to support your business in every possible way.
Here's a step by step guide to making Instagram Logo PNG White:
The images are always cropped in the right location here's the best and most to-the-point guide, you will ever receive.
Open VanceAI BGremover by VanceAI.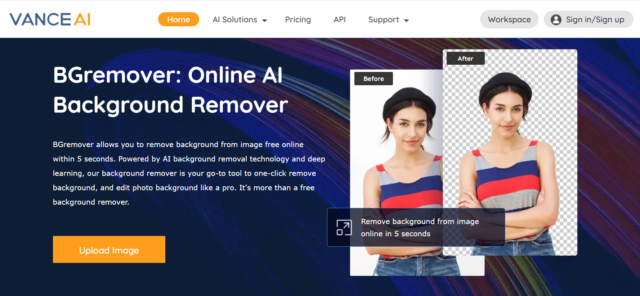 Click on upload image or drag any image onto the opened webpage.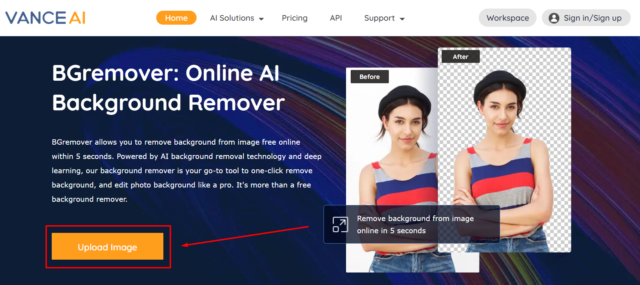 Ensure that the selected mode is 'AI Background Remover'.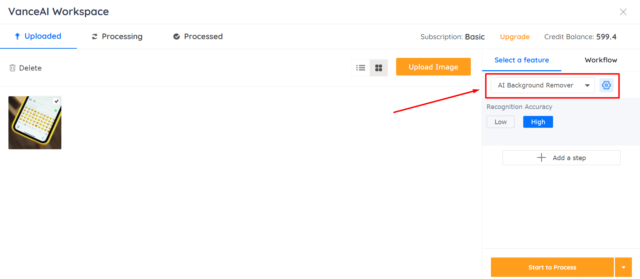 Click the start to process button for proceeding.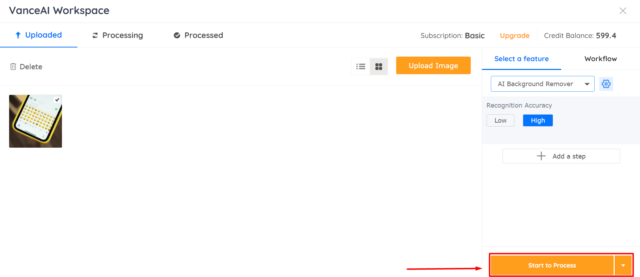 The tool will automatically inform you about the work being done, and you can preview or download the image.
Click on the download image, and you will have it stored in your offline system.
Conclusion
All of these websites are amazing but choosing which is best for you as a lot of people are working based on sick numbers; Free PNG Logos and stick PNG for the welfare of a yet enjoyable evening. However, in order to get one of the finest results, I will recommend the VanceAI BG remover that really sells it and makes our day.
Also rad: Top 10 Super Resolution Image Editors to Help Out Your Trouble.
Q1: Is Adobe a free tool for editing?
Ans. No, Adobe is out of our league as its prices are very high and limited in terms of numbers.