Photo retouching play a vital role in model, fashion, and wedding photography. It is often necessary to retouch photos to enhance image quality and attractiveness. If you looking at how to retouch photos on iPhone there are plenty of options to retouch them without losing the quality of the original image. No worries surely these tips and creative ideas will help you to retouch photos for your brand reputation. You can retouch your photos by improving their color correction, removing pimples, and wrinkles on your face, and adjusting lightening effects and tone to create charming photos on your iPhone.
How to Retouch Photos on iPhone
There are plenty of tools to retouch photos without losing the quality of the original photo on the iPhone. But the fast and efficient tool is VanceAI Photo Retoucher which is a well-designed online tool that offers you to retouch photos online in seconds with unmatched use. VanceAI Photo Retoucher allows you to get the best awesome and outstanding photo with one click. It offers to turn your selfies into attractive photos in a few seconds. You can upload your pictures in bulk and give them an effective look in seconds to make them perfect to share or upload on your social media account like Facebook, Instagram, Twitter, Pinterest, and your photography websites. VanceAI Photo Retoucher is easy to use and is completely safe as any uploaded image is automatically deleted within 24 hours.
When you get a shot where everyone looks awesome, you want to remove unwanted elements, fix lighting, adjust color saturation and tone and change an average picture into something incredible. You can get your dream images with VanceAI Photo Retoucher because it allows you to customize your photos as per your wishes and see photos the way you look. You can also retouch your old pictures and poorly edited pictures with VanceAI Photo Retoucher by removing wrinkles, acne, and unwanted blemishes to give yourself a fresh look every day. Anyone can reach out to VanceAI Photo Retoucher just by signing up and can enjoy its all features to give their photos an outstanding look.
Step 1: Open the VanceAI website
Go to the VanceAI website and click the option AI solutions. Click on VanceAI Photo Retoucher in the dropdown menu. Click on the yellow upload button. Once you clicked a window with the following interface will open on your desktop. You can use a creative VanceAI Photo Retoucher to photos effortlessly.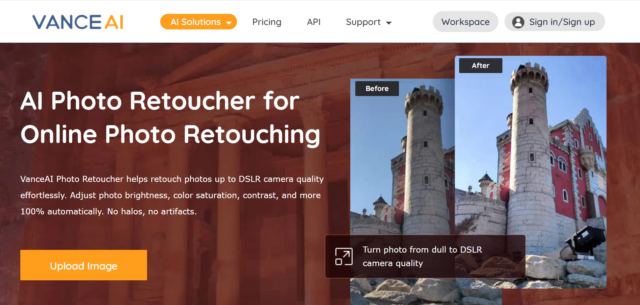 Step 2: Upload the image
Upload the picture you want to retouch from your hard drive.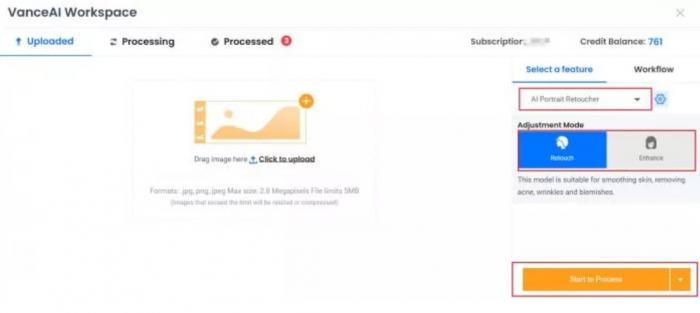 Step 3: Adjust settings and click on the process
Once the picture is uploaded. Use the VanceAI Photo Retoucher to get outstanding look images. All you need to do is just click on the process button and your picture will be retouched within seconds. There is no need to edit photos manually or instruct the Retoucher tool to work on certain areas of the photo because VanceAI Photo Retoucher uses AI which automatically works to remove face acne, wrinkles, dark circles, and blemishes. If you are paid user you can upload more pictures and processed them instantly with one click to get quality-based high-resolution images.
Step 4: Save your changes and download your pictures
Save your changes and click on the download button to download your retouch photos to your hard drive. That's all about how to retouch photos on iPhone with VanceAI Photo Retoucher.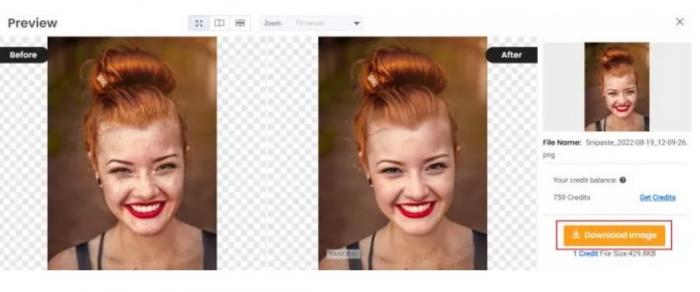 Pros:
Free to use
Upload images in bulk
Able to customize the image
Cons:
Limited editing tool
No layers
Many restrictions in the free trial version
Alternatives
Photo retouching is a part of the job if you are a photographer or running a business if you plan on posting your image on a social media account because retouched photos are well explained and express your brand. There are thousands of tools to retouch photos but TouchRetouch is the best to bring focus to an image, highlight your key objects and change an average picture into something outstanding. TouchRetouch is available on iPhone which offers sharpening, cropping, enhancement, and more features. It is a selective adjust tool that allows you to select certain areas of your photos and you can retouch your photo by adjusting brightness, saturation, and color correction at that point. If you want to remove a background of your photos it is best to use TouchRtouch because it is easiest and simple to use.
Other alternatives help you to learn about how to retouch photos on iPhone. Auto Retoucher is also a perfect tool to retouch digital camera-based images into high-quality images to well express your brand products if you are running an online business. This tool automatically retouches your photos and you can download photos in different standard file formats. You can also check other available options to make your photos incredible. Fotor is also a simple app to retouch photos which allows you to save your incomplete work for the future so you can start from where you left off. Picsart is the fast and creative app available on iPhone which offers photo retouching in seconds and can get your dream photos.
Conclusion
To attract the audience and for brand reputation, it is needed to retouch photos. These apps can beneficial for you to retouch photos if you are looking at how to retouch photos on iPhone quickly, accurately, and effortlessly. But VanceAI Photo Retoucher is the best choice it offers additional features that simply make your images pretty and perfect to use. It is a really fast and available tool for everyone. So, you never have to think about spending time on photo retouching because it automatically retouches photos and you can also add more effects to achieve perfect images for advertising and publicity.
Also read:Top Ten Online Portrait Retouchers Review
FAQs
Why do you need to retouch photos?
It is simple to take a photo but to attract your audience if you are running an online business or want to add some extra skills to your photography. You need to retouch photos to get your dream photos and for your brand reputation.
What are the key features of VanceAI Photo Retoucher?
VanceAI Photo Retoucher offers many features such as image sharpening, color correction, saturation, brightness, and smooth face by removing wrinkles, acne, and pimples to bring focus to an image, highlight your key objects and change your poorly edited pictures into something outstanding.