Summary: Top 10 AI plagiarism checkers use artificial intelligence to check the originality of content, to prevent plagiarism. These checkers use extensive data points to identify any similarities in text, giving users the option to either remove or revise any plagiarized content.
We live in the age of content and everyday millions of words of content are produced. While some of this is academic, a lot of this is commercial and used to attract and convert customers. This article itself is such an example.
However, with this much content available, there arises the problem of plagiarism. This involves copying someone else's idea and presenting it as one's own. This is a huge problem because everyone easily has access to the internet and can copy information from everywhere.
To prevent this practice, plagiarism checkers were introduced and eventually Artificial Intelligence was used to improve this software. AI plagiarism checker allows you to check if the content has been copied from somewhere.
If you are wondering which is the best plagiarism checker out there, then this article has the answer for you! Although there are a lot of options, we have listed the 10 best plagiarism checkers for you. We have ranked them according to the services they provide and ease of use.
Top 10 Best Plagiarism Checkers Using AI
This is the preview table we created after reviewing and summarizing the top five products. Continue reading if you want to know more.
| Product | Price | Supported Languages | Report | Grammar Check | Unique Features |
| --- | --- | --- | --- | --- | --- |
| Copyleaks | Expensive | 100+ | ✓ | ✗ | Automated grading, supports various file formats |
| Linguix | Paid | English | ✓ | ✓ | Advanced grammar and writing assistance |
| PL Text | Free | Various | ✗ | ✗ | Claims to be the world's first plagiarism checker and remover |
| Quetext | Free (limited) | English | ✗ | ✗ | Provides contextual analysis and conditional scoring |
| Plagiarism Remover | Free | English | ✗ | ✗ | Removes plagiarism altogether |
1.  Copyleaks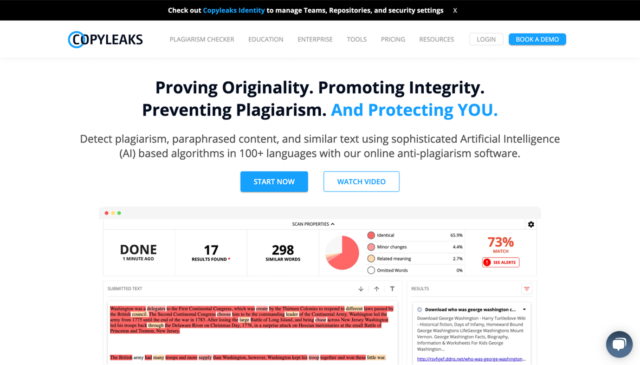 Copyleaks is an AI plagiarism checker which allows you to check from plagiarism in more than 100 languages online. This online plagiarism checker uses machine learning to get smarter every time, which is essential because there are constantly new ways of cheating and spinning content getting viral. Its AI is wired to check and detect several similarity types including similar, paraphrased,  and identical texts. After checking, it creates a very comprehensive report for you, detailing every result, statistic, copied sources in an easily understandable way. This AI plagiarism checker leaves no stone unturned sifts through billions of online sources, private databases, and previously submitted content on copyleaks. Besides that, it even has an automated grading tool which can grade thousands of assignments in one go. This tool is used trusted by huge organizations such as Microsoft, BBC etc. It caters academic institutions as well as small businesses.
Pros
Carries out an extensive check
Creates an extensive report
Is available in more than 100 languages
Cons
It is paid and is expensive
Does not cater to individuals
2.  Linguix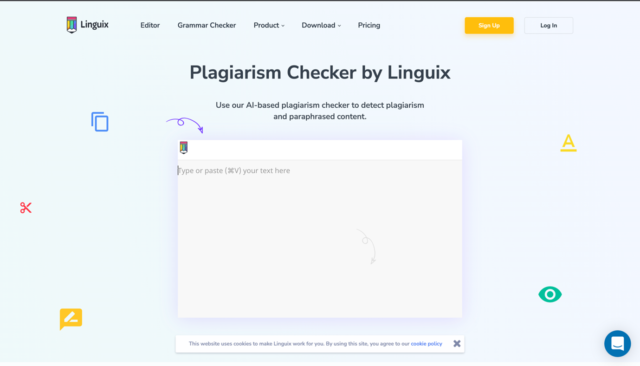 Linguix is a website that is designed for writers and helps them with grammar checks, editing, and plagiarism checkers. Their online plagiarism checker works by comparing text to online sources across multiple databases to find any sort of similarity. If Linguix finds a paraphrased or exactly similar text somewhere, it creates a report which features all the plagiarized sentences in your text. You can rewrite the content and send it over to the grammar tool to enhance it further.
It uses Artificial intelligence and machine learning to keep improving and find similar text on the internet. You just have to paste your text in the text box to get started!
Pros
Comprehensively checks all the content on the internet
Has other tools such as the Grammar checking tool
Creates an instant report
Cons
3.  PL Text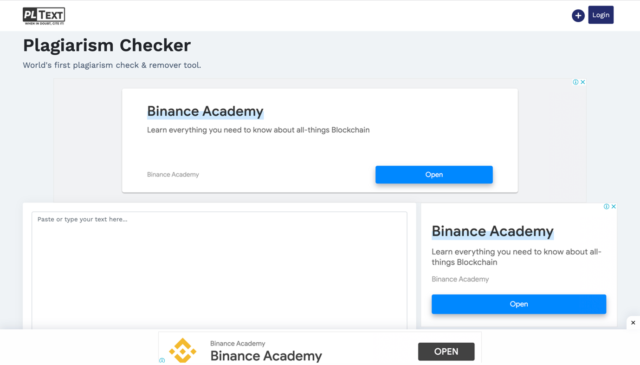 PL text claims that it is the world's first plagiarism checker and remover. You simply copy and paste the text in its text box to get the process started. This AI plagiarism checker sifts through your data to find any similar text on the internet. Its high level algorithm quickly recognizes any plagiarized content and provides you recommendations on. How you can remove or change that plagiarized text.
This online plagiarism tools supports several languages and allows you unlimited edits. In addition, at the end of the process it provides you with a comprehensive scan report. It is free hence it is the best plagiarism checker for student. There are a lot of ads on the website so look out!
Pros
It is available in many languages
Checks for plagiarism quite comprehensively
Cons
The scan report is not comprehensive
Not recommended for professional businesses
4.   Quetext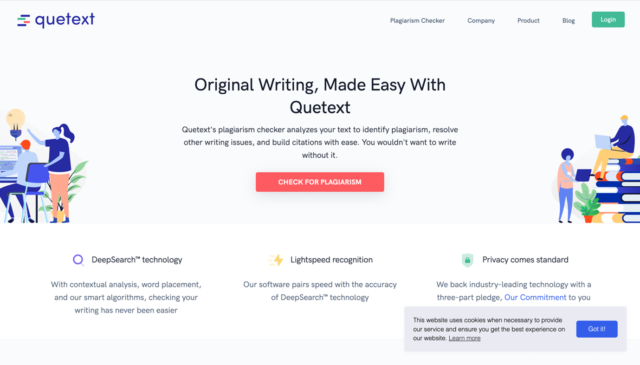 Quetext is a website which is your full writing companion. It is not only used for checking plagiarism but also for any other errors in the writing. This AI plagiarism checker sifts through your data to identify any sort of plagiarism. That is not where it stops. It looks for any other writing issues, such as grammar, suggests fixes and finally helps you built citations. It uses a deep search technology powered by AI to carry out a thorough search through different sources and databases on the internet.
Moreover, it is one of the best plagiarism checker free on the internet and is used by students, academic institutions content creators etc. the process is extremely simple, you just enter the text into the plagiarism checker tool  and the tool evaluates the text through contextual analysis, conditional scoring, and fuzzy matching.
Pros
Checks for plagiarism comprehensively
Is free up to a certain limit
Cons
Does not produce a report
5.  Plagiarism Remover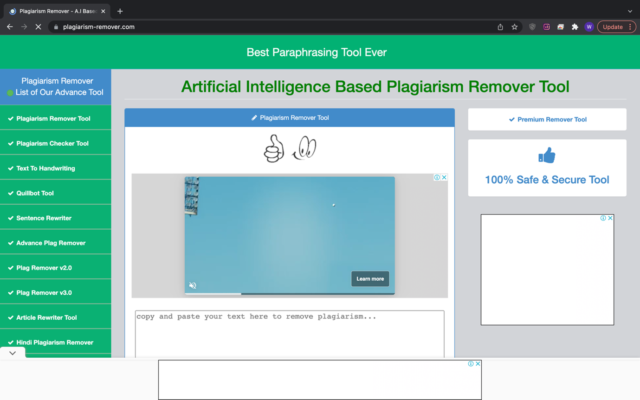 The plagiarism remover is an innovative tool. Instead of checking for plagiarism, it removes it altogether. Copy and paste the text onto the text box and click on remove plagiarism. This tool will use Artificial Intelligence to convert that text into something unique. It will thus remove the need to check plagiarism because the resulting data will be fully new.
Pros
It is free
Allows you to remove plagiarism from your text
Cons
The resultant data is full of grammatical errors and will have to be checked again
It does not allow you to check for plagiarism
The website interface is poor
6.  Enago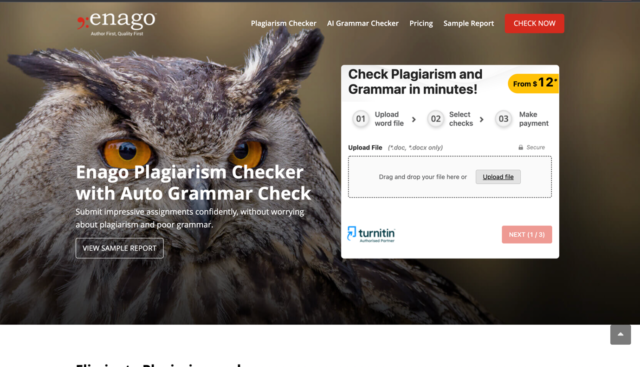 Enago is an AI plagiarism checker which has an auto grammar checker too. It can check both your grammar and plagiarism within minutes. Enago has a partnership with Turnitin (one of the best free plagiarism checkers in the world) and it allows them to look at more than a billion data points for plagiarism. Also, it has an AI Grammar checker which checks your writing for any spelling mistakes, grammatical errors, formal tone etc. and suggests any enhancements.
The partnership with Turnitin allows Enago to have the largest database and is thus one of the best plagiarism checkers in the world. It even gives you the option to include scholarly articles in your review. After checking for plagiarism, Enago offers a report highlighting the texts and sources of plagiarism. It can be used by academic institutions as well as students.
Pros
Checks for plagiarism comprehensively
Has a very large database to look into
Offers a detailed report
Does it within minutes
Cons
7.  Plagiarism Checker Tool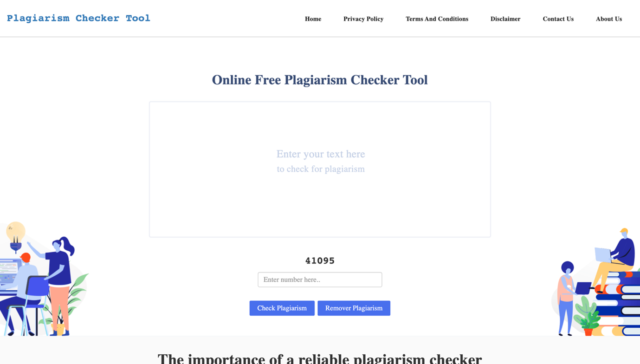 Plagiarism checker tool is a free plagiarism checker. The process here is very simple. You just have to copy and paste the text here. It will go through a lot of data points on the internet to check for plagiarism and at the end let you know if there is any.  That is not all though. It also gives you the option to remove plagiarism. This involves entering your data and getting back something, which is fully unique and free of plagiarism. Hence, it is a 2-in-1 service.
Pros
Cons
Plagiarism check is not extensive
The Remover plagiarism results in a lot of grammatical errors and is not reliable
8.  Plagly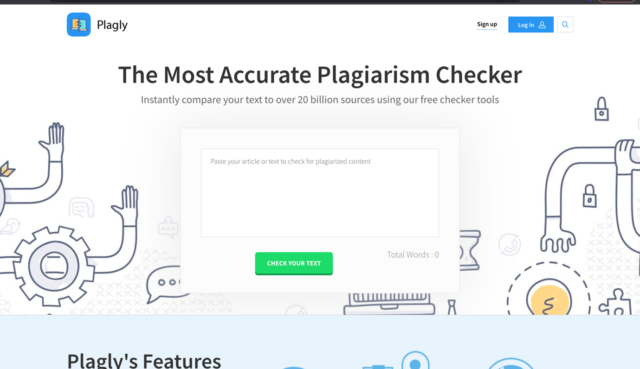 Plagly is an AI Plagiarism checker which compares your text with over 20 billion sources all over the internet. It provides an instant plagiarism check by comparing your text to the data available over the internet and highlighting any matches found.
It even has a free grammar checking software imbedded which suggests improvements to any mistakes found. Moreover, Plagly uses machine learning to constantly improve its algorithm because there are new ways to cheat every day on the market. In addition, Plagly has a duplicate content checker which looks for and prevents duplicate content on your own website, thus improving search engine optimization. It is used by students and teachers alike.
Pros
It is absolutely free
It performs extensive plagiarism check
Cons
It does not provide a report
9.  Plagiarized.AI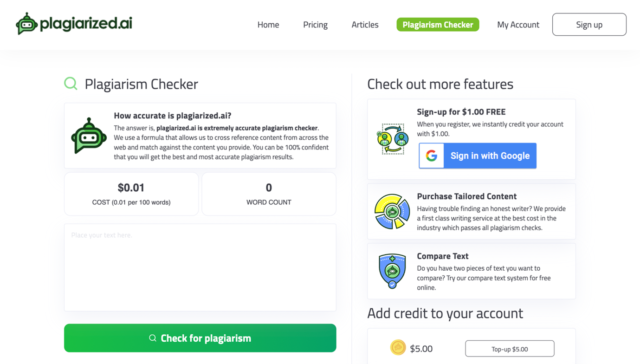 Plagiarized.AI is another AI plagiarism checker designed to check for plagiarism in your text. It has a formula which is used to cross reference your data across the web, looking at various data points and comparing it for plagiarism. Although it is a paid tool, it provides you with a free top-up the first time you use it. It can thus be used by students as well as teachers.
Pros
It goes through extensive data points before arriving at the result
Cons
It is not free to use
It does not provide you with a report
10.  Writer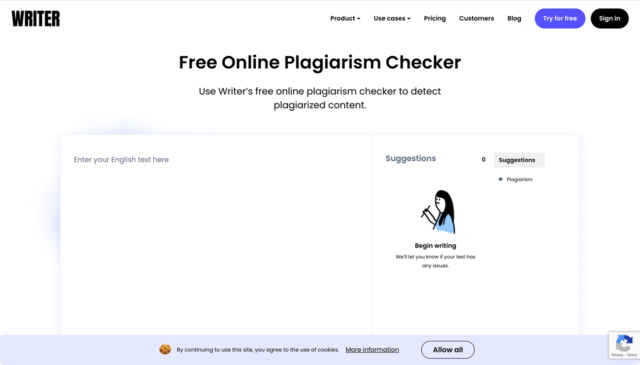 Writer is just another online plagiarism checker that checks your text for plagiarism. The process is extremely simple. You just have to paste you text in the text box given and it will run a plagiarism check for you. This tool is trusted by various universities across the world!
Pros
You can try it for free
Runs an extensive check
Cons
It does not produce a report
Conclusion
These AI plagiarism checkers make sure that the content you receive or send is original and free from errors. They thus promote values of honesty and integrity! Each run a test of differing intensity but all of them have the same aim. Read more: Top 10 AI Writer Applications Review 2023