AI trading software simplifies the process of making profitable trades. They use AI algorithms to analyze market data and make predictions, helping traders make informed decisions quickly.
Are you seeking an edge in the trading markets? AI trading software may be your answer. With the ability to trade stocks, options, forex, and cryptocurrency 24/7, you can make money while you sleep.
This article provides a comprehensive evaluation of ten of the most popular free and paid AI trading software programs based on testing and experience. Whether you are a beginner or a professional trader, this article will help you choose the right program to maximize your trading portfolio.
Best 10 AI Trading Software Review
| AI Trading Software | Price | Buy/Sell Trades | Trading Assets | Customization | Technical Analysis |
| --- | --- | --- | --- | --- | --- |
| Trade Ideas | $1,068/yr | ★★★★☆ | Stocks | ✗ | ✓ |
| Trend Spider | $1,197/yr | ★★★☆☆ | Stocks, Options, Forex, Cryptocurrencies | ✓ | ✓ |
| Black Box Stocks | $39/mo | ★★★☆☆ | Stocks, Options | ✗ | ✗ |
| Tech Trader | $197/yr | ★★★☆☆ | Stocks | ✗ | ✗ |
| Meta Trader 4 | Free | ★★★★☆ | Forex | ✓ | ✓ |
Notable features: Buy-side and sell-side trades, performance history for each trade, win rate, profit target, and stop loss provided for each trade.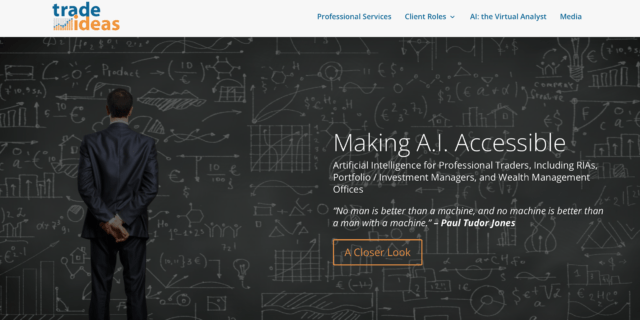 What is it?
Trade-Ideas is a professional AI trading software system that provides a performance history, win rate, entry point, profit target, and stop-loss for each trade.
The system is designed to generate trade opportunities on both the buy-side and the sell-side of stocks. In 2018, the "Holly" AI program returned 32% while major indexes posted a loss.
Features 
Buy-side and sell-side trades

The performance history of each trade

Win rate for each trade

Profit target and stop loss provided with each trade 
Pros of Trade Ideas
Has a history of outperforming the major indexes

Offer both buy-side and sell-side opportunities

Provides stop losses to prevent excessive drawdowns

Generates an average of 375 trades per month 
Cons of Trade ideas 
Options trading is not available

Forex trading is not available 

Crypto trading is not available 
2. Trend Spider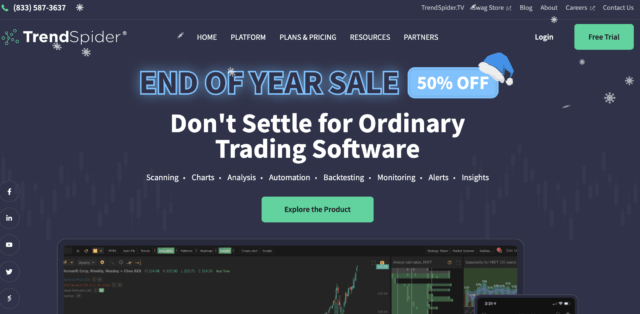 What is it?
Are you looking to set up your own custom AI trading system based on your own perimeters? Then Trend Spider is the ideal AI trading software platform for you.
With Trend Spider, you can use their robust charts and resources to set up what you want the AI system to trade for you. For instance, you can exclusive trade long side break-outs or short new 52-week lows. This is ideal for more experienced traders.
Features 
Customize an AI trading program

Over 61,000 trading assets are available

Robust charting

Technical analysis features
Pros of Trend Spider
Trade just about any asset including stocks, options, forex, and cryptocurrencies

Easy to use charts

Lots of technical analysis options

Create your own AI trading program 
Cons of Trend Spider
Not for beginners

Priced higher than other AI trading platforms 
3). Black Box Stocks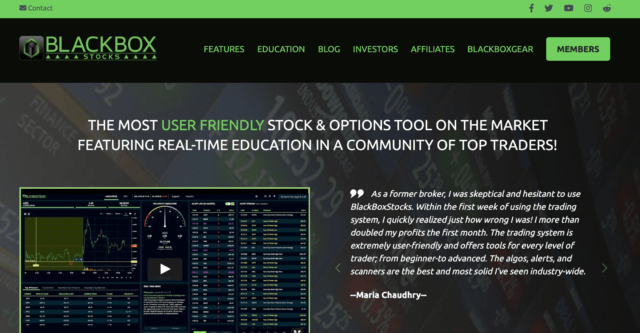 What is it?
Are you looking to get simple stock and options alerts that can let you know when there is an explosive breakout likely to happen? Black Box Stocks is a simple AI trading software platform that is ideal for new and experienced traders.
The system scans 8,000 stocks and over 900,000 options contracts to find you the trades with the best set-up opportunities. If you are looking for an easy-to-follow AI trading software platform, the Black Box Stocks is for you. 
Features 
Offers alerts on stocks and options

Real-time monitoring or stocks and options contracts

Community interaction 

Education program 
Pros of Black Box Stocks 
Easy to use

Offers well-priced plans

Active community of traders 
Cons of Black Box Stocks 
Does not offer Forex or cryptocurrencies

May be too simple for some traders 
4). Tech Trader
What is it?
If you are looking for a fully autonomous AI trading system with mechanical precision, then Tech Trader is going to be the AI trading software for you. This program trades simple chart set-ups and can go on the long or the short side of a trade.
This is a pretty basic AI trading software that just gives you the trades and not much more. Ideal for those looking for a basic AI trading program. 
Features 
100% autonomous trading

Long and short side trading

24-hour trade opportunities 

Performance grid of current holdings available on home page
Pros of Tech Trader 
Simple and straight-forward

Offers a number of trading opportunities
Cons of Tech Trader
Limited features

The platform is unclear on trading strategy 
5). Meta Trader 4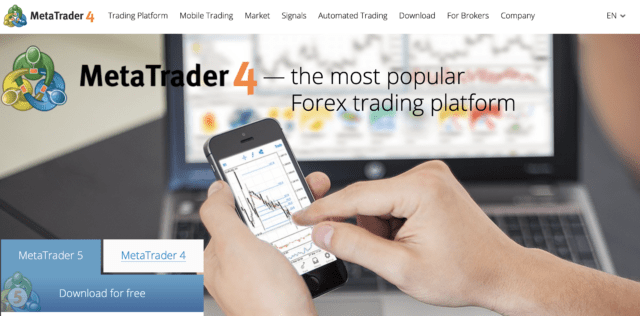 What is it?
Meta Trader 4 is the largest and the most popular Ai trading software platform available. The company has been in operation for over a decade and is well-respected and well-trusted.
Meta Trader 4 offers forex trading singles exclusively and provides robust features from automated trading to trading signals. That means that you can have the AI trade for you or selectively follow trading signals. 
Features 
Automated trading

Trading signals

Trades most forex pairs

Community interaction 
Pros of Meta Trader 4
The largest and most well-known AI trading software service

Offers automated trading and trading signals

Well priced 
Cons of Meta Trader 4
No stock, options, or cryptocurrency trading 
Also read: Top 10 AI Ecommerce Platforms for Better Sales
6). eOption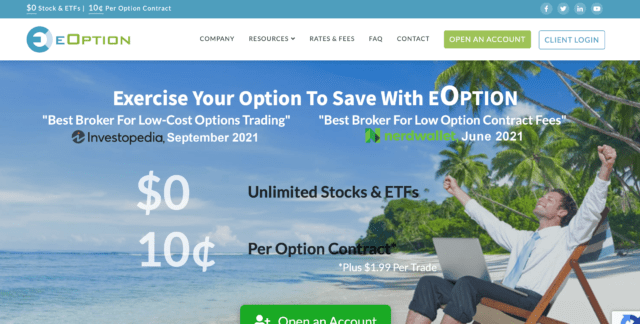 What is it?
Are you big into options trading? Then eOption is the choice for you. While this is not exclusively an AI trading platform, eOptions allows you to autotrade newsletter trading signals.
However, you will not be short of charts and technical analysis information to help you find the right trading opportunities. 
Features 
Options and stock trading

Autotrade newsletter signals

Retirement/IRA investing 
Pros of eOption
Ideal for option traders

Allows for auto trading of newsletter signals

Low trading fees for options
Cons of eOption
Does not have its own proprietary AI trading program

No cryptocurrency or forex trading 
7). Kavout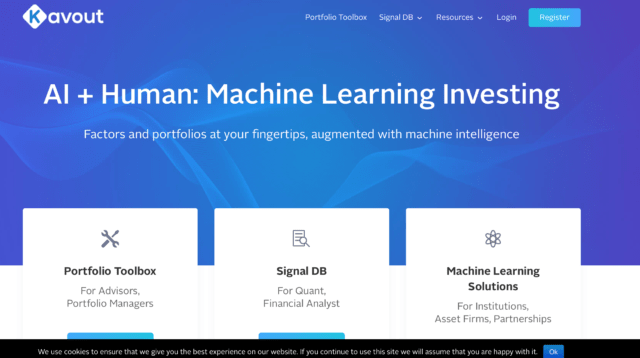 What is it?
If you are an individual investor or a portfolio that lives quant info in trading opportunities, then Kavout is going to be your ideal choice. The company uses its proprietary K score to tell you the probability of outperformance on a trade.
This is ideal if you want to test out your own trading ideas or use the platform's own AI trading service. 
Features 
K score rates trade ideas 

Human research

AI trade ideas

Deep data mining 
Pros of Kavout
Excellent research tools

Ideal for both individual traders and portfolio managers

Excellent data mining for backtesting 
Cons of Kavout
Too complex for new traders

Higher price 
8). Algoriz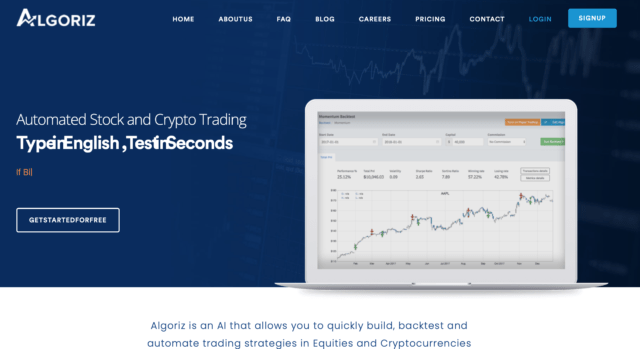 What is it?
For those who want to build, test, and automate their own trading system, Algorriz, gives you a simple, yet robust system to get the job done. This platform is exclusively for stock and cryptocurrency traders.
Since Algoriz is designed for those who build their own trading systems, you may need some trading experience if you want to get the most out of this platform. 
Features 
Build, test, and automate trading systems
Stocks and cryptocurrencies
Connects to many major brokers for auto trading 
Pros of Algoriz
Backtest your trading ideas

Affordable pricing options 
Cons of Algoriz
Not ideal for beginners

No "hands-off" AI automated trading 
9). Equbot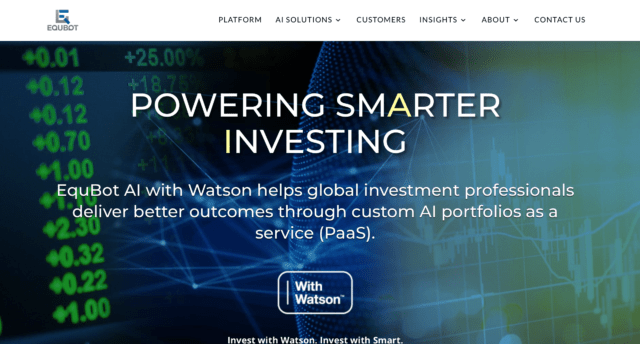 What is it?
One of the largest and most trusted AI trading software platforms. Equbot has almost $2 billion entrusted on its platform from top global institutions. Equbot analyzes millions of news articles and over 50,000 companies and asset classes to find the best opportunities.
This AI trading platform is more designed for asset managers than traders. However, an experienced trader may find value in the service. 
Features 
Scans news stores

Over 50,000 companies and assets analyzed 

Design custom strategy

Test strategy 
Pros of Equbot
One of the most sophisticated AI trading platforms

Analyzes news stories 

Works with almost any asset class
Cons of Equbot
Not for new traders

Expensive service 
10). Zignaly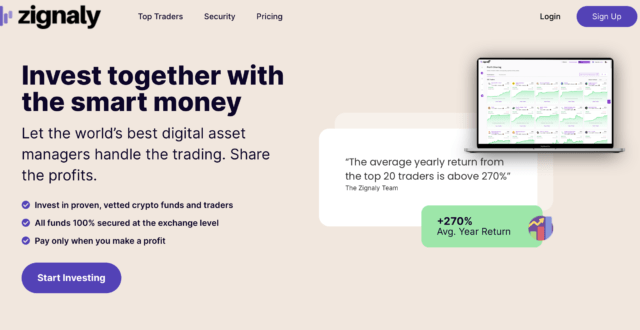 What is it?
Want a pro trader or AI bot to make trades for you? Then Zignaly is the choice for you. This service provides you access to top trading bots where top performers make triple digital annual gains. You can get started with as little as $1 and it is very new trader-friendly.
Best of all, this is a free AI trading software service. You only pay when you make a profit. 
Features 
Autotrade from top traders and bots
Fund secured at the exchange level
Pros of Zignaly
Start with as little as $1 

Only pay if you profit 

Access to pro traders and bot 
Cons of Zignaly
Not many trading tools are available 

May be too simple for pro traders 
FAQs
If you are unfamiliar with AI stock trading software, then you may have some basic questions on how it works. Here are some answers to some of the most frequently asked questions about AI trading software:
1. How AI is used in stock trading?
AI trading software is used to detect and trade technical brakes in stock. For instance, an AI can trade "golden crosses," "death cross," new 52-week highs, new 52-week lows, moving average crosses, breakouts on higher volume, and breakdowns on higher volume. Also, AI trading software can be programmed to trade on news regarding a stock. For instance, an AI trading software can be programmed to purchase a stock if news related to the company has the phrase "insider buying," or "buy rating" in the news story. 
2. Is AI good for trading?
There are a number of reasons for considering AI trading software. First, AI trading software can open and close trades 24 hours a day. This allows you to step away from your computer while you can still make profitable trades. Also, AI trading software is unemotional. Therefore, it can not be "shaken out" of trades. Finally, AI trading software can practice risk management to prevent excessive drawdowns and losses. 
3. What makes a good AI trading software? 
One of the factors that make for a good AI trading software is the ability to get fast fills on orders to both open and close. Also, a good AI trading software service will practice good risk management and prevent a portfolio from blowing up. Also, a quality AI trading software service will be well backtested to ensure that it will have better performance for future trades. 
4. What is the best AI trading software?  
For experienced traders, Meta Trader 4 is the best AI trading software based on a few factors. First, it is one of the most well-known and well-established AI trading software service providers. Also, the company documents its performance history which is rare in the space. Finally, Meta Trader 4 has a high number of positive reviews on various third-party review websites. 
For new traders, Zignaly is going to be best. That's because you can choose from a number of different pro traders or AI bots to handle your portfolio. Also, you can start with as little as $1 and you only pay if you make a profit. 
Getting Started with AI Trading Software 
AI trading software can be an excellent way for your money to work 24 hours a day without you monitoring the market. Also, AI trading software can allow you to trade without being caught up in the emotions of the market. Be sure to consider at least several of the top AI trading software listed above. At least one of these AI trading software programs may be the ideal addition to your trading portfolio.