Summary: AI Ecommerce Platforms use machine learning to automate and improve sales, customer analysis, and website design. They will help you to promote your business.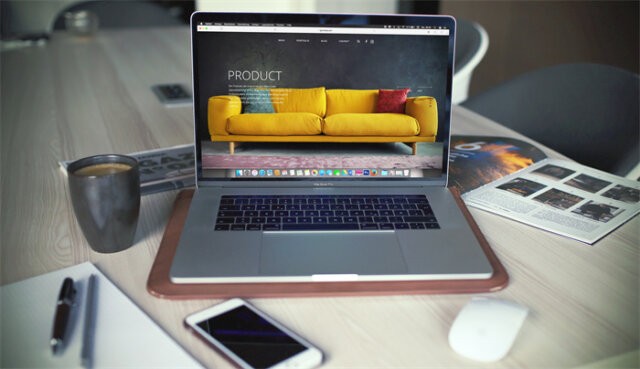 E-commerce platforms are the new retail outlets in the digital world. As the competing brands aim to improve their sales, they now seek to progress with AI in e-commerce platforms.
Be it business statistical analysis, website front-end development, or data categorization, AI plays a huge role in understanding, learning, and automatizing the system. Developed on similar principles, check ahead, the best AI in e-commerce examples, practically in the current use.
Best-rated AI e-commerce platforms
This is a general overview table made by us, if you want to see our more detailed review, please keep reading:
| Product | Price | Main Function | Processing Speed | Target Users |
| --- | --- | --- | --- | --- |
| Clarifai | $30+/mo | Image recognition | ★★★ | B2B e-commerce |
| Seamless.AI | $125+ | Lead generation | ★★★★ | Global businesses |
| Morphl | $149+/mo | Customer analysis | ★★★★ | E-commerce web hosts |
| Qubit | Variable | CRM solutions | ★★★ | Retail chains |
| Zeta Global | Demo available | Omnichannel marketing | ★★★★ | Lead generation |
1. Clarifai
One of the best AI in e-commerce examples, it ensures the easiest process to upload and detect different characteristics from any raw image or short video. It uses machine learning to detect features like people, animals, items, text, or colors.
Clarifai can assist the developing AI in B2B e-commerce industries to customize their detection programs by programming the API with specified tags to detect from the files provided. A high-quality image enhancer also becomes essential for the app to ensure an upload of utmost clarity.
Pricing: Free version is available, but the package with more data capacity and features starts at $30 per month.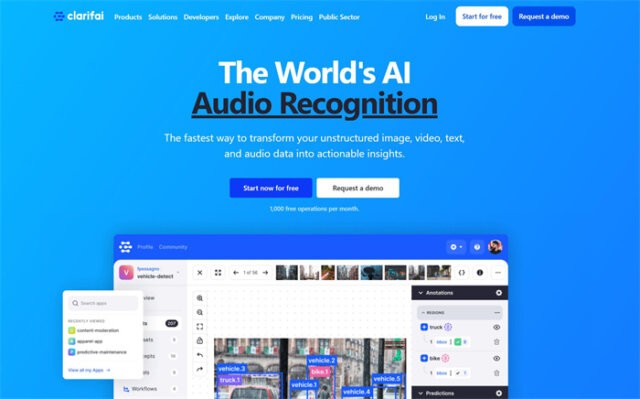 Pros:
● Detects multiple features from still images
● Can handle multiple images at once
Cons:
● Can't process live-streaming
● Users should have programming knowledge
2. Seamless.AI
This dynamic e-commerce artificial intelligence platform is discreetly developed for modern businesses to help them directly connect with potential leads and decision-makers. The app has an accuracy of over 80% to extract real-time contact details like emails, company numbers and even extend to Linked-In profiles.
It is essential for globally working businesses, given their contacts are countless, making it difficult to trace a particular one.
Pricing: Free versions suitable for small scale. Subscribed package starts at $125 with versatile features.

Pros:
● AI e-commerce platform to store over 800 million contacts
● Connects to a wide range of globally recorded contacts
● No need to type the details to store
Cons:
● Only applicable for categorizing contacts
3. Morphl
It serves the best for the businesses looking to analyze their customer preferences and predict their marketing progress. This dynamic AI e-commerce platform tracks the individual customer navigation, applies churn prediction, and even attaches to other marketing tools like Google Analytics and Amazon WebServices, thus improving ROI in the sales.
It provides a collection of machine learning modules for marketing analysis and is compatible with AI e-commerce web hosts like Shopify and BigCommerce.
Pricing: Subscriptions for fewer data storage begin from $149 and increase to $499 and later $999 depending on the data expansion.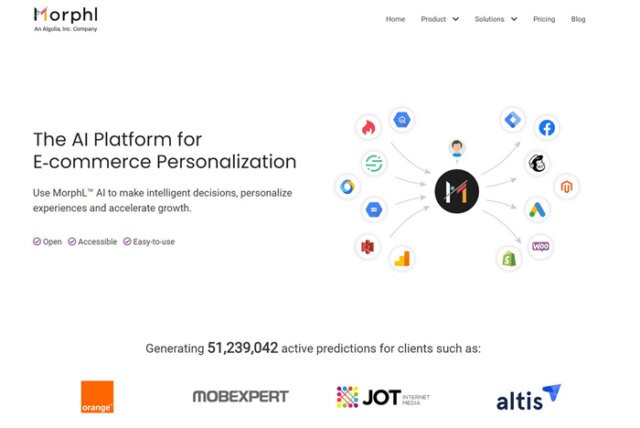 Pros:
● Analyzes real-time sales and customer navigations
● Connects with global cloud data warehouses
Cons:
● Brands should have at least 25,000 users engaged on their website per month
Also read: Top 10 AI Trading Software Review
4. Qubit
E-commerce artificial intelligence platforms understand their customers, predict their possible choices, and display the relevant services and catalog. Qubit assists with unique solutions for various businesses starting from beauty salons, medical pharmacies to online betting and gaming.
Customized AI e-commerce solutions are used for product analysis, applying trendy social badging, and enhancing content to improve the brand's CRM. Recently, Qubit Aura, the AI mobile shopping app, launched to facilitate extended m-commerce sales.
Pricing: There are no fixed subscriptions or free trials, as the developers charge according to the resources provided to the clients.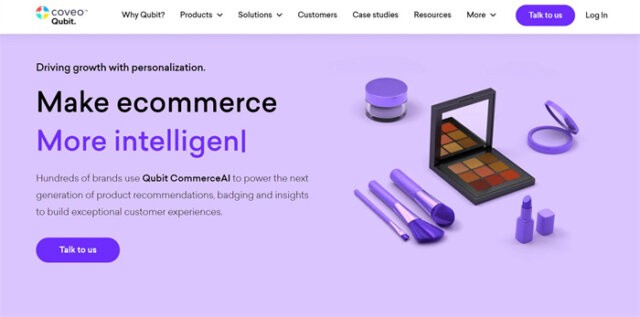 Pros:
● Uniquely customized solutions for different retail chains
● Uses AI to develop an interactive e-commerce platform
Cons:
● Complex software to navigate and use
5. Zeta Global
Zeta Global studies customer preferences to curate an attractive website for generating leads and engaging them as long-term customers. The most competitive among the AI in e-commerce examples, it works with media channels like customized emails, website presentations, and several connected TV channels to reach the audience.
The solutions extensively work with customized CDP programs to monitor and categorize big data. Zeta also collaborates with cloud warehouses like Snowflake or Google BigQuery to extract quick data.
Pricing: The vendors don't provide self-working applications but integrate with their clients individually. Thus, there are no subscriptions and trials, but clients can request a demo.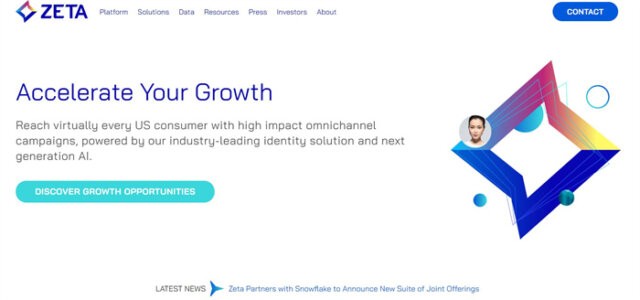 Pros:
● AI e-commerce platform provides multiple omnichannel marketing sources
● Personalized programs to develop emails and ads
Cons:
● Users find the programs primary-leveled for advanced businesses
6. Syte
The most versatile application of AI in e-commerce, Syte provides specialized solutions using visual AI, natural learning processes, and hyper-personalization. The application provides visual discovery, hyper-personalization, and Merchandising.
The visual AI principles extract the product knowledge from the images uploaded by the customers. The hyper-personalization suite uses high-end e-commerce artificial intelligence to study the customers' behavior and channels their search and feed accordingly. Searchandising concentrates on overall website presentation using quality keywords and tags to increase the lead attraction.
Pricing: Provide paid subscriptions starting from 100K per month and selective bundles for negotiable prices. There are no free trials though clients can request a demo.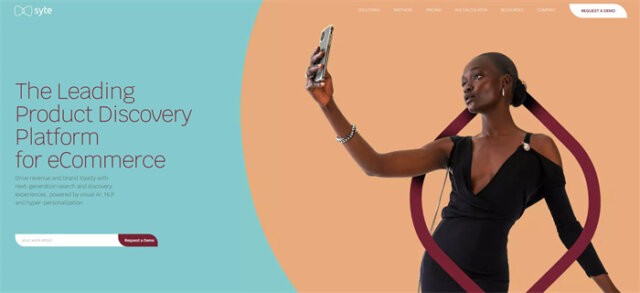 Pros:
● Can use images to search products
● Embedded ROI and AOV calculators available
Cons:
● Machine-learning programs are too inclined to jewelry and home styling businesses
7. Edward
Looking for channelized and perfectly categorized sales data? Edward is a dynamic AI e-commerce platform developer to manage and improve real-time sales. This sales assistant can efficiently handle big data and also provides AI in B2B e-commerce communication.
Service providers or potential customers, the communication with every unique contact is updated and systematically categorized through mobile-app entries.
It practically implements AI e-commerce principles guided by machine learning programs to create a personalized engine for noting calendar updates. The app helps the sales reps record timely data, set alarms for meetings, pin-up contacts for omnichannel marketing, and even notifies about the upcoming events to look for.
Pricing: They provide guided SaaS and Enterprise plans priced according to the resources utilized. Payments can either be monthly or annually charged subscriptions. There are no free trials.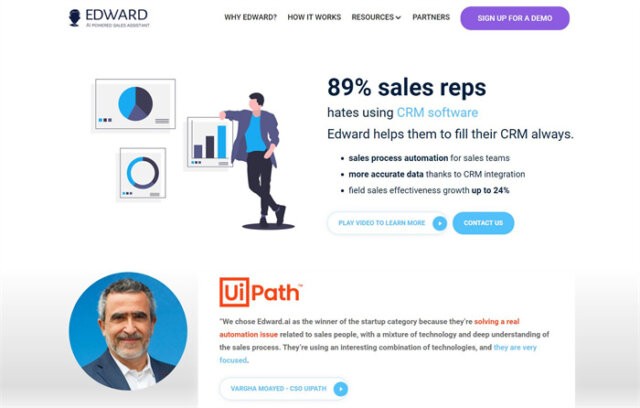 Pros:
● Records data through voice applications
● Programs work on handy mobile apps
Cons:
● Useful only for sales reps for data organization
● Doesn't integrate with other CRM systems to auto-feed data
8. Vue.AI
Web designing and e-shopping can certainly leap to the next level when competitive AI in e-commerce enhances real-time interactivity. Supporting both the front-end website presentation for the customers and the back-end management for the sales department, Vue.AI is a complete package of AI learning to market models.
The marketing solutions and unique machine learning programs are available, targeting various retail businesses worldwide. Vivid sales boosters provide personalized shopping recommendations, trending product tags, and interactive selection options.
High-quality photo enhancer applications help develop on-site visual looks and even provide virtual trial assistance before purchasing the products.
Brands can also connect with their customers using churn prediction and cart abandonment analysis and develop appropriate omnichannel communications to grab more audiences.
Pricing: Provides a free trial on request to demo, but fixed subscription packages aren't available. The vendors negotiate the prices depending on their resources and services chosen.

Pros:
● Versatile applications for management and web development
● Tags and filters can be added to products
● API integrates with several external platforms
Cons:
● Users should know basic programming languages and HTML
9. VanceAI
Most of the applications for AI in e-commerce examples implement machine learning principles to detect and manage website logistics. Vance AI as an online photo editing and enhancement tool is a unique e-commerce supporter to provide front-end development assistance.
This AI photo enhancer is applicable only for image development and rectification. Website developers can use this e-commerce artificial intelligence subset to generate images with high clarity, brightness, blended saturation and remove background blemishes and haze.
Pricing: The basic plan starts from $9.99 per month and the Pro plan from $19.99 per month. Vance also provides a one-time user package for $24.99 with a 600 credit bundle.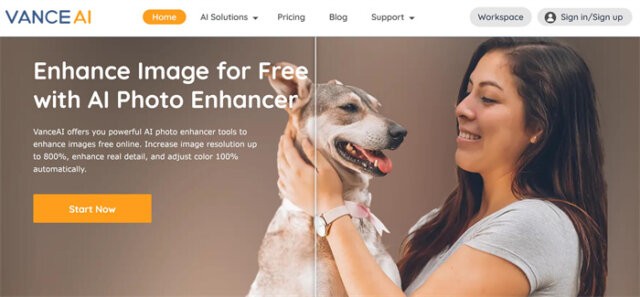 Pros:
● All types of AI image enhancements are available
● Can use the online or downloaded version
● Can export files in any format
Cons:
● Only for image enhancement
10. Brandfolder
As the name suggests, Brandfolder is a capable application imbibing AI in e-commerce to categorize and differentiate the real-time generating data. Data can be product images, advertising videos, sales analytics' text files and graphs, or even brand logos and logistics.
It implements AI e-commerce platform strategies to categorize countless products and services using separate filters and tags to obtain instant results at their quick search.
Pricing: Premium subscription provides only data storage and categorization. Enterprise subscription provides additional creative applications and data categorization.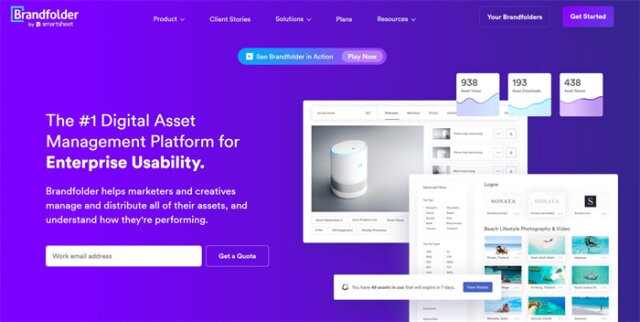 Pros:
● Stores any format of data with unique filters and keywords
● Users can develop creative ads and posters
Cons:
● Smart auto-tagging can be a hassle to misplace the files
● Users can't edit the uploaded documents
Additional Option
E-commerce AI encompasses various scenarios, including payment, CRM management, user profile analysis, traffic and ROI analysis, and more. Cutout.pro is a vital supporter of e-commerce, offering image and content asset generation and optimization.
AI background removal effectively extracts the subject of the product, while the photo enhancer improves image quality and resolution while eliminating noise. With background diffusion, you can quickly generate seamless marketing backgrounds and product images.
Pricing: You can test the service for free with our trial points, and then choose to subscribe monthly. Our subscription plans start as low as $5, and you can adjust them as needed. We also provide API and Shopify plugins.
Cutout.pro AI Art Generator
Key Features: Based on mature AI image model Stable Diffusion, user-friendly interface, built-in templates

Pricing: High-quality images can be downloaded for free after sharing
Cutout.pro is an image processing platform that has been developed for many years. The Cutout.pro AI Art Generator function uses the latest Stable Diffusion algorithm. The function page is easy to operate and has many auxiliary tools:
You can upload the original image, and there are 40 unique style templates to choose from below. The platform is based on cloud servers and does not require users to install software on their personal computers. The generation speed is also very fast, and it only takes a few seconds to generate an image. If you are not satisfied, you can click "Generate Again" continuously to generate a new image.
In fact, the images generated by the website are very good, and they become more and more detailed as keywords are added. In terms of style, the characters and backgrounds match different styles, from 17th-century Dutch painters to current Internet and Japanese animation.
Conclusion
Any AI e-commerce platform developer or sales assistant functions uniquely to support the deployment of the retail website or manage the back-end sales. The programs developed on machine learning and e-commerce artificial intelligence principles ease out the analysis procedures. It's never been this easy to track and analyze thousands of daily users and products!
Also read: Top 20 Website Builders Review 2023
FAQs
1. How can AI platforms help increase sales?
AI helps you increase your selling hours with the automation of tedious manual work, and helps you better analyze the habits of your customers. These two factors combined help boost sales.
2. How do AI Ecommerce platforms impact customer satisfaction?
AI features such as chatbots help improve customer satisfaction, by addressing queries in a timely, responsive, and systematic manner.