It is now easier than ever before to create entertaining content, whether it be articles, podcasts or videos. Thanks to platforms like YouTube, Tik Tok and Twitch, anybody with a camera or even a smartphone can now jump online and share their ideas with millions of people around the world. However, good content usually requires good voice over and not everybody has the time or the talent to create quality narration for their content. Luckily, Lyrebird AI offers a fantastic solution to both those problems, as well as many others that you probably haven't even taken into account before.
What is Lyrebird AI?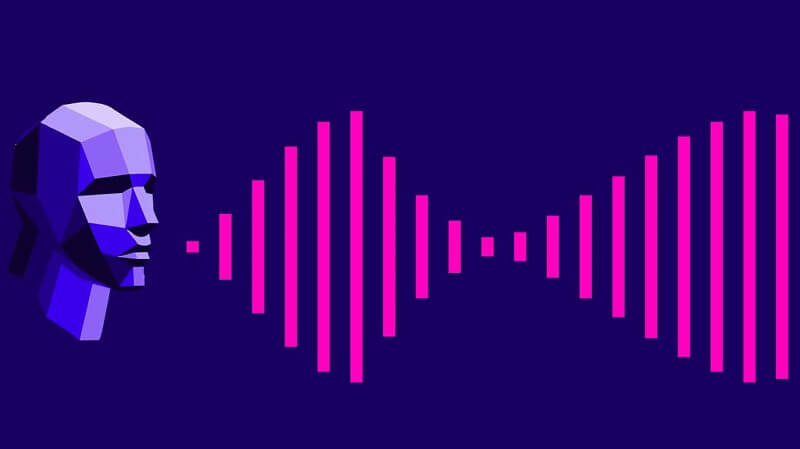 Lyrebird AI is a software based on a sophisticated machine learning model that aims to "create the most realistic artificial voices in the world". Lyrebird AI is part of Descript, a larger software suite that includes tools for transcription, screen recording, editing, and more. The Lyrebird software itself powers the tool know as Oberdub, which can create a digital version of someone's voices by using only a small audio sample of the person's voice. Essentially, Lyrebird AI works just like a regular text-to-speech or voice synthesis engine but is a lot more advanced.
What Can You Do With the Lyrebird Software?
The possible use cases for the Lyrebird voice software are quite numerous. Its base function is to allow users to turn a real voice into a digital one but that alone has plenty of potential applications. For starters, you don't necessarily have to synthesize your own voice with Lyrebird AI. Technically, you can create a digital duplicate of anyone's voice. Replicating the voice of a famous person could have negative consequences depending on what you use it for, but it's probably safe to send a friend a recording of you wishing them 'happy birthday' in Morgan Freeman or Jim Carrey's voice.
Fun aside, Lyrebird AI can also be used to automated your workflow if your job involves doing voice overs or narration. Simply feed the Lyrebird app a sample of your voice to teach it to sound like you. Then, you can simply type or paste the script you would normally read and Lyrebird AI will do it for you. Of course, we're not yet at the point where voice synthesis is perfect but it's already pretty close.
The Descript software includes, among other things, plenty of existing voice packs you can use for your projects. If you don't have a good recording setup or want to narrate videos in English but feel self-conscious about your thick accent, these voice packs are the perfect solution.
How to Use Lyrebird AI?
Your first order of business is to visit the official Descript website and download the software. This will allow you to use Lyrebird AI along with some of the other tools on offer. The software is free to download but some of the features require a subscription, which start at $12/mo.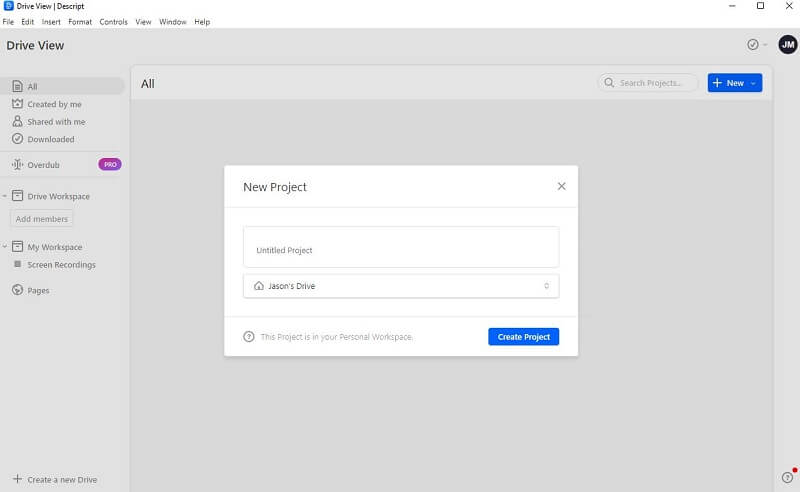 1. Open the software and click 'Start a New Project'. Give it a name and then click the 'Start Project' button.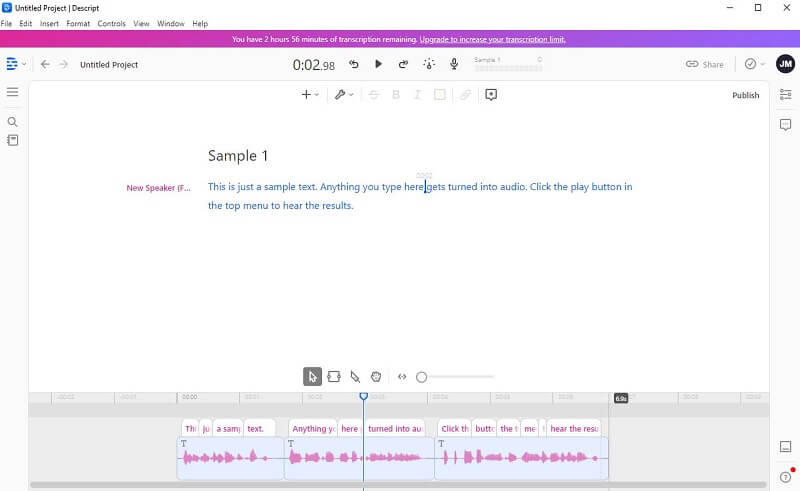 2. Descript's UI is multi-functional so this next step is up to you. Here, you can drop an audio you want to transcribe automatically, record your voice, add existing voice files, type or paste text you want Lyrebird AI to narrate and more.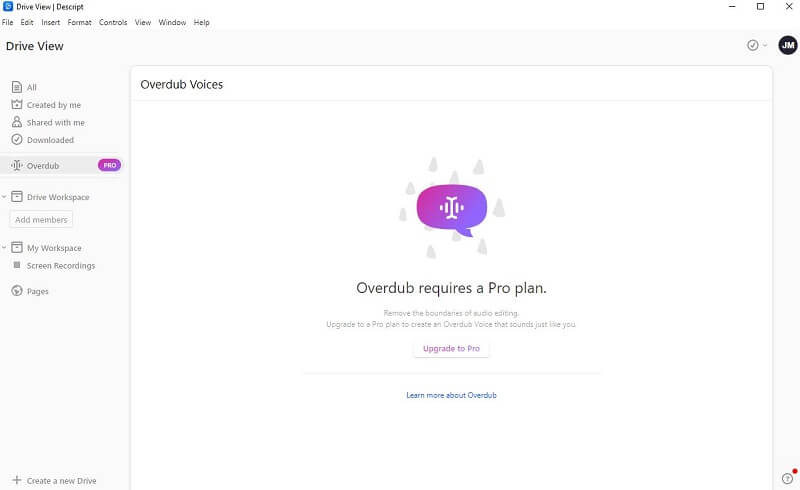 3. If you want to create a digital version of your own voice you'll need to go back to the main menu and select the Overdub tool. Unlocking access to Overdub requires you to subscribe to the $30/mo Pro plan, however, there is a trial that lets you test it for free for up to 7 days.
Who is Lyrebird AI For?
Lyrebird AI is meant to be used primarily in the business and education sectors. However, pretty much anybody can take advantage of it since the software is versatile and very easy to use. For instance, podcasters and vloggers can get a lot of mileage out of Lyrebird AI, as well as anyone who creates script-based audio or video content. As far as the business side of things is concerned, if you're working in marketing or customer support, you'll definitely love this software. Moreover, Lyrebird AI can also be used in the creation of commercials or ads.
Also read: Top 10 Best Deepfake Voice Software Review.
FAQs
1. How Does Lyrebird AI Work?
Just as its name indicates, Lyrebird AI uses artificial intelligence to learn attributes like pitch, accent, and cadence of a voice from an audio file and then mimic it in a very efficient way. The AI uses something called text-informed speech inpainting to achieve those results. The name of the software is quite fitting as a lyrebird is a bird native to Australia that can mimic pretty much any sound it hears.
2. Is Lyrebird Safe to Use?
There are always some ethical considerations to keep in mind when talking about technology based on artificial intelligence. The technology can be used for malicious purposes but that's unlikely to happen with Descript itself because the software has several safeguards in place. The most important of which being that customers can only create overdubs that have been authorized by the voice's original owner.
Final Thoughts
We're living in a day and age when AI is slowly becoming capable of creating media that's indistinguishable from the real thing. From deepfakes to AI writers and voice mimicking, it's clear that this technology is here to stay, so why not make the most of it? You can check out Lyrebird AI for free to see for yourself how far this technology has come.
Also read: Top 10 Voice Generator Review 2023.