Canva is a robust photo and document editing platform that reaches mobile devices as well. It offers powerful performance with ease of use.

---
Canva is a highly popular image editing application that is available online as well as on mobile devices. Over the years, the Canva photo editor has gained immense recognition for various reasons.
It is one of the go-to apps for graphic designers, content creators, marketing professionals, photographers, and more. Its intuitive drag-and-drop interface, coupled with an extensive library of pre-designed templates, allows users with varying degrees of design expertise to easily produce professional-looking visuals.
Canva flyer, Canva birthday invitation templates, file export options, video editor, etc. are some examples of the many features offered by the platform.
What is Canva?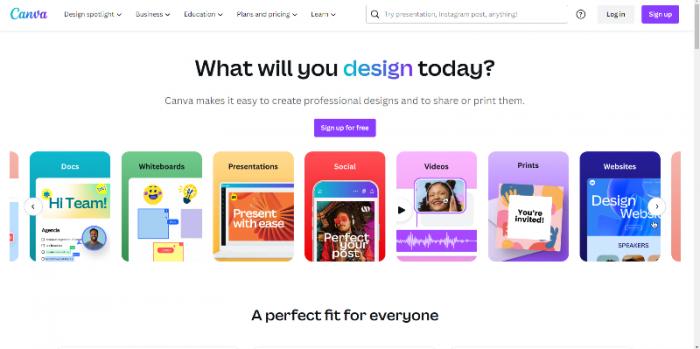 Canva has evolved into a versatile online platform that empowers individuals and businesses to create visually stunning images, presentations, logos, and more with ease. Its user-friendly interface and extensive library of templates, graphics, and fonts make it accessible to both novice and experienced designers. Canva has grown exponentially over the years, with many considering it one of the best photo editors.
Behind the success of Canva lies a robust technological infrastructure. At its core, Canva leverages cutting-edge web technologies to provide a seamless, cloud-based design experience. HTML5 and JavaScript are fundamental to its web-based application, enabling real-time collaborative editing and cross-platform compatibility.
Overview of Canva Photo Editor & More
Price: Canva offers quite a generous free version, providing a vast number of features. If you want to upgrade it to a Pro account, you can either go for the monthly plan that costs $14.99 per month or the yearly plan priced at $119.99 per month.
Platform: Canva is available on desktops running on Windows and Mac. It is also usable on mobile with Android and iOS.
With Canva, you can get invitation templates free of cost, presentation designs, and much more. Not to mention that the Canva video editor is another big addition to the platform that enables video editing. In this section, we will discuss some of the commonly used features of Canva.
Canva Photo Editor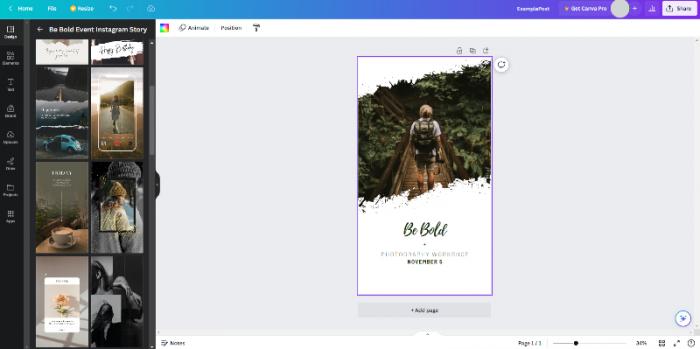 The Canva Photo Editor has many features, each with its own significance and use. Speaking of UI design, Canva's interface is designed to be intuitive, making it accessible to users with varying levels of design expertise. You can easily navigate through the photo editing features without prior experience in image editing software.
Convert Image Format: Canva supports a wide range of image file formats, including WebP. Users can upload photos and save them in a different format. The Pro version makes this feature even stronger with wider support.
Filters and Effects: Canva offers a wide range of filters and effects that can be applied to photos. Users can enhance their images with effects like vintage, black and white, sepia, and more, giving their visuals a unique look.
Canva Logo Maker & More: The image editing platform can be a massive help to users who regularly need logos, presentations, flyers, and other promotional content. In the digital marketing space, there is a consistent need for fresh content that stands out and is personalized to the client. Canva makes it a quick process.
Background Removal: One of the standout features is Canva's background removal tool. It uses AI technology to automatically detect and remove the background from photos, making it easier to create professional-looking cutouts for various design projects.
Accessibility: Canva makes use of AI-based technologies to automatically make changes to images. Users with little to no experience can create visually impressive images in a short amount of time. Apart from that, Canva can be used on mobile devices too, making it easy for users to switch between devices.
Relevant AI tools: Top 10 AI Photo Editors Review
Canva Video Editor
Besides the Canva invitations, flyers, and other photo editing features, there's also a video editor that you can utilize to create or edit videos. Once you enter the video editing space, you can upload videos, photos, and audio to incorporate into your project. While it is not up there with the premium software apps, the Canva video editor can be a useful tool for someone who wants to make just a few changes or additions without spending too much time.
Video Templates: Canva offers a wide range of professionally designed video templates for various purposes, which can be used for other videos, presentations, marketing, social media content, and more. These templates provide a starting point for users, saving time and ensuring a polished look.
Multiple Fonts: Similar to the Canva photo editor, users can add fitting fonts to their video clips from the same font menu. You can choose from a variety of fonts, font animations, and styles to make your text elements look enjoyable and engaging.
Stock Footage and Images: Users can choose from a variety of stock images and clips, especially in the Pro version. This is particularly useful for enhancing the visual appeal of video content.
Transitions and Effects: Canva offers a range of transition effects and video filters that can be applied to your clips. These help in creating seamless transitions between scenes and adding creative visual effects to your videos.
Audio Features: Canva allows users to import and edit audio tracks, including background music and voiceovers. You can include sound effects and upload specific audio clips to add to your project.
Canva Doc Editing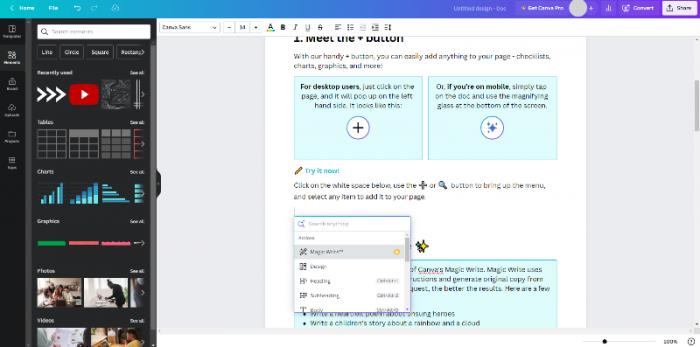 A major aspect of Canva lies in its document editing, real-time collaboration, and other productive work features. As such, it provides multiple features in that regard, such as whiteboards. It's designed to streamline the document creation process and enhance team collaboration. Not to mention that Canva adds new features to this part of the platform regularly.
Magic Write: Magic Write is Canva's AI-powered writing assistant. It can help you craft your messages, so that you can express yourself better. This can be helpful for writers to get some ideas as well. Moreover, Magic Write can bring a sense of professionalism to your texts and it only takes a minute to get started.
Emoji Feature: Canva Docs incorporates an emoji picker that allows users to easily insert emojis into their documents. Emojis can add a touch of personality, express emotions, and make working on documents much more fun with colleagues. The positives of this are friendlier communication and flow of work.
Real-Time Collaboration: Canva Docs supports real-time collaboration, making it easy for teams to work together on documents. Multiple users can edit and comment on the same document simultaneously, facilitating efficient teamwork and eliminating version control issues.
Formatting Features: Canva provides the basic document formatting and PDF editing features, such as alignment options, text & paragraph spacing, a variety of fonts, and more. Combine this with the Canva photo editor and users can make their documents look aligned to their brand's aesthetic.
It can not be emphasized enough just how vast Canva is and how much it offers to all kinds of users. After using the Canva photo editor, video editor, and more, we can certainly say that Canva is a very impressive platform. It has a wonderful UI design as well as performance, ensuring that users don't get stuck anywhere. Its presence on mobile devices keeps it ahead of many apps in terms of accessibility. Overall, it is a must-use application.
| | |
| --- | --- |
| Pros | Cons |
| Incredibly feature-rich. | The video editor can be improved. |
| Highly accessible, responsive, and affordable. | A bit difficult to use on mobile devices. |
| Real-time collaborations. |   |
Canva vs Fotor
Canva and Fotor are both well-known platforms for photo editing and more. Therefore, there are many similarities between the two applications while having their own set of differences as well. In this part, however, we will be comparing the two in photo editing primarily.
Product

Canva

Fotor

Price & Value

Monthly plan cost: $14.99

Yearly plan cost: $119.99

⭐⭐⭐⭐

Monthly plan cost: $8.99

Yearly plan cost: Approx $39.99

⭐⭐⭐⭐

Output Quality

The output quality is excellent.

⭐⭐⭐⭐

It offers high quality output.

⭐⭐⭐⭐

Performance & Stability

It is pretty stable on desktops and mobile devices.

⭐⭐⭐⭐

A bit laggy at times, but overall, pretty good.

⭐⭐⭐

Versatility

Canva offers incredible variety.

⭐⭐⭐⭐

Fotor has all you need for photo editing.

⭐⭐⭐⭐

AI Tools

Canva offers a few interesting AI tools.

⭐⭐⭐

Fotor AI Art Generator and others work really well.

⭐⭐⭐⭐
Conclusion
Canva has earned its reputation as a highly regarded platform for a reason. Its appeal extends to a wide range of creative professionals, including graphic designers and photographers, who appreciate the immense value it brings to their work. However, Canva's significance isn't limited to the creative industry alone. Thanks to features like Magic Write, real-time collaboration, etc. it can cater to office employees as well. You can refer to the tools directory from TopTenAI to get more useful apps.
One of Canva's strengths lies in its excellent performance and stability across desktop and mobile devices. This reliability ensures that users can seamlessly access and edit their projects from virtually anywhere, boosting ease of use and accessibility.
While Canva shines in many aspects, it does have some areas where it can improve. For instance, its video editing capabilities, while present, may not be as sophisticated. Additionally, while Canva's mobile app extends its accessibility, some users may find that the platform is not as intuitive and easy to use on smaller screens, which can be a minor drawback.
FAQs
How much is Canva Pro?
The price for Canva Pro is $14.99 per month for a monthly plan. For this, you receive several templates, designs, etc. Moreover, users can export their images at a bigger resolution as well. It is also worth noting that the prices for the Pro version depend on your region as well. For example, for a user in London, the monthly price would be £12 while in India, the price is ₹499 per month.
Is Canva Good for Beginners?
Canva is definitely a really good platform for beginners. It caters to pretty much all user types. Canva has a pretty simple to understand UI design that is also modern and responsive. Much of the editing can be done automatically, though users would still need to have some level of experience to make full use of the features provided by the platform.