As you know, AI is becoming popular worldwide in editing images. Portrait AI has an automated editing images feature that instantly transforms your images into something beautiful. The name AI attached to it doesn't mean you cannot manually edit it. It's up to you. If you want to edit your images manually, you can use various tools like a blemish, face fix, etc. the software that is programmed in it is genuinely awesome for what it is made for.
What is ON1 Portrait AI?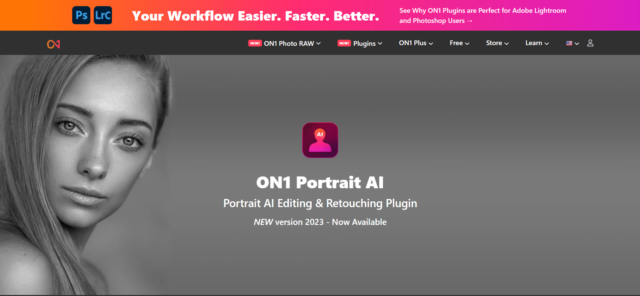 The AI Portrait provides an extreme level of image editing that you can find online. It fulfills your requirements effortlessly without having any type of issues. Just simply provide your image and perform editing instantly. It fastly helps you to fly through editing your photos precisely. It is made to deal with those time-consuming tasks without any hesitation. You can edit each image individually, or you can also process a batch of images quickly, perform professional editing in no time and save a lot of time by delivering 10 to 20 images at once as well as perform further tasks of your day. You are just one click away from amazing portrait retouching done with the help of AI portrait.
It basically uses the mechanism of a machine learning method that automatically recognizes all parts of your face. After analyzing all the mistakes and changes that need to be made to your photo, it automatically retouches your photo to make it more appealing. Dont worry about the performance of the photo, as all its tools are well-tested on millions of images. All the mistakes made during the million images test were corrected to give an authentic result that you acquired.
Here are some of its features that you might to have a look at.
Features
Detailed image categorizing and editing. 

It can easily process RAW files around 930 cameras, phones, drones, and more.

Corrects lens defects for almost 1,200 various lenses effortlessly. 

It allows you to perform global and local editing that includes layers

It can support you with multi-shot features like HDR image quality, focus stacking, and panoramas

Provides the newly emerged AI tools for cropping, masking, deblurring, keywording, etc.

Pay once every year and get going with your image editing.
Pros
Edits images immediately.

Automatically improves images with AI self-portrait.

Requires no skills.
Cons
Requires internet connection.

Fast internet speed is required for proper processing.

Not every device can operate it properly.

It does not support all languages.
Pricing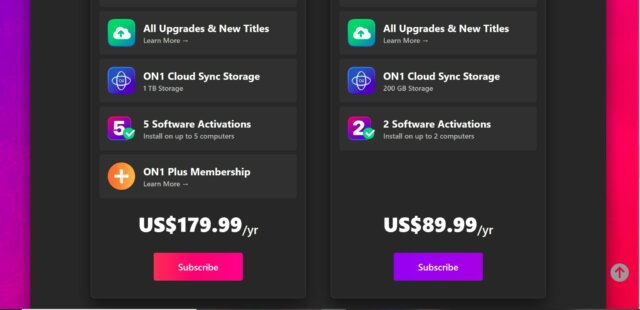 Two pricing plans are provided by Portrait AI, which require a yearly subscription. Here is a detail about each plan.
ON1 Everything
ON1 Plugins and Standalones

All Upgrades & New Titles

ON1 Cloud Sync Storage (200 GB Storage)

2 Software Activations (Install on up to 2 computers)

This plan demands $89.99 per year.
ON1 Everything Plus
ON1 Photo RAW 2023

ON1 Plugins and Standalones

All Upgrades & New Titles

ON1 Cloud Sync Storage(1 TB Storage)

5 Software Activations(Install on up to 5 computers)

ON1 Plus Membership

It requires $179.99 per year.
How to Use Portrait AI?
Using AI technology is very simple as it requires no effort from its users, and almost all its functions are automatically operated. You can process your images like a professional image editor with a few simple clicks. It uses the principles of AI portrait, which is actually a machine learning-based system to process your images instantly. It has a robust and optimized program known as ON1 that analyzes your facial features and structure to make it perfect. The ON1 program is tested on literally thousands of different face images and precisely perform the task assigned to it.
There are lots of photo retouching options that Portrait AI provides. Here are a few of them with their details on what they can do to your images and how you can use them.
Skin retouching
It retouches your skin by clarifying all the missing pixels in your face image's resolution. It automatically fills them and instantly enhances the details of your face.
Shine Reduction
Not everyone has a perfect oil-free face. Some people have oily skin that produces a lot of shine, and that shine blocks the vision of your face. It eliminates the oily shine from your face and makes it normal.
Blemish Removal
It removes all sorts of dark spots and pimples from your face. After eliminating all those pimples, it gives your face a neat and clean look without any quality loss.
Face Sculpting
It improves the shape of your face, which is maybe a round figure or fat. It gives your face a proper smart look to make you more handsome.
Teeth Whitening
To make your smile more proper, it whitens your teeth and gives them a glowing white look. It automatically converts your yellow teeth into white teeth easily.
If you are new to the platform and you dont have adequate information about operating its tools. Here is a complete guideline that you can follow to edit your images with portrait AI easily. Follow the steps given below to understand its usage and its quality.
Method 1: Portrait AI Application
First, you must download the portrait AI app on your device to begin portrait retouching.
Step 1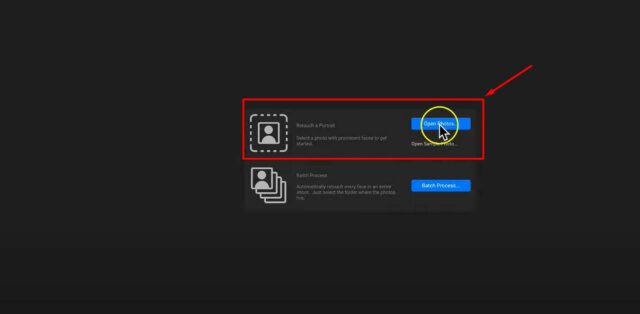 After opening the application from your device, two options will appear on your front. Click on open photos and add the required image to the platform to retouch it.
Step 2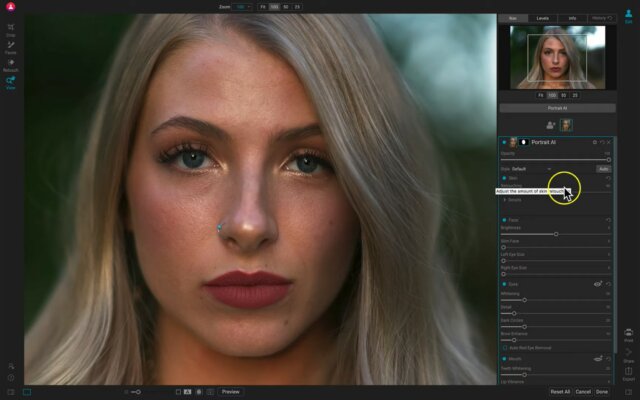 After uploading your image to the platform, it will automatically start recognizing the features of your face. Then you can add the editing features according to your requirement. Various options will be displayed on the right side of your screen. Select your desired editing feature and simply increase or decrease its value with your mouse or touchpad. 
Step 3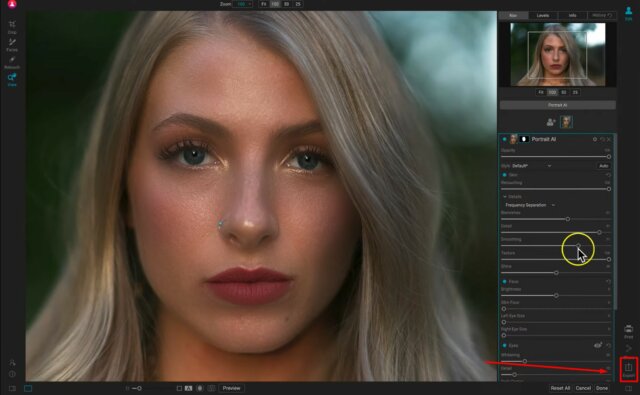 After you are done with your editing, you can easily download your image by clicking on the export image option. Click on it and download the image to your device easily after finishing your editing process.
The Difference Between Portrait AI and Other AI Portrait Generators
As there is a huge competition between all AI tools all around the globe. All AI tool developers are focused on making something unique to others. Every AI tool must have distinctive features unavailable on other AI portrait generators to make it unique. There is a lot of difference between other AI portrait generators and AI portrait generators. The main thing is that not every AI portrait generator has the ON1 program installed to edit your images. It is well-attested on millions of images, making it unique as it makes no mistakes during its processing. It precisely edits your images and provides authentic results without errors.
All its tools are based on AI that requires no effort more than just a few simple clicks. Its editing features perform perfectly and automatically. Portrait AI provides you with the authentic result that you desire and it can fulfill your requirement that you provide it.
Additionally, this portrait generator offers you abundant tools to edit your images found anywhere else or on any other platform. It is the professional editor as professional artists design it. The experience of professional artists is converted into AI tools to provide you with the desired result.
See also: A Thorough Analysis on AI Art Generator 2023.
What's the Limit of Portrait AI?
Its tools have certain limits, as they cannot perform all types of image editing. It only performs those features that are provided to it. Like you cannot convert your images into a cartoon. All its tools are based on artificial intelligence systems and require no effort. It does properly provide completely manual tools. Some of its tools provide manual usage, but not all features are manual. It only edits your images within the boundaries of its given tool. No other editing features are provided.
It enhances the features of your facial structure but not enhances the resolution of your image. You can edit your images properly by keeping your image's resolution the same as before. There is a proper limitation to its requirement. It requires high-processing devices to operate your images. Low-processing devices with inadequate rams cannot operate their tools. Other AI tools provide more vast editing options that can perform automatically, like enhancing the resolution of your image or like removing background images. It also not provides tools that produce special effects in your images.
FAQs
How does Portrait AI Work?
It consists of a machine learning system known as ON1, a powerful image editing program that automatically analyzes the details of your portrait and makes it wonderful without effort. It is based on an artificial intelligence system to improve your facial features easily.
Does Portrait AI Provide an app?
Yes, it provides a proper app for all types of systems. You can download it easily. It is available on Windows and macOS, and android systems also. It has a proper application that has very vast features to edit your images at any place or at any time you want.