This article highlights Unscreen, an online tool that uses AI technology to remove backgrounds from videos, making it easy to create professional-looking content. The review also covers the 5 alternatives of Unscreen, including their features, pros, and cons.
Removing background from a video sounds like engaging magic to many of those who are not tech-savvy. This can be proved by how a TikToker únicosobreviviente, which means "the last survivor", has gone viral recently by showing you an empty world in year 2027. Despite the possibility that his videos were made during pandemic lockdowns, video background removers can be another magic technology behind them.
There goes a lot if you want to remove background from video. In this post, I will show you a cool video background remover called Unscreen that's dedicated to the job. Unscreen is one such video background eraser that can not only remove video background but also allow you to change video background online. It can make video transparent in a similar manner to how background remover tools do when it comes to images.
Also read: 10 Best Tools to Make Background Transparent Free 2023.
What is Unscreen?
Unscreen is the tool that can remove background from video without a green screen. It is a tool powered by AI technology and offers performance with simplicity of use. Similar to BGremover (a free background remover) from VanceAI, Unscreen can remove background from video with just a click. It will also provide an API if needed and all of its videos are capable of having HD-level quality.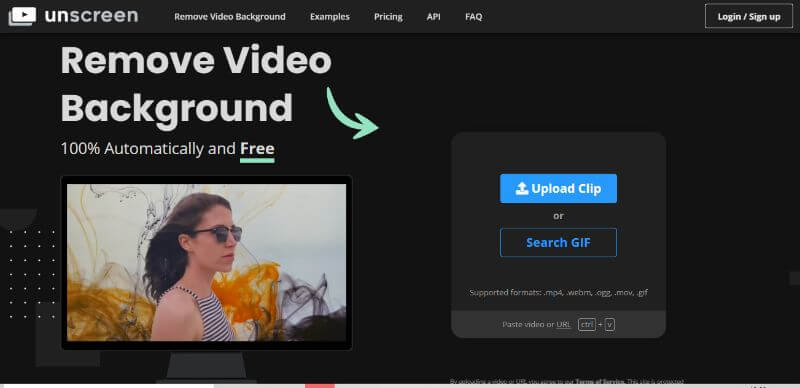 Remove Background from Video Without Green Screen using Unscreen
Let's see how to make a video transparent using the tool Unscreen online. You can also make GIFs transparent through this application.
Also read: How to Remove Green Screen from Images without Photoshop?
1. Go to Unscreen by clicking on the link above and uploading a video or using the website's search function to get a clip. You can also paste a URL and it works.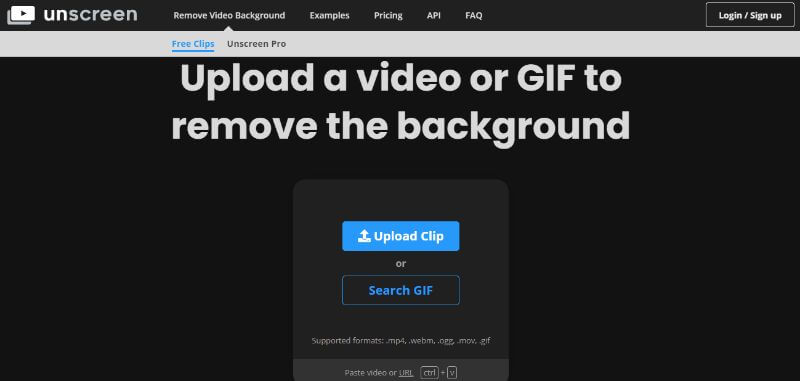 2. After a short processing time, you will get the transparent video on the screen. You can also choose a new background to apply to the new video.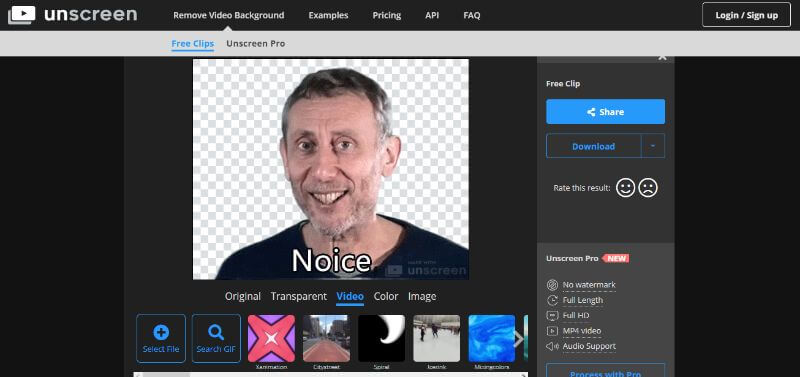 3. Use the Download button on the right of your new video to save it into your device. You can share the video as well, through the Share option on the right.
How does Unscreen work?
The tool is really smooth and offers a bunch of cool backgrounds that you can apply to your transparent video once it is processed. The AI technology in this application is great and it can remove background from video with good accuracy. Let's see a few clips.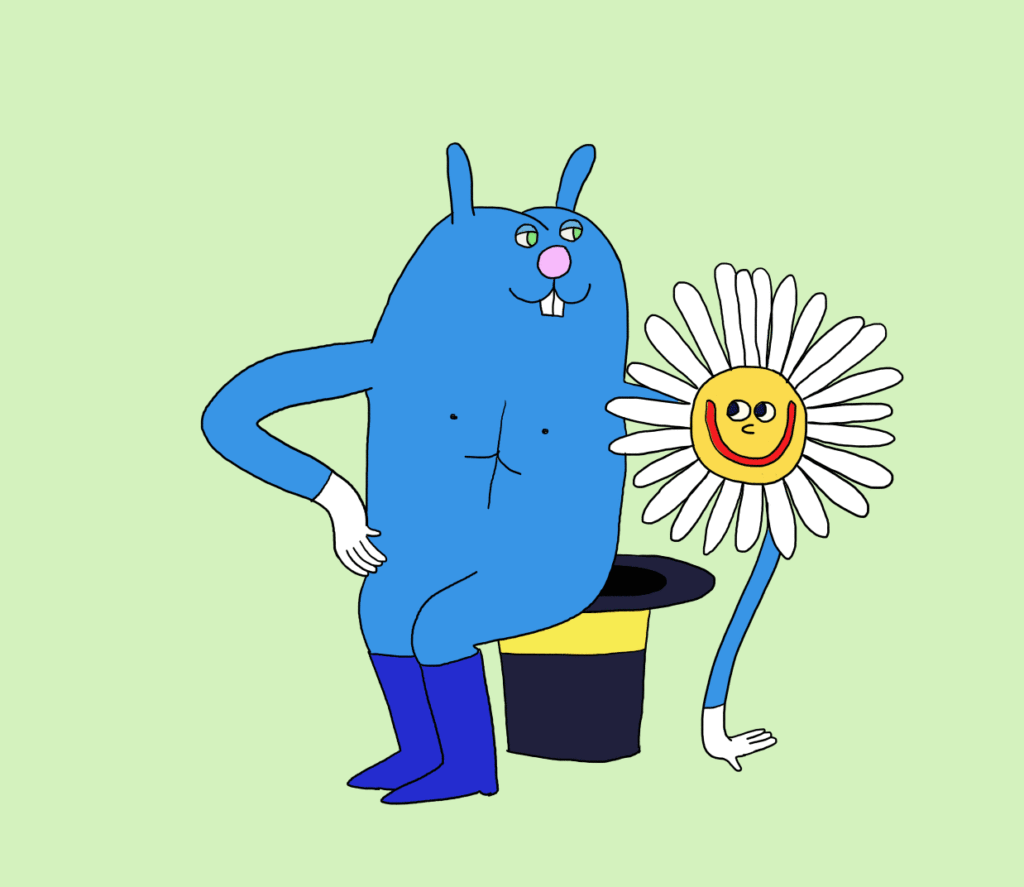 This is the original GIF clip of cartoons and a solid but simple background.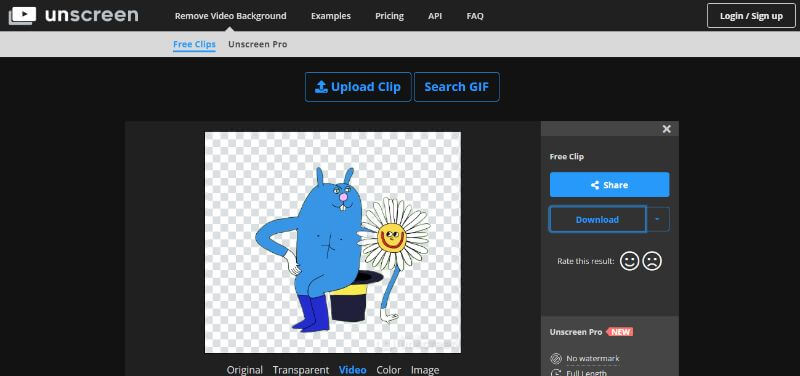 The conversion is accurate and clean.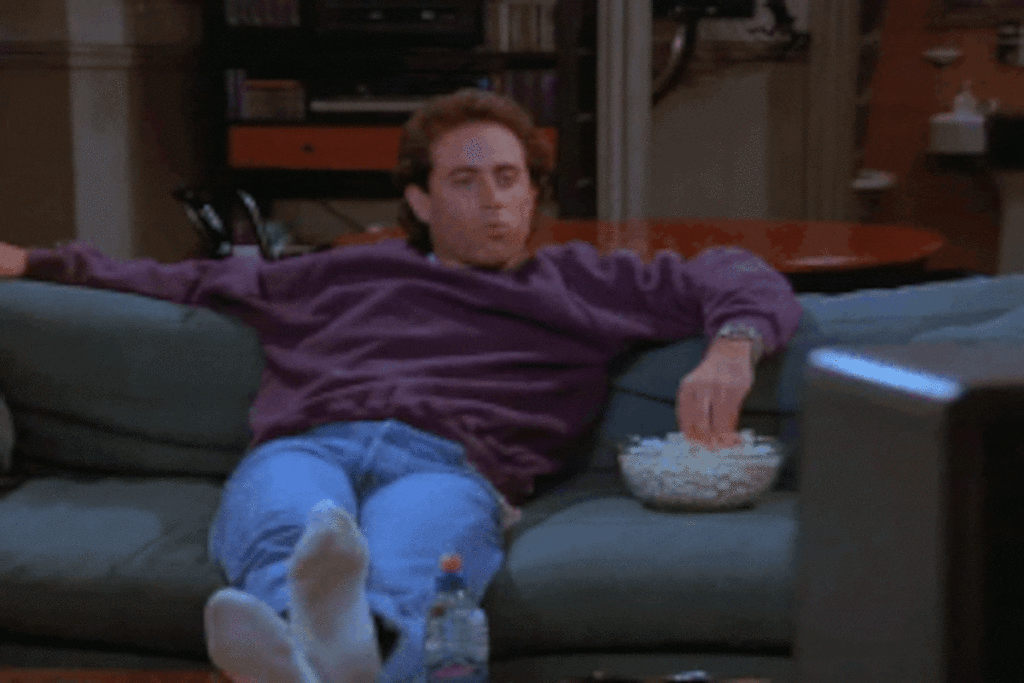 A clip from a popular TV show.
This is another clean conversion and the tool manages to remove background from video pretty well.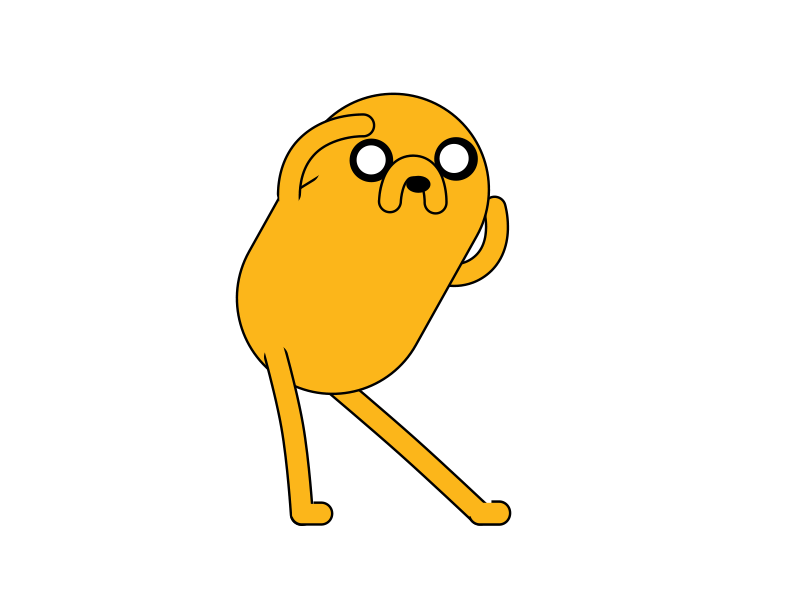 The background here is white rather than transparent.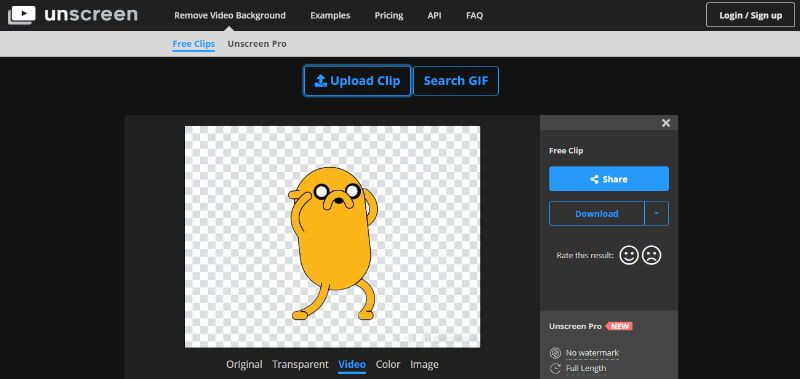 5 Best Unscreen Alternatives to Remove Video Background
| Product Name | Processing Speed | Accuracy & Quality | User-Friendliness | Free/Paid | AI-based | Suitable for |
| --- | --- | --- | --- | --- | --- | --- |
| Kapwing | ★★★★☆ | ★★★★☆ | ★★★★☆ | Freemium | ✅ | Casual users or amateur video editors |
| Veed.io | ★★★☆☆ | ★★★☆☆ | ★★★★☆ | Freemium | ✅ | Content creators or small businesses |
| Bgrem | ★★★★☆ | ★★★☆☆ | ★★★☆☆ | Paid | ✅ | Professional video editors or filmmakers |
| ChromaCam | ★★★☆☆ | ★★★★☆ | ★★★★☆ | Paid | ❌ | Users looking for virtual backgrounds in real-time |
| Adobe Premiere Pro | ★★★★☆ | ★★★★★ | ★★★★☆ | Paid | ❌ | Professional video editors or multimedia artists |
1. Kapwing
Price: You can remove background from video for free though for a limited amount of time only. You can upgrade your account with any of its subscription plans starting from $17 per month.
Kapwing offers an editor page where you can upload your videos or images and remove background. It also offers a wide range of other features that you can use to enhance the quality of your videos.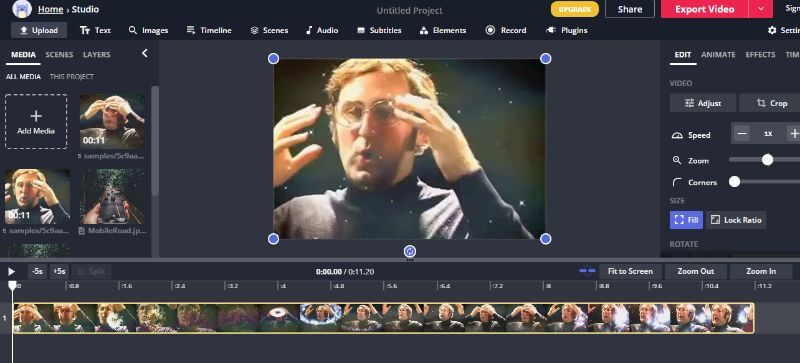 Pros:
Provides an editor.
Many features.
Smooth UI.
Cons:
Free with limitations.
Editor can be confusing.
The price can be a little steep
2. Veed.io
Price: You can use the online tool to remove video background with files less than 10 minutes or 50 MB size with watermark.
Veed.io is a smooth website application that deals with everything related to videos. You can not only remove background from video but also record your own screen and then proceed to editing directly from there. Apart from that, you can also do other editing work such as adding texts, subtitles, altering video quality, etc.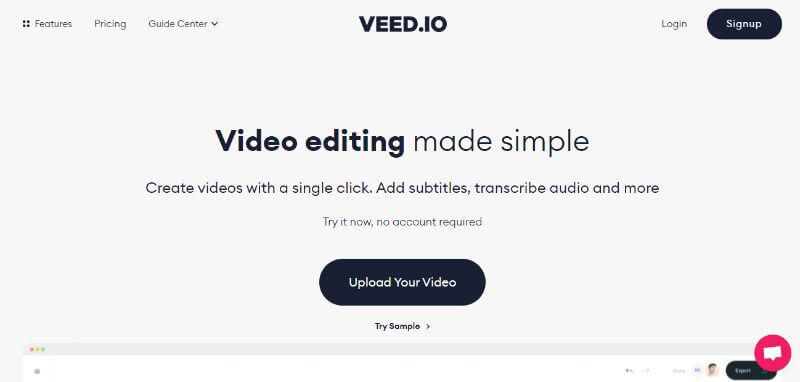 Pros:
Popular application.
Good prices.
Good UI.
Cons:
The other editing options are average.
It is not as fast as others.
Free version is limited.
3. Bgrem
Price: This application is free to use provided your video doesn't exceed 60 seconds of duration and 1080p resolution.
The Bgrem online video background eraser is one of the simpler tools you will find if you want to remove background from video quickly. The great advantage of this application is that it supports a lot of formats such as MP4, MKV, AVI, and more.
Pros:
Good compatibility.
Simple to use.
Cons:
It is a bit slow.
Some videos may have inaccurate results.
No other features.
4. ChromaCam
Price: You can remove background from video with this tool but it has limitations.
ChromaCam is a real business-centric tool that offers to remove background but also replace it with a professional one, which you can easily use during important business meetings and such. If you opt for a paid version, you can also get a Twitch bot, custom backgrounds, PPT compatibility, and more.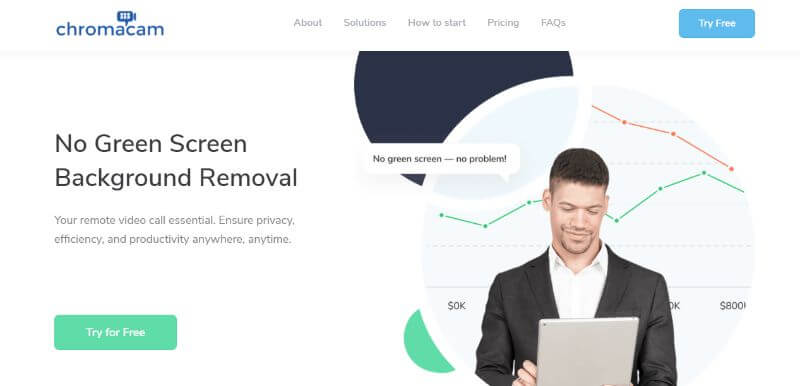 Pros:
Sophisticated tool.
Business-centric tool.
Smooth UI.
Cons:
Limited free version.
Specific features only.
Have to download it.
5. Adobe Premiere Pro
Price: You can use the free trial of Premiere Pro to remove background from an image.
With an Adobe product, especially Premiere Pro and Photoshop, you just know that you can do basically anything you want even though using the tools is confusing at times. With Premiere Pro, you can more than remove the background. Similar to Kapwing, this tool too has a wide range of features that you can use to enhance your video quality.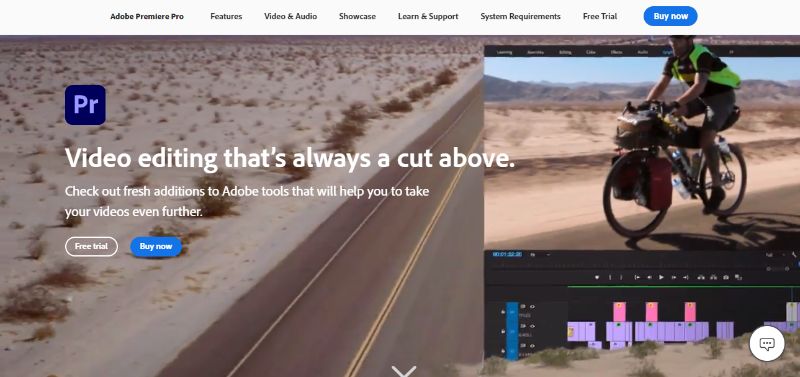 Pros:
A good free trial of seven days.
One of the most comprehensive tools.
Great accuracy on removing backgrounds.
Cons:
The paid versions can be costly too.
Takes time to learn the application.
Conclusion
So there you have it. A list of amazing tools that you can use right now for everything related to your videos. Use any of them to make your video ready for upload. Share this list with anyone as you may have fun using Unscreen together and editing funny videos, if not the other five tools mentioned. Also read: Top 15 Tools to Remove Green Screen 2023.