The article reviews the top 10 PDF to EPUB converter tools in 2023, based on factors such as conversion speed, output quality, ease of use, and additional features. Each tool is evaluated and compared, with pros and cons listed for each. Ultimately, the article suggests that users consider their specific needs when choosing a converter tool.
Ebooks are quite all the rage today. However several digital publications and books are now mainly made available in PDF format, making them pretty daunting to edit. Today, EPUB remains the standard digital publication format as it works excellently with several software apps and is much easier to edit. Besides, EPUB documents tend to be more responsive, featuring automatic adjustments to various screen sizes. Hence, you may want to consider converting your PDF to EPUB. To convert PDF to EPUB, there is a vast range of tools available to complete this process and as such, this guide covers the best 10 of the PDF to EPUB converters available.
Top 10 PDF to EPUB tools
| Converter Tool | Processing Speed | Output Quality | User-Friendliness | AI-Based | Online/Offline | Free/Paid |
| --- | --- | --- | --- | --- | --- | --- |
| CloudConvert | ★★★★☆ | ★★★★☆ | ★★★★☆ | ✅ | Online | Both |
| Convertio | ★★★☆☆ | ★★★☆☆ | ★★★★☆ | ✅ | Online | Freemium |
| Zamzar | ★★★☆☆ | ★★★☆☆ | ★★★☆☆ | ❌ | Online | Freemium |
| Online-convert | ★★★☆☆ | ★★★☆☆ | ★★★☆☆ | ❌ | Online | Freemium |
| To EPUB | ★★☆☆☆ | ★★★★☆ | ★★★☆☆ | ❌ | Online | Free |
| PDF Converter | ★★☆☆☆ | ★★★☆☆ | ★★★★☆ | ❌ | Offline | Paid |
1. CloudConvert
Price: $9/500 conversion minutes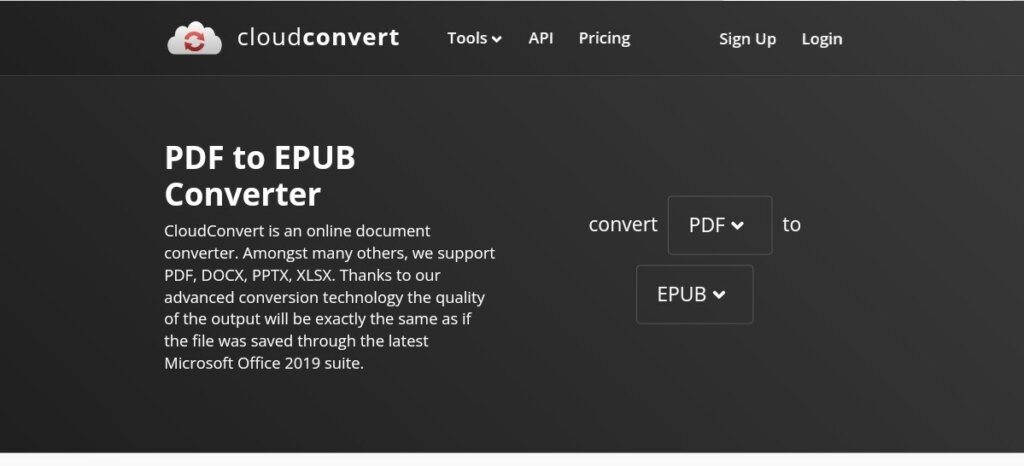 If you are seeking how to convert PDF to EPUB without losing format, this is a tool you should look forward to using. CloudConvert remains one of the most popular tools for various file conversions, also extending to other services such as file optimization and merging. Using this service, you can convert almost any format to another format you need, and in this case, PDF to EPUB. Best of all, it is web-based and majorly online, so you don't have to worry about stressful installations.
Pros
Upload PDF from various sources
Retains original quality and format
No need for installation
Cons
The free version has limited conversion volume
Relative lengthier than other tools
2. Convertio
Pricing: $10 monthly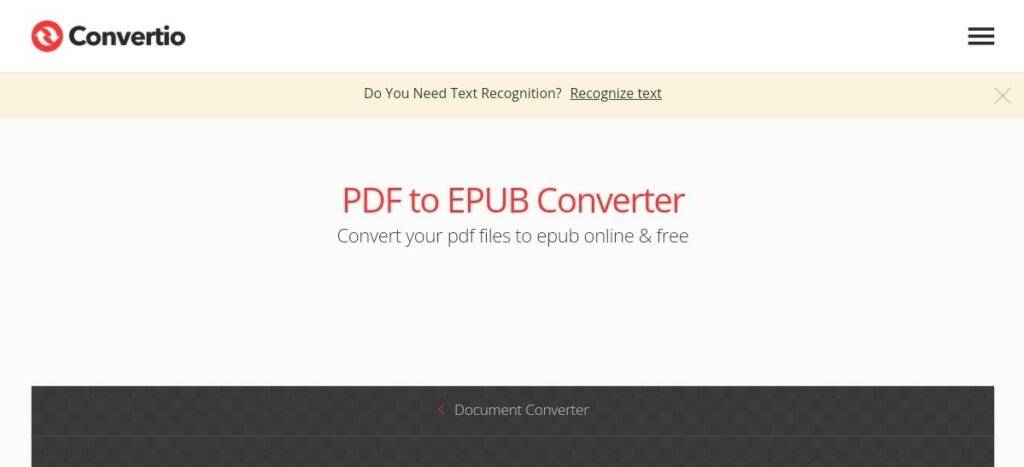 Convertio made this list mainly due to its intuitive OCR capability, and the ability to retain formatting excellently when exporting the EPUB document. In contrast to other free online PDFs to EPUB converters, Convertio has a pretty reliable quality with more accuracy and attention to formatting. However, what seems like a downside to this tool is the inability to convert over 10 files for free. Besides, its security effort is questionable as it stores files online for 24 hours, which is relatively lengthier than what is obtainable in most similar tools today.
Pros
Multi-format conversion
Supports batch conversion
Multiple upload sources
The pretty fast and easy conversion process
Cons
Risk of data leak
Only supports 10 files conversion for free
3. Zamzar
Pricing: $25 monthly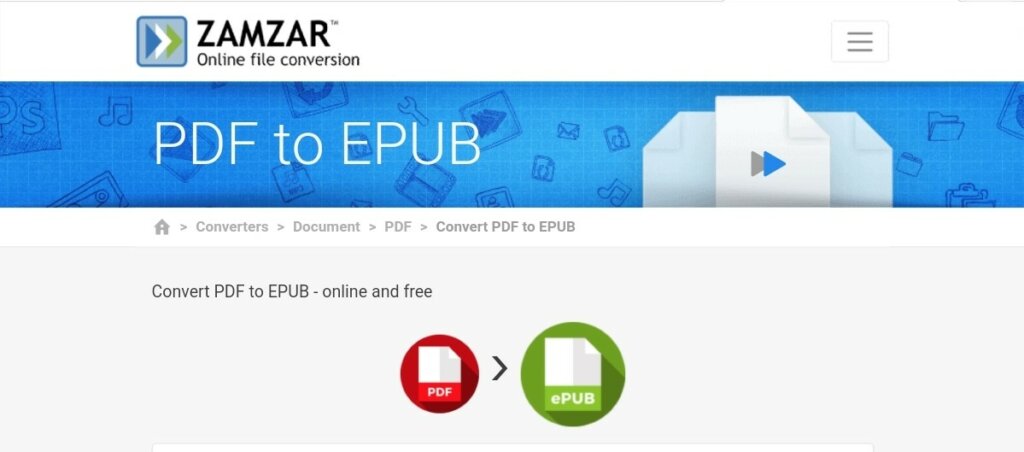 Zamzar is yet another excellent tool that allows you to convert PDF to EPUB without losing format. It is one of the best online converters out there, rendering support for an immense range of formats. Although the customization options are limited when converting PDF to EPUB, it brings out great results regardless. Again, the tool may require an email for it to send your converted document.
Pros
Very easy to use
Renders support for almost every ebook format available
You can process your documents in batches
Cons
Daily conversion is limited
A potential concern of data breach or leakage
4. Online-convert
Pricing: $7/200MB file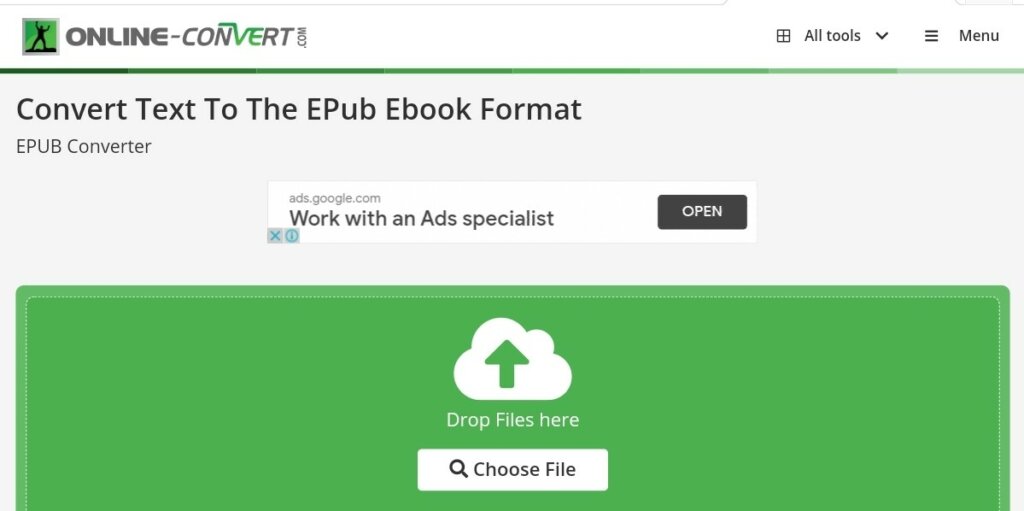 This online PDF to EPUB converter offers a plethora of free services extending across the conversion of images, audios, videos to and from various formats. In comparison to similar free online tools, online-convert allows for a greater deal of customization. It gives you the freedom to tweak various settings to your satisfaction. Besides, you may either decide to upload the PDF file by URL or directly from your PC. To cement its immense functionality, you can also edit ebook titles, include borders, and even more.
Pros
Output formatting is retained alongside the quality
You can edit EPUB file metadata using this tool
Batch conversion is allowed
Cons
Processing and conversion time is relatively lengthier
Needs some manual adjustments post-conversion
5. To EPUB
Pricing: Free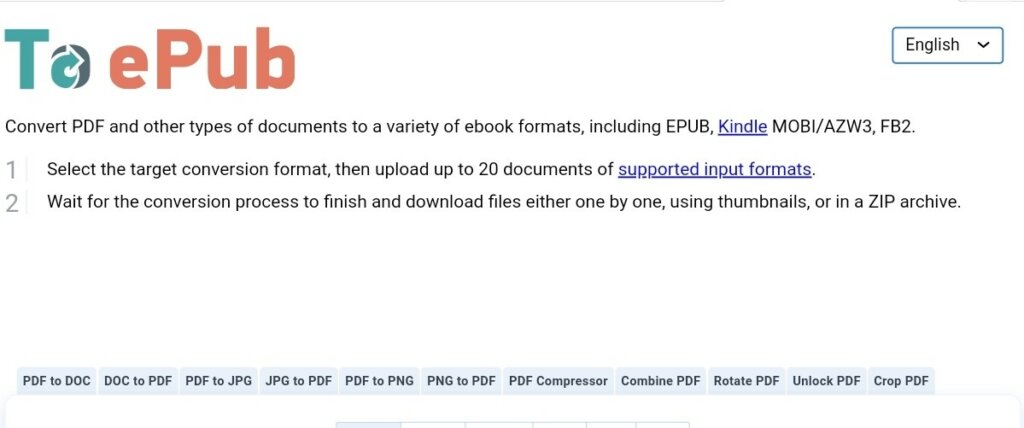 This is essentially an online tool dedicated to converting various forms of documents to ebook formats, including EPUB. The UI is intuitive, offering an unmatched users experience. In summary, it is pretty easy to use; all it requires of you is to upload the PDF file you intend to convert via the available options and select EPUB as your desired output format. In the blink of an eye, to pub completes the entire process for you with quite a reasonable quality retention.
Pros
Batch or multiple file conversion is allowed
Free, easy, and effective tool to use, even without extensive knowledge on how to convert PDF to EPUB
Cons
Not suitable for image-rich PDF documents
6. PDF Converter
Pricing: $6 monthly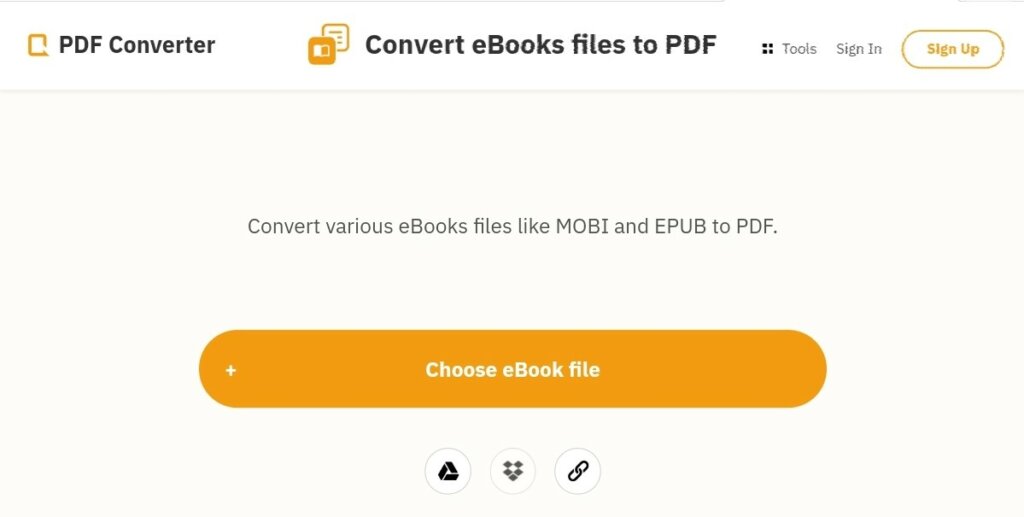 This is quite a handy online PDF to EPUB converter, supporting a range of conversions without challenges. It is straightforward to use and devoid of unnecessary and ugly ads. The converter works just excellently and doesn't really require much, to begin with. All you need to do is select the file and kickstart the conversion process. Conversion speed may vary depending on file size, and once you download your output, the tool quickly removes the remaining files from the server to maintain their integrity.
Pros
Supports PDF editing
The user interface is straightforward and intuitive
Pretty easy to use
Cons
Not completely free
Some features are limited by subscription
7. CleverPDF
Pricing: Free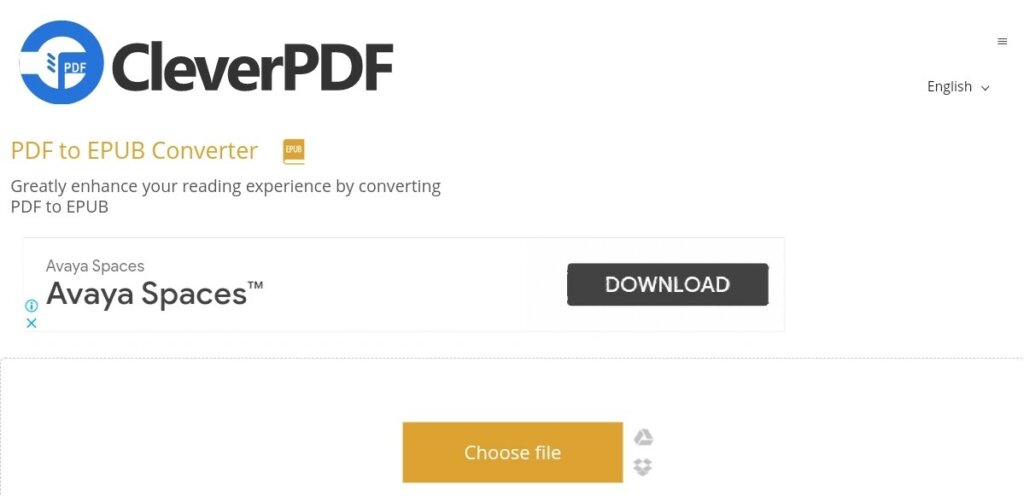 Here is a permanently free tool, allowing you to convert PDF into diverse formats, and of course, EPUB. It operates predominantly online with a cloud-based framework. As such, all that is required of you is a browser with internet access. It works regardless of the operating system you operate on. Besides, for PDF to EPUB, you can pick input files from either your cloud storage services or directly from your local storage. No subscription or registration is required, and as a way to maintain data integrity, it deletes every file from its server after 30 minutes. You can also delete your files manually after conversion.
Pros
Maximum attention to formatting
Completely free and easy to use
Your data is in safe hands
Cons
8. PDF2EPUB
Pricing: Free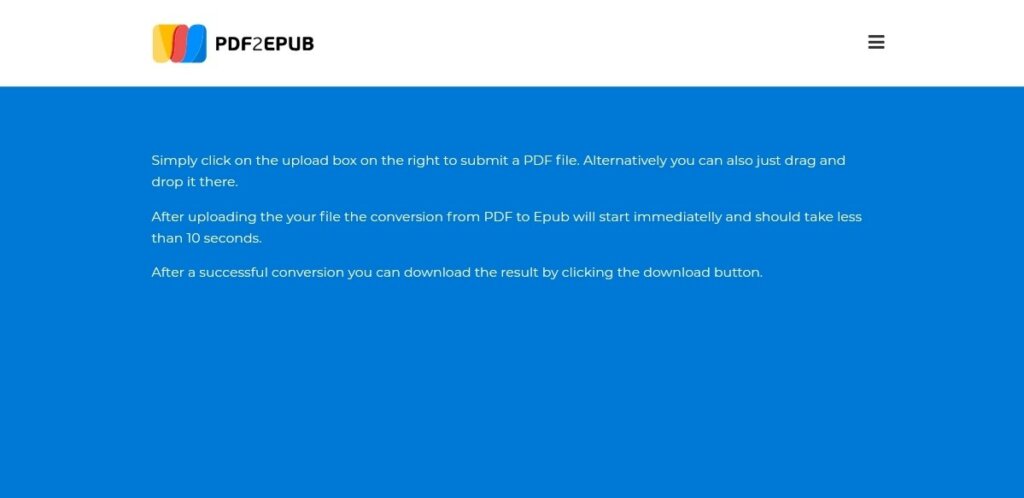 Similar to how several other PDF to EPUB converters work, PDF2EPUB adopts intuitive functionalities to extract texts from your PDF document and convert it into EPUB format. The tool doesn't require much to use as all you need is an internet-enabled device, regardless of whether you use windows, ios, or android. The output EPUB are of excellent quality. However, the quality and formatting might be somewhat lacking when dealing with image-rich PDF documents.
Pros
Intuitive user interface
A vast range of upload options
Free for most basic conversions
Cons
Might not be the best option for image-rich PDF documents.
9. Online converter
Pricing: Free

As the name implies, here is a free online file conversion service, allowing you to carry out several conversions, PDF to EPUB inclusive. It renders support for hundreds of document formats with an easy-to-use service. You are only required to upload the PDF document and select EPUB as the output format from the pertinent section. Besides, you want to ensure that the files you want to convert are less than 200mb as this is the limit of the tool features.
Pros
Free and easy to use
Supports several hundreds of file formats
Complete the entire process automatically
Cons
Conversion is limited to 200mb
10. PDF Candy
Pricing: $6 monthly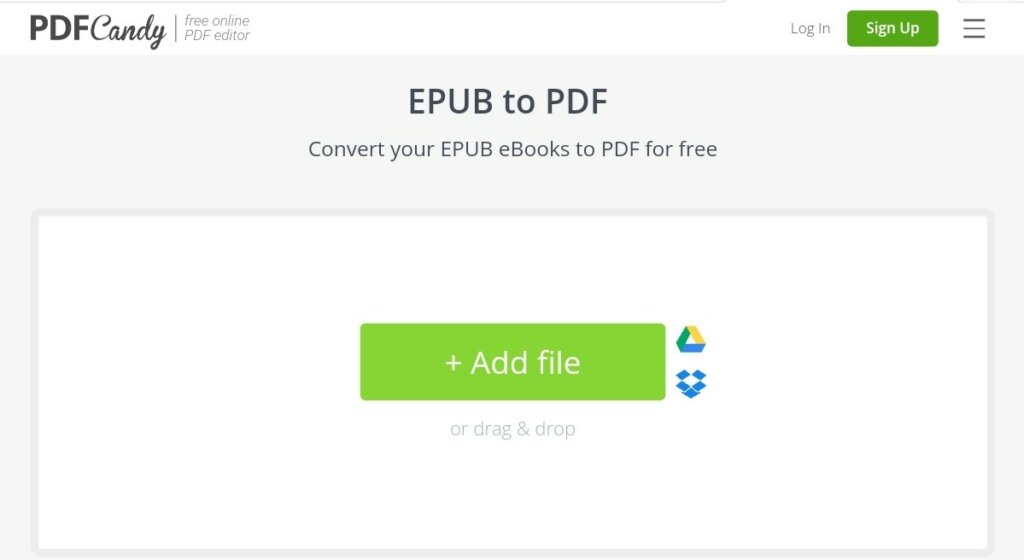 Using this online tool, you can access several file conversion features, as well as do several things such as file splitting and merging. The entire PDF to EPUB conversion process is as straightforward as it can be and even with no prior knowledge, the average joe should be able to complete the process seamlessly. However, the only thing that seems like a downside to using this tool is its upload size limitation- 10MB. Thus, it might not be suitable if you want to convert larger PDF documents.
Pros
Multi-format conversions
Features light editing functionalities
Devoid of annoying ads
Pretty easy to use
Cons
Upload is limited to 10MB
Not the fastest you'd find around
Difficulty in converting heavy files
Final Thoughts
With all these PDF to EPUB conversion alternatives highlighted, it is understandable that you might be confused about which would work best for you. Although all of them would get the job done for you, ultimately, your choice depends on the level of quality retention and volume of the file you intend to convert. Besides, you might also want to consider how well protected your files are as well as the level of privacy maintained. For more privacy, you can look forward to tools that delete your files almost instantly.
FAQS
1. What is the difference between PDF and EPUB?
EPUB refers to an open ebook standard/file format featuring a great deal of optimization for viewing on diverse devices. Essentially, files are automatically resized to perfectly align with your screen even on adjusting font sizes. On the other hand, PDF files are never re-flowable, as none of the aforementioned features could be obtainable in them.
2. How do I use EPUB?
Using the EPUB file format is pretty easy. You can check out various EPUB file browsers, plugins, and software online. An instance of this is the adobe digital edition. With these, you can easily open your EPUB files and use them for their intended purposes. Besides, you can also convert EPUB to PDF and use it with any PDF app or software you have.
3. How do I download EPUB books?
You can download EPUB books just similar to how you download any file format out there. The question to ask however is where to see such files. With just a simple search of EPUB books download on the search engine, you can access thousands of resources featuring the format and you can download them normally as you would for other file formats.