The article features a list of the top AI-based tools for generating stories. Each tool is reviewed based on its features, output quality, user-friendliness, and suitability for various purposes, making it a useful resource for anyone interested in AI generating a story.
Do you ever find yourself struggling to come up with captivating story ideas for your creative writing? When you're sitting at your desk, the blank page before you taunting your imagination. Where do you even begin? Well, fret not! In the rapidly evolving world of technology, Artificial Intelligence (AI) has come to the rescue, revolutionizing the way we generate stories. There has a tool that could effortlessly spark your creativity, generating compelling narratives at the click of a button. This is where AI story generators step in.
This article will take you on a thrilling exploration of the top 10 AI story generators for creative writing in 2023. We will delve into their features, performance, and user-friendliness, allowing you to make an informed decision on which AI story generator best suits your needs. So, get ready to unlock a world of limitless storytelling possibilities with the help of cutting-edge AI technology. Let's dive in these AI story generators!
Know more: How AI content generators work.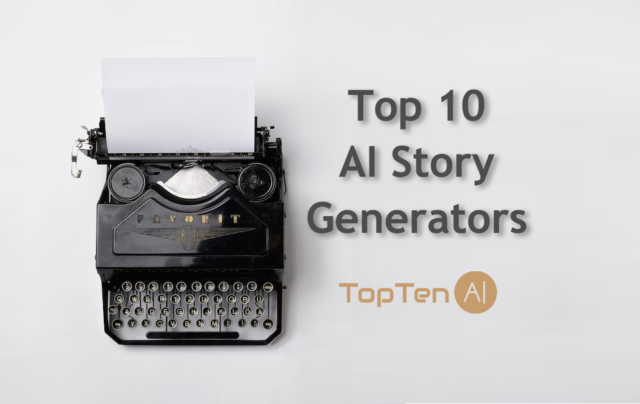 Top 10 AI Story Generators (Updated April 2023)
| AI Writing Tool | Generating Speed | Output Quality | Free or Paid | AI-Based | Suitable for |
| --- | --- | --- | --- | --- | --- |
| Storylab.AI | ★★★★✩ | ★★★★✩ | Free/Paid | ✅ | Creative Writing, Marketing |
| Rytr | ★★★★✩ | ★★★★✩ | Free/Paid | ✅ | Copywriting, Business Writing |
| DeepAI | ★★★★✩ | ★★★✩✩ | Free/Paid | ✅ | Business Writing, Creative Writing |
| DeepStory AI | ★★★✩✩ | ★★★★✩ | Free/Paid | ✅ | Creative Writing, Storytelling |
| Scriptbook | ★★★★✩ | ★★★✩✩ | Paid | ✅ | Screenwriting |
| Talk to Transformer | ★★★✩✩ | ★★★✩✩ | Free | ✅ | General Writing |
| Charisma | ★★★✩✩ | ★★★★✩ | Free/Paid | ❌ | Public Speaking, Presentations |
| Seb Scholl's TV script generator | ★★★✩✩ | ★★★★✩ | Free | ✅ | Screenwriting, TV writing |
| Uragirii | ★★★★✩ | ★★★✩✩ | Free/Paid | ✅ | Poetry, Prose, Creative Writing |
| Plot Generator | ★★★★✩ | ★★★✩✩ | Free | ❌ | Storytelling, Fiction Writing |
Our ratings are based on objective assessments, considering factors such as price, output quality, generating speed, suitable groups, and their pros and cons. Please note that product information may be updated, but we will keep the articles as up-to-date as possible.
1. Storylab.AI
Features: Provide improvised content
Pricing: free trial; Paid version starts at $5/mo and unlimited AI Runs cost only $19/mo.
Rating: 9/10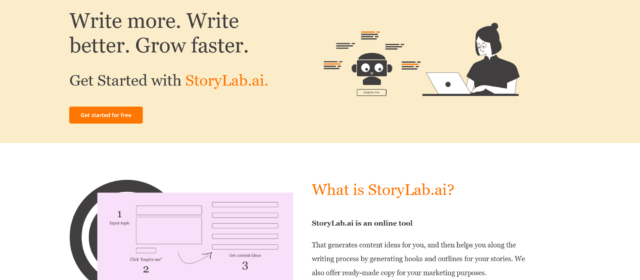 A complete package of AI story generators and editors to start writing blogs, stories, and ads from scratch, StoryLab.AI can help you develop content with mere keywords.
This free AI story generator works with the three-step procedure to select the content format, generate a plot based on input words, and finally create AI-written content from it.
It can be used in versatile applications to write in more than ten formats for various business purposes. You can even edit and improvise the written content using the on-page SEO checklist and AI writing generator tools available.
Pros:
Can write improvised content just using words
Best to create business ads and taglines
Cons:
Isn't suitable for long AI-generated scripts
2. Rytr
Features: It's available on mobile
Pricing: Free version provides only 5000 characters per month. The basic plan starts at $9 and the unlimited at $29 per month.
Rating: 9/10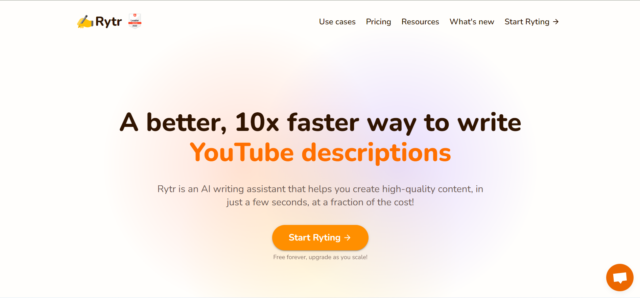 A completely full-featured short story generator AI, Rytr is a dynamic tool to generate blogs, taglines, sales content, short stories, and webpage fillers. It can also be one of the best movie scripts generators. You can directly launch the app, select the language and tone, the format for the content, give highlight keywords, and start the AI story generator.
Once the content is written  by AI story writer, you can edit, modify and rephrase it with the best SEO analyzer program and formatting icons. You can also extend it to Shopify or WordPress platforms to work directly.
Pros:
30+ languages and 20+ tones available
Vivid drop-down features to describe the ideas
You can edit the content later
Mobile application is available
Cons:
Doesn't work well for very long scripts
Limited keywords allowed
3. DeepAI
Features:  Real-time creativity
Pricing: Free demo available for one-time analysis or registration for $0.50 per 1000 requests of text generator. Businesses can approach customized plans and quotes through emails.
Rating: 8/10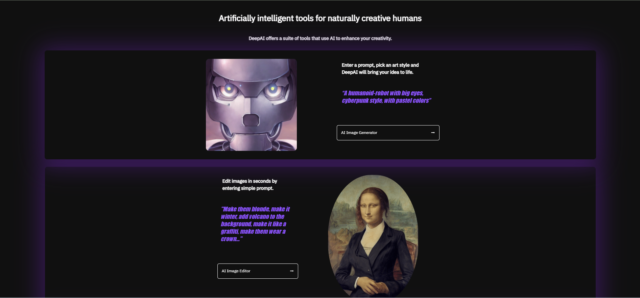 This DeepAI short story generator takes small sentences and keywords as input and multiplies around them to generate a long script. The platform works on the transformer language model, OpenAI's GPT-2, aka Generative Pre-trained Transformer 2nd, to analyze the inputs and generate content.
Users can code or modify the API document instructions in any trending programming language to train their text generator models with developing AI principles. Besides writing stories with AI, it can also complete partially written ones or new ones from incomplete sentences.
Apart from text generation, DeepAI once released its sub-product Zendo, the AI-powered visual assistant, to convert text to images, and get the latest updates on AI developments. Unfortunately, it was retired according to the DeepAI announcement.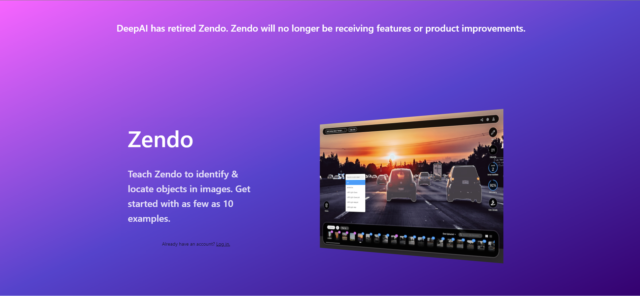 Pros:
Latest AI story generator implementing real-time creativity
Uses simple sentences for input
Versatile API support for text, video, image generation
Cons:
Users need to have programming knowledge to upgrade APIs.
4. DeepStory AI
Features: Easy to use
Pricing: The website is free but requires registration to use all features
Rating: 8/10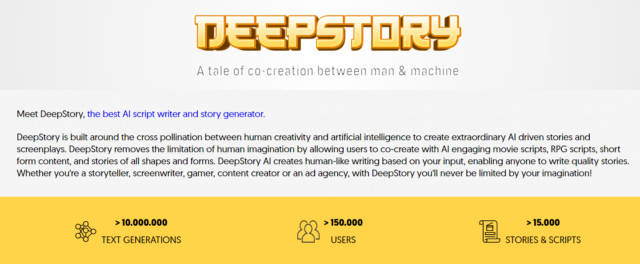 The easiest to approach and a still-developing beta version of an AI script generator, DeepStory AI provides the ease to generate, save, share, and download any AI-written script. You can select more than one existing film in the world as a reference to sketch the plot, background settings, and characters.
You can set the genre and time limit of the scenes to modify the reference movies provided earlier and come up with a new creative script. Once set, you can press the start button, and the AI story generator automatically writes out one for you.
Pros:
Easiest version and completely independent
Users can set features for genre and cast
Unlimited and free scripts
Cons:
Only selective reference movies provided
Fewer features to detail the script
AI-generated stories don't seem to be human written
5. Scriptbook
Features:  Provide demo trials for all features.
Pricing: Freemium package only offers external analysis. The basic plan starts from $199, and the standard plan from $1999 includes added validations. Businesses can negotiate customized premium plans.
Rating: 8/10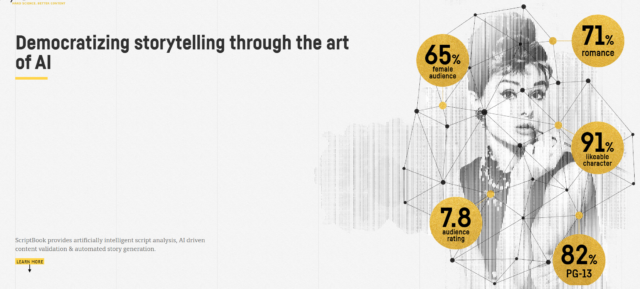 Scriptbook is a more complete version of beta DeepStory AI, this AI story maker is actually the alpha version of it. More than generating the script through its sub-website Deep Story AI, the programs analyze and validate the script to check if it's well-competitive for modern production standards.
Users can give references and sketch characters and genres to write the scenes. You can also provide additional AI story writer attributes like modifying characters' nature, the ai generated story's central theme, or even setting a budget and expected reviews and ratings.
Pros:
Various packages for overall script validation
Demo trials provided for all features
Quickest script analysis within 6 minutes
Cons:
Subscriptions highly priced
Takes at least 2 days for overall validation
6. InferKit
Features: Human-like AI-generated content
Pricing: 10K weekly free characters available. The basic plan is $20, and the premium plan is $60 per month.
Rating: 7/10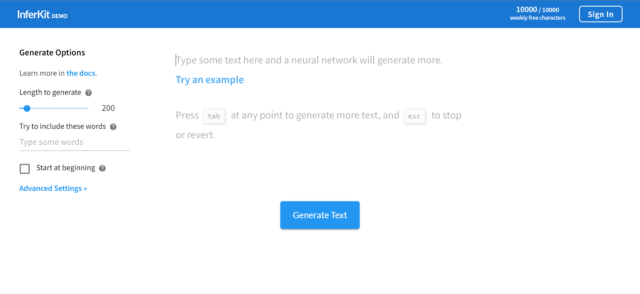 InferKit is a coming of age AI story creator, this one's a brand-new writing application developed by Adam King, Space X's CEO Elon Musk, and OpenAI's CEO Sam Altman. This AI story generator online app works on OpenAI's GPT-2 story generator and Natural Language Processing modules.
With a few input keywords, the AI story generator can develop stories, blogs, and paragraphs of varying lengths, by referring to countless existing web pages online.
Pros:
Human-like AI-generated scripts are developed
Easy to use without any tedious settings
Cons:
Subscriptions highly priced
7. Charisma
Features: Easy to use
Pricing: The app is free to play, but you need a license to extract and use the generated scripts on other platforms. You can register and negotiate the quotes through official email contacts.
Rating: 7/10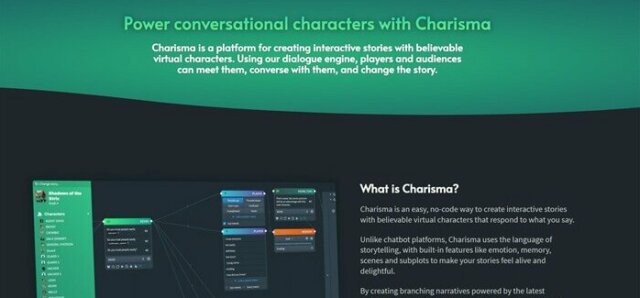 A virtually interacting AI story generator, the Charisma app can sketch communicating characters that can respond and play with the users to create a story. Apart from being an AI script generator, you can also use it to develop games with conversations or educational content with live chatting scripts.
Instead of writing wordy scripts, this AI story maker creates the characters and prompts them to talk with the users to generate the script. You can design your characters with different emotions, personalities, and voices to talk through speech recognition. The characters use NLP and the recorded memories to respond to the coming user inputs.
Pros:
Best interactive AI story creator
Both written chats and speech recognition are available
Users can design characters realistically
Available for free download in all app stores
No coding is required anywhere
Cons:
You can't get completed AI-generated stories
No extra settings but to provide describing attributes
8. Seb Scholl's TV script generator
Features: Quick output
Pricing: Free app with the program available on GitHub
Rating: 7/10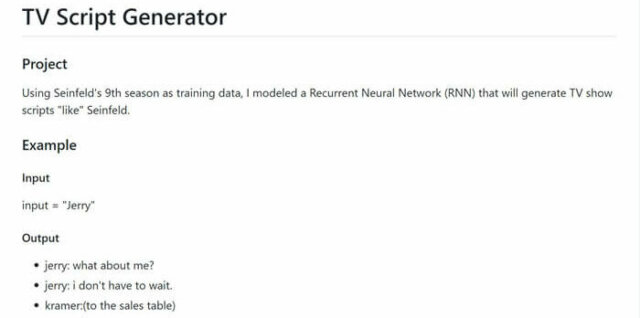 Developed by Seb Scholl, this AI story generator writes drama scripts of varying lengths based on the 9th season of the 1989 American sitcom Seinfeld. It can be a good talk to transformer alternative for you. The free AI story generator works on RNN, Recurrent Neural Network programming to develop sentences from given input words. Once you provide a keyword, the program outputs ten possible sentences, loosely based on the pre-fed Seinfeld episodes.
Pros:
Ten distinct outputs for a single word
Cons:
Can only write sentences similar to the sitcom Seinfeld
No choices to set any attributes
9. Uragirii
Features: Unlimited AI-generated stories
Pricing: Free web application
Rating: 7/10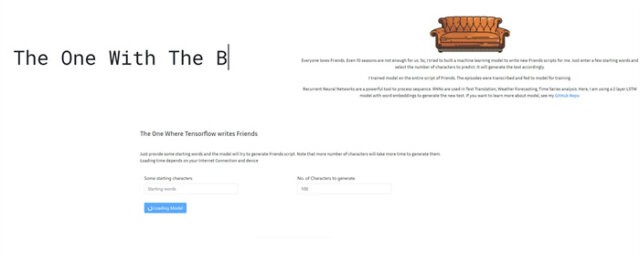 This developing AI script generator is solely dependent on the famous American sitcom Friends. The story generator was developed by Apoorv Kansal, and based on machine learning programs and recurrent neural networks.
You can simply start with a few words introduction and provide the script length to allow the AI story maker to write an alternate Friends script for you.
Pros:
Easy to use
Unlimited AI-generated stories
Cons:
Can only write scripts similar to the sitcom Friends
10. Plot Generator
Features: Multiple features
Rating: 7/10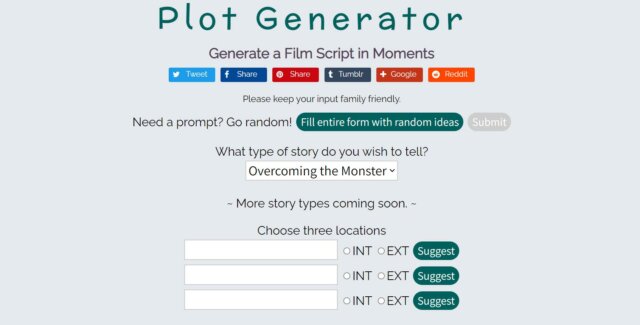 If you are looking for a dynamic story ai generator online app, Plot generator can help you by providing a complete ai generated stories using your cast and set descriptions. The webpage has several input fields to create and define the protagonists, sidekicks, and villains.
You can add mythical and fancy characters, items, and scenes to shape your stories uniquely. Though the platform is still under development, and yet to add reference scripts to select from, you can still generate input-based AI-generated stories.
The plot generator app also features a random filling option that selects the AI-based attributes without the user giving any input. Along with the movie scripts, you can also generate your pen name if you want to become an anonymously famous writer!
Pros:
Multiple features to choose and generate the plot
Provides completed AI-written script
Easy to select choices with pre-fed examples
Cons:
Isn't suitable for writing a blog and article content
The platform is still under development
Conclusion
In conclusion, AI story generator applications have become a valuable resource for writers seeking creative content generation. These AI story generators, powered by artificial intelligence, offer the ability to generate plots, design story backgrounds, and produce written content based on keywords and instructions. The top 10 AI script generator online platforms discussed in this article provide a range of features and are available in both free and paid versions. However, it is important to note that while AI can assist in content creation, it is still limited in its development and may exhibit the characteristics of machine writing. Therefore, it cannot completely replace human writing. It is advised to use AI as a tool rather than a replacement, allowing it to enhance and support the writing process.
Also read: 35 AI content generators to explore in 2023.