The article provides a review of the best deepfake voice tools. It explains how these tools work, and then goes on to review the top 10 from aspects of price, features, ease of use, and accuracy.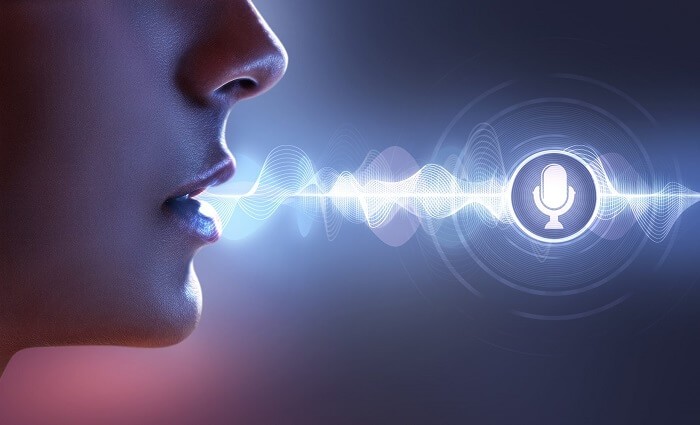 In the realm of live broadcasting, having a captivating and professional voice is crucial. The ability to engage and captivate your audience with a commanding presence is what sets exceptional broadcasters apart. However, not everyone possesses the innate vocal talents required for such a role. This is where AI voice software steps in, offering a transformative solution.
By harnessing the power of artificial intelligence, these deepfake voice softwares allow users to enhance their voices and emulate the polished delivery of seasoned broadcasters. The importance of utilizing best ai voice generator in this special scenario cannot be overstated. It empowers individuals to unleash their full potential, captivating audiences with compelling voices and creating unforgettable broadcasting experiences.
Know more about: Audio deepfake.
Check this YouTube video to see how interesting Deepfake Voice is:
Here we listed some of the best ai voice generator on the market:
Top 12 Best Deepfake Voice Generators to Try in 2023 (Updated in April)
Our ratings are based on objective assessments, considering factors such as price, output quality, notable features, suitable groups and its pros and cons. And we will try to keep the article as updated as possible with the actual product to provide readers with updated info.
| | | | | | |
| --- | --- | --- | --- | --- | --- |
| Products | Output Quality | User-Friendliness | AI Based | Free or Paid | Suitable For |
| Resemble AI | ★★★★☆ | ★★★☆☆ | ✅ | Paid | Professional ai voice over and speech synthesis |
| Fakeyou | ★★★☆☆ | ★★★★☆ | ✅ | Freemium | Basic text-to-speech conversion |
| Descript | ★★★★☆ | ★★★★☆ | ✅ | Paid/Freemium | Podcasting, video editing, and transcription |
| VoiceAI | ★★★☆☆ | ★★★★☆ | ✅ | Paid | Basic ai voice over and speech synthesis |
| ReplicaStudios | ★★★★★ | ★★★★★ | ✅ | Paid | Best ai voice over and speech synthesis |
| ReadSpeaker | ★★★★☆ | ★★★☆☆ | ✅ | Paid | Text-to-speech technology for businesses |
| ReSpeecher | ★★★★☆ | ★★★★☆ | ✅ | Paid | High-quality voice cloning software |
| Modulate.ai | ★★★★☆ | ★★★★☆ | ✅ | Paid/Freemium | Voice skins for gaming and streaming |
| Voice Changer with Effects | ★★★☆☆ | ★★★★☆ | ❌ | Freemium | Fun voice manipulation for casual use |
| iSpeech | ★★★☆☆ | ★★★☆☆ | ✅ | Paid/Freemium | Speech synthesis and recognition software |
| RealTimeVoiceCloning | ★★★★☆ | ★★★☆☆ | ✅ | Paid/Freemium | Voice cloning for voiceover and narration |
Now you can get a quick overview of hundreds of useful tools from our Tools Directory.
1. Resemble AI 

[Free for 2 min]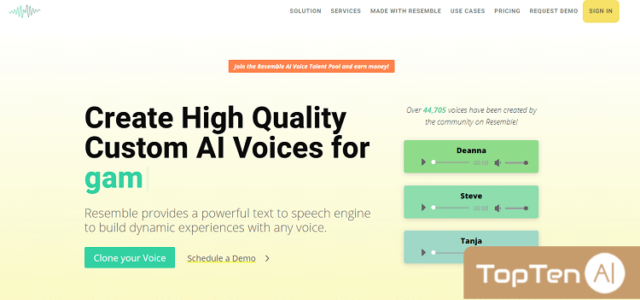 Price: 2 minutes of audio for free. Past that, prices start at $30/mo.
Rating:4.8/5 
Resemble AI is a very powerful text-to-speech and deepfake AI voice generator that can create high-quality audio without requiring large amounts of data. In fact, the AI powering this best voice cloning software only needs about 5 minutes to get started.
You can also use the tool's quick sampler to train Resemble to mimic your own voice or upload pre-recorded clips instead then generate best voice ai. The clips can, of course, be of someone else's voice too.
One of the most impressive features of this tool is its ability to use a form of modulation that changes the intonation and adds emotion to the speech. Read TopTenAI's detailed review about the Resemble AI.
Pros

Cons

Efficient and easy to use
Advanced speech gradients
Supports a wide variety of languages

Only one type of package for individual use
Primarily aimed at businesses
How to deepfake a voice with Resemble AI?
Step 1: Go to Resemble website and click "Clone your voice for free"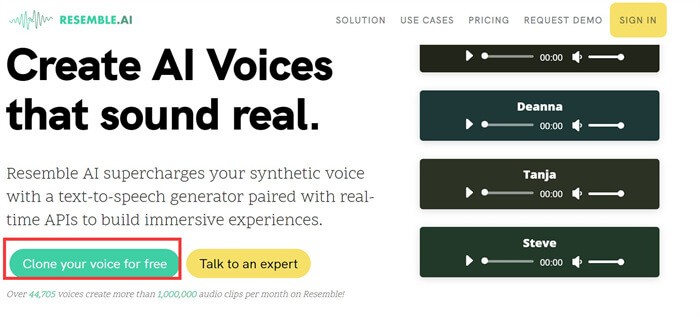 Step 2: Sign up with an email to start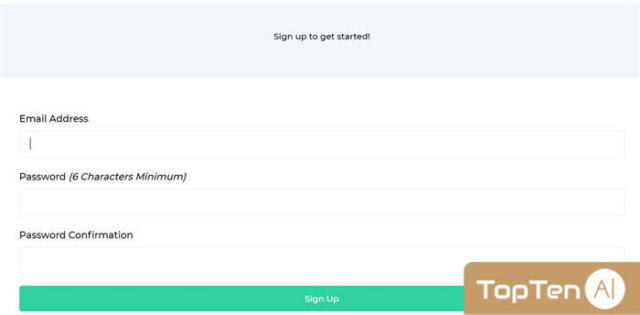 Step 3: Click "CREATE" to see the workplace.

Step 4: Type into your words.
Name your voice, select the voice type, and type into your words.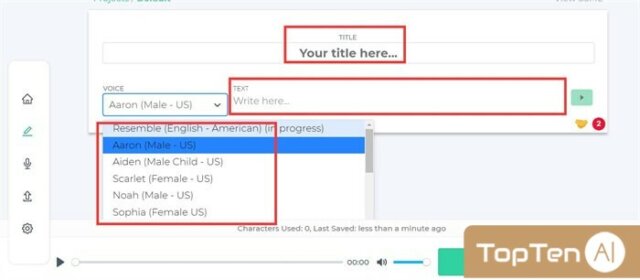 Step 5: Turn the words into voice
Hit "Create all" to turn the words into voice and click the down arrow to select to download full audio or separately.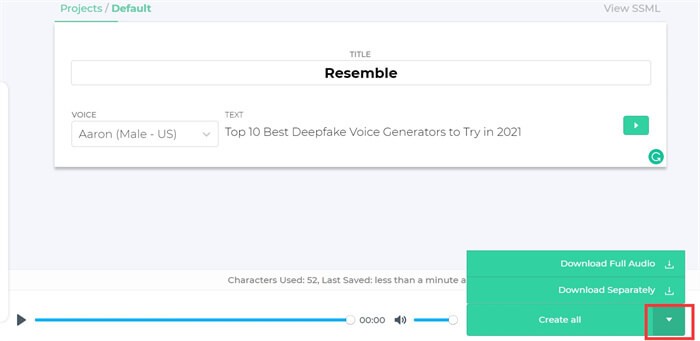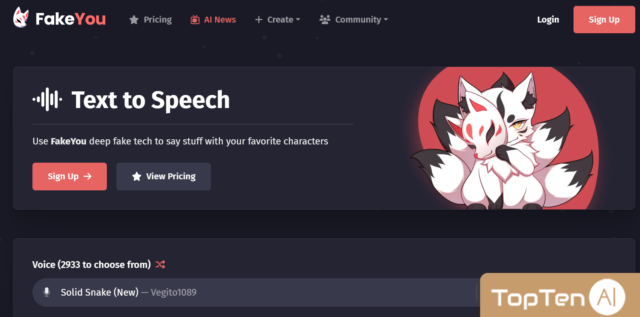 Fake You is a speech synthesis product based on artificial intelligence technology that can be used to generate natural and smooth artificial speech. It's one of the best free ai voice generator that can generate best ai voices.
Its main function is to convert text to speech, and you can choose different parameters such as voice, speech speed, and intonation to customize the generated speech. FakeYou's voice quality is more natural, realistic, and smooth than traditional speech synthesis technology.
FakeYou uses deep learning techniques to generate best voice AI, and it employs modern deep learning techniques such as neural network models and self-attentive mechanisms.
Specifically, it uses the WaveGlow and Glow TTS open-source, Transformer model to improve the naturalness of speech. The FakeYou also uses large-scale speech datasets to train the model, thus improving the quality and diversity of the generated speech.
Read the detailed review about Fakeyou:
Pros

Cons

Easy to use on Fake You

No registration required

Users can customize specific attributes

Lacking in detail and depth

No other related services.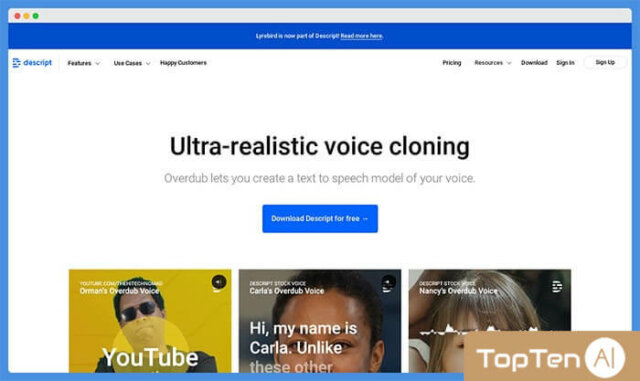 Price: 3 hours of transcription and 20 screen recordings for free. Paid plans start at $12/mo.
Rating:4.5/5
Descript uses deepfake voice generator to create best voice ai based on transcripts or audio clips.
This deepfake audio software fancies itself more of an audio/video editor that incorporates a wide variety of useful tools, including speech synthesizer, screen recorder, multitrack editing, transcription tool, and more to assist users to generate best ai voices. The editing process is an absolute breeze with Descript, allowing you to modify existing recordings instead of doing additional takes.
The main purposes of the voice cloning software is to enable you to create best ai voice overs for their videos, and even provides an impressive selection of stock voices to choose from.
Pros

Cons

Very impressive editing capabilities
Comes with many useful tools
High-quality speech synthesizer

Can feel a bit intimidating at first
Some of the stock voices can sound artificial
How to use Descript to generate deepfake voice?
This video will help you to use Descript to overdub voice. Also see our detailed review about Descript Overdub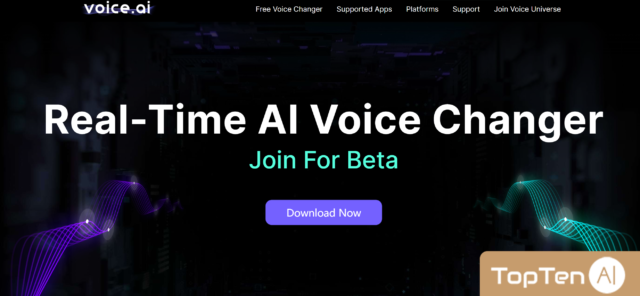 Price: Starts at $10 per month
Rating:4.5/5
Voice.AI is also a voice generation product based on artificial intelligence technology, with the main function of converting text into natural speech, supporting multiple languages and tone selection. It features a high degree of realism and natural fluency in the generated voice, as well as customizability and personalization features.
Voice.AI uses technologies including deep learning, natural language processing, speech synthesis, and other advanced technologies in related fields, of which deep learning models are its core technology to generate high-quality artificial voice through massive data training.
In addition, this voice changer ai also uses sound signal processing technology to improve the quality and fidelity of the generated speech.
Pros

Cons

High realism and natural smoothness
Multi-language support and timbre selection
Rich customizability and personalization features

Inability to completely replace the real human voice
High cost
5. ReplicaStudios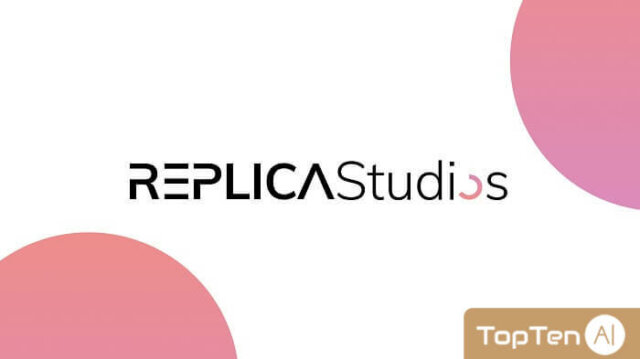 Price: 30 minutes free voice credit. Paid plans start at $36 per 4 hours of voice credit
Rating:4.0/5
Need talented actors to voice your video game or movie characters but can't afford their services? ReplicaStudios came up with a solution to that problem by providing efficient and fairly cheap AI voice actors instead.
The voice changer ai are trained by professionals working in the industry so you're getting their actual voices. The difference is that you can make them say whatever you want without hiring the people themselves.
You can't easily replicate the voice of a celebrity, for example, but you can customize existing voice packs to suit your needs.
Pros

Cons

Straightforward payment model
AI trained by actual professional voice actors
Good customization tools

Difficult to clone third-party voices
Commercial use only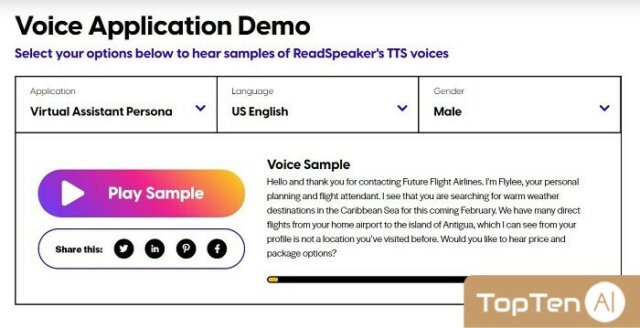 Price: Negotiable
Rating:3.8/5
ReadSpeaker is another voice cloning software with many possible applications, including virtual assistant personas, guidance & navigation, smart home controls, gaming, and more.
The main targeted audience, however, seems to be marketers. The tool allows for the easy creation of commercials in various languages using voices of celebrities or fictional characters.
Just like the previous celebrity voice generators on this list, ReadSpeaker isn't really meant for the general public but you can request a demo and they will get back to you with a price quota.
Pros

Cons

 Great deepfake voice solution for businesses
 Cross-lingual cloned voices
 Custom pronunciation dictionaries

 Synthesized voices can sound artificial
 No readily available to the general public
7. ReSpeecher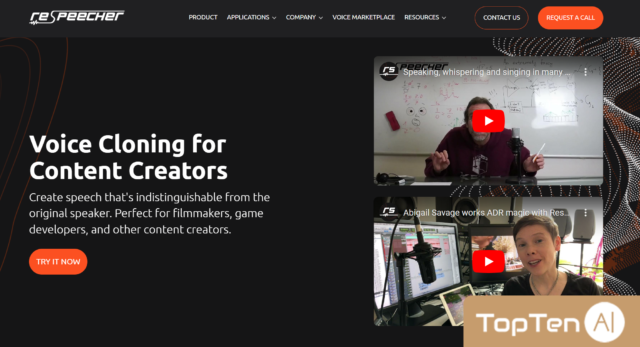 Price: 1-week free trial. Paid access $200/mo
Rating:3.5/5
You may have already heard about this one as the software has become very popular in recent years. This deepfake audio software was recently even used to recreate the voice of young Luke Skywalker in Disney's The Mandalorian.
Gaining the trust of a massive company like Lucasfilm speaks volumes about the quality of ReSpeecher. The software is able to create highly realistic and emotional speech that can be used for everything from movies and advertising to video games, dubbing, audiobooks, and more.
There's a very high demand for ReSpeecher right now so it may take a while before you are able to gain access, but you can take advantage of the free trial in the meantime.
Pros

Cons

 Amazing high-quality synthesized speech
 Impressive track record
 Generous free trial

 Access limited to 50 users every two weeks
 Expensive, with no flexible payment options
8. Modulate.ai – VoiceWear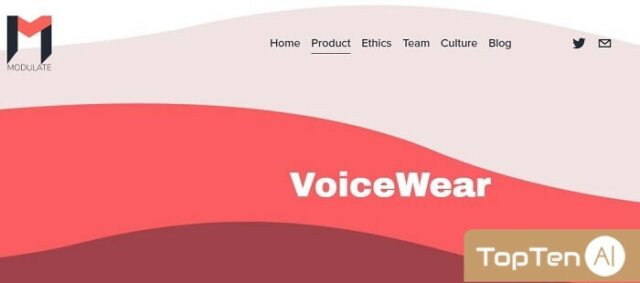 Price: Free to try, Paid version starts from $9.99/month
Rating:3.5/5
This next character voice generator is quite unique in that it is able to change your voice to an entirely different one in real time. M
odulate.ai's VoiceWear is a very advanced tool primarily designed to allow gamers to take on the voice of their favorite video game characters. It's essentially a role-playing tool but a lot more sophisticated than anything else you can find out there.
The voice changer ai can perfectly mimic the user's intonation, emotion and even accent, allowing them to sound like normal people, just with a different voice. Despite being designed with game characters in mind, VoiceWear can easily replicate anyone's voice.
Pros

Cons

 Advanced software developed at Cambridge
 Able to synthesize non-human voices (orcs, robots etc.)
 Works in real-time

 Not readily available to the public
 Creating custom voices based on specific individuals takes around a month
9. Voice Changer with Effects

[Free With Ads]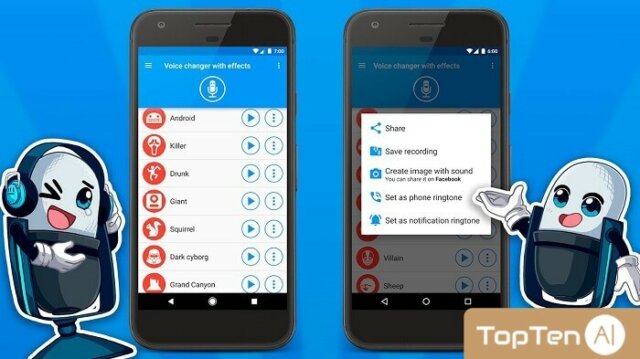 Price: Free with ads (in-app purchases)
Rating:3.5/5
Last but not least we have Voice Change with Effects, a fairly traditional voice cloning software. The app is very straightforward and easy to use – record your voice, slap on some quirky effects, and have fun with it.
Technically speaking, this isn't really deepfake voice since you can't clone other people's voices. However, you can create a similar effect by combining its text-to-speech engine with imported pre-recorded audio.
There are more than 40 effects to choose from and a handful of customization options along with various other features like the ability to create images with sound, set recordings as ringtones, and more.
Pros

Cons

 Easily accessible to everyone
Entirely free

 Not many advanced features
 Ads can be bothersome
 Just for Android
Also read: Lyrebird AI Review – Create A Digital Voice of Yourself with AI.
10. CereVoice Me – Voice Cloning Service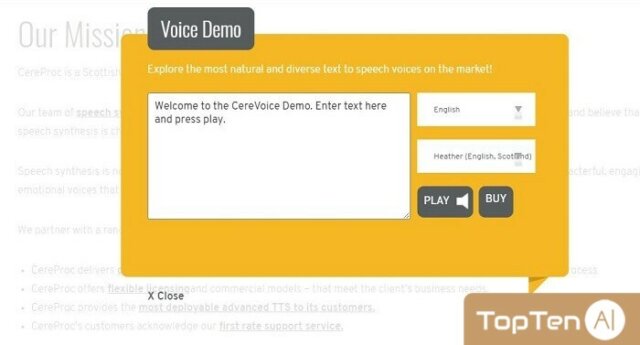 Price: $685.99 lifetime license
Rating:3.0/5
CereProc is a Scottish company that specializes in advanced text-to-speech and speech synthesis software.
The company offers high-quality voice packs in over two dozen different languages. You can buy not only male and female voices here but also those of children.
Unlike similar services, CereVoice Me doesn't require a monthly subscription, opting instead to sell lifetime licenses. This applies to both the voice packs and the voice cloning services. Speaking of which, this character voice generator is extremely efficient, requiring only a sample of a voice, albeit a lengthy one, in order to get the ball rolling.
Pros

Cons

 Voice packs available in over two dozen languages
 Male, female, and children voices
 Clone your own voice by simply reading a script

 Requires a large upfront investment
 Voice cloning tool designed for personal use only
11. iSpeech

[Free]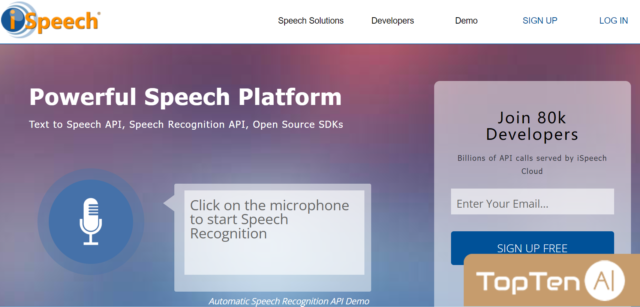 iSpeech is also a deepfake voice generator that you can use absolutely for free. The tool is available online and can also be downloaded, provided you're willing to sign up for an account first.
n addition to a voice cloning tool, iSpeech also provides text-to-speech, speech recognition, and web reader solutions, among other things. If you want to get started quickly with iSpeech, you can make use of one of the available demos of celebrities like Scarlett Johansson, Arnold Schwarzenegger or Barrack Obama. Otherwise, you can record your own voices and create custom templates.
Pros

Cons

 Entirely free
 Easy to use
 Supports over two dozen languages

 Lacks in quality compared to other tools
 Primarily designed for developers
12. RealTimeVoiceCloning [Free]
Real-Time Voice Cloning is an open-source project available GitHub. This toolbox allows you to synthesize someone's voice using as little as 5 seconds of audio. Previously I have introduced a paid software that is very similar to this open-source toolbox here.
Thanks for one of our readers who have left an important message here: thisfree ai voice generator is a scam site that charges you $999.99 lifetime license.
Pros

Cons

Can synthesize voices with only 5 seconds of audio
 Free to install the toolbox
 Open-source project

 No online version
 Not easy to use and require some technical skills
Explore Deepfake Voice: Everything You Need to Know About Deepfake Voice.
Final Thoughts
In conclusion, the advent of Deepfake Voice Software has revolutionized the world of voice manipulation, offering an extensive toolkit of voice modulation tools and the ability to accurately mimic anyone's voice. Traditional voice manipulation software is now surpassed by the capabilities of AI-powered deepfake technology. This article provided an in-depth analysis of various deepfake voice software options available in the market, highlighting their features, pros, and cons.
In summary, deepfake voice software represents a groundbreaking advancement in voice manipulation technology, offering users unprecedented possibilities for voice alteration and imitation. As the field continues to evolve, the potential applications and benefits of AI voice software are bound to expand further, transforming various industries and unlocking new creative opportunities.
While some of the reviewed tools are primarily aimed at businesses, there are more affordable options available for regular users to explore. However, it is crucial to note that these tools should be used responsibly, and caution should be exercised to prevent misuse or fraudulent activities.
Related article: Top 10 Deepfake App & Software for 2023
FAQs
How to Deepfake a Voice?
To deepfake a voice, choose an AI-based voice cloning tool.
1. Collect voice samples and upload them.
2. Process the samples using the tool's modulation engine.
3. Customize the voice using text-to-speech if available.
4. Preview and refine the deepfake voice.
5. Save or export the result.
Note that we should use deepfake technology responsibly and within legal boundaries.
What is the Best Deepfake Voice Software?
Resemble and Descript are often regarded as advanced options among deepfake voice software, although it is challenging to determine a definitive best. It is recommended to begin with Resemble and Descript due to their reputation for producing high-quality voice deepfakes.