FakeYou's voices are really good. Just wait for our new tool, which gives you even more control.

Retweet for early access! pic.twitter.com/R2wh7ibppA

— FakeYou (@FakeYouApp) November 25, 2022
Text-to-speech technology has evolved significantly over the years, enabling users to convert written text into realistic and natural-sounding speech. FakeYou is an AI-powered text-to-speech tool designed to cater to a variety of applications, such as voiceovers for videos, podcasts, and content creation.
In this review, we will explore the features and capabilities of Fake You, offering an in-depth analysis of this innovative tool. Also get a quick overview of hundreds of useful tools from our Tools Directory.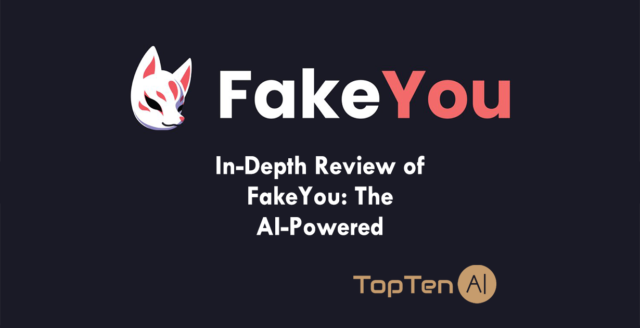 Please note that we are writing this article only to popularize the technology of text-to-speech and the product FakeYou. We are not advertising, and we resist any misappropriation of this technology to fool people or defraud others.
---
What are Text-to-Speech and FakeYou?
Text-to-speech (TTS) is the process of converting written text into spoken words using a computer-generated voice. It employs natural language processing (NLP) and speech synthesis technologies to create realistic and human-like voices. Wikipedia offers a comprehensive overview of TTS here. Our previous review on text to speech products also has a lot more to say about it.
FakeYou, a product of Storyteller AI, a company founded in 2018 and has since become a popular choice for users in need of text-to-speech services. With a growing user base and several prestigious awards, Fake You has established itself as a reliable TTS tool. Its main purpose is to provide high-quality, customizable voiceovers by leveraging cutting-edge NLP and speech synthesis technologies.
---
Features of FakeYou
FakeYou offers various pricing plans to accommodate different users and is accessible through a web-based platform, its price plan:
| | | | |
| --- | --- | --- | --- |
| Subscription Plan | Plus | Pro | Elite |
| Price per Month | $7 | $15 | $25 |
| Processing Priority | Normal | Faster | Fastest |
| Text to Speech | Unlimited generation | Unlimited generation | Unlimited generation |
| Audio Generation | Up to 30 seconds | Up to 1 minute | Up to 2 minutes |
| Private Model Upload | No | Yes | Yes |
| Private Model Sharing | No | No | Yes |
| Commercial Voices | NO | NO | Fake You Commercial Voices |
Its key features include:
Celebrity voice generator
Natural language processing
Speech synthesis
The user interface of FakeYou.com is clean and intuitive, making it easy for users to navigate and access its features. FakeYou offers a wide range of available voices, including various celebrity voice options, making it a versatile tool for different use cases.
One of the most notable voices that you can create is the celebrity voice generator, which allows users to generate speech using the voices of famous personalities. This feature is made possible by the platform's advanced NLP and speech synthesis capabilities. And again please do not use this function to fool and defraud others.
How to use FakeYou's Text-to-Speech?
Here is detailed guidance to help you use Fake You to generate a dynamic voice by yourself (this is one of the easiest way to use Fakeyou.com if you want to consumerize a celebrity voice or any other try to explore by yourself, due to the limited space of the article, we will not introduce too much) :
Step one: Access FakeYou's website and create an account.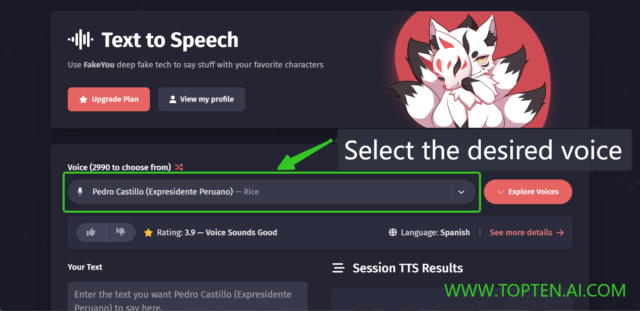 Step two: Select the desired voice from the list of available options.
Step three: Input the text you want to be converted into speech.
Step four: Customize the voice settings, such as speed, pitch, and emotion.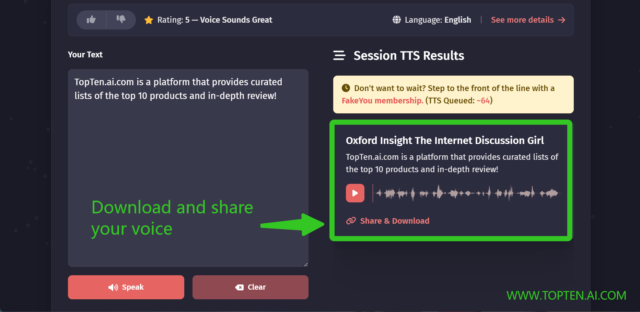 Step five: Generate and download the speech file.
Tips and recommendations:
Ensure the text is well-structured and punctuated for optimal results.
Experiment with different voice options to find the best fit for your project.
Review on Output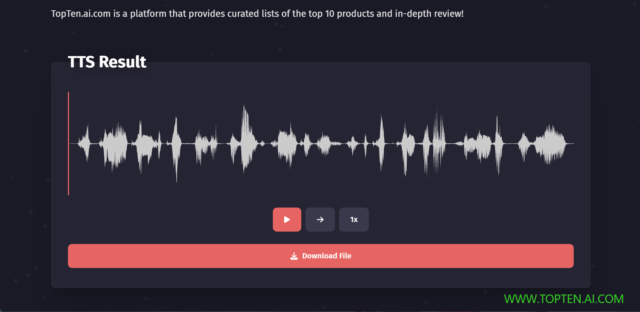 Here is an audio we generated using Fakeyou that you can listen to:
The output voice produced by FakeYou.com is of impressive quality, with natural intonation and flow. The customizable settings allow users to tailor the output to their preferences, making it suitable for various applications.
If you have tried it yourself, you will know that Fakeyou can provide some information about the audio after generating, such as its sound spectrum, timings, the model used, etc.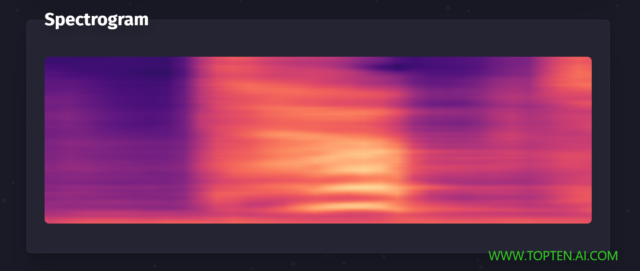 ---
Comparisons with Other Text-to-Speech Tools
| Feature | FakeYou | Overdub | Uberduck |
| --- | --- | --- | --- |
| Speed | Fast | Faster | Fastest |
| Quality | High | Very High | High |
| Customizable Degree | Moderate | High | High |
| Supported Languages | Multiple | Multiple | Multiple |
| Pricing | Competitive | Expensive | Affordable |
FakeYou shares similarities with other TTS tools like Overdub and Uberduck in terms of technology, features, and user experience.
However, it stands out in its competitive pricing and range of celebrity voices. While the customization options may be limited compared to other alternatives, FakeYou.com offers a good balance between quality and affordability.
---
Who is FakeYou Best For?
FakeYou is suitable for various applications and groups of people, including:

Content creators:
Content creators can use Fake You to produce high-quality voiceovers for their videos, podcasts, or other multimedia projects. The wide range of voices available, including celebrity options, provides an engaging and unique touch to their content.
Business professionals:
Presentations and training materials can be enhanced with realistic and captivating voiceovers generated by FakeYou text to speech. It can help professionals deliver clear and engaging content, making it an excellent choice for corporate settings.
Accessibility services:
For those who require assistance in accessing written content, such as individuals with visual impairments, FakeYou.com can convert text into spoken words with natural-sounding voices. This makes it a valuable tool for promoting accessibility and inclusivity.
---
User Experience and Feedback
Users of FakeYou have reported positive experiences, praising the tool for its high-quality voice generation, a wide range of available voices, and user-friendly interface. Some users have encountered occasional issues with voice customization, but the responsive customer support team has been quick to address these concerns.
The overall user feedback suggests that Fake You is a reliable and valuable text-to-speech tool that continues to improve and address the needs of its users.
---
Conclusion
FakeYou text to speech is a versatile and powerful text-to-speech tool that offers high-quality voice generation, a user-friendly interface, and a competitive price point. While it has some limitations compared to other tools, its strengths make it a solid choice for content creators, business professionals, and accessibility services.
---
FAQs
Can I use FakeYou to generate celebrity voices for my content?
Yes, FakeYou offers a celebrity voice generator that allows users to create voiceovers with recognizable celebrity voices. However, be cautious about copyright and usage rights.
How does FakeYou's text-to-speech technology work?
FakeYou uses advanced natural language processing and speech synthesis technologies to convert written text into realistic, human-like voices.
Is FakeYou.com compatible with multiple languages?
Yes, FakeYou.com supports multiple languages, making it a versatile text-to-speech tool for users worldwide.