AI investing apps help investors make profitable trades by analyzing market details with machine learning intelligence. Examples include Trade Ideas, Trend Spider, etc., each with unique features and pricing options. Say goodbye to manual trades and invest with ease.
AI investing is a type of investing that is done with the help of artificial intelligence. Machine learning intelligence gives proper information about various tradings in which you can invest and gain some profit. You can find a lot of opportunities in AI investing. You can say goodbye to those manual businesses in which you have to start from zero.
What Is AI Investing App? 
You can use AI investing in operating your business automatically. AI investing is adopted worldwide by various millionaires, which helps them in earning more money without effort. There are more chances of earning profit from AI investment. It secures your payment after you have invested it. It works according to your demands. You can find various trading stocks and choose the one that is profitable for you and simply invest in it.  Invest just by simple clicks and analyze the stock that is providing more profit to earn more money with the help of AI investing.
Let's talk about what is AI investing? or what are AI investing software. Just like other AI platform that simply requires a few clicks and performs tasks for you. AI investing also works on the same basis. All you have to do is simply find an AI investing platform and invest in it when you feel you are getting some benefits. It works on a machine learning intelligence system that automatically analyzes market details. Now you will not have to manually search the stocks that are profitable AI investing takes care of that easily. You just have to invest in and get profits simply.
6 Best AI Investing Apps
| App Name | Pricing | Ease of Use | Accuracy | Automation | Real-Time Alerts |
| --- | --- | --- | --- | --- | --- |
| Trade Ideas | Standard: $999/year, Premium: $1999/year | ★★★★ | ★★★★ | ★★★★★ | √ |
| TrendSpider | Premium: $440/year, Elite: $870/year, Advanced: $1310/year | ★★★ | ★★★★ | ★★★★ | √ |
| Black Box Stocks | 5-day free trial, $79.99/month | ★★★★ | ★★★ | ★★★★ | √ |
| Zignaly | Free platform, requires payment only after profit | ★★★★ | ★★★ | ★★★★★ | × |
| Tickeron | Swing Trader: $60/month, Day Trader: $50/month, Investor: $100/month, Advisor: $50/month | ★★★ | ★★★★ | ★★★★ | √ |
If you want to know properly about what AI investing is, then here are some given examples of a platform that will give you proper and adequate knowledge about it.
Trade Ideas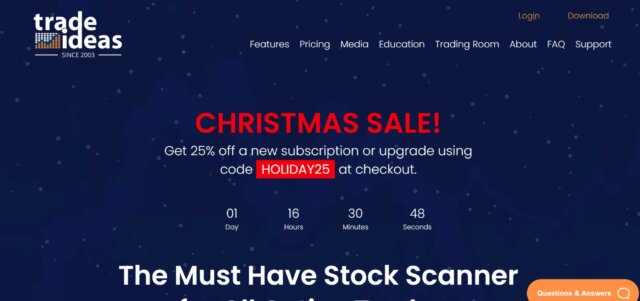 The best AI tool that you can find that helps you with trading. Trade Ideas teaches you how to trade and invest properly without effort.  It consists of an advanced well-organized trading platform. It offers you a variety of trade ideas that helps you accurately understand stock marketing and trading.
Using the play money feature minimizes the risk of losing your money. People who have just started using this platform can get trade ideas with holy AI software. To get a proper grip on the field of trade and marketing.  You can connect yourself directly to the eTrade account with a 0$ commission. You can automate your trading specialties with the help of powerful artificial intelligence.
Features 
You can trade easily by using AI automation technology.

It provides the best and latest stock index.

With trade ideas membership, you can engage in trading by using play money.
Pros
Automatically provides you with trade options.

It gives you the best information about the trade.

Low risk of losing actual money.
Cons
It is not free of cost.

Requires a lot of time.
Pricing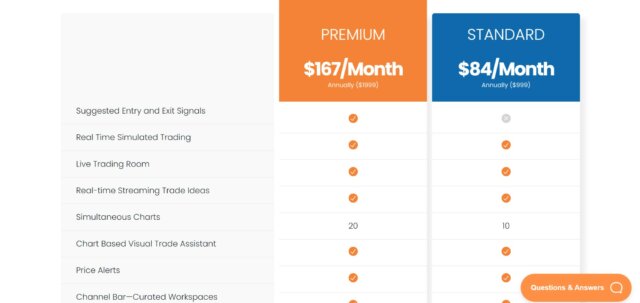 Standard:

$999 per year

Premium:

$1999 per year

The annual plan gives you savings of $468 compared to the monthly plan.
TrendSpider.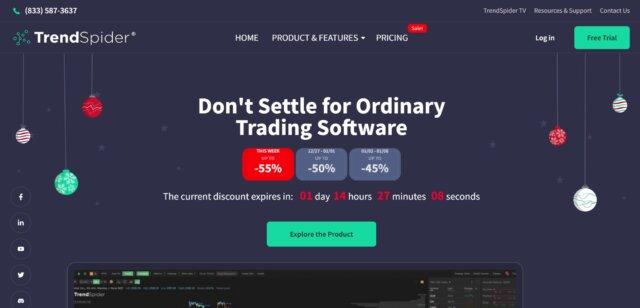 Trend Spider allows you to develop technical strategies that work while investing in some platforms. The trend spider is a specialized AI-based software that is an excellent option for those people who want to run their trading strategies automatically. It is an AI investing software that allows you to build, test, and optimize your trade easily.
It gives more innovative and efficient trading opinions using high-tech machine-learning mechanisms. It depends on you; you can simply turn on automation when you want to trade. All its tasks are performed automatically. It requires almost no human supervision. 
Features 
Automate your trading option with an automated feature.

Winning chart setups are easier to find with its latest version. 

You can build, test, and optimize your trading strategies. 
Pros 
Automatically run your trading strategies.

Trade with accurate precision.

It helps you create your own rules without any human error.
Cons
It takes time to process.

Does not allow any proper manual control.

It is not free.
Pricing
Premium: $440 per year

Elite: $870 per year

Advanced: $1310 per year

You can get two months free when you go with the yearly version.
Black Box Stocks.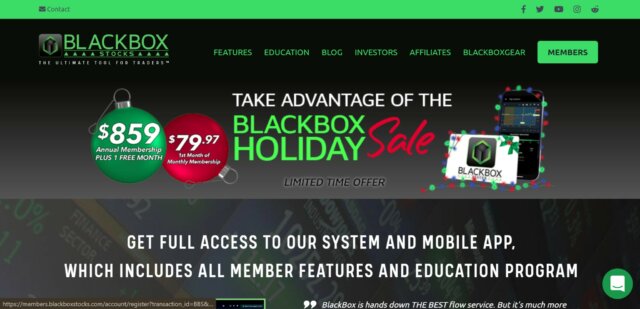 Black Box Stock is the best option is to get premarket alerts before the stock market's opening. It is one of the most user-friendly trading software. This AI investing software provides an easy-to-operate platform that allows you to enter a stock symbol and run a screen based on defined criteria.
It is different from all the other commonly used AI investing software as it gives you proper alerts that help you find proper opportunities in real time. It uses specialized AI algorithms that bring your attention to a massive list of stocks.
Features 
It analyzes 8000 stocks with over 90,000 options.

It gives real-time alerts about pre-market information. 

You can watch top traders execute their trades.
Pros
You can find the best trading.

It provides the top forty stocks with significant price hikes. 

Gives real alerts about trading.
Cons
Sometimes delays alerts.

Requires internet connection.

It is not free of cost.
Pricing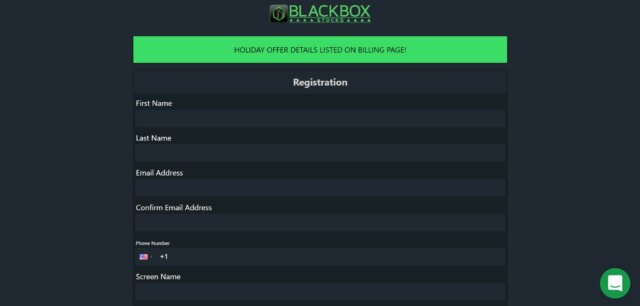 You can get a 5-day free trial by filling out a simple form from the website.

You can start your work immediately by using 79.99$.
Zignaly.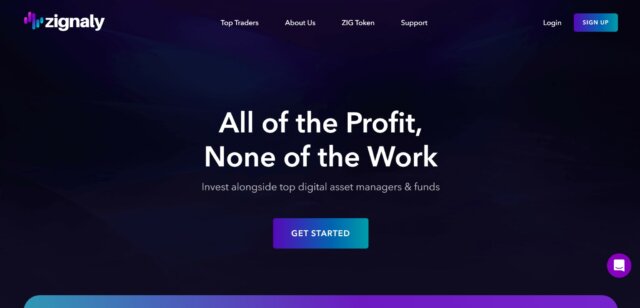 Zignaly is an awesome option for trading in cryptocurrency is that it gives you helpful information about crypto and where you can invest only in terms of crypto. This AI investing software is an AI crypto bot that allows you to trade in crypto. You only have to pay when the bot makes profits in crypto.
It differs from other AI investing apps as it takes no time to learn how to operate. It is straightforward to work, and anyone can use its system without effort. It deals with everything so that your focus is on the more significant trade-related issues. It directly interacts with Binance, VCC Exchange, KuCoin, and BitMex.
Features 
It helps you to trade in crypto.

Requires proper payment only after getting profit.

You can watch you're earning on the crypto portfolio.
Pros
Based on an AI system that trades in crypto.

It replicates your trading activity. 

Choose the mode in which the bot works.
Cons
Sometimes, it gives errors.

It takes time to give results.

Does not invest in any other trading option rather than crypto.
Pricing 
It is a free trading platform that does not require any cost.

You need to pay the fee that is charged for your exchanges.
Tickeron.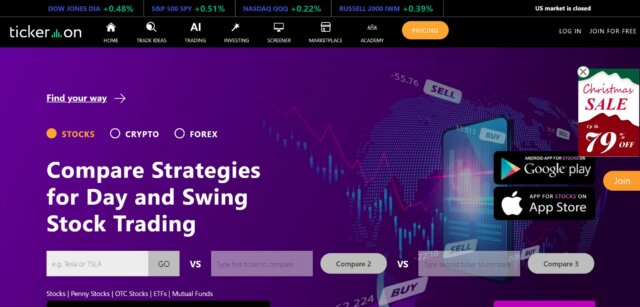 The best AI investing app, Tickeron allows you to swing and day stock trading with the help of AI. It provides your signals for a variety of trades automatically. With the signal, you can signal for day-and-swing stock trading and day-and-swing crypto trading. It includes everything under one single platform.
This AI investing software claims real-time trading is the best way to determine entry and exit prices. For this purpose, you would have to scan hundreds of cryptos within a minute which seems impossible with humans. But with the help of AI, it can be quickly done.
Features 
It analyzes a large number of signals at a time.

It scans hundreds of crypto within a minute.

It has specific data that allows you to trade according to your choice.
Pros
You can have access to the best opportunities.

It analyzes signals and lets you choose the best one. 

It consists of RTP ( real-time pattern feed) to scan a hundred cryptos in a minute.
Cons
It is not free of cost.

You need proper internet speed to operate it.
Pricing
Swing Trader: $60 per month

Day Trader: $50 per month

Investor: $100 per month

Advisor: $50 per month
Kavout.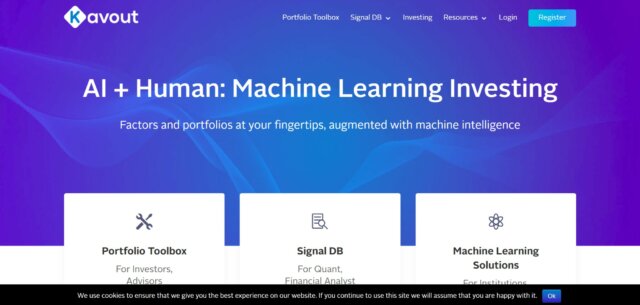 An amazing option for AI investments is Kavout. It provides you with all the information you require to bring educated financial decision-making. It combines artificial intelligence with machine learning to suggest the best stocks for you.
You can have access to those signals and factors that are proven via research. The factors have been tested through an artificial intelligence system.
Features 
Gives access to research factors and signals. 

Get personalized portfolios related to trades. 

You can have access to the best potential.
Pros
Gives you the best portfolio management. 

Provides makret analyses.

You can get detailed sub-factor level statistics that increase your chance of success.
Cons
Requires internet connection.

No reasonable cost is defined.

Sometimes delays information.
Pricing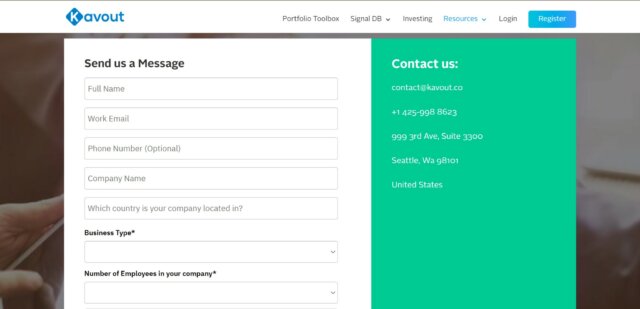 There is no properly defined cost for its usage.
Conclusion
All the given platform allows you to invest in various tradings all around the world. Nowadays, finding a proper profit in any type of business manually is a very difficult job. Now you can invest your money securely as you know you are going to achieve some profit out of it. As the world is progressing on a daily basis, and technology is shifting from manual to auto. You should start investing in any AI investing app that suits you to become a businessman easily.
FAQs
What's the basic requirement of investing?
The basic requirement of investing is very simple as you just have to use your bank account. You will have to transfer the money from your account to the application, and then the application will automatically provide you with various trading stocks that will be beneficial for you.
What should I invest in?
If you are looking for an AI investment app in which you can invest. Then you should invest in Zignaly as it does not demand money from you until it guarantees your profit. It only helps you with cryptocurrency information, but it helps you secure your profit and your money properly.
Should I get financial advice before investing?
It is best to get advice from someone with more AI investment experience. It is better to have information about something you are going to invest in because investing doesn't mean you will gain profit. There are many ups and downs in the field of investing.
Read also: Top 10 Best Place to Learn Python 2023