The world is changing, everything is becoming digital, and with quick technological advancement, people require powerful tools that can get the job done quite easily. In terms of photo editing, all of the above-mentioned one-liner features are best regarded by VanceAI. An ever-growing online photo editing platform that provides multiple tools to get your images the right treatment and that too in a fast and secure way. Let's push on with some crucial details on AI Background remover by VanceAI.
Introduction to AI Background Remover by VanceAI
Online AI Background Remover by VanceAI allows its users to remove background from images within 5 seconds and is completely free to use. However, other features of the editing platform are paid, BGremover is 100%  free for the public so that they can get rid of this problem easily.
At the moment, some experts claim that removing background requires a bit of editing knowledge to get quality results and can be done perfectly on photoshop. However, using its artificial intelligence technology, VanceAI makes it easy and quick to remove the background all by itself with supreme quality results.
New and Improved Technology By VanceAI Based On The Problems Faced By People.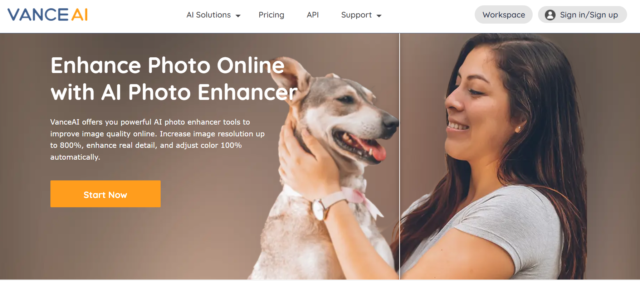 You must be wondering how all of this happens automatically and without any tracing or marking with advanced technology. Well, some other platforms on the web were giving the same service but had a little problem when it came to quality measures and end results. VanceAI wanted to bring something that can not only edit photo background like a pro but also should be simple to use with a one-click remove background mechanism.
For advanced up-gradation, VanceAI has updated its AI Background Remover as a one-stop AI tool that simplifies the workflow with various AI features.
Now, if you are a blogger, designer, or just maybe an E-commerce shop owner, you will be needing background removal most of the time. VanceAI wants to engage with upgraded technology so that people can excel at their requirements of easily removing the background from images.
Features And Functions Of AI Background Remover
We have already talked about the leading improvements organized by VanceAI in the field of the Background Remover tool, However, its generic features and functions are still untouched at the moment. Here is a list of capabilities that separates VanceAI's Background Remover from others;
Quick and easy background removal within 5 seconds.

Remarkable handling of challenging conditions.

Automated working mechanism.

Free background remover tool.

BGremover with one click background removal feature.

Change the background with different solid colors and images.

Transparent background feature availability.
These fine qualities are nevertheless the most advanced possible key features available and thought only by VanceAI. Although many users are concerned about their privacy, VanceAI claims in its working/ terms and agreement sections that for making customers feel safe, the company has made secure data security guaranteed workflow according to which all the processed images will be deleted from the databases within 24 hours. 
There will not be a single chunk of data collected by the company. With its efficiency and boosting traits, feel free to use and check the product out.
Other Online Tools by VanceAI
VanceAI Offers its users and subscription holders, powerful AI photo enhancing editing tools for the sole purpose of improving image quality and editing.
There are a number of AI solutions provided by VanceAI for three main categories; Productivity, Creativity, and Image Editing. With Over 20+ editing tools, VanceAI has been a multipurpose and essential fit for editors that are looking to get easy and quick fixes for their images.
Here are the other services that VanceAI Provides:
Image Cropper, Resizer, Rotator, and Flipper
This is a complete fix of the approach and services provided by VanceAI for helping people with their daily editing problems. You can use these services to edit and further use the photos on other social media platforms like Facebook, Instagram, Whatsapp, etc.
VanceAI PC
Not limited to online tools, VanceAI recently also launched AI photo enhancer software for downloading on your local PC.  You can use it freely without visiting VanceAI website. It is a perfect way to reduce your precious time.  VanceAI PC offers users the same AI photo editing equals to online tools. AI image upscaling, AI image enhancement, AI image denoising... All you want will be in VanceAI PC.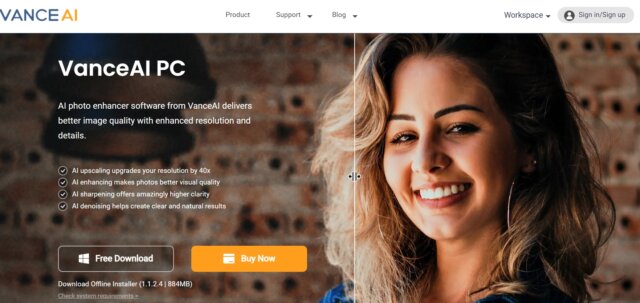 Try using the trial period just to get an understanding; zero regression is guaranteed!