Creating professional and engaging music no longer be the preserve of professionals, isn't it exciting to hear that? But how? With AIVA AI music creator, you can generate high-quality songs in seconds. Everyone can be an excellent musician.
AIVA melody generator is an AI music generation assistant that allows you to generate new songs in more than 250 different styles in mere seconds. Whether you are a complete beginner or a seasoned professional in music-making, use the power of the AIVA AI melody generator to create your unique song.
Overview of AIVA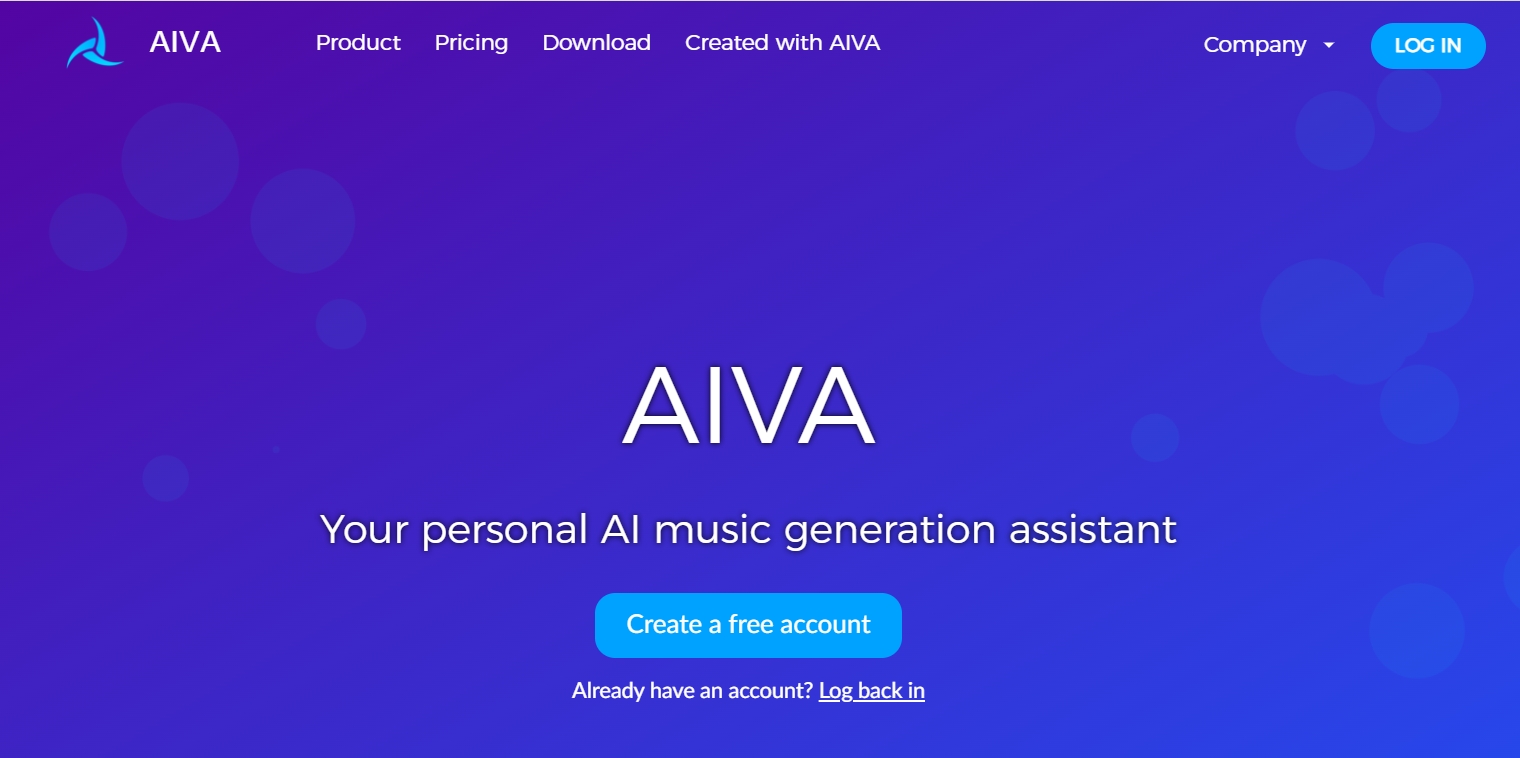 AIVA Homepage

Supported Systems: Online, Windows, Mac OS, Linux

AIVA represents a revolutionary AI melody generator in the music area of song composition
. It leverages advanced deep learning algorithms to thoroughly analyze and acquire knowledge from an extensive music database. This enables AIVA to extrapolate data and generate original music pieces across a wide range of styles and genres. Distinguishing itself from other AI music generators, AIVA AI song generator prioritizes the exploration of music theory as the foundation of its compositions.

AIVA's Creations
How to create music with AIVA?
The whole process of song composition with AIVA is really easy to understand, you just need to provide your preferences to the AI composer, and the AIVA melody generator utilizes its algorithms to craft a unique musical composition tailored to your input. With the ability to customize parameters such as tempo, mood, genre, and more, you can create a one-of-a-kind piece of music with this amazing AI music video generator.
Once AIVA AI music creator has completed the composition, you are presented with a fully developed track, conveniently separated into individual instrument tracks. You can further refine and edit these tracks as desired, or even export them into a MIDI file for integration with your workstation, facilitating the use of your samples.
Basic Features of AIVA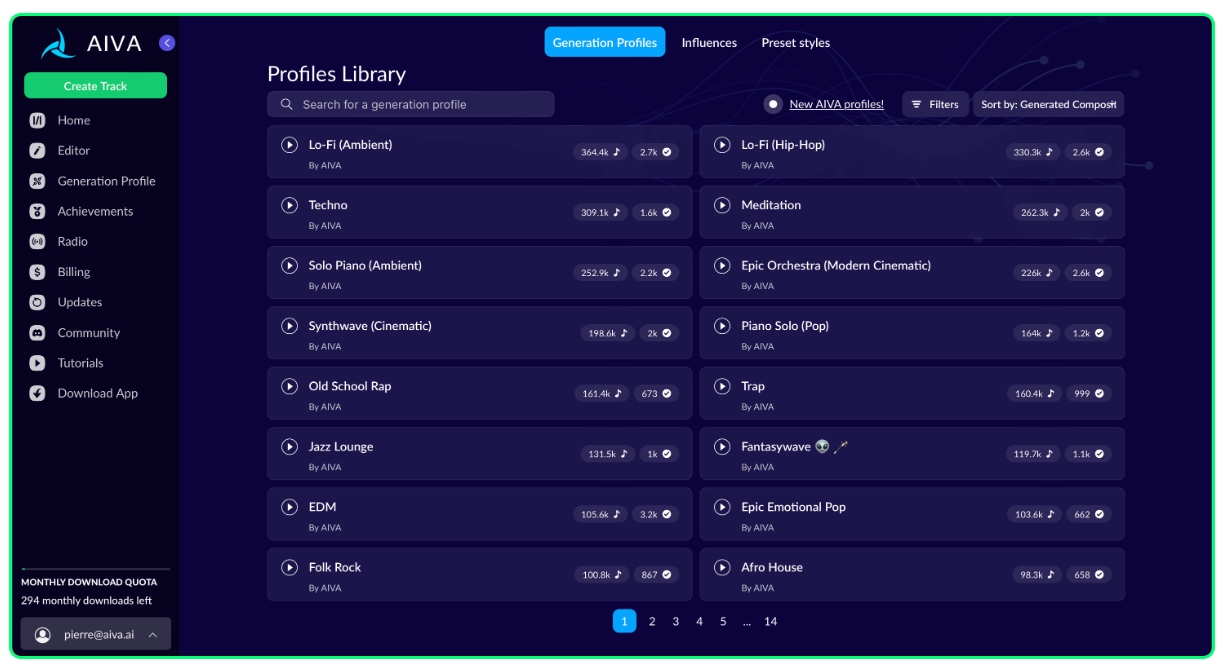 AIVA's Dashboard
You can create music in minutes instead of hours or days, saving time and money.
You can experiment with different styles and moods without being limited by your skills or knowledge.
You can get the full copyright of your song composition and monetize them without restrictions with the pro plan.
You can download your works in various formats such as MP3, MIDI, WAV, etc.
You can collaborate with other users and share your feedback on AIVA's community platform.
Outstanding Features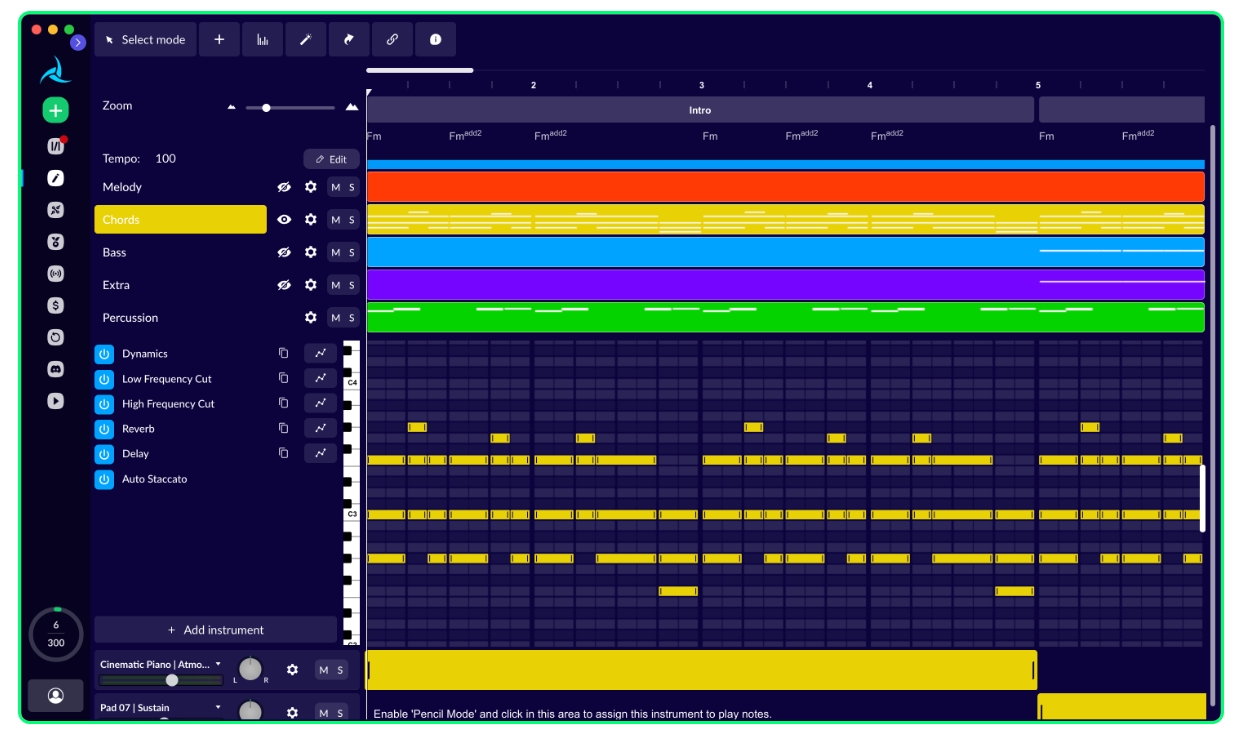 AIVA AI music video generator
Featured

  Ultimate Customizability

AIVA AI music creator is more than a simple AI music generator. It is a complete workstation where you can create AI-generated music, with a full-fledged integrated editor that functions like a DAW (Digital Audio Workstation) where you can edit MIDI tracks and apply many different effects to the generated music track and song composition.

The interface also features an achievements window, which makes using AIVA even more fun. It also has its radio, made entirely by AIVA AI song generator. This is both a great way to explore AIVA's capabilities and a way to sit back and listen to some AI-generated compositions.

Using the AIVA melody generator you can create your own style model. Upload audio or MIDI effects. Edit generated tracks. Download in any file format. No matter what your workflow is, the AIVA AI music generator supports it.
Why Editor Picks?
After many attempts and trials, we think AIVA excels in appearance and ease of use with its interface and cost-effective pricing options, catering to both novices and experts. Moreover, its extensive customization features grant significant control and personalization, enabling users to create truly enjoyable compositions.
AIVA AI music generator is at the forefront of a breakthrough era in music creation, using artificial intelligence technology to create authentic musical compositions. This emerging trend holds great promise for the future of music, providing novel creative avenues, broadening approaches to music production, and revolutionizing traditional composition methods.
You can also refer to the Top 10 AI Music Generators in 2023 to find other music creation inspirations.
Our Suggestions
AIVA AI music video generator is suitable for anyone who loves music and wants to easily create their own song composition. Its different pricing can meet the needs of different groups of people. For example, students can get discounts, which is very user-friendly. For creative companies that need complete flexibility, and intend to heavily commercialize the music created with AIVA, the AIVA melody generator also offers customized pricing plans. Moreover, AIVA can help diverse industries with music composing requirements, like film and video production, advertising, and gaming.
Conclusion
AIVA AI music creator offers many benefits for people seeking to efficiently and cost-effectively create personalized musical compositions at a rapid pace. AIVA melody generator can save time and money in music composition, while this AI music video generator still provides high-quality and original music pieces, throughout this process, opportunities are provided to incorporate human input into the creative endeavor.
In all, AIVA offers an innovative and exciting approach to music creation that can benefit industries as diverse as film and video production to advertising and gaming. Whether you're a beginner or a seasoned professional, the AIVA AI song generator can be a great solution to help you create high-quality and original music pieces that fit your creative vision and project's needs.
If you want to make the music you create better, you can also check out the Top 10 AI Music Enhancers for 2023.
FAQs
1.  How to create music with AIVA?
Simply put your input into the AI, and then AIVA uses its algorithms to compose a piece of music based on your input. 
2.  Who is AIVA suitable for?
Anyone who loves music and has creative needs. Well, the AIVA AI song generator can bring multiple benefits to other diverse industries, such as film and video production, advertising, song composition, and gaming.
If you have equally exciting AI products, you can submit them to our Directory.