New York, Feb 18, 2022 - (TopTen.AI) - VanceAI has launched their brand new VanceAI API service, which is set to make your photo editing journey effortless, fast, and high-quality. The VanceAI API service includes editing tools such as image enlarger, background remover, old photo restorer, and more.

Who is VanceAI's API for?
Would you like to have the benefits of a sophisticated, professional photo editing software without complicated usage? Modern day photo editing is becoming increasingly complex as well as time-consuming work. While you do require experts for big-budget and crucial projects, there is still an undeniable place for AI-based technology as well. The VanceAI API service benefits a wide range of audience, namely e-commerce, marketing teams, business owners, and even individuals such as photographers or designers.
Why Choose this API?
Modern photo editing should be effortless. That's why, the VanceAI API is designed to bring you all the tools in a single place, accessible with just a click. VanceAI is an editing software that consists of a highly active development team which keeps refreshing the software with new updates and tools at a consistent pace. For an ever-growing individual and businesses like yours, you can have an API that continues to add more tools and options for you. You can make use of these features in a single place with one-click and get results within a few seconds only.
We carry the same design for our online based VanceAI app as well. Here, you can find and use all the photo editing features that you would in the API. So, even if you prefer the online version over the API, you don't miss out on benefits. The UI guides you in every step, from uploading images to downloading results. Additionally, a paid version will grant you access to faster servers, batch processing, and advanced AI models, giving you the best results in the least amount of time.
Features of API
When it comes to the features and the photo editing that you can do, you have plenty of options. If you want to increase the size of your image while maintaining high-definition, simply upload an image to the Image Enlarger tool. Similarly, all photo enhancer tools work automatically, since they are powered by AI and Deep Learning based technologies. You can colorize black and white images and also repair images that have sustained damage, such as scratches, fractures, and similar. Also, you can enhance your photo by one step in AI photo enhancer.
New Update by VanceAI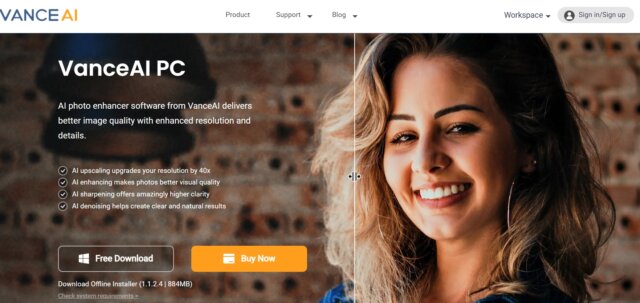 VanceAI(10-10-2022)  just introduced AI picture enhancement software VanceAI PC that you can downloaded to your local PC in in addition to online tools. You can free to use it without going to VanceAI website. It is the ideal way to save your precious time. Users can modify photos using AI utilizing VanceAI PC's equivalent online tools. Upscaling, enhancing, and noise removal pictures with ai systems Everything you need is included in the VanceAI PC.
About VanceAI
VanceAI is a online photo editing and enhancement tools that makes use of AI technology to deliver stunning results for all users, regardless of their expertise. VanceAI offers its services online,  API, and more. Regardless of the platform, the intuitive UI design is sure to give all kinds of users a seamless experience. Also read: How to Enhance Image Quality in VanceAI Image Enhancer.