Summary: This Landr review provides a comprehensive review of LANDR, an AI music quality enhancer. It explores how the product enhances music tracks through advanced algorithms, offering insights into its features and performance.
Have you ever recorded a fantastic musical composition but felt that the overall sound quality didn't match your vision? Do you struggle with achieving that professional-grade audio production that captivates listeners? Look no further. Introducing LANDR, the revolutionary AI-powered music quality enhancer.
With LANDR, you can take your music to new heights, transforming raw recordings into polished and refined masterpieces. It offers a comprehensive solution that leverages artificial intelligence algorithms to enhance the quality of your music with ease. This article will discover how LANDR can revolutionize your audio production experience and help you achieve professional-grade results.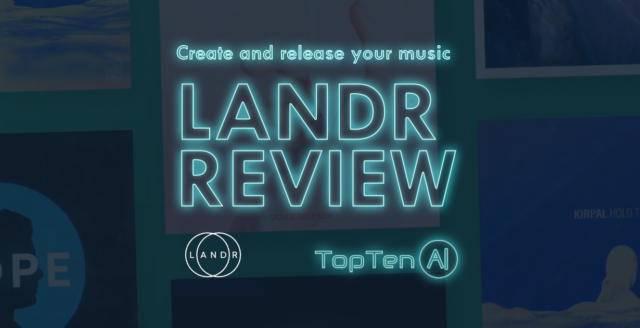 Note: We aim to provide an accurate and insightful review. Updating may occur, and we will make every effort to keep the article up-to-date with the latest version of the product.
What is Landr?
Features of LANDR
LANDR offers different pricing plans for users depending on their needs. The basic plan starts at $6/month, while the Pro plan costs $25/month. The platform is available on both Windows and Mac operating systems, and users can access it by logging in to their account on the LANDR website.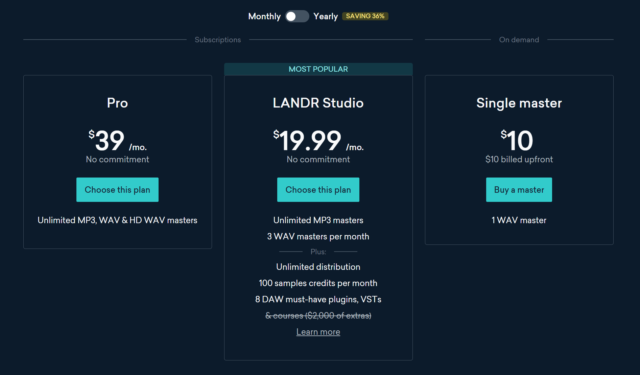 The main functions of LANDR include AI mastering, stem mastering, and distribution services. AI mastering is the platform's flagship feature and uses machine learning algorithms to automatically enhance the audio quality of music tracks. Stem mastering, on the other hand, allows users to upload separate stems of their tracks for more customized mastering.
What can LANDR Mastering do for you?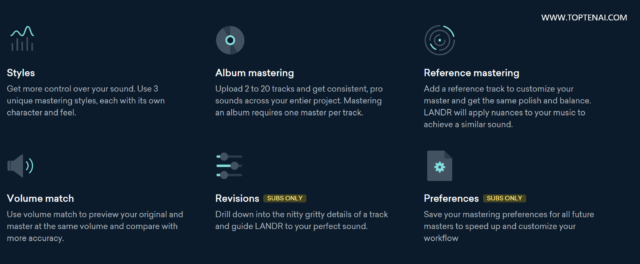 Improve the overall sound quality of a track by using LANDR's AI mastering or stem mastering tools.

Correct specific issues in a track, such as excessive bass or treble, using LANDR Mastering's EQ tool.

Create alternate versions of a track by using LANDR's stem mastering tool to separate different parts of the mixing.

Easily distribute tracks to various online music stores and streaming platforms using LANDR's distribution service.

Use LANDR's collaboration feature to share tracks with other musicians or producers and receive feedback on the sound quality.

Save time and money by using LANDR Mastering instead of hiring a professional mastering engineer for every track.
LANDR Distribution
Landr Distribution is a digital distribution service that allows musicians and artists to distribute their music to major streaming platforms like Spotify, Apple Music, and Amazon Music. It provides a simple and streamlined way to get music heard by millions of listeners worldwide. With Landr Distribution, artists can keep 100% of their revenue while retaining control over their rights and ownership.
LANDR Mastering
Landr Mastering is an automated mastering service that uses AI algorithms to analyze and enhance the sound quality of music tracks. It works by applying a range of audio processing techniques to balance the levels, EQ, stereo image, and other parameters of a track to make it sound polished and professional. Landr music mastering is fast, affordable, and can be accessed from any device with an internet connection.
Pros and Cons of LANDR Music Mastering:
Pros

Cons

Affordable pricing plans

AI mastering is quick and easy

Stem mastering allows for more customization

Distribution service makes it easy to get music on major platforms

Output quality may not always be consistent

AI mastering can be hit or miss

Lack of control for advanced users
Rating: 9/10
Pricing of Landr Mastering
$8.27/mo, Unlimited MP3 masters, 36 WAV masters per year
$9.99/mo, Single master
How to Use LANDR?
Using this audio mastering is a straightforward process, and in this section, we will provide you with a step-by-step guide on how to use the tool.
Step 1: LANDR Audio Login
The first step is to log in to your LANDR Mastering account. If you don't have an account yet, you can create one to login to Landr for free.
Step 2: Upload Your Audio Files
Once you're logged in, you can upload your audio files by clicking on the "Upload" button on the dashboard. You can drag and drop your files or browse your computer to select the files you want to upload.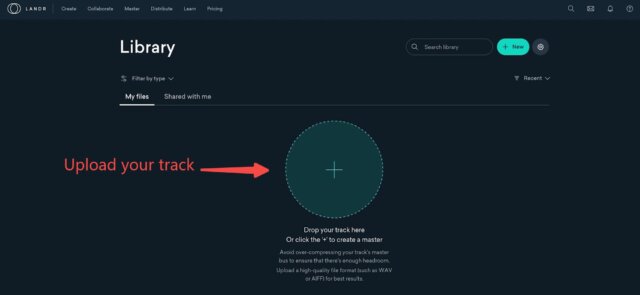 Step 3: Select Your Preferences
After uploading your files, you can select your preferences for mastering or mixing. LANDR offers different options for mastering, stem mastering, and mixing. You can also select the style, loudness, and volume match. Also.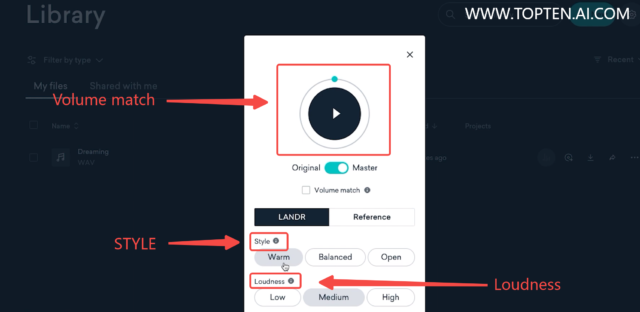 Step 4: Preview and Customize
Once you've selected your preferences, you can preview the result and customize the settings further if necessary. You can adjust the EQ, compression, and other parameters to achieve the desired sound.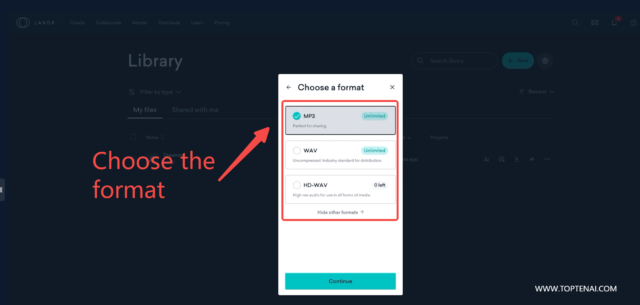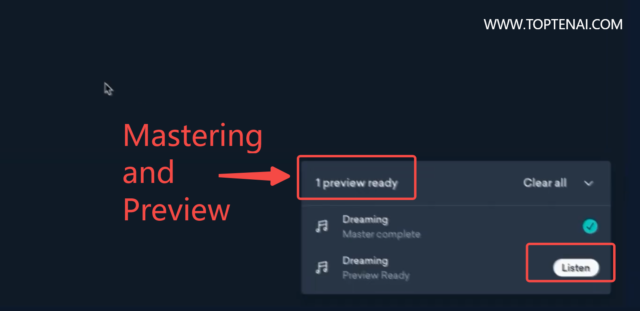 Step 5: Download Your Mastered/Mixed Files
When you're satisfied with the result, you can download your mastered or mixed files in different formats, including WAV, MP3, and AIFF. You can also choose to download the files in different resolutions, such as 16-bit or 24-bit.  
Tips and Recommendations
Ensure that your audio files are of high quality before uploading them to LANDR.
Take time to preview and customize the settings to achieve the desired sound.
Use LANDR's stem mastering feature if you want more control over the individual elements of your mixing.
Consider using LANDR's distribution service to distribute your music to popular streaming platforms.
Always keep a backup of your original files before processing them with the audio mastering.
LANDR VS iZotope VS Auphonic
When it comes to music enhancer tools, there are several options available in the market. Here, we will compare LANDR with two popular music enhancer tools, iZotope and Auphonic, based on their accuracy, output quality, speed, price, and audio format compatibility.
| | | | |
| --- | --- | --- | --- |
| Comparison | LANDR | iZotope | Auphonic |
| Accuracy | High | High | Medium |
| Output Quality | High | High | Medium |
| Speed | Fast | Slow | Medium |
| Price | Affordable | Expensive | Affordable |
| Audio Format Compatibility | WAV, MP3, AIFF, FLAC, OGG | WAV, MP3, AIFF, FLAC | WAV, MP3, AAC |
As shown in the chart, LANDR offers high accuracy, high output quality, and fast speed at an affordable price. Moreover, it supports a wide range of audio formats, including WAV, MP3, AIFF, FLAC, and OGG, making it a versatile tool for different projects.
On the other hand, iZotope offers high accuracy and output quality, but at a much higher price point. It supports a similar range of audio formats as LANDR, but its slower speed can be a drawback for some users.
Auphonic, while more affordable than iZotope, offers lower accuracy and output quality than both LANDR and iZotope. However, it supports similar audio formats as this audio mastering offers a medium speed.
In summary, while each music enhancer tool has its strengths and weaknesses, LANDR offers high accuracy, quality, speed, and compatibility at an affordable price, making it an excellent choice for musicians and producers who want to improve their audio quality and distribution.
Demonstration Results Review
After our processing several music files with LANDR Mastering, the results were impressive. The AI mastering feature produced high-quality audio, and stem mastering provided the desired clarity and separation of instruments. The distribution services also worked seamlessly, and users could easily share their music on various platforms. Here are a few examples of using LANDR, you can click on the links to try them out:
Comparison  between LANDR and manually mastered music
Comparing the output to manually mastered music, the difference was minimal, and the sound quality was almost identical. However, during our test on this audio mastering, there were instances where LANDR Mastering produced over-compressed files, but this was rare and could be fixed by adjusting the settings.
Other comments online
User reviews of LANDR have been positive, with many musicians and music producers praising its efficiency and ease of use. On the App Store, LANDR Mastering has a rating of 4.6 stars out of 5, with users commending its affordable pricing, fast processing, and exceptional quality. Some users, however, have criticized over-compression and lack of customization options, which they feel limit their creativity.
Overall, Landr audio mastering is an excellent tool for musicians and music producers looking to improve the quality of their audio and distribute their music easily. The platform offers exceptional value for money, and its AI mastering and stem mastering features are among the best in the market. However, for those who require more control over their music's final output, a professional mastering engineer may be a better option.
Does LANDR handle copyright issues?
LANDR does not directly handle copyright issues, but it offers a service to help you distribute your music to popular streaming platforms like Spotify, Apple Music, and YouTube.
However, it is important to note that copyright issues can arise when distributing your music, and it is your responsibility as the artist or producer to ensure that you have the legal right to use any samples, loops, or other copyrighted material in your music. We suggest that you seek legal advice if you have any concerns about copyright issues.
Final Thoughts
LANDR's AI Music Quality Enhancer showcases its impressive ability to enhance the quality of music tracks with its advanced AI algorithms. It offers a user-friendly interface, automated mastering process, and a wide range of customization options.
LANDR proves to be a valuable tool for musicians, producers, and audio enthusiasts seeking to improve the sound of their music. However, some users may prefer more manual control over the mastering process. Overall, LANDR is recommended for its potential to streamline and elevate the music production process, delivering professional-quality results with ease.
FAQs

1. Is my privacy safe when using LANDR?
Yes, your privacy is safe when using LANDR. The company has implemented robust security measures to protect your personal and sensitive information. All data is encrypted and stored securely, and LANDR does not share your information with third parties without your consent.
2. How does LANDR Mastering work?
LANDR uses AI technology to analyze and enhance audio files, producing high-quality output that is almost indistinguishable from manually mastered music. Users upload their audio files, select the desired options, and the platform processes the files, providing the output in a matter of minutes.
3. How accurate is LANDR's mastering?
LANDR's AI mastering is highly accurate and produces output that is almost indistinguishable from manually mastered music. However, as with all AI technology, there may be some instances where the output is not satisfactory.
4. Can I download a Landr App?
Landr mastering offers single-track mastering for $8.27/month or $9.99/month (depending on the plan) and a pro plan for $17.24/month which includes advanced features such as stem mastering and higher quality audio files.