If you love creating unique videos in which you can provide your own personalized data, then this tool is best for you. Just simply provide the required content of your video to synthesia, and it will generate it in no time perfectly. Provide as much data as you want and generate as many videos as you like with synthesia AI.
What is Synthesia?
Synthesia is a platform that allows AI video creation with a fantastic amount of features. You can make videos related to your work in no time. Fulfill all your video editing demands and generate videos from plain text. Create your videos using various templates provided by Synthesia and enhance the inner features of your videos. Add AI avatars with AI voices in more than 120 languages with the proper accents. Now you can save your time and also budget when you have Synthesia.io by your side.
Synthesia.io Review
Synthesia allows you to create videos as much as you want without any effort with one click. It eliminates all kinds of skills and costs required in terms of video processing. Even if you don't have any kind of skills and you want to convert text to video, then you can use this tool. The user interface of the tool is easily accessible, and anyone can operate it without any kind of issues. You can quickly and easily produce videos; it allows you to edit videos, change certain elements, and manipulate the script.
If you are interested in creating your own avatars, it provides a wide variety of avatars with unique and different backgrounds of your choice. The best thing about this tool is that you can make a combination of sounding audio and high-level lip-syncing. You can use synthesia to make demo videos that add proper interactive AI avatar elements. You can improve your engagement metrics as it has all the requirements you need for it.
Additional Information
Synthesia is an amazing tool for accurate video production, especially taking head videos. You can use these tools to create an entire e-learning suite of modules, a mashup of taking head videos, and precise motion graphics. Synthesia is just a perfect tool if you want to create short educational videos for your work. You can easily upload your required slides and select the required voice for your organization. The overall interface of sythesia is intuitive, and the quality of video output you get from it is also high quality.
There is one more problem that people usually have is face is the issue of language, but you should appreciate the capability of synthesia that allows you to select various languages. You will love the screen capture feature that can easily work either as a background or on a video. There is no need to worry about any kind of data loss, as your creations are automatically saved on the platform while your working on them. Not just this, there is also a nice feature that when you have completed the videos, it is added as a template, so in case you can make corrections like adding a new background without even creating a new video.
Synthesia allows you to upload your branded PowerPoint presentations or videos you have created and bring them to life using a user-friendly interface. You just have to type your required narration on the synthesia platform and select your language and accent to create videos within a few minutes instantly. You can make training videos, and Santa Claus videos for Christmas if you like; it is a pdf to video converter and ppt to video converter. Here are some of its features, with comprehensive details given below.
AI Avatars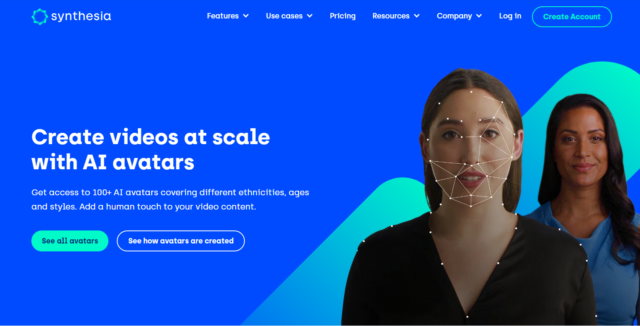 Synthesia AI allows you to create as many avatars as you want without any kind of effort. All it requires are just a few clicks, and your avatar is ready. Synthesia.io covers all the essential features that are required to create a perfect avatar within no time. You can get access to more than 100 avatars' ethnicities, ages, and styles. You can also add a human avatar or human touch to your video if you like. There are also some training videos available on the platform.
AI Voices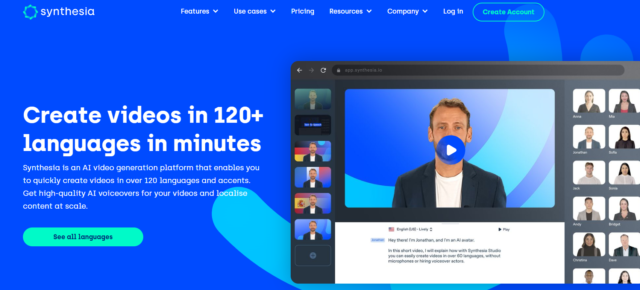 The AI voices of synthesia.io are amazing dues to their quality level and precision. Synthesia AI is an AI video generation platform allowing you to quickly create videos in more than 120 languages, including different accents. The features of AI voices are not just limited to languages, but they also provide unique and different accents along with it too. You can get yourself some high-quality content videos and use that videos on any scale you like.
Video Templates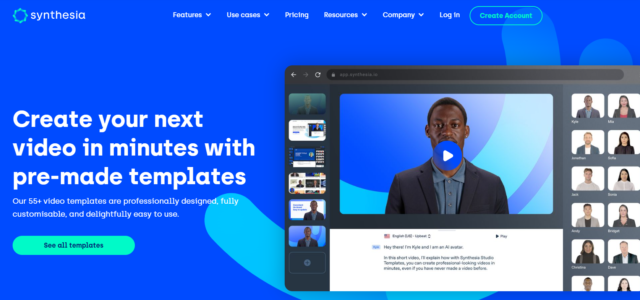 Video templates of synthesia.io make things much easier as you can get ready-made video editing that only requires data. It provides more than 55 video templates that professional video editors make. Video templates that synthesia.io provides don't mean that you will get them the way they are and cannot make any changes. They are fully customizable templates and are easily accessible. Create unique videos for your business with the help of synthesia.io within no time. There are proper categories with their names, so you can easily find your required templates in no time.
Custom AI Avatars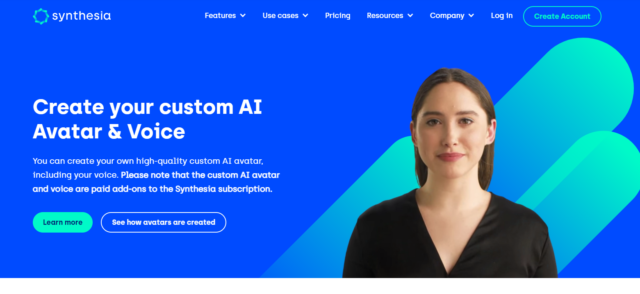 Rather than just choosing avatars provided by synthesia.Io, you can also create your own personal avatars in no time. Create amazing and high-quality avatars for your work in which you can also hear your voice. Enhance your video creativity with the synthesia AI avatar-generating feature.
Pros
Allows you to create videos from plain text.

Provides ready-made templates with customization.

Different languages, along with proper accents.

Create your own personalized AI avatars.
Cons
It does not provide any other countries' avatars.

You cannot have the freedom to create videos with more than 6 scenes.

As it is browser-based, that's why sometimes it lags.
How to use Synthesia.io to create videos from the text?
If you want to know how you can use synthesia to create videos from the text, then here are the proper steps that you can follow to create your video in no time.
Step 1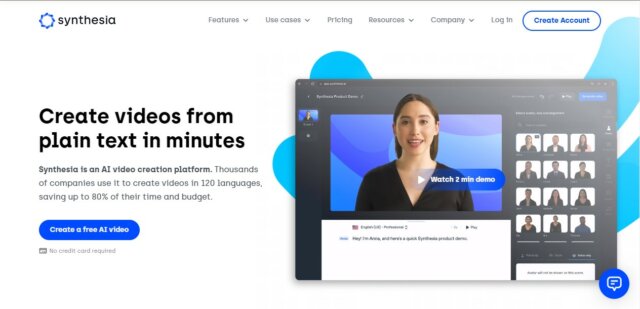 First of all, you will have to open the official webpage of synthesia on your browser. You can open it directly via the link Synthesia.io.
Step 2
To start your video-generating process, just click on create AI video. It does not require any type of cost. You can check the performance of the tool easily in no time. If you want to watch a demo, then there is also a 2 min demo so you can understand the features by watching the video.
Step 3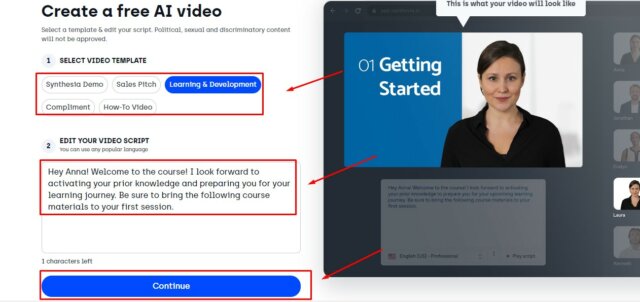 Now you have to choose the criteria as the synthesia AI needs to recognize what you're trying to make, so it is essential that you provide criteria for your video. Then you just have to type some plain text for your video that is your required content. When you have provided all the above features, just simply click on continue to go further.
Step 4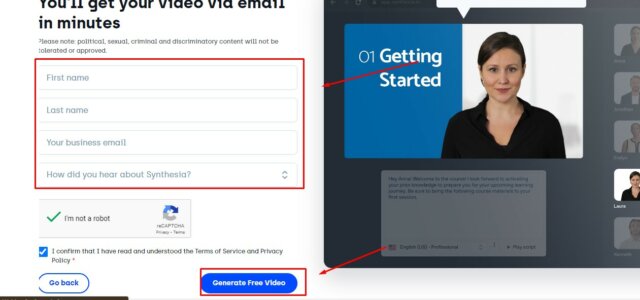 Then you will have to provide some information about yourself. Provide your email so they can send you your video in a minute. Click on generate a free video to continue the process.
Step 5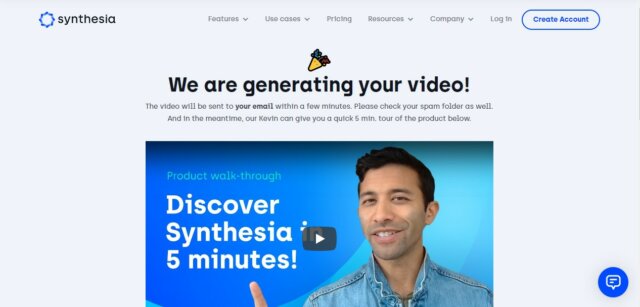 They will send your video to your email in no time. And you can view your video on your email and also download it if you like.
Is it worth buying Synthesia?
It depends on your choice of what exactly you are looking for. If you want a tool that allows you to create videos based on plain text in no time, then this is worth buying. Make as many videos as you like with unique templates, different languages, and precise accents to boost your business.
Final Words
You should use this tool as it is user-friendly and allows you to create videos in no time. There is no need to put a lot of effort into creating videos with proper content. You can use the AI technology of synthesia AI and generate videos in minutes. Say goodbye to the complex video editing platforms and stay inside your comfort zone while working on synthesia AI.
Also read: Pictory.AI Review: AI-Powered Video Creation For Everyone