This article shows the top 10 AI Image tagging tools with their prices and features, so that readers can find a satisfactory photo tagging tools to organize their images.
Are you tired of spending hours manually tagging and organizing your vast collection of images? Do you find yourself struggling to efficiently search for specific images when you need them the most? If so, you're not alone. Image management can be a daunting task, especially when dealing with large volumes of visual data. But fear not, as there is a solution that can revolutionize your image tagging process. Enter the world of image tagging tools—a powerful and innovative solution designed to streamline and enhance your image organization efforts.
This article will delve into the top 10 image tagging tools available, providing you with a comprehensive review to help you make an informed decision about which tagging photos tool best suits your needs.
Try to know: What Image Tagging Software Is & How It Works
Top 10 Image Tagging Tools Review
| | | | | | |
| --- | --- | --- | --- | --- | --- |
| Product Name | Price | Automatic Tagging | Face Recognition | Additional Features | User Interface |
| Nero AI | Free | ✓ | ✗ | AI Upscaler, Image Library Management | Fair |
| Imagga | Free/Paid | ✓ | ✓ | Automated Moderation, Visual Search | Good |
| MacUpdate | $7.95 | ✓ | ✗ | Internet-connected data, Time and Date Information | Average |
| Pixave | $4.99 | ✓ | ✗ | Multiple Image Export Options | Excellent |
| SnipTag | Free | ✓ | ✗ | Metadata Tagging, Auto-cropping | Good |
| JPhotoTagger | Free | ✗ | ✗ | Compatible with Photoshop Lightroom | Simple |
| PhotoTagger | Free | ✗ | ✗ | File Name Labels | Average |
| Google Photos | Free | ✓ | ✓ | Automatically Identify Objects, Location Tagging | Good |
| SourceForge | Free | ✗ | ✗ | Wide File Format Support | Average |
| ACDsee | Paid (Home Plan: $89, Personal Plan: $69) | ✓ | ✓ | Batch Image Renaming and Resizing | User-friendly |
Our ratings are based on objective assessments, considering factors such as price, automatic tagging, notable features, face recognition and its pros and cons. We will try to update the articles as much as possible so that the information presented is correct.
1. Nero AI-- Tagging Photos Online
Price: You can use the photo-tagging online application for absolutely free and it has no requirements for any downloads or account creation.
Notable features: AI-based technology, accurate labels, additional tools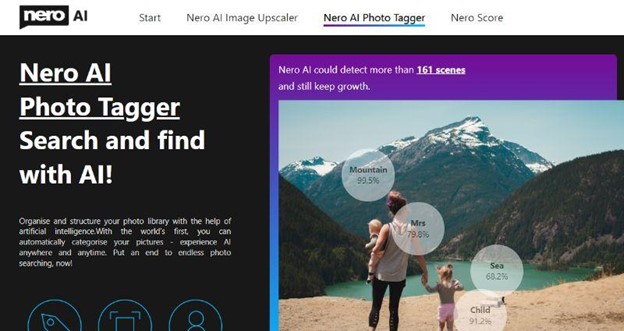 Nero AI is a free online photo-tagging application that uses AI technology to automatically label various elements in images. It is best suited for landscape images, providing fairly accurate labels without requiring downloads or account creation.
Apart from tagging photos, Nero AI offers other services and tools, such as an AI upscaler and a separate app for managing your image library. The AI-powered tagger is easy to use and delivers quick processing.
The main shortcoming of Nero AI is its limited effectiveness with non-landscape images. The site can also be buggy and could benefit from additional features.
Pros:
Easy to use.
Free online tool.
Quick processing.
Cons:
Only good with specific images.
Could add more features.
The site can be buggy.
2. Imagga-- Customized Tagging Pictures
Price: Imagga is a really useful software API that offers image tagging and other tools for free but with limited amount of uses. For more, you can start with paid accounts from $79 and onwards.
Notable features: Image recognition, API access, additional tools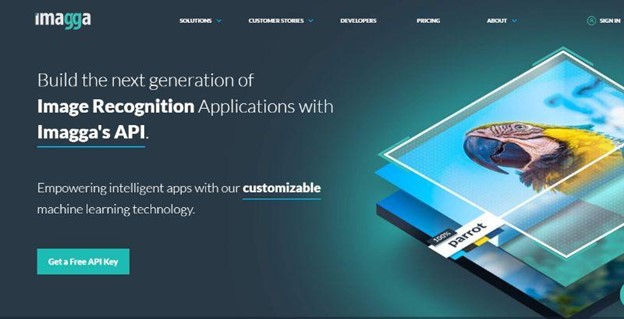 Imagga is a software API that offers image tagging and various recognition features. The free version provides limited use, while paid accounts start at $79.
The API offers features such as face recognition, automated moderation for Not Safe For Work content, visual search, and more. Users can request API access directly from Imagga's website.
Imagga's downside includes its lack of online use and limited free access. Additionally, the API can be buggy at times
Pros:
Extra features.
Demo on specific tools.
Good design.
Cons:
No online use.
API can be buggy.
Limited free use.
Price: This photo tagger application is designed for Apple Photos and costs $7.95 for a one-time purchase. However, you can still download the required files from your desktop.
Notable features: Internet-connected data, time and date information, Apple Photos integration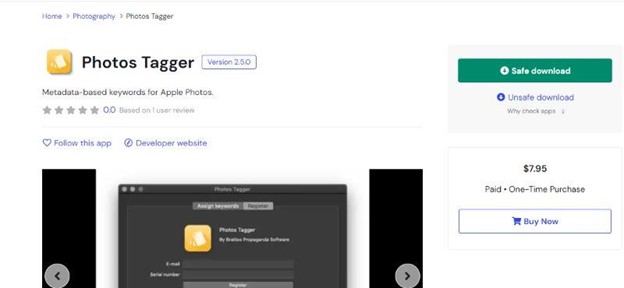 MacUpdate is a photo tagger application designed for Apple Photos, costing $7.95 for a one-time purchase. It requires downloading the necessary files to your desktop.
Primarily focused on tagging pictures, MacUpdate offers additional features such as internet-connected information about people in photos and date and time information. It is regularly updated and easy to use.
The main drawbacks of MacUpdate include its lack of a free version, exclusive compatibility with Apple mobile devices, and a less-than-optimal user interface.
Pros:
Useful features.
Easy to use.
Regularly updated.
Cons:
No free use.
Only on Apple mobile.
The UI can be better.
Also read: Top 10 Best Photo Management Software Review
Price: You can first try out the free trial of the image tagger application, downloadable from the website. The paid plan costs $4.99 which is a one-time purchase.
Notable features: AI tagging pictures, new UI, multiple image export options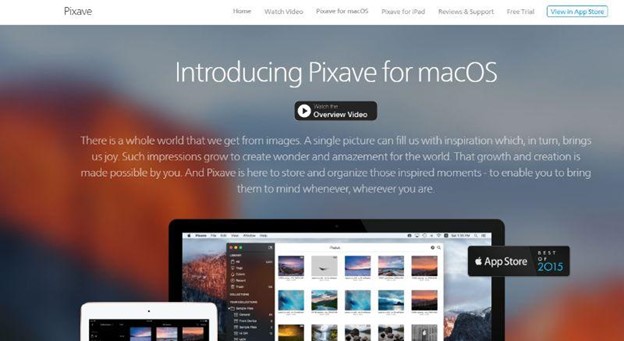 Pixave is an image organizer application with a built-in AI photo tagger, offering a free trial and a one-time purchase price of $4.99. It is best suited for users who need a comprehensive solution for image organization.
Pixave provides various features, such as a new user interface, multiple image export options, and the ability to edit and personalize tags. It boasts an excellent design and smooth performance.
The main limitations of Pixave are its limited free use, a slight learning curve for new users, and its exclusive compatibility with Apple devices.
Pros:
Excellent design.
Works smoothly.
Multiple features.
Cons:
Limited free use.
Takes time to get used to the app.
Only on Apple.
5. SnipTag-- Tag Images for MAC
Price: This photo tagger application is free to use but also contains in-app purchases, which may include some features and the cost depends on the features as well.
Notable features: Metadata tagging, auto-cropping, multiple image scanning
SnipTag is a free-to-use photo tagger application that allows to tag images, metadata, and captions to photos. It also offers in-app purchases for additional features.
SnipTag includes an auto-cropping tool to save time on basic editing tasks and the ability to scan up to eight images simultaneously for digital storage. It features a user-friendly design and is easy to use.
The main drawbacks of SnipTag include occasional performance issues, exclusive compatibility with Apple devices, and the need for more features.
Pros:
Good design.
Free to use.
Easy to use.
Cons:
Occasional performance issues.
Only for Apple.
Could use more features.
Price: You can use this image tagger completely free of cost as long as you don't sell or purchase the software application itself. Whatever you do with images is fair game.
Notable features: Simple design, compatibility with Photoshop Lightroom, quick processing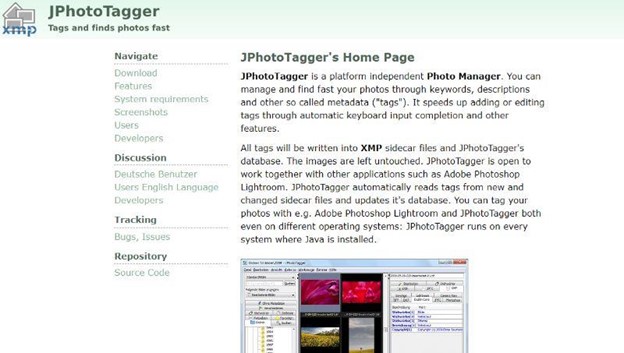 JPhotoTagger is a free photo tagger with a straightforward design reminiscent of old Windows XP apps. It is suitable for users of all expertise levels.
With JPhotoTagger, users can find images through keywords, metadata, and descriptions. The application also works with tools like Photoshop Lightroom, offering additional options.
The main shortcomings of JPhotoTagger are its lack of extra features, occasional bugs, and room for improvement in metadata features.
Please let me know if you would like me to continue optimizing the rest of the product sentences based on the structure and instructions provided.
Pros:
Simple to use.
Free to use.
Quick processing.
Cons:
No other features.
Can be buggy.
Metadata features can be improved.
Price: This software application is completely free to download and use. This tool also gives the documentation on the website.
Notable features: File name labels, free to use, quick processing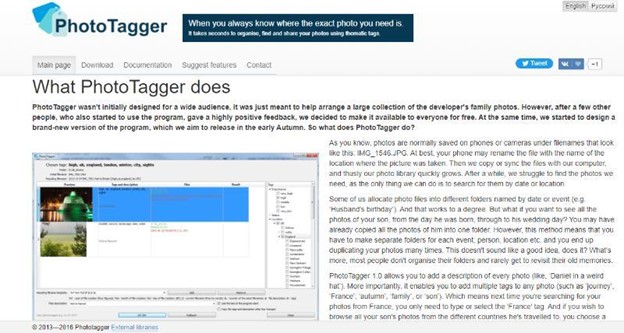 PhotoTagger is a free-to-use image tagger application praised for its unique approach to image tagging. The application is suitable for users who prefer simplicity and efficiency.
PhotoTagger saves labels as file names instead of metadata or descriptions, streamlining the tagging process. The developers are planning to release PhotoTagger 2.0 soon.
The main drawbacks of PhotoTagger include its initial learning curve, limited features, and room for improvement in the user interface design.
Pros:
File name labels.
Free to use.
Quick processing.
Cons:
Confusing to use at first.
No other features.
Can use better UI design.
Price: Free and paid for more storage.
Notable features: Automatically identify objects in images and the location where the picture was taken.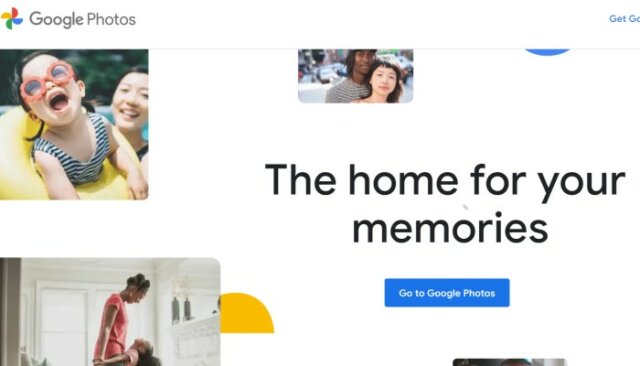 Google Photos is a free and renowned image management software that's great for small businesses and beginners. With Google Photos, you can backup and access photos or any other image references through different devices.
It allows you to search by object and keywords to find image files, and it also has an auto-tagging feature for faces so that you can even organize photo albums by the individual.
Pros:
Free Storage
Automatic Backup
Intelligent Organization
Easy Sharing
Loss of Original Quality
Privacy Concerns
Limited Editing Capabilities
Potential Changes to Free Storage Policy
Price: This image tagger software is absolutely free to use.
Notable features: Free to use, fast performance, wide file format support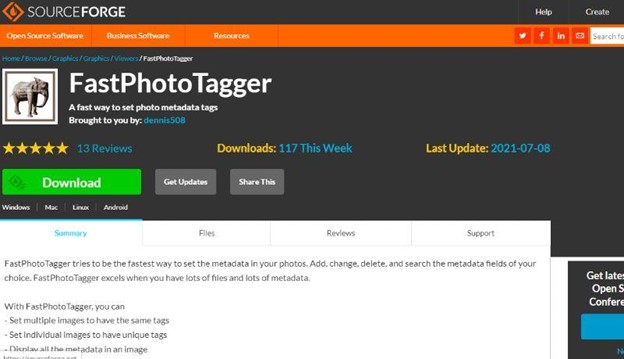 SourceForge is a free photo tagger application available on both PC desktop and Android platforms, catering to users who need broad file format compatibility.
SourceForge supports a wide variety of image file formats, such as WebP, RAW, GIF, and more. It also allows users to work with various metadata fields like XMP, EXIF, IPTC, and hierarchical keywords.
The main downsides of SourceForge are occasional confusion in usage, the need for additional features, and the lack of automatic tagging.
Pros:
Free to use.
Works fast.
Wide file format support.
Cons:
Confusing at times.
Needs to add more features.
No automatic tagging.
10. ACDsee-- Tag photos and Edit Them
Price: Free and paid for two subscriptions: home plan(89$) & personal plan(69$)
Notable features: Face recognition, Batch images renaming and resizing
ACDSee Photo Studio is one of the best image management software tools for extensive RAW files, as it offers RAW support for more than 550 digital camera models. The tool allows you to tag pictures by adding ratings, hierarchical keywords, tags, categories, location data and customizable color labels and using face recognition and data location features, making it easier to search for the images you need.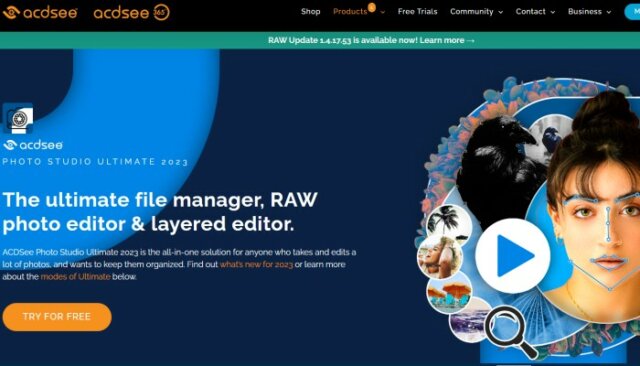 Pros:
User-friendly interface
Fast performance
Wide range of editing tools
Batch processing
Cons:
Limited advanced editing capabilities
Steep learning curve for advanced features
Relatively high cost
Limited cross-platform availability
Additional features require separate purchases
More info: Learn how to organize and tag photos
Conclusion
In conclusion, image tagging tools offer a valuable solution for efficiently organizing and accessing large collections of images. By labeling images with relevant keywords, these tools make it easier to search and retrieve specific visuals when needed.
Throughout this article, we have explored the top 10 image tagging tools, providing a detailed review of their features, pricing, and usability. Whether you're a professional photographer, a website developer, or simply someone looking to better manage their personal image library, there is a tool that suits your needs. From AI-powered taggers like Nero and Imagga to specialized applications like MacUpdate and Pixave, the right image tagging tool can significantly enhance your workflow and productivity. Say goodbye to hours of manual tagging and embrace the efficiency and convenience of image tagging tools.
FAQs
1. What is Image Tagging?
Image tagging refers to the process of assigning descriptive labels or keywords to images to categorize and organize them based on their content. It is a way to provide metadata or annotations to images, making them more easily searchable and retrievable. And the tags or labels assigned to images can vary depending on the application or context.
2. Why is Image Tagging Tool Important?
Image tagging tools are important because they automate the process of categorizing and labeling images. They save time and effort by eliminating the need for manual tagging, making it easier to organize and search for specific images. Tagging photos improve efficiency, productivity, and enhances the overall management of visual data.