The article discusses various stencil maker tools that can convert photos into stencil drawings easily, suitable for personal or professional use.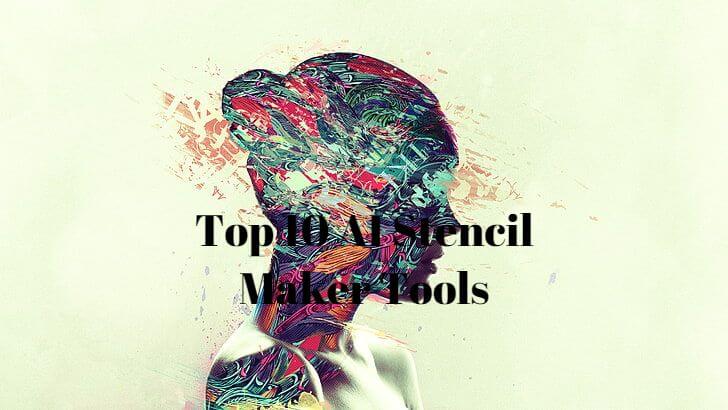 Are you tired of spending hours painstakingly hand-drawing stencils for your creative projects? Do you wish there was an easier way to transform your favorite photos into stunning stencil drawings? If so, you're not alone. The process of creating stencils can be time-consuming and frustrating, especially for those who lack artistic skills. But fear not! There is a solution to this problem - AI stencil maker tools.
In this article, we will explore the top 10 AI stencil makers of 2023, which offer a simpler and more efficient way to convert your photos into beautiful stencil drawings. Say goodbye to tedious manual work and hello to effortless creativity!
Want to know : What is Stencil?
Top 10 AI Stencil Makers (Updated April 2023)
| Tool Name | Output Quality | Free or Paid | Online or Not | Suitable for |
| --- | --- | --- | --- | --- |
| VansPortrait | ★★★★✩ | Paid | Online | Personal and Professional Use, Custom Portrait Design for Vans Shoes |
| Rapid Resizer | ★★★★✩ | Free/Paid | Online/Desktop | Personal and Professional Use, Image Resizing/Engraving |
| Stencil Creator | ★★★★✩ | Free/Paid | Online | Personal and Professional Use, Simple Editing, Stencil Creation |
| Super Stencil Maker | ★★★★✩ | Free/Paid | Online | Personal and Professional Use, Customizable Stencils |
| SunCatcher Studio | ★★★✩✩ | Paid | Desktop | Personal and Professional Use, Stained Glass Design |
| Photo2Stencil | ★★★★✩ | Free/Paid | Online | Personal and Professional Use, Stencil Creation from Photos |
| BeFunky | ★★★★✩ | Free/Paid | Online | Personal and Professional Use, Photo Editing/Graphic Design |
| IMGonline | ★★★✩✩ | Free | Online | Personal Use, Basic Image Processing |
| AIPortraits | ★★★★✩ | Paid | Online | Personal and Professional Use, AI-Generated Portraits |
| LunaPic | ★★★★✩ | Free | Online | Personal Use, Basic Photo Editing |
Our ratings are based on objective assessments, considering factors such as output quality, price, applicable groups and its pros and cons. Please note that product information may be updated, but we will keep the articles as up-to-date as possible.
1. VansPortrait
Features:Good output quality
Price: This is a free stencil maker tool albeit for a limited amount of uses. The paid subscriptions provide more image credits and features at $9.90/mo or $19.90/mo. VanceAI also has an offer going on right now.
Rating:★★★★✩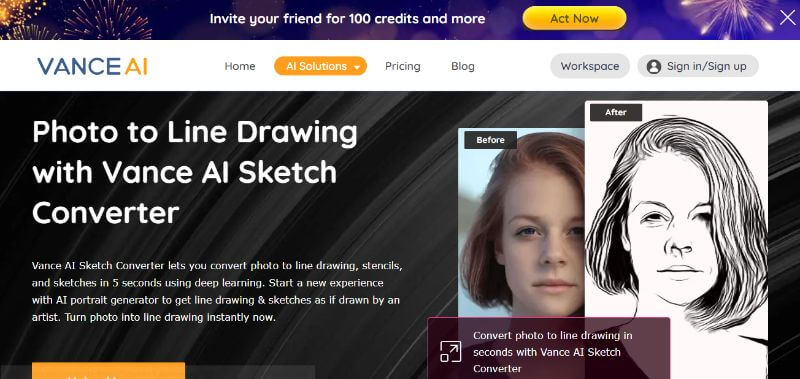 VansPortrait is a stencil converter online that is also AI and Deep Learning focused. This enables the application to make the user experience much smoother and easier.
When you visit the website, all you will need to do is upload an image and simply wait as the tool processes and displays the output within seconds. Though it does not contain any manual editing options, it is nonetheless a great tool for users who want great stencil art really fast.
Besides, it also allows you to turn photo into anime portraits with AI technology. Try it and explore more possibilities with VanceAI.
Pros:
Automatic results.
Useful features.
Smooth UI design.
Cons:
Limited amount of free use.
Sketches of entire images don't work as well as just faces.
No manual editing can deter experienced users.
About VanceAI
VanceAI is an online photo editing and enhancement tool. Other than creative AI features like VanceAI Sketch Converter, it also provides integrated AI image quality enhancer solutions like improving resolution, enhancing portrait, removing noise and so on.
How to use this picture outline maker?
Step 1: Upload an image to this stencil maker
Step 2: Click on "Start to Process"
Step 3: Download the output result
2. Rapid Resizer
Features: Easy to use
Price: While normal sized edits don't require payment, the images that are for print will cost according to the image you create.
Rating:  ★★★★✩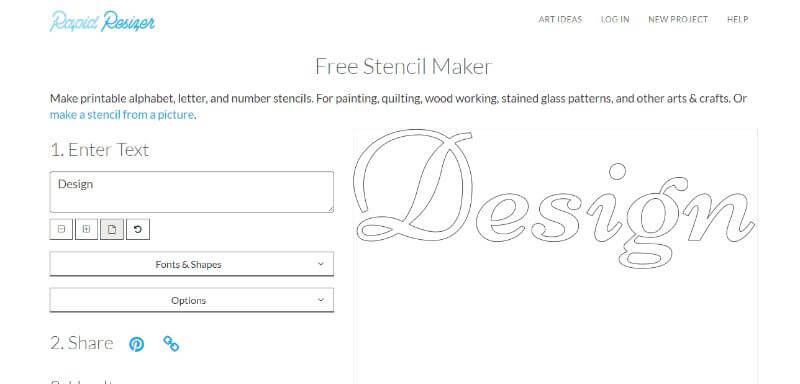 This stencil maker application has a little more editing involved compared to the previous two tools.
In this application, you have a lot of control over text and text-based editing, as this application revolves majorly around those aspects. While it doesn't offer much regarding visuals, you can easily pair your awesome fonts with premade visuals to make a great stencil art.
Pros:
Text-based stencil maker.
Easy to use.
Good UI design.
Cons:
Font options can be more diverse.
Print version is paid.
No visuals.
3. Stencil Creator
Features: Artistic design
Price: Stencil Creator tool is a free online stencil maker application.
Rating:  ★★★★✩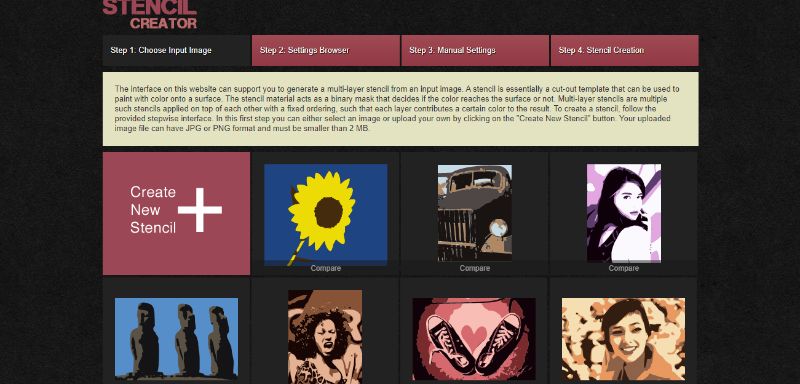 This particular stencil maker tool is more artistic. It is especially good at recreating images into stunning stencil art and after you upload an image, it will showcase a few unique styles that your image could adopt. You can choose any style with a click.
This tool also has premade images on display that you can check out. Other than that, you can also edit the already chosen style by mixing and making changes in the color.
Pros:
Artistic designs.
Easy to use.
Color editing.
Cons:
While it offers multiple styles, they are still not as many.
Some outputs don't render the original image correctly.
Takes time to process.
4. Super Stencil Maker
Features: Good output quality
Price: The pricing rules are pretty easy for this stencil maker tool. All single layer stencil images are completely free whereas multi layer images cost $2 flat.
Rating: ★★★★✩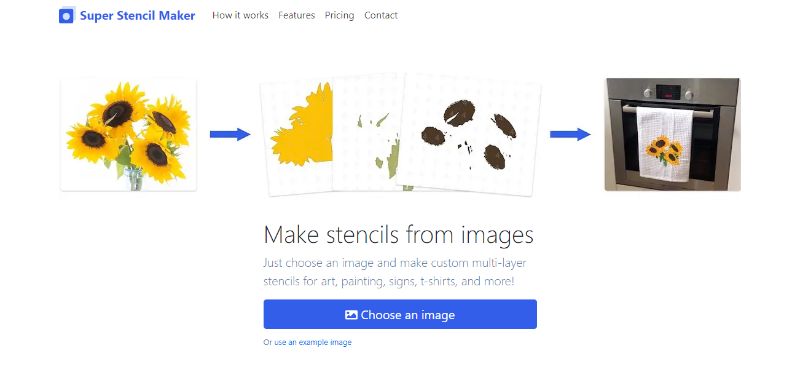 This application is a sophisticated stencil maker that is designed similar to Photo2Stencil but arguably easier to use and understand.
Single layer stencil images are rather simple, as they do not need much processing or anything else. However, this application can also handle multi layer stencils which are basically one image broken into multiple parts. As you will see from the image above, the stencil maker attaches these layers to form a union.
Pros:
Really good results.
Good pricing.
Can be printed onto objects.
Cons:
Less editing options.
Uploaded images have to be high quality.
Less file format compatibility.
5. SunCatcher Studio
Features: Including various tools to use
Price: This is a free picture stencil maker.
Rating: ★★★✩✩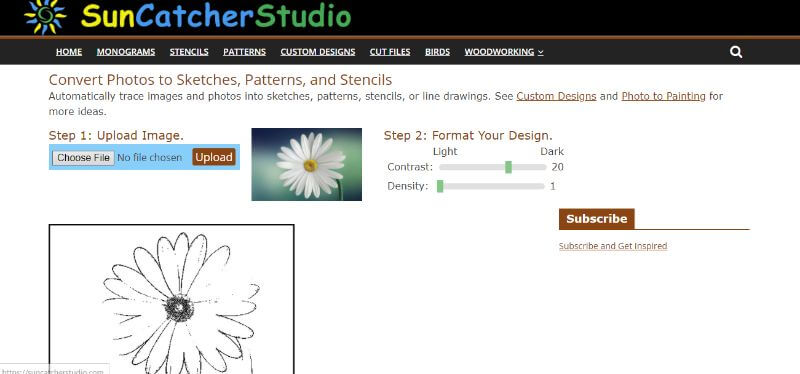 The SunCatcher Studio online application is a diverse one since it offers much more than stencil art. With this tool, you can use the stencil maker tool, patterns, monograms, and more.
When it comes to the stencil maker tool, you get decent options such as contrast settings, density settings, and the ability to choose the output from JPG or PNG. You can upload GIF, PNG, SVG, and other kinds of formats.
Pros:
Easy to use.
Different tools.
Free stencil maker.
Cons:
Average results.
Few features.
UI could be better.
6. Photo2Stencil
Features: Quick processing speed
Price: This tool offers stencil art for free.
Rating: ★★★★✩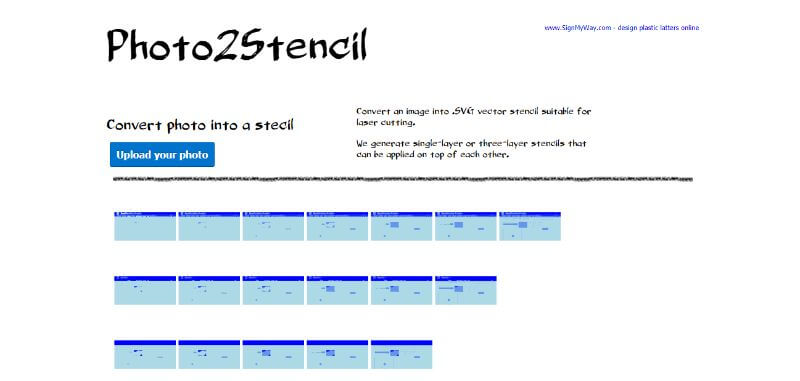 This tool is another one that is best suited for different requirements. The way this stencil maker is designed is to provide either one-layer or three-layer stencil arts that can be stacked on top of each other.
Other than that, the stencils that they create are SVG files optimal for laser cutting and similar tasks. The best kind of images that you would want to upload are those consisting of a white background with light.
Pros:
Quick stencil maker.
SVG format output.
Optimal for laser cut images.
Cons:
Only useful for specific needs.
Works best on certain images only.
Results can vary.
7. BeFunky
Features: Provide stock images
Price: The paid versions start from $4.99 though you can still create some stencil art with the free version anyway.
 Rating: ★★★★✩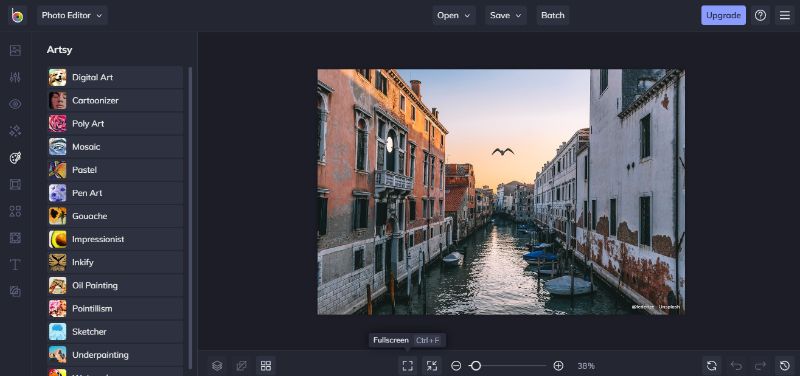 A great feature or rather design of BeFunky is that it offers a really good editor even though it is an online stencil maker tool.
With this editor, you can create a bunch of different image edits that are not even stencil art. BeFunky is similar to VanceAI, in the way that it also enables extra image editing.
This tool is also based on AI, so you can simply click on stencil effects on the editor to apply it to the image.
Pros:
Editor provided.
Easy to use.
Stock images.
Cons:
Limited free use.
Many great features have a paywall.
The editor can be buggy.
8. IMGonline
Features: Provide various settings
Price: This is a popular stencil maker and image editor that is also free to use.
Rating: ★★★✩✩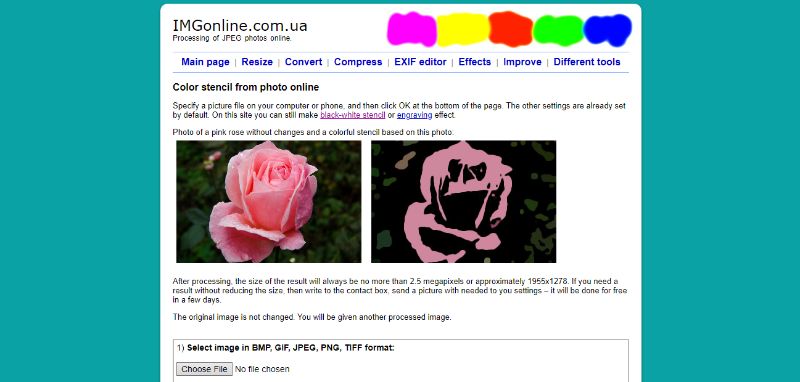 This free stencil maker is simple to understand and offers a decent amount of settings in the same page itself. When it comes to uploading images, you can choose from quite a few formats that include GIF, TIFF, BMP, etc.
Apart from that, you can choose other image related settings such as brightness, color contours, inversion of colors, and more.
Pros:
Popular image editor and stencil maker.
Decent amount of settings.
Easy to use.
Cons:
No manual editing.
Offers less formats for output.
The results are not always up to the mark.
9. AIPortraits
Features: Fast processing
Price: This picture stencil maker is online and free to use.
Rating: ★★★★✩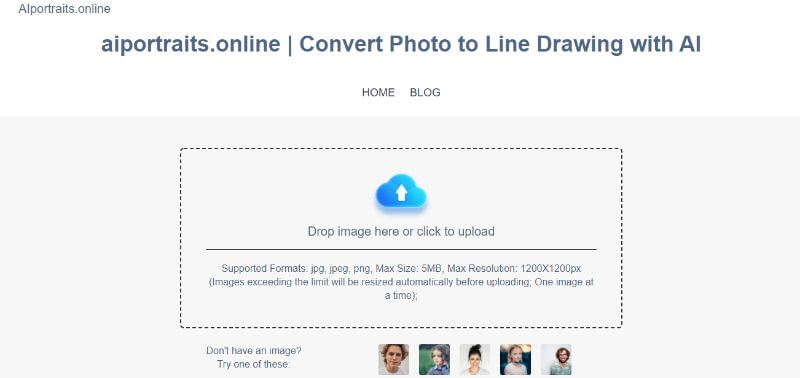 This online stencil maker offers a good amount of compatibility for images. It supports JPG, JPEG, and PNG file formats when it comes to uploads.
Furthermore, the images supported should be within 5 MB of image size and 1200x1200 resolutions. Even if an image exceeds it, the stencil maker automatically readjusts the image.
Finally, due to the tool being an AI based tool, you can expect the processing to be fast enough.
Pros:
Easy to use.
Fast processing.
Free to use.
Cons:
No editing.
Works best with small and simple images.
It can only sketch faces, not entire images.
10. LunaPic
Features: Quick processing
Price: LunaPic is one of the most popular free stencil maker tools available online for free.
Rating: ★★★★✩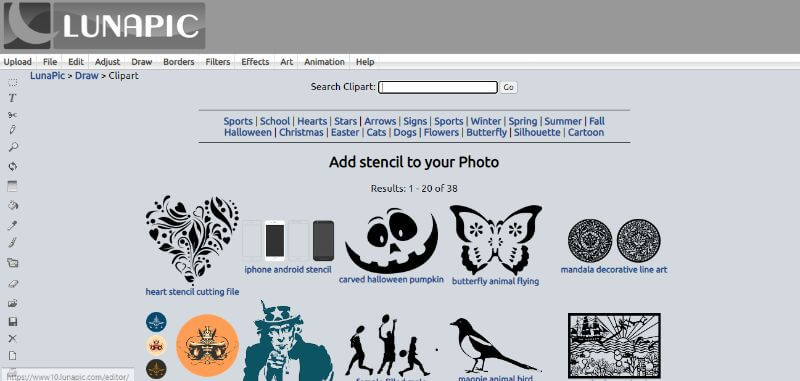 Similar to BeFunky, LunaPic is also an online image editing tool that also offers stencil art and a detailed editor wherein you can create your own stencil art.
However, there are a few differences. BeFunky is mostly AI based, hence it doesn't offer manual editing. LunaPic, on the other hand, offers at least a few options such as choosing transparency, fade pixels, etc.
Pros:
Popular stencil maker application.
Free to use.
Quick loading times.
Cons:
Results are not always good enough.
Editor takes time to learn.
Few editing options.
Conclusion
In conclusion, the world of stencil making has been revolutionized by the emergence of AI-powered tools. These tools provide a simpler and more efficient way to convert your favorite photos into stunning stencil drawings. From VansPortrait's AI and deep learning capabilities to Rapid Resizer's text-based editing, Stencil Creator's artistic designs, and Super Stencil Maker's ability to handle multi-layer stencils, each tool brings its own unique strengths to the table. Whether you're looking for customized stencil designs, image resizing, stained glass patterns, or AI-generated portraits, there is a stencil maker that suits your specific needs.
While these tools have simplified the stencil-making process, it's important to note that some limitations exist. Certain tools may have limited free usage, require high-quality images, or have fewer editing options. It's crucial to choose a tool that aligns with your requirements and desired output. Now, Let your imagination run wild and bring your artistic visions to life with ease.
Learn more about: How artificial intelligence makes art.
FAQ
How can I convert a photo to a stencil?
1. Upload your photo to a stencil maker tool online.
2. Most of the products based on AI such as VansPortrait can process your image instantly and automatically.
3. If the tool has an editor, experiment with the settings to achieve your desired stencil, then download the image.
What is the best free online stencil maker?
VanceAI's Sketch Converter, VansPortrait provides remarkable results with a user-friendly experience. For more control over images and customization, BeFunky is a great choice. Both tools offer impressive stencil-making capabilities for different preferences.