The new iPhone 15 has hit the markets with a big comeback. It brings exciting new features while retaining some from the previous generation.
With the new iPhone 15 comes a bunch of new upgrades and technology that most enthusiasts would love to get their hands on. Apple is known for making products that not only push innovation but also ensure that people are able to work easier.
From business professionals working long hours to designers engaging in intensive projects, Apple iPhone 15 is set to be an excellent asset for all. Not to mention that the new iPhone 15 brings fresh UI changes, such as Dynamic Island, which can be beneficial to even casual users.
The new iPhone 15 has plenty of new upgrades and a few things that remain the same. Let's go through its features.
Top 10 Upgrades for the New iPhone 15 and Pro Series
1. New Camera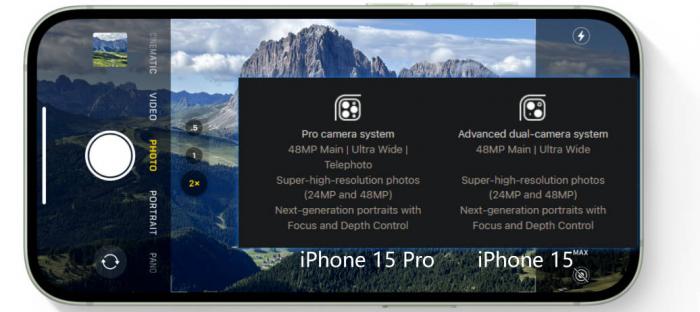 Image Credits: Apple

The new iPhone 15 has a new camera system with bigger and better sensors. The camera specifications differ among the Apple iPhone 15 models as well. It now has a telephoto lens that is useful for taking photos of faraway distances.

It also has a new Cinematic mode for video recording. This will allow users to create professional-looking videos with bokeh effects and smooth focus transitions.

The new camera system on the iPhone 15 is expected to be one of the best smartphone cameras on the market. It will offer users a wider range of photographic and videographic capabilities than ever before.
2. New Chip / Processor

Image Credits: Apple

The new iPhone 15 2023, which includes the iPhone 15 Pro Max and Pro, is expected to be powered by the new A17 Bionic chip. This chip is expected to be significantly faster and more efficient than the A16 Bionic chip on the iPhone 14 & a couple of iPhone 15 editions.

The A17 Bionic chip will allow the iPhone 15 to handle even the most demanding tasks with ease. It will also allow the phone to last longer on a single charge, making it ideal for travelling. In addition, the A17 Bionic chip will power new features and capabilities in the iPhone 15, such as augmented reality and artificial intelligence.
3. Lightening to Type-C
For a variety of reasons, Apple has decided to switch to Type-C / USB-C. In terms of charging, the shift brings some cool possibilities for the users. For example, if you connect two iPhones through the Type-C charger points, the iPhone with the lower battery can draw power from the other phone. This can be a life-saver in many situations.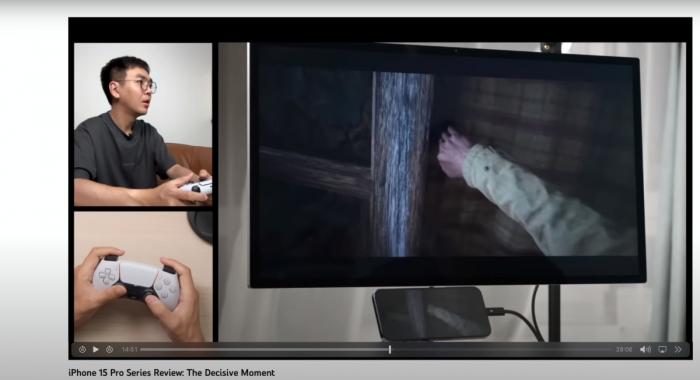 Image Credits: AppleInsider, Vincent Zhong

Compared to the previous generation, the new iPhone 15 is not going to charge much faster, though at its current speed, it is still good enough for most users. Naturally, you can now connect other accessories with your iPhone, which also includes monitors, opening up plenty of options for users.

You can check out some prime audio earbuds that would work well with your new iPhone 15.
4. Appearance
The new case is expected to be more durable, with a new titanium frame that is less likely to bend or break if the phone is dropped. The case is also expected to have a flatter design, with thinner bezels around the display. It also has smoother edges so that it feels better when holding it.

Image Credits: Apple

The new iPhone 15 2023, which includes the iPhone 15 Pro Max and Pro

The new feel of the iPhone 15 is expected to be smooth but durable. The combination of titanium with other materials makes the phone feel lighter. This is mostly due to the use of a new material for the case. The rumored material is a type of woven fabric that is similar to the material used in Apple's new FineWoven cases.

The new material is expected to be more durable and scratch-resistant than the glass or metal that has been used on previous iPhones. It is also expected to be more comfortable to hold, and to provide a better grip.
5. Screen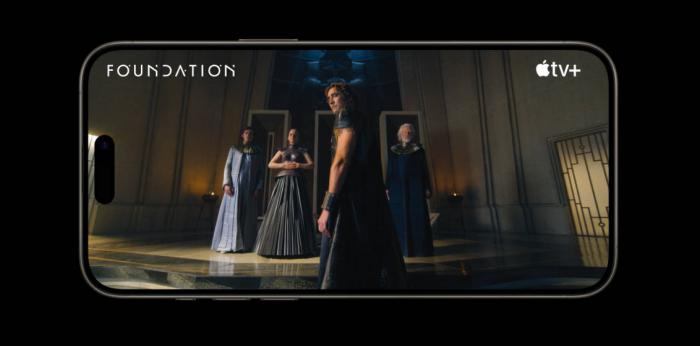 Image Credits: Apple

The screen sizes this time are between 6.1 and 6.7 inches, depending on the new iPhone 15 type. The Apple iPhone 15 Pro Max has a screen size of 6.7 inches, for example. The iPhone 15 is expected to have an OLED display. OLED displays offer the best image quality of any display technology, with deep blacks, bright colors, and wide viewing angles.

The screen material is said to be scratch-proof with ProMotion technology offering a refresh rate of 120 Hz. The new iPhone 15 will also have a noticeably brighter display in comparison to the base iPhone 14. Overall, these screens will be ideal for watching videos, streaming, and gaming.
6. Dynamic Island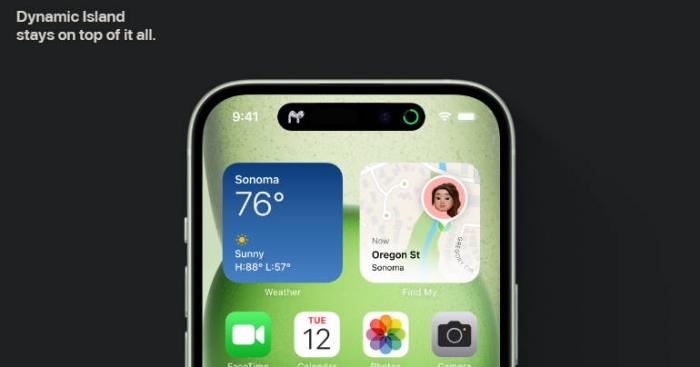 Image Credits: Apple

The Dynamic Island is a new feature in the iPhone 14 Pro and iPhone 15 lineup that adds a dynamic touch to its overall UI. It is a pill-shaped cutout at the top of the display that houses the front-facing camera and Face ID sensors.

However, the Dynamic Island is more than just a cutout. It is also a dynamic interactive area that can display information coming from notifications and apps. It acts as a second screen in a way, allowing users to keep track of multiple things at once. You can get the best smart watch from Apple and always be up-to-date with your schedule.

Since it is software, it still has plenty of room to grow and provide even more than what it is now.
7. iOS 17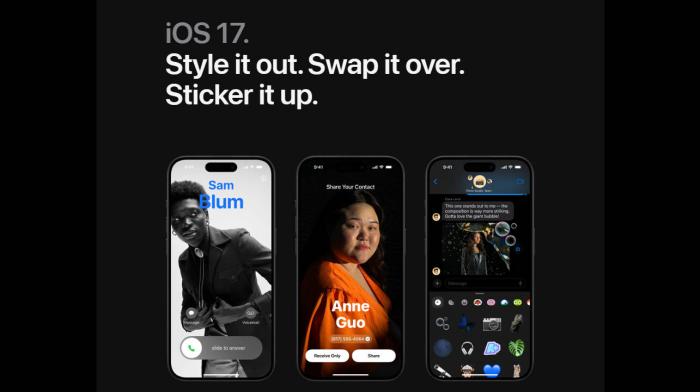 Image Credits: Apple

The iPhone 15 is expected to come with iOS 17, the latest version of Apple's mobile operating system. iOS 17 is going to include a number of new features and improvements. When it comes to quality of life improvements, users can expect a host of new widgets and widget styles, such as for clocks and notifications.

You can now also create a custom contact screen which will show up during calls. Therefore, you can personalize your friends and family contacts.

Some other upgrades include better interactivity with widgets, smarter autocorrect, contact sharing, and more.
Which Features Have Stayed the Same?
Face ID
While Apple provides touch and face ID, it usually focuses on face ID more. This trend is seen to be repeated for the new iPhone 15 as well. Apple's face ID makes use of various technologies, such as the TrueDepth camera that works with the Apple chip. It is linked to important apps like Apple Pay.
With the iPhone 15, users can expect similar features and performance to continue with their device.
Battery
Users should expect a similar battery life to the previous iPhone lineup as there is no significant battery change except within the iPhone models. The new iPhone 15 standard model has a battery of 3349 mAh while the iPhone 15 Pro Max provides 4422 mAh.
The battery life of the iPhone is considered to be long-lasting and potent enough to power through demanding applications. As such, a slightly better battery on the new iPhone 15 should do just fine for most users.
How to Choose an iPhone?
Product

iPhone 15

iPhone 15 Plus

iPhone 14

iPhone 15 Pro

iPhone 15 Pro Max

iPhone 14 Plus

$799 (128GB)

$899 (256GB)

$1099 (512GB)

$899 (128GB)

$999 (256GB)

$1199 (512GB)

$699 (128GB)

$799 (256GB)

$999 (512GB)

$999 (128GB)

$1099 (256GB)

$1299 (512GB)

$1499 (1TB)

$1199 (256GB)

$1399 (512GB)

$1599 (1TB)

$799 (128GB)

$899 (256GB)

$1099 (512GB)

0.5, 1, 2 Optical Zoom

0.5, 1, 2, Optical Zoom

0.5, 1 Optical Zoom

12MP Telephoto

0.5, 1, 2, 3 Optical Zoom

12MP Telephoto

0.5, 1, 2, 5 Optical Zoom

0.5, 1 Optical Zoom

A17 Bionic Chip

A17 Bionic Chip

X

X

USB-C

USB-C

USB-C
Our Suggestions
There are plenty of advantages of purchasing an iPhone. Apple has been synonymous with innovation for years now and the iPhone is one of their biggest products. With the new iPhone 15, users can take their videography and photography to the next level. With better camera technology and new features, users have multiple options for how they want to take photographs.
Similarly, the iPhone 15 has many upgrades that can make the users' time with the phone smarter and more efficient. At the same time, there are things which are unchanged from the previous lineup and so, if you are wondering if you can simply go for the iPhone 14 Pro versions, you can. In fact, the iPhone 14 Pro Max is still offering more than the iPhone 15 Standard version on paper.
The new iPhone 15 would be much more suitable for niche users, fans, and those who absolutely require the best phones out there in the market. For casual users who mostly engage in photography, social media, and a bit of gaming, the older iPhones will prove to be just as good, especially when their prices drop.
Conclusion
The new iPhone 15 once again succeeds in impressing users and tech enthusiasts with its latest upgrades to the phone, more powerful chip performance, and its titanium body.
One of the most notable upgrades is the new A17 Bionic chip. This chip is expected to be significantly faster and more efficient than the A16 Bionic chip on the iPhone 14.
Titanium is a lightweight and durable metal that is often used in aerospace and military applications. The use of titanium in the iPhone 15's body makes it stronger and more resistant to scratches and dents. In addition to these major upgrades, the iPhone 15 also features a number of other improvements, such as a new Dynamic Island design, a brighter display, and a longer-lasting battery.
However, it is also true that some features are basically the same as before, such as the Face ID and battery.
Users who simply use mobile phones casually but want to give Apple a try should consider the iPhone 14 Pro or wait till the iPhone 15 drops in price.