This article reviews the top 7 tools and software that can be used for live streaming. The aim is to provide the user with the best option by comparing various aspects of the product.
Live streaming is an increasingly popular form of media for content creators. The unique ability to broadcast live content directly to your audience is unparalleled and contributes to fostering a strong sense of community with your viewers. 
Nevertheless, the procedure of live streaming isn't always a simple matter. An essential factor in streaming various forms of content lies within your streaming software, yet finding the ideal one that suits your requirements can prove to be quite daunting.
In this article, we will explore 7 of the top live streaming software options, each suited for different use cases. By considering these choices, you can make an informed decision before embarking on your live streaming journey. 
Top 7 Best Streaming Software Review 
Top 1 
  OBS Studio
OBS Studio
Supported systems: Windows, Mac OS, Linux
Overall rating:4.6/5.0 ★★★★☆
Price: Free 
OBS Studio provides essential video recording capabilities, allowing users to easily live stream and make simple edits with just a single click. Based on our firsthand experience, we have discovered that OBS screen recorder's remarkable performance and extensive features establish it as the preferred choice for artists, designers, gamers, and content creators. Moreover, OBS Studio excels in video encoding, surpassing other similar streaming software in this aspect. Consequently, it has gained significant popularity as video recording software. If you aim to produce captivating visual content, the OBS screen recorder is the essential tool that will unlock your creative potential for any professional requirement.
+ Pros
Versatile and professional
Live stream your recordings to platforms like Twitch and YouTube
Wide range of recording options
Regular updates and development
- Cons
Lack of default hotkey settings for brief bursts of recording
Need for high-performance computers
Top 2 

  Streamlabs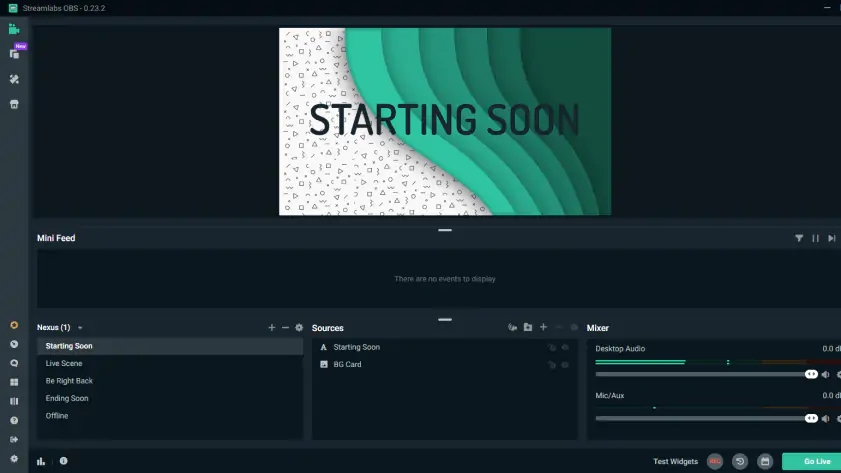 Streamlabs
Supported systems: Windows, Mac OS
Overall rating:4.0/5.0 ★★★★☆
Price: Free & Ultra Membership - $19/month. 
With its multi-streaming capabilities, Streamlabs can stream to YouTube, Twitch, Facebook, and more live at the same time. The platform is designed to assist streamers in captivating viewers and expanding their channels by providing user-friendly features to add themes, overlays, and other elements to their streams in real time. With Streamlabs, streamers can enhance the visual appeal of their channel broadcasts by choosing from a wide range of themes and overlays available in an extensive library.
One of the main advantages of Streamlabs is its ability to boost engagement between streamers and viewers. This functionality utilizes customized alerts that are triggered during streaming sessions when specific events happen, such as gaining new followers or receiving donations.  In general, Streamlabs strives to be an essential tool for anyone who broadcasts across multiple platforms and seeks effective customization options, along with simple alert automation capabilities that foster increased interaction with their audiences. If your tool is helpful as well, welcome to submit your tool to TopTen.AI.
+ Pros
Easy setup process
Built-in chat
Free customization
Monetization options
- Cons
More CPU usage
Best features require paid
No sound commands
Top 3 

  Twitch Studio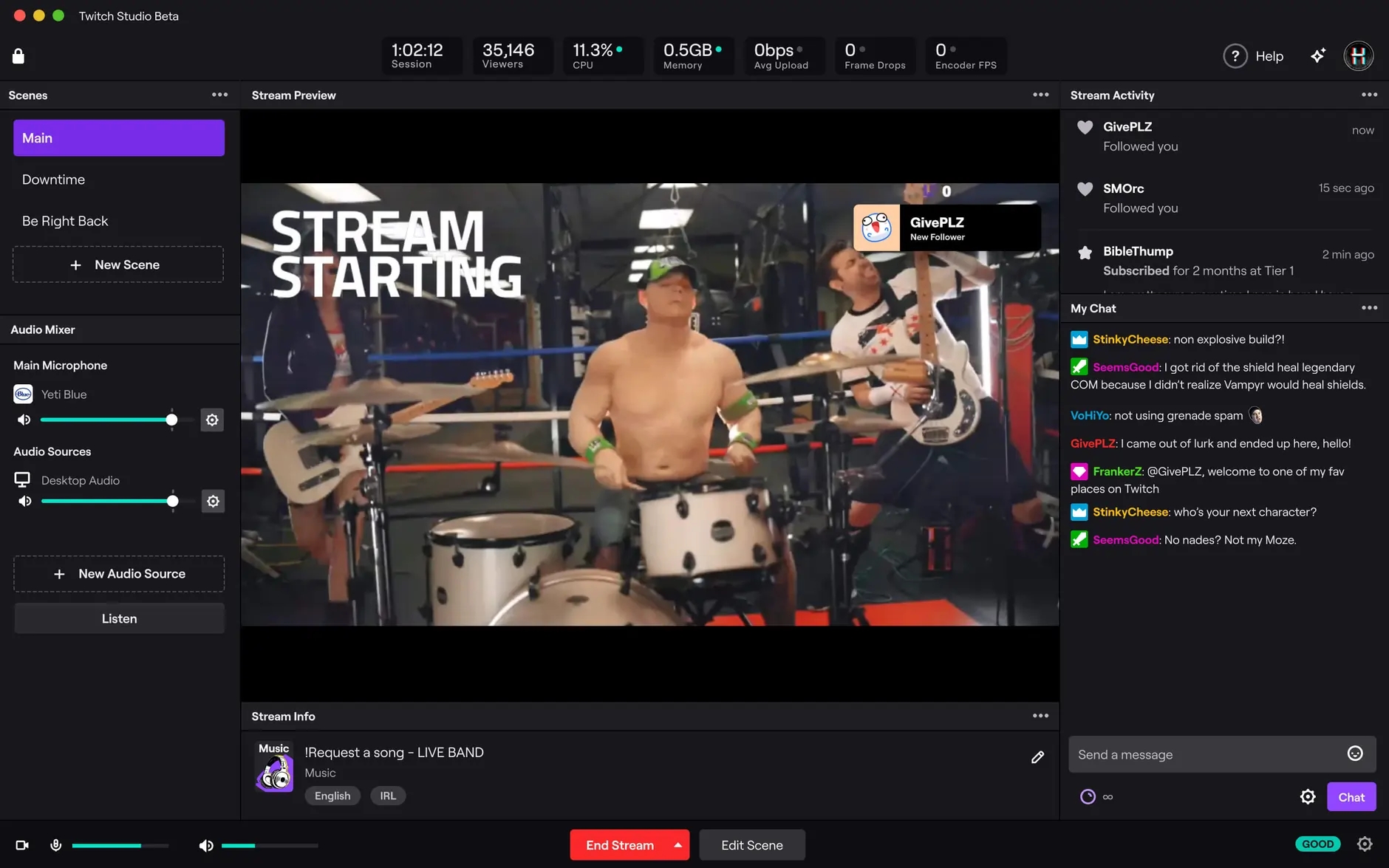 Twitch Studio
Supported systems: Windows, Mac OS
Overall rating:4.4/5.0 ★★★★☆
Price: Free for Twitch users
Twitch Studio represents a software solution specifically designed for streaming on Twitch which was created directly by Twitch, this software ensures seamless integration of the familiar Twitch interface into a functional streaming tool. Unlike other third-party applications, Twitch Studio is an ideal choice for streaming on Twitch, especially for game streaming. This software is highly advanced, with numerous integrated features that work flawlessly. Within Twitch Studio, similar to other streaming software, you have the ability to create scenes and sources and customize them to suit your needs as a creator. Essentially, this in-house Twitch tool provides all the necessary features for streamers in the modern era.
+ Pros
Seamless integration into the Twitch system
Green screen support
Good performance even on mid-range computers
- Cons
Only Twitch streaming is possible
No possibility of installing plug-ins
Rather unsuitable for streaming professionals
Top 4 

   XSplit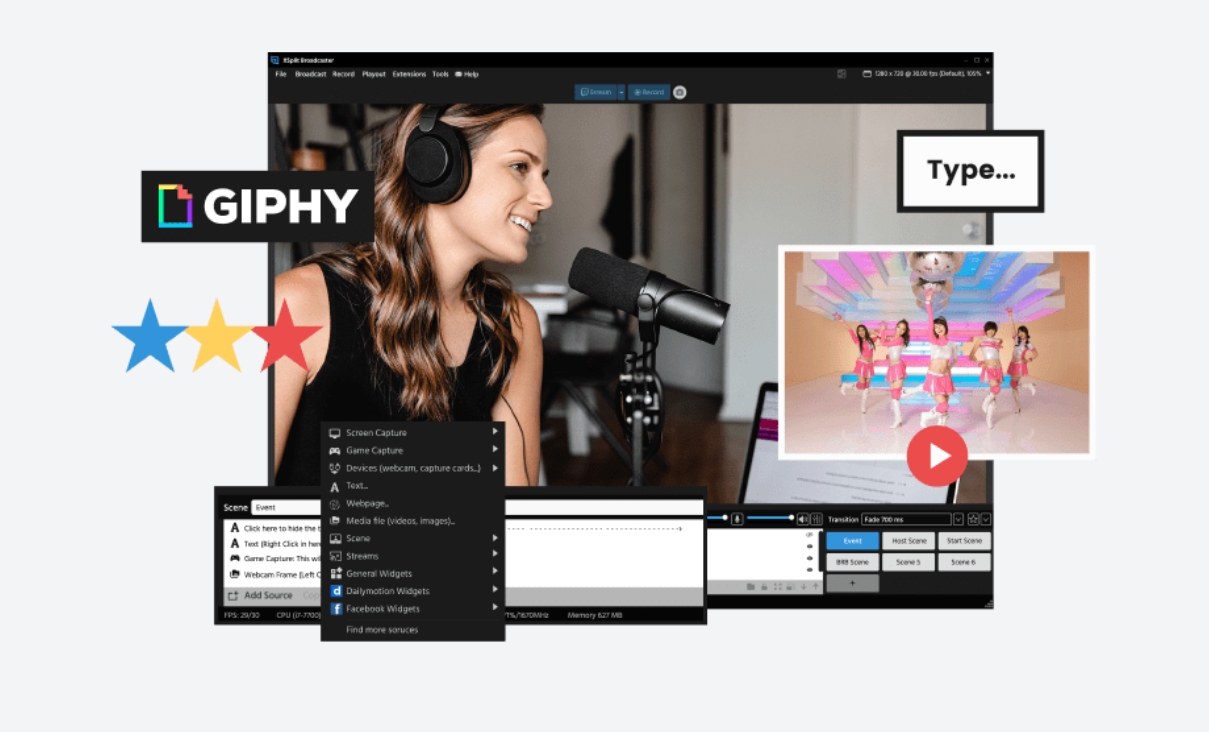 XSplit
Supported systems: Windows
Overall rating:4.6/5.0 ★★★★☆
Price:$15/month, $60/year
XSplit is widely recognized as a user-friendly and engaging streaming software that excels in providing excellent functionality for live recording and streaming requirements. It caters to a diverse range of users, including professionals, casual gamers, and video game streaming enthusiasts, effectively aiding them in generating live streams of their gameplay videos. Unlike other complex high-end tools, XSplit Gamecaster offers a hassle-free setup and grants complete control through its intuitive user interface.
On the other hand, XSplit is renowned for being an advanced audio-video mixing tool, capable of producing professional-grade content for live broadcasting and video game streaming recording purposes. Its interactive and uncomplicated interface empowers gamers to create visually appealing content in just a matter of minutes.
+ Pros
Stream and record in 4k with no lag
Support scene presets
 Automated noise suppression
 Live illustrations
Top 5 

  vMix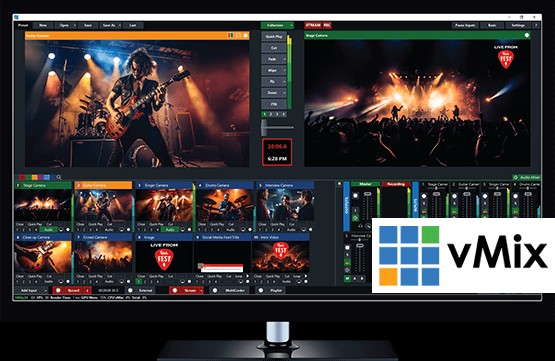 vMix
Supported systems: Windows
Overall rating:4.3/5.0 ★★★★☆
Price: Lifetime License: BasicHD -$60, Pro -$1200; Subscription License: $50/month. 
vMix streaming is a versatile software designed for computer-based video production. It empowers users to effortlessly create engaging video content by seamlessly integrating multiple sources such as cameras, videos, images, audio, web streams, Powerpoint presentations, titles, virtual sets, and chroma key effects. With vMix, you can effortlessly display, record, and live stream your production in real-time, all simultaneously. Whether you're organizing large-scale multi-camera events or conducting simple webcam productions as a solo creator, vMix streaming software is equipped to meet your needs. 
+ Pros
Support 4K resolution
Display content from social media
Chroma key compatibl
- Cons
Some technical jargon for volunteers 
vMix streaming'UI design needs improvement
Top 6 

   Restream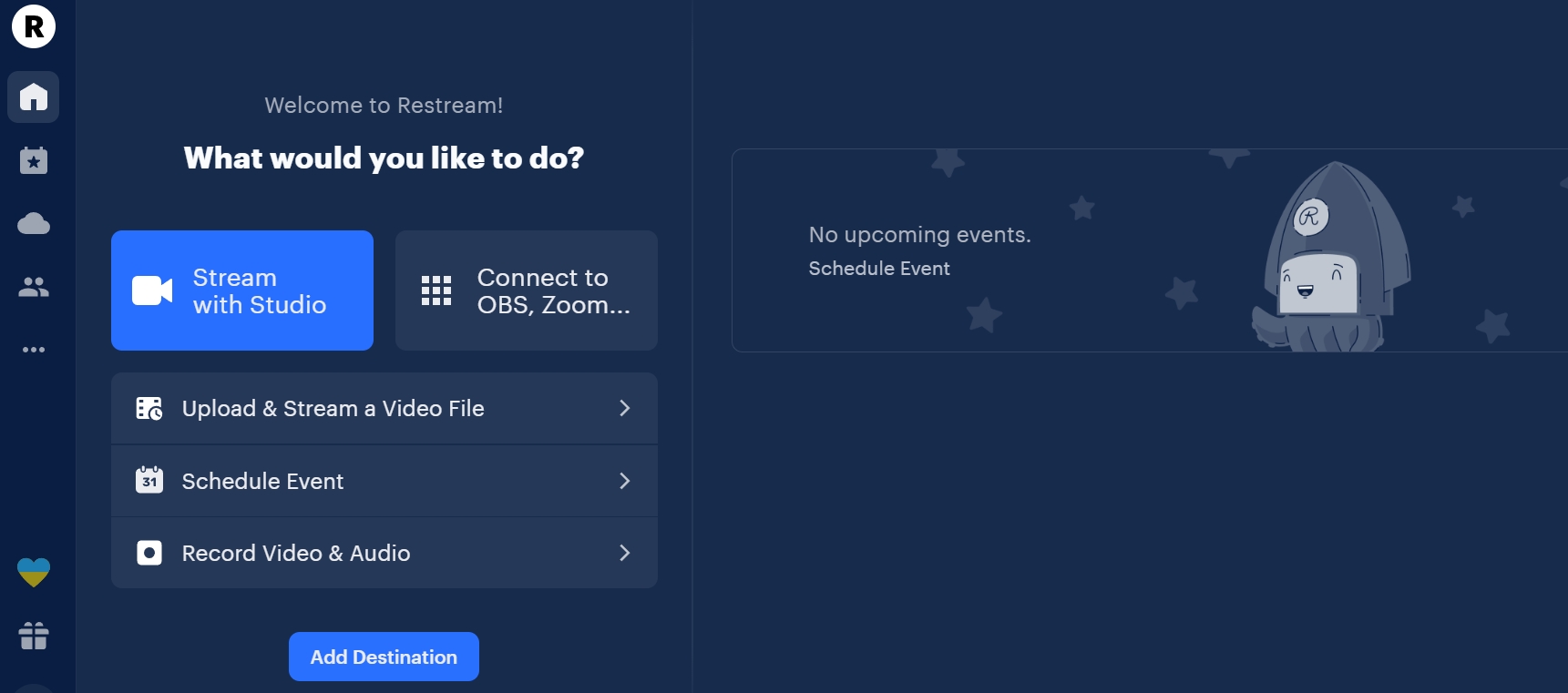 Restream

 
Supported systems: Online
Overall rating:4.8/5.0 ★★★★☆
Price: Free, Standard- $19/month, Professional- $49/month, Premium- $99/month
Restream is a platform that enables you to broadcast your videos to various websites where your audience can watch them. It offers the crucial capability to stream your videos simultaneously to multiple sites. Notably, Restream supports over 30 different streaming platforms, including prominent media giants such as Facebook, YouTube, and LinkedIn, as well as lesser-known platforms like Mixcloud, Twitch, Picarto, and Steam.
+ Pros
Support multistreaming to more than 30 different platforms
Support streaming pre-recorded videos
Analytics function
- Cons
2K and 4K video streaming is not supported
Robust video editing tools are not supported 
Top 7 

  StreamYard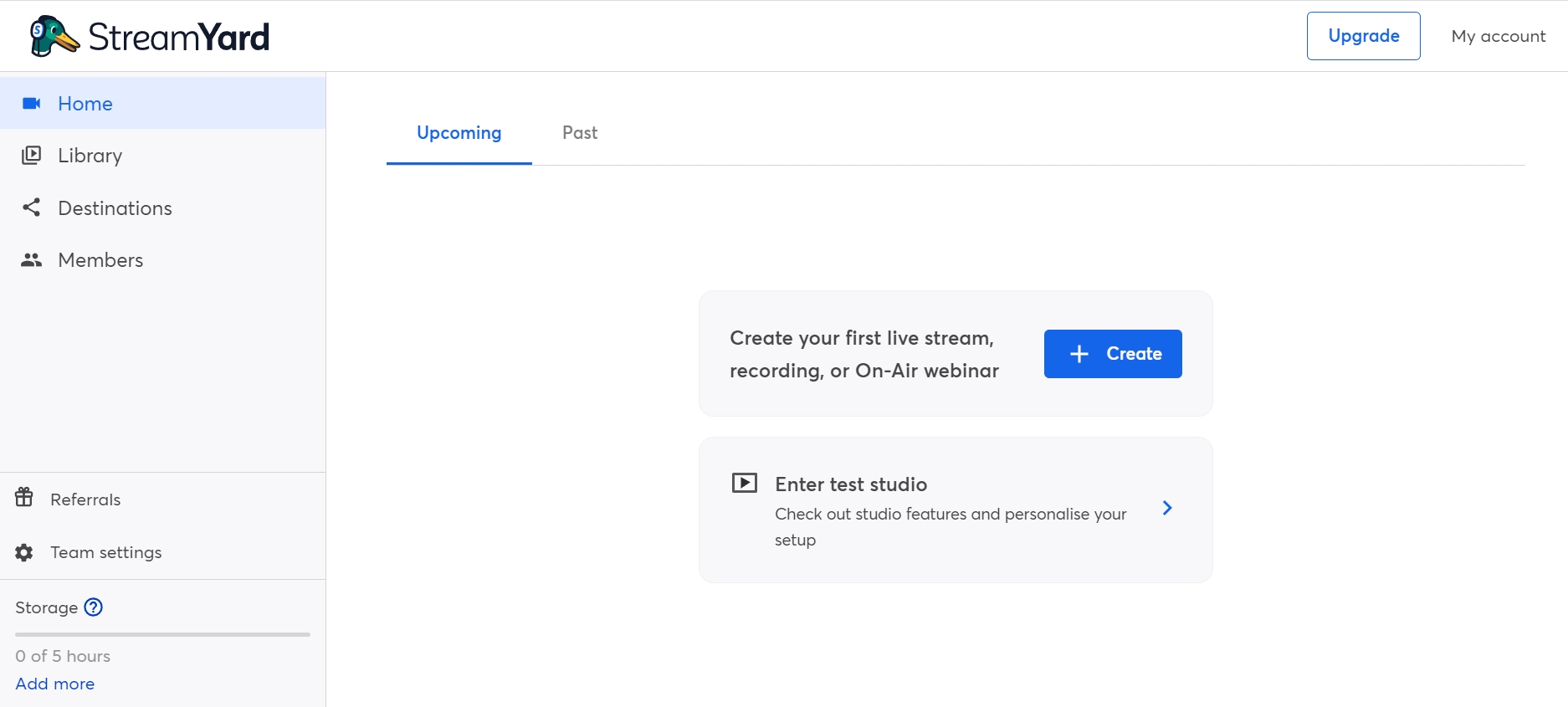 StreamYard
Supported systems: Online
Overall rating:4.0/5.0 ★★★★☆
Price: Free, Basic- $20/month, Professional- $39/month
StreamYard is a web-based media studio that offers more than just recording capabilities. It allows you to effortlessly distribute and live stream videos and audio directly from your internet browser. StreamYard's primary purpose is to establish connections with various social platforms, enabling you to engage with audiences and stream simultaneously across multiple social channels. You can broadcast your content on popular platforms such as Facebook, YouTube, Twitch, LinkedIn, and Periscope. StreamYard focuses on simplicity. It provides essential features that cater to users of all levels, making it a user-friendly live streaming platform.
+ Pros
Newbie friendly
Support streaming pre-recorded videos
Live streaming analytics
- Cons
StreamYard lacks support for Safari internet browsers
Limited in video editing and broadcast management
Impossible to stream content in 2K or 4K resolution 
How to Choose?
Product Name

Free/Paid

User-

Friendliness

Platforms

Outstanding Features

Overall

Rating

OBS Studio

Free

★★★★☆

Windows, Mac OS, Linux

Versatile and professional

 

4.6/5.0

Streamlabs

Freemium

★★★★☆

Windows, Mac OS

Easy setup process

4.0/5.0

Twitch Studio

Free

★★★★★

Windows, Mac OS

Seamless integration into Twitch

4.4/5.0

XSplit

Paid

★★★★☆

Windows

Stream in 4k without lag

4.6/5.0

vMix

Paid

★★★★☆

Windows

Chroma key compatible

4.3/5.0

Restream

Freemium

★★★★★

Online

Support multistreaming platforms

4.8/5.0

StreamYard

Freemium

★★★★★

Online

Pre-recorded videos available

4.0/5.0
The ideal streaming software for you relies on your specific requirements and the features that hold the highest significance for you. To assist you in this regard, after several trials, we have compiled a selection of the best streaming software, taking into account their respective usage scenarios in the rest of the article.
You can also get a quick overview of the more useful live streaming relevant tools from our Tools Directory. 
Editor's Picks and Suggestions
Best Streaming Software for Budget-limited Users
For those on a budget, you can still enjoy high-quality streaming without breaking the bank. While OBS may have a slight learning threshold, it presents an excellent choice for budget-conscious individuals with an abundance of free features. 
Best Streaming Software for Game Streaming
If you aspire to pursue a career in game streaming, we recommend you consider Twitch Studio, because it is very friendly to users who live stream on Twitch, which is also a mainstream game live-streaming platform.
Best Streaming Software for Newbies
For newcomers who might feel daunted by the OBS screen recorder, Streamlabs is a fantastic alternative, or you can give Twitch Studio a shot as well. 
Best Streaming Software for Professionals
OBS Studio and  XSplit are all great alternatives. Each of them possesses exceptional capabilities to cater to your professional requirements. If your budget is sufficient, vMix streaming can also be considered.
Best Streaming Software for Windows Users
XSplit and vMix streaming are all ideal choices. Both of them are compatible with the Windows operating system and can bring a smooth experience to your live stream. XSplit and vMix streaming are PC-only video switchers to streamline your live streaming.
Best Online Streaming Platform
If your computer has a restricted configuration and limited memory, we highly suggest opting for an online streaming platform such as StreamYard or Restream. StreamYard currently supports 9 destination channels for multistreaming, it falls short compared to Restream, which offers over 30 options while StreamYard has a price advantage over Restream. There is not much difference between the two in terms of basic functions. We recommend choosing based on your budget needs.
Final Words
In summary, this article offers you an extensive and enlightening examination of diverse streaming software options, while different software meets the needs of different users. There is no perfect software in the world, but you can choose the one that suits you best based on our evaluation results. Professional users can consider OBS, XSplit, and vMix streaming, while amateurs can try out Streamlabs, Twitch Studio, Restream, and StreamYard.
If you want to know more detailed information about the software, you can try our further review of OBS studio.
FAQs
  1.  Which live streaming software is the most widely used among users?
OBS is one of the most popular streaming software, but it's not the only option. Streamers often make use of a variety of other software choices mentioned before.
  2.  Does live streaming require high computer configuration?
It's not necessary, you can also consider using the online platforms mentioned in the article. Each of the software mentioned here necessitates a minimum of 4GB RAM and an Intel i5 processor. This ensures optimal performance of your computer, even when working with multiple video sources, eliminating any potential disruptions.
  3.  What is the best free streaming software?
If you're looking for a user-friendly and freely accessible option, Streamlabs and Twitch Studio are the best picks. However, if you require free software with advanced capabilities, go for OBS Studio and XSplit.