How to enlarge anime images without losing quality? Here lists the best 10 anime image enlargers that use AI and advanced algorithms to enhance the resolution of anime images without distortion or pixelation.
Are you tired of squinting at your screen, desperately trying to catch a glimpse of the intricate details in your favorite anime scenes? Picture this: you're engrossed in an epic battle sequence, but the image quality leaves much to be desired. The lack of sharpness and clarity diminishes the impact of each frame, leaving you yearning for a better viewing experience. Thankfully, there's a solution that can transform the way you enjoy anime--AI anime image enlargers.
In this article, we delve into the realm of AI anime image enlargers, exploring the top 10 photo enlargers of 2023. These remarkable technologies harness the power of artificial intelligence to magnify and enhance anime images, allowing you to fully immerse yourself in the captivating world of your beloved shows.
Top 10 Anime Image Enlargers Review 2023
Our ratings are based on objective assessments, considering factors such as price, compatibility, Maximum Scale-Up, Export Formats, and whether they support batch processing. As photo enlarger tools information may be updated, we will keep the articles as up-to-date as possible.
| | | | | | |
| --- | --- | --- | --- | --- | --- |
| Image Upscaler | Price | Maximum Scale-Up | AI-Powered | Export Formats | Batch Processing |
| VanceAI Anime Upscaler | $4.95 (100 credits) | 16x | Yes | JPG, PNG | Yes |
| CutPro | Free & Paid ($5-69) | 4x | Yes | JPG, PNG | No |
| Bigjpg | Free & Paid ($6-$22/year) | 16x | Yes | JPG, PNG | Yes |
| Waifu2x.org | Free | 4x | Yes | JPG, PNG | No |
| ImgLarger | Free & Paid ($14.99-$39.99) | 8x | Yes | JPG, PNG | No |
| PhotoEnlarger | Free | 2x | Yes | JPG, PNG | No |
| ImageResizer | Free | 4x | Yes | JPG, PNG | Yes |
| ImageEnlarger | Free | 8x | Yes | PNG, JPG | No |
| Waifu2X Image Resizer | Free | 2x | Yes | JPG, PNG | No |
| Imgonline | Free | 2x | Yes | JPG, PNG | No |
1. VanceAI Anime Upscaler
Price:

$4.95 (100 credits)

$6.95 (200 credits)

$11.45 (500 credits)

$17.95 (1000 credits)

Compatibility: Online, Windows
VanceAI Anime Upscaler is a straightforward tool that lets you enlarge images up to 16x. Powered by AI, this ai anime upscaler allows you to enlarge anime or waifu images without losing quality online. This handy tool is compatible with any operating system.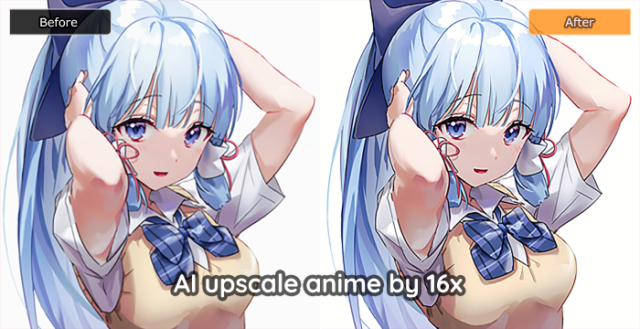 Also, VanceAI has an online free tool-VanceAI Image Enlarger for you to enlarge any type of image, including anime images. Lossless image enlargement is made possible with advanced algorithms, which learned how to identify and preserve details of your image. Feel free to try this best anime upscaler if you want to make your anime wallpaper HD.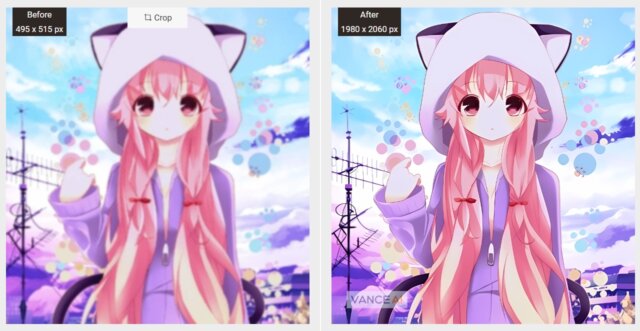 Watch the video below to check out how to use this AI image upscaler.
Check out more details in How to Enhance Image Quality in VanceAI Image Enhancer.
Pros
Enlarge images up to 8x online automatically
Restore details to images with advanced algorithms
Easy to use
Fast speed
Output images in high resolution
Cons
Lack of editing tools, such as filters
Limited export formats
Additionally, if you prefer to use a lossless anime photo enlarger on software, VanceAI PC launched by Vance Technology is here for you. With this desk client, you can enlarge anime pictures by choosing the "Enlarge" option up to 40x!
2. CutPro--AI Upscale Images Effortlessly
Price: Free& Paid (5$-69$)
Cutpro is dedicated to giving users the power of AI Anime Upscaler - upgrading anime images up to 4x as wallpaper. Cutpro has amazing quality and effects, powerful image editing tools to unleash your creativity, and lightning-fast image processing and instant results.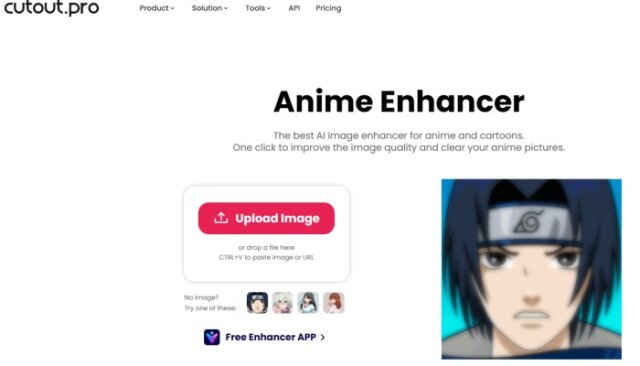 Limits:
It does not support batch processing
Pros:
It supports editing images
Quick processing speed
Cons:
Inability to handle details accurately
3. Bigjpg
Price: Free & Paid (basic: $6/2 months, Standard: $12/6months, Premium $22/year)
Bigjpg applies the Deep Convolutional Neural Networks as Waifu2x. Therefore, this ai anime upscaler also does a great job of enlarging anime images without losing quality, as well as reducing noise and serration. 2x, 4x, 8x, and 16x are possible here.
Upload a file and check Noise Reduction and scale off for the output. After a matter of seconds, you can click "DOWNLOAD" to save it to your device. But there is no preview for the result, which makes it imperfect.
If you want to turn your selfie to anime, you can switch to Selfie to Anime 2020 to find out more tools.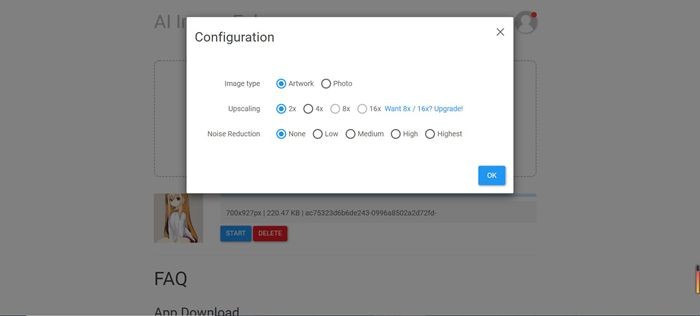 Limits:
File size: 10MB; Resolution: 3000 x 3000px;
Pros:
Easy to use
Support API
Batch processing is allowed with a subscription
Cons:
4. Waifu2x.org
Price: Free
This free anime enlarger allows you to ai upscale images by 2x and 4x without generating any cost. Driven by deep learning, waifu2x.org comes with an intuitive interface that simplifies the process of anime enlargement. There is no need to register or download any software. I have tested 5 anime images and the results are pretty amazing. Options to reduce blur and noise are handy if your anime images and anime waifu are blurry or noisy. With this enlarger, it's super easy to get high-quality anime wallpapers and super-resolution waifu.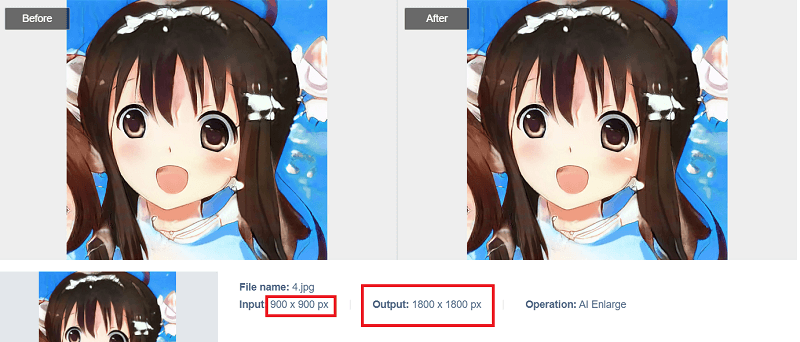 Limits:
1200x1200px
Pros:
Free to use
Great output quality
Cons:
Lack of bulk processing
Can't choose the output format
5. ImgLarger
Price: Free & Paid (Premium $14.99/month, Pro $39.99/month)
Based on machine learning technology and the GPU of the new generation, ImgLarger is supposed to resize the uploaded images without losing quality. The anime upscaler doesn't perform well in upscaling regular images and anime waifu, like human portraits. However, it performs well in resizing anime images without losing any quality.
The free version can meet your requirements if you don't need to resize large files.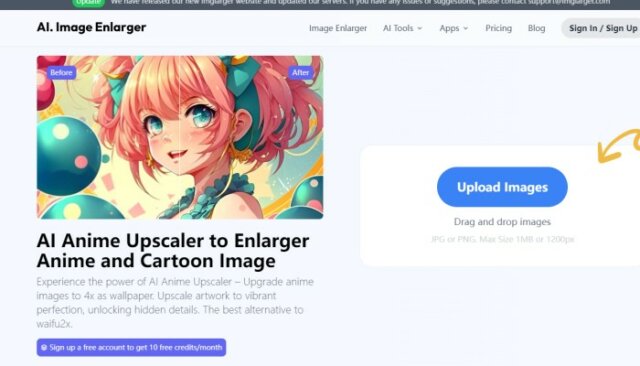 Limits:
FREE: File size: 5M; Maximum Resolution 1200 x 1200px;
Paid: File size: 10M; Maximum Resolution 2000 x 2000px;
Pros:
Intuitive interface
Able to choose 2x/ 4x/ 8x scale up
Batch processing is possible in a paid version
Cons:
6. PhotoEnlarger
Price: Free
PhotoEnlarger provides more features than most of its competitors. One of its most important features is the four different enlargements. After you select the enlargement factor based on your willingness, you'll get 4 results that have been processed by 4 different enlargement algorithms. For each one, you can zoom in to check the details and click the download icon to save the processed waifu to your device. Moreover, you can even crop the image as you like.
You can choose either to save it in JPG or PNG. Custom settings for scale, width, and height.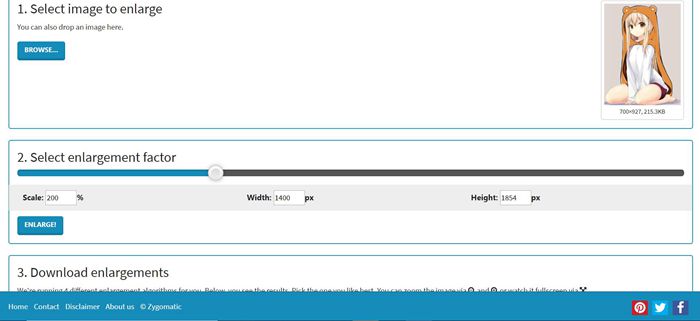 Limits:
Maximum Resolution: 1920 x 1080px;
Pros:
Four different results are available
Easy to use
Free of charge
Provide custom settings for scale, width, and height
Support PNG and JPG for the output
Cons:
7. ImageResizer
Price: Free
This Image Enlarger can also produce a good result when it comes to anime image resizing. After you upload an image or enter a URL, you can choose how much you want this program to scale up your images, either by percentage or by dimensions. After it finishes, it will display the result for you with the details of it, such as the new size pixels.
You can even choose to compress the generated images or convert them to PNG or PDF. A big surprise is that this free image enlarger supports bulk resizing.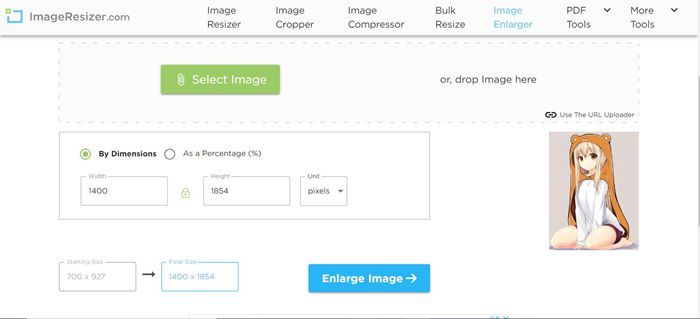 Limits:
Not specified
Pros:
Offer custom settings
Easy to use
Bulk resizing
Allow exporting in PNG or PDF
8. ImageEnlarger
Price: Free
ImageEnlarger also performs well in resizing anime images. Still custom settings for the enlargement factor. After it completes, you'll get 6 results that apply different filters, including Lanczos3, Mitchell, Bicubic, Triangle, Bell, and B-spline. It also specifies the file size, format, and pixels for each result.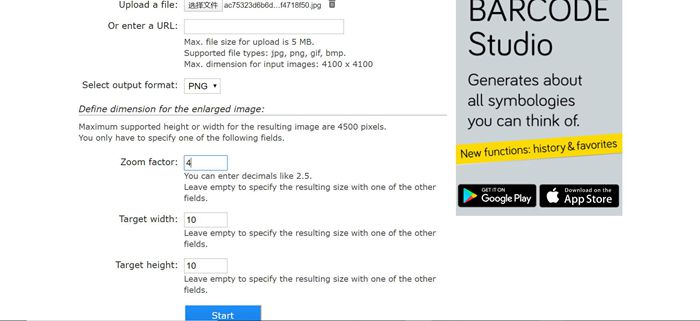 Limits:
File size: 5MB; Max Resolution: 4100 x 4100;
Pros:
Offer custom settings
Allow exporting in PNG or JPG
Cons:
The interface is not very user-friendly
No bulk resizing
9. Waifu2X Image Resizer--Easy-use AI Image Enlarger
Price: Free
Compared to another Waifu2x website, this one offers fewer options for noise reduction and scale for anime waifu. It only supports scale-up to 2x. Easy to use and beautifully-designed interface. Enter a URL or choose a file to upload. Then check the Noise Reduction and Scale off and click Waifu2x. When your file is finished, it will display the output. You can choose to download it in JPG or PNG. But the downside is that you have to right-click and choose "save as" to save it to your device after you choose a format. But the file it produces is of good quality, as clear as the original one.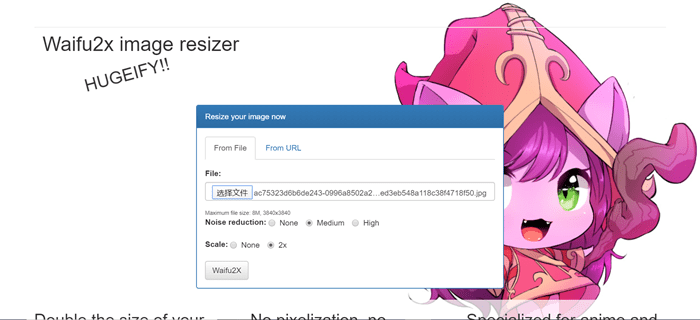 Limits:
File size: 8MB; Maximum Resolution: 3840 x 3840px;
Pros:
High-quality output
Easy to use
Free of charge
Cons:
Only support single file processing
Only 2x scale-up is available
10. Imgonline
Price: Free
First of all, the interface of Imgonline is not quite good. You have to scroll down to find the area to upload an image. You can choose an interpolation algorithm for the output before it processes, including DCCI, Mitchell, Quadratic, Lanczos, and Cubic.
The good point is that it gives options for you to preview the result or download it directly. But when you click "Open processed image", the loading of the whole image takes time. It also specifies the processing time.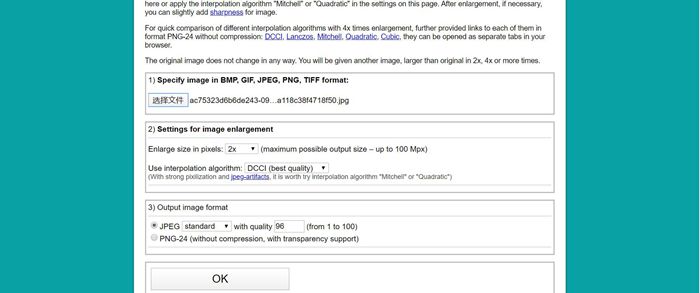 Limits:
Maximum possible output size, up to 100Mpx;
Pros:
Able to choose the interpolation algorithm
Allow exporting in PNG or JPG
Cons:
No custom settings for the output dimensions
No bulk resizing
It takes much time to open processed images
For more anime image upscaling tools, you can refer to our review about the best AI image upscaler.
4K Anime
Too many products can enlarge anime images with quite good quality. Then you may wonder if is it possible to upscale anime to 4k in real-time so that we can enjoy anime with better quality. The answer is definitely yes.
Anime4k is a state-of-art, open-source, and high-quality real-time anime upscaling algorithm that can be implemented in any programming language to enlarge anime pictures and waifu. However, this algorithm is far from perfect due to many unsolved issues, such as a few true high-resolution anime. The relevant researchers are working to improve its performance to better enlarge anime pictures to 4K resolution anime.
Related article: Top 10 Waifu2x Tools Review
Summary
In conclusion, anime image enlargers powered by AI have emerged as essential tools for anime enthusiasts seeking to enhance their viewing experience. While traditional image enlargers may struggle with human portraits, they often excel in processing anime images, preserving their quality and details. This article has introduced the top 10 anime image enlargers of 2023, focusing on online tools. It has also highlighted the importance of output quality when enlarging anime pictures, as well as the limited availability of enlargers specifically tailored to anime. Additionally, the potential for real-time 4K upscaling of anime images using algorithms like Anime4k has been discussed. Whether you're a fan of anime or waifu, these anime picture enlargers offer valuable solutions to elevate your enjoyment of anime content.
Explore more:  16 Best AI-Based Image Upscaler To Enhance Photo Quality