This review dives into Wevideo video editor, an online video editing app that you can use to create videos without any hassle.
Wevideo is a website-based video editing platform that allows users to create and edit videos online with ease. It offers a range of features and tools such as editing videos, adding texts and graphics, transitions, and various other things.
Wevideo is designed to be user-friendly and accessible, making it suitable for both beginners and more experienced video editors. It's often used by creative professionals, content creators, brands, and more, to create videos for various purposes, such as marketing, education, entertainment, and social media. 
What is WeVideo Video Editor?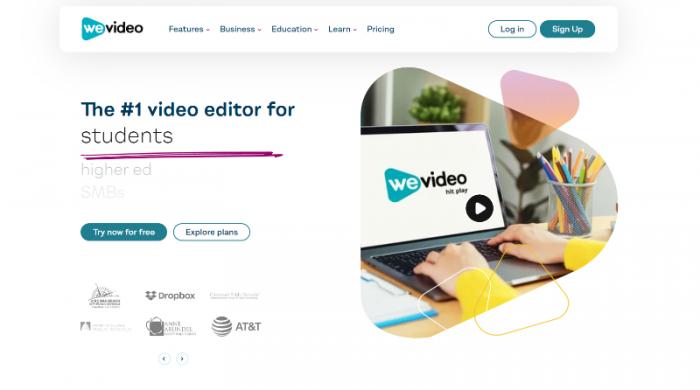 The Wevideo video editor is a versatile cloud-based video editing platform that empowers users of all skill levels to create, edit, and share videos with ease. It operates entirely online, eliminating the need for extensive software installations and providing access from virtually anywhere with an internet connection. Its intuitive interface offers a wide range of features, allowing users to splice together video clips, add transitions, incorporate text overlays, insert music tracks, and apply special effects.
This accessibility makes it an ideal choice for individuals, businesses, educators, and creative professionals alike. We video offers the flexibility to cater to various needs, whether you're producing marketing materials, educational content, personal vlogs, or captivating social media posts. Additionally, its cloud-based nature means you can collaborate with others in real-time.
Overview of WeVideo Video Editor
Price: Wevideo offers many subscription options, including the free video editor option. With the free video editor, you will have limited quality, video length, and features. The paid options start from $4.99 per month and go up, along with the features offered.
Platforms: Works online on browsers and has a mobile app as well.
The Wevideo video editor works online on browsers. The link attached will take you to the website and from there, you can get to the editor. Here's what the editor looks like: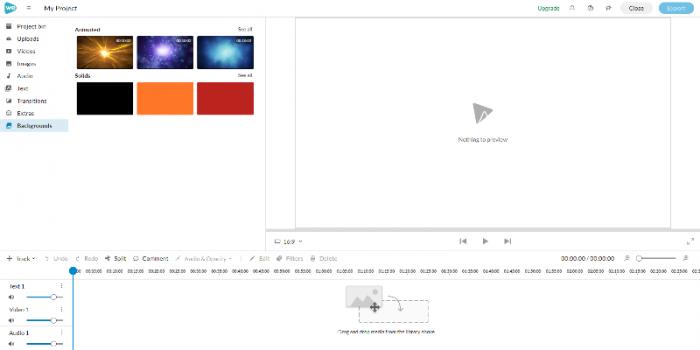 From the image, it can be seen that the free video editor offers all the basics of a video editing program. You can easily upload videos from your local device, Google Drive, Dropbox, etc.
Apart from that, you can add video effects, such as transitions, backgrounds, text, and more, to further improve your video. In order to learn more about tools that offer video effects, you can read about the top 10 tools for video effects. Video effects are essential to video editing, especially for creative projects.
WeVideo's green screen editor feature opens the door to limitless creativity. You can transport your subjects to different locations, add special effects, or even create educational or entertaining content with ease.
WeVideo's screen recorder offers a straightforward and user-friendly interface, ensuring that even beginners can quickly start recording their screens without a steep learning curve. The entire process only takes a few clicks and the results are high quality.
It is recommended to get a paid version of Wevideo as it lets you shift from SD to HD quality. The difference between HD and SD is massive, with HD going as far as 4K while SD is only limited to 480p. Moreover, the paid version is recommended for making Youtube video size visuals.
After testing multiple features and videos, we can say that Wevideo offers an efficient way to edit videos online. It offers enough features and makes the core video editing task seem simple enough for users. However, it is essential to get a paid subscription as the free version is too limited for today's time.
| | |
| --- | --- |
| Pros | Cons |
| Wevideo is easy to use and quick. | The free version is too limited, especially with the HD and SD export quality restrictions. |
| Offers valuable features, such as collaboration tools. |   |
How to use Wevideo Video Editor?
Follow the steps given below to use the Wevideo video editor online and create videos in a few steps.
Step 1: Use the link given to get to the homepage of the tool. From there, you can click on "Try now for free". You will need to create an account first. After that, you can access the dashboard and start a project with the "Create" option.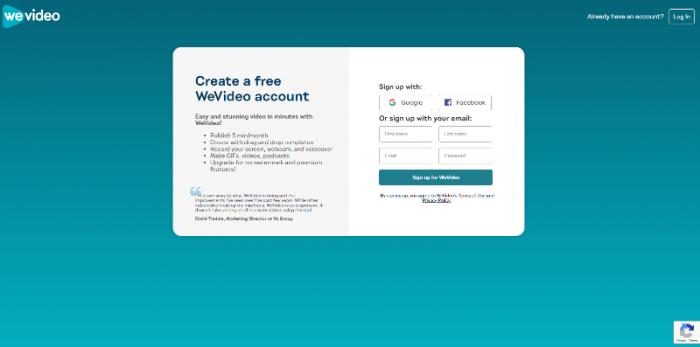 Step 2: Once you're in the editor mode, upload a video from your device or other means. Drag and drop the video down into the timeline. The video preview will be visible on the screen. You can now use various features offered by Wevideo to edit your video.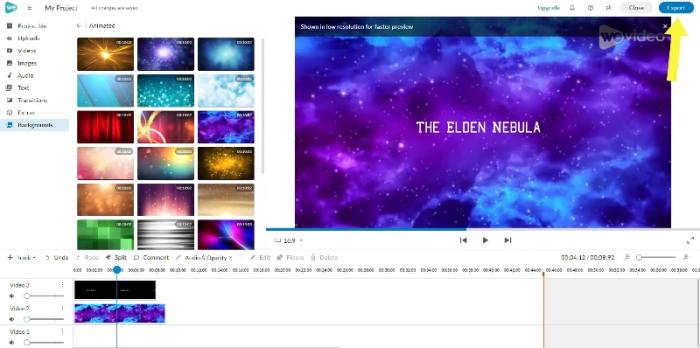 Step 3: Click on the "Export" button at the top and set your preferences before downloading the video on your device.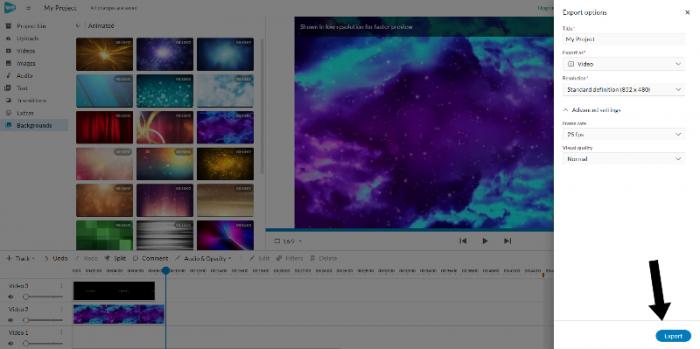 Wevideo VS Invideo VS Clipchamp
Clipchamp and InVideo both are online video editing platforms that provide users with an easy way to edit their videos without requiring professional skills.
Product

Wevideo Video Editor

Clipchamp

InVideo

Speed

Wevideo is well-optimized and works responsively.

⭐⭐⭐

Clipchamp is highly responsive and hardly takes time to export videos.

⭐⭐⭐⭐

While the video editor itself is pretty fast, the website is sometimes unresponsive or buggy.

⭐⭐⭐

Features

Offers enough features to make basic videos but not enough for highly creative projects.

⭐⭐

It offers a wide range of cool features, for free and paid versions, that help in making good videos.

The free version lets you export in 1080p as well.

⭐⭐⭐⭐

InVideo offers plenty of interesting features, one of which is text to video generator using AI technology.

⭐⭐⭐

UI Design

Wevideo has an approachable UI design, which goes through regular updates as well.

⭐⭐⭐

Clipchamp offers a modern UI design wherein all the features are just a second away.

⭐⭐⭐⭐

Pretty good UI design but can feel less cluttered.

⭐⭐⭐

Ease of Use

It is very easy to use and understand.

⭐⭐⭐⭐

Easy to use.

⭐⭐⭐⭐

InVideo is easy to use and offers AI tools as well.

⭐⭐⭐⭐
Conclusion
WeVideo stands as an easily accessible online platform for video editing, catering to users seeking simplicity and convenience in their video creation endeavors. Its user-friendly interface and straightforward editing tools make it a suitable choice for crafting basic videos on-the-go, even for those without extensive editing expertise.
However, it's worth noting that WeVideo falls short in comparison to some of its competitors. The limitations of its free trial, when contrasted with other similar applications, might leave users wanting more. Furthermore, in the broader landscape of video editing software, WeVideo lags behind in terms of the comprehensive feature set it offers. While WeVideo serves as a reliable choice for basic video editing needs, there's potential for more.
You may also like: Best Audio Editor Review
FAQs
What are suitable YouTube video sizes and TikTok video sizes?
Youtube video size may vary, but considering the trend nowadays, a 1080p resolution is the minimum for the viewer's pleasure and to rank better. Naturally, higher resolutions than 1080p, such as 2K and 4K, are preferred even more. As for TikTok videos, again, 1080 x 1920 is the standard.
What is the difference between HD vs SD?
The difference between HD and SD is that SD refers to 480p video resolutions, which is too low by today's standards. Video resolutions from 720p and above are considered HD and are much preferred. In fact, HD quality videos rank higher and are considered professional.