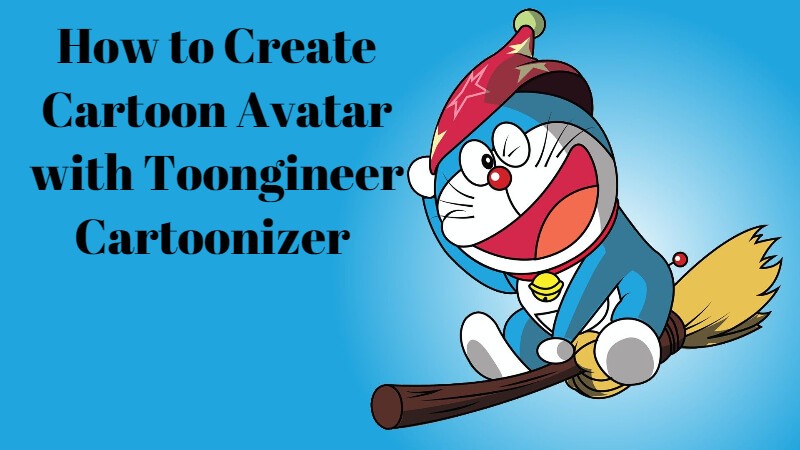 A cartoon avatar maker can be a fun and useful addition to your image editor tool list, whether you are a casual user or an expert designer working on projects. A cartoon avatar maker is flexible in the sense that it can be a lighthearted profile picture or a visual used for serious design. We will look into an ai image cartoonizer that can create cartoon avatar from photo free online. The cartoon avatar maker is Toongineer Cartoonizer from VanceAI.
What is Toongineer Cartoonizer?
The Toongineer Cartoonizer is a full body avatar creator that is built from AI and Deep Learning technologies for image processing. This avatar generator basically converts your images into its cartoon version in a matter of seconds. You can make your own avatars free of cost from this tool, as users are only required to upload images. You can also make a realistic avatar of yourself free. All you need to do is upload a selfie. This avatar maker free tool is one of the many image editing tools offered by VanceAI.
How to Create Cartoon Avatar from Photo with Toongineer Cartoonizer?
This is a quick guide on how to create cartoon avatar from photo or even desktop with Toongineer Cartoonizer. Or you may read How to Get Cartoon Profile Pics to get more information.
Step 1. Upload an image
Start to cartoon yourself online by clicking on the link given, which will take you to the homepage of the tool. From there, you can either read extra information or click on Upload Image to open the VanceAI Workspace.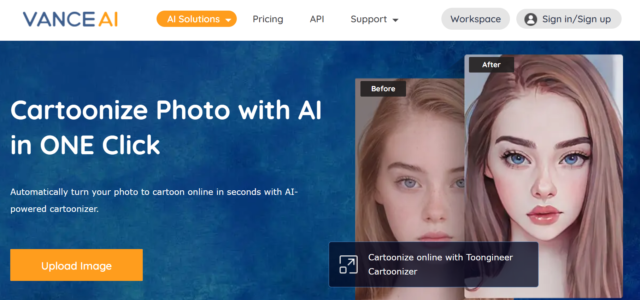 Step 2. Process the image
You will be faced with a huge box. Here, you can use the plus sign to upload an image and check your remaining image credits as well. After you upload an image or more, click on Start to Process. You can upload multiple images and process them if you have a paid account.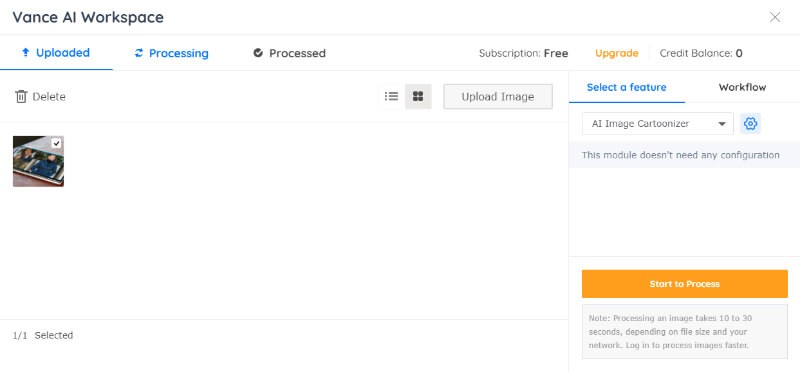 Step 3. Download the image
You will soon see a notification on the Processed tab. Go there and click on Preview, which is on the right side of the image. Now, use the Download Image button to download the image into your device.
Performance of Toongineer Cartoonizer
Let's see the cartoon avatar maker application in action.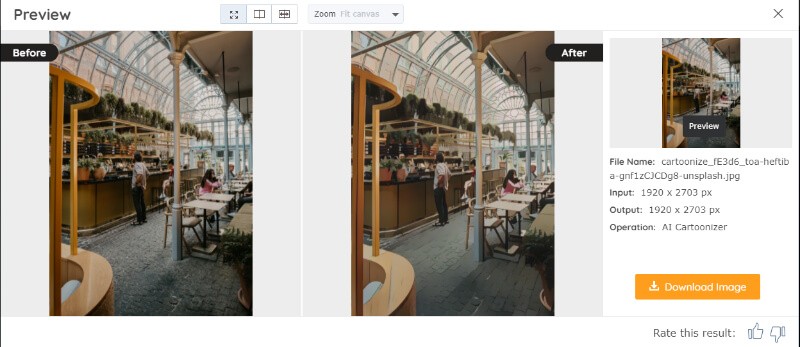 This is an awesome conversion from the image cartoonizer application, especially considering that the tool produced this image in a few seconds. The application can definitely create cartoon avatar that catch attention. Speaking of this image, it easily looks like something you'd see in top magazines. The cartoon avatar maker makes sure that no detail is missing and everything looks realistic. The architecture of the new image strongly resembles that of the old image and gives it a fresh look. The people look perfect as well, with apt colors and details. If there is any minor drawback, it is that the woman in pink has not been rendered with enough detail compared to the rest of the image. Overall, this image is fantastic and surely worth using.
Conclusion
The VanceAI Toongineer Cartoonizer is an amazing application online that can make your own avatars free of cost with the kind of performance you wouldn't expect from most other tools. This application is not only AI based but it also goes ahead and makes user experience as convenient as possible, and you can turn photo into cartoon exactly as you want. Not to mention that you can purchase a paid subscription and benefit from even more cool features such as batch processing. This cartoon avatar maker is definitely worth buying if you are looking for great images delivered fast.
Check here to get more information about the most popular AI cartoonizers on the market in 2023. Find one for yourself to cartoonize your own avatars.
FAQs
1. Is avatar generator safe to use?
The cartoon avatar photo maker tool is safe to use. It also has an algorithm in place that makes sure to delete your images within 24 hours of upload. So, you can freely upload selfies to make a realistic avatar of yourself free of cost and not worry about it being stolen or hacked. Other than that, VanceAI has also placed secure protocols on their website for maximum security and privacy for the user.
2. Is there any full body avatar creator?
Sure, there are other applications that are cartoon avatar maker tools like VanceAI Toongineer Cartoonizer. However, many of them don't utilize AI algorithms as well as Toongineer Cartoonizer. Also, most of these tools are made exclusively for mobile, which narrows down their scope. You can use VanceAI tools online from desktop, mobile, or as an offline software application after installation. You can always look into Photoshop, if you want to learn the complicated tool.