Summary: Video effects are the key to making your videos more appealing to audiences. These tools allow you to add unique features and visual effects to your videos without any technical skills, making video editing accessible to everyone.
Video effects have amazing popularity worldwide. Most videographers are using the advantage of these tools accurately to add video effects online. Normal people who have no proper skills in video editing are also becoming professionals in video editing with the help of visual effects that transform your videos.
About Video Effects
Video effects make your videos awesome as they add more details to your normal videos. They are just like some effects that add more features to your video. You can improve the popularity of your video if you add effects to the video. Video effects are cutting the scene from your video that you dislike and adding music to your video to maintain its focus. Add different filters and the best visual effects to make your videos awesome.
Top 10 Tools to Add Video Effects Online
Suppose you would like to know how to add effects to a video or if you want to add effects to video online. Then here is a list of the top 10 video effects tools you can use to edit your videos and add various effects to them.
| Product | Price | Video Editing | Video Effect | Easy of use | Available format |
| --- | --- | --- | --- | --- | --- |
| WeVideo | $4.99 - $36.99/mo | ★★★★☆ | ★★★★☆ | ★★★☆☆ | MP4, AVI, MOV, WMV, MTS |
| Clipchamp | Free - $11.99/mo | ★★★★☆ | ★★★☆☆ | ★★★★☆ | MP4, MOV, AVI, WMV, FLV |
| PowToon | $15 - $40/mo | ★★★☆☆ | ★★★★☆ | ★★★☆☆ | MP4, AVI, MOV, PDF |
| Pinnacle Studio | $59.95 | ★★★★☆ | ★★★★☆ | ★★★★☆ | AVCHD, DVD, H.264, AVI, MPEG-1/-2/-4, WMV, XAVC-S |
| Kizoa | Free - $29.9/mo | ★★★☆☆ | ★★★★☆ | ★★★☆☆ | MP4, AVI, MOV, WMV, FLV |
1. WeVideo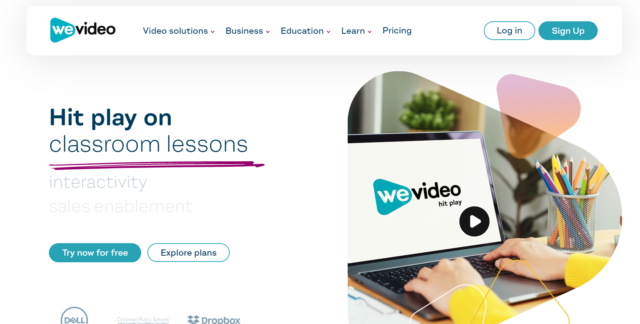 WeVideo allows you to create professional movies without paying a huge amount. You can add video effects online and the best visual effects to your video with this tool. This tool is responsible for some major prospering videos online that are famous on social media. Upload your photos, music files, and videos accurately. For beginners, this version is enough for them to edit their videos perfectly. 
Features:
Video trimming and cutting support.
Real-time rendering of background footage, effects, and transitions.
Organizing and managing videos is made easier.
Drag and drop to adjust video sequence.
Price: 
Started from Power version $4.99/mo to Business version $36.99/mo
Detailed review about Wevideo at WeVideo: Master the Art of Online Video Editing
2. Clipchamp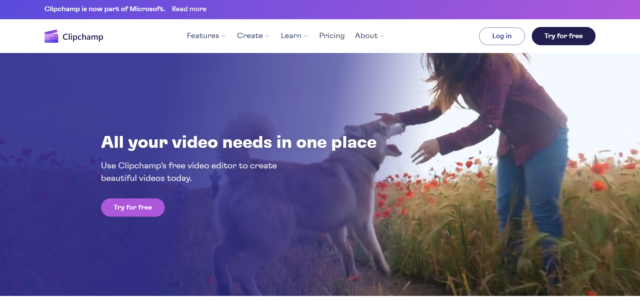 Clipchamp adds video effects online and excellent and unique visual effects. It is a professional and expert-level video editing platform that allows you to add various effects to your video. The video editing system that is programmed in its system allows you to instantly play back high-resolution video streams and provides a video compressor, converter, and webcam recorder. 
Features:
Complex editing assistance: trimming, crop rotation, and flipping videos.
Effects customization are allowed
User-friendly interface: very easy to operate.
Instant professional editing
Price: 
Free; $11.99 for Essentials
Detailed review at Clipchamp Review: Multi-Purpose Online Video Editor
3. Invideo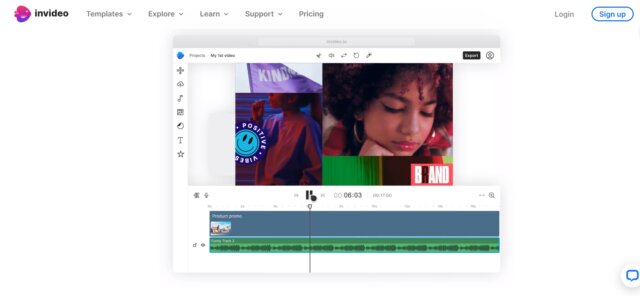 InVideo is a cloud-based video editing software that allows users to create professional-quality videos quickly and easily. It offers a wide range of features and tools to help users edit and enhance their videos, including a drag-and-drop editor, pre-built templates, stock footage and music library, text and image overlays, transitions, effects, and more.
Once your video is complete, you can export it in various formats and resolutions, suitable for different platforms. InVideo also supports direct sharing to popular social media platforms and video hosting sites.
Features:
InVideo offers a library of pre-designed video templates for different types of videos, making it easy to get started and create professional-looking videos quickly.
Users have access to a vast collection of stock images, videos, and music tracks to enhance their videos. This library eliminates the need for users to source external media.
InVideo allows users to customize various elements of their videos, including text, fonts, colors, transitions, and effects. This helps in creating unique and branded videos.
InVideo provides collaboration features that enable teams to work together on video projects. Users can invite team members, assign roles, and manage access and permissions.
Price:
Free; $15 to $30/mo (Paid version)
Detailed review at Is Invideo Really Fastest and Easiest Way To Create Videos?
4. PowToon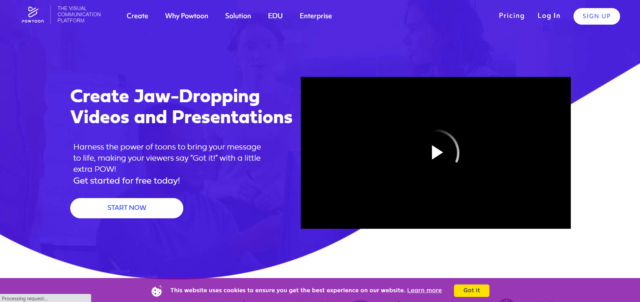 PowToon is a video editor that provides the best visual effects and properly lets you add visual effects to your video. It is the best free video editor that perfectly helps you add effects to videos. There is also a pro version that requires cost, but the free version provides almost all the features that you can use to add video effects online. 
Features:
Diverse video features: visual effects, explainer videos, marketing videos, infographic videos, and video ads.
Login requirement
Provides customizable drawings
Supports educational video creation
Price:
$15 to $40/mo
5. Pinnacle Studio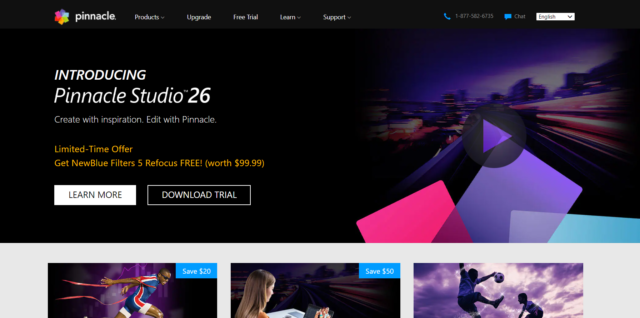 Pinnacle studio helps you add effects to videos without any effort. It is an amazing tool that can be operated by any beginner who wants to add visual effects to videos. It does not even require monthly, annual, or any kind of subscription. You only have to pay once, and that's it. 
Features:
Advanced editing features
4K video editing support
Unique smart object adding
Broad visual effect options
Price:
Free for 15 days and pay after
6. Kizoa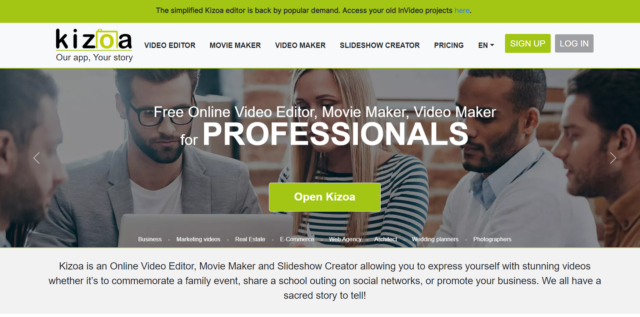 Kizoa is another great achievement in the world of video effects. The tool in the list offers color correction, editing, visual effects, motion graphics, and audio post accurately. it also supports 4k and UHD footage and provides an aspect ratio of video around about 16:9, 4:3, 3:2, 1:1, and 9:16, 3:4.  There is no need to download or go through other tools as it provides all these features under one single platform. 
Features:
Extensive library of animations and visual effects
No registration required
Accurate online video editing
Smart analysis and recommendation
Price:
Basic for free; Starter: $29.9/mo
7. Adobe Premiere Pro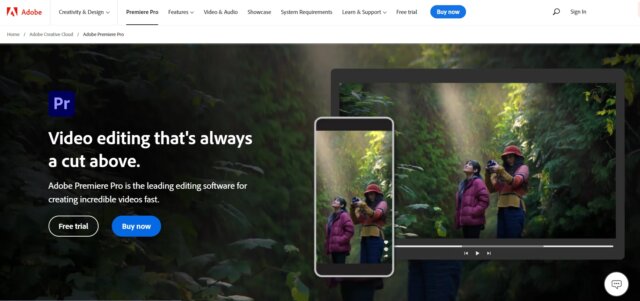 Adobe Premiere Pro is one of the best visual effects video editors that you can use to add effects to video perfectly. It comes up with a lot of features that make video editing much easier for you.
Features:
Motion Features and 4K video editing
Comprehensive Basic Features
Multiple camera angles
Seamless Video Editing
Price:
$20.99/mo
8. Video Toolbox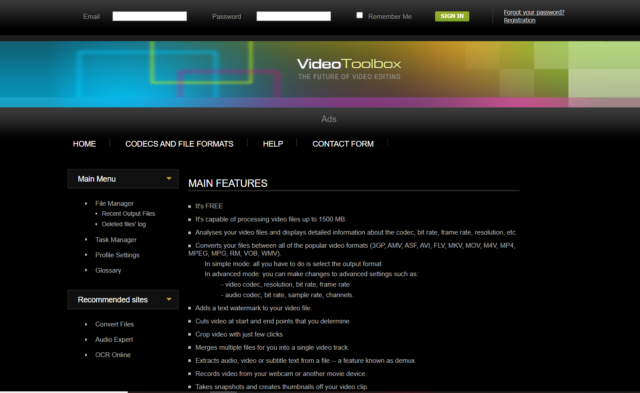 Video toolbox is the future of video editing, but it comes with pre-loaded editing tools that add video effects online. One of the main reasons that it is considered to be the best visual effects and video editor is that it is easy to use. It makes it simple to trim videos and add effects to videos. 
Features:
Cross-platform compatibility
Multiple video format conversion: MKV, MOV, MP4, and AVI
Flexible video import options
Unlimited and simple editing features
Price:
Free
9. Vimeo Create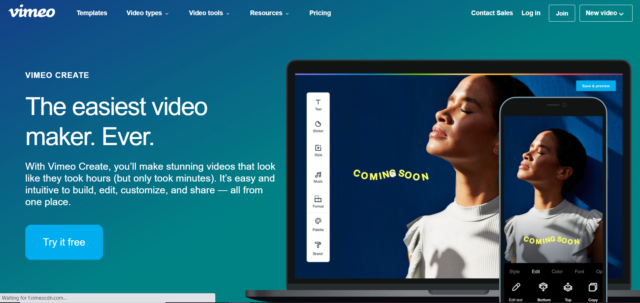 Vimeo Create is a perfect video editing tool that allows you to precisely add effects to your video. For people who want to make quick social media and youtube videos then, this tool is best for them.
Features:
Offers a wide range of templates to choose from
Drag-and-drop editor makes video editing simpler
Has an impressive stock video clip library
Accurate online video effects
Price:
Start at $12/mo; Standard $20/mo; Advanced $65/mo
10. Flexclip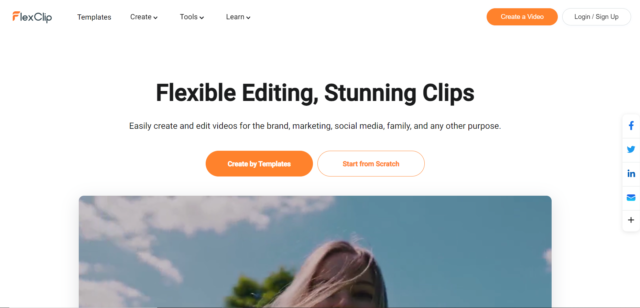 Flexclip is a free and powerful tool that allows you to add effects to videos online. It is packed with many features that an expert video editor requires. It allows you to instantly edit and publish your videos without any mistakes or issues. 
Features:
Extensive video and stock image library
Customizable video editing
Easy footage combining
Allows for aspect ratio adjustment, catering to different sizes required for various social media platforms
Categorized content
Price:
$5.99 to 19.99/mo
Bonus: Hippo Video
Hippo is an all-in-one video editor that you can use to add video effects online correctly. If you have a storage issue and you do not have all the files on your device, then you can take files from your google drive if you want to. Its video format is limited to mp4, Mkv, Flv, 3gp, and mpg. 
Features:
Only supports a video file size of up to 500 MB.
Users can only add one video at a time for editing.
Hippo Video allows users to add visual effects, split, crop, resize, and add text to their videos.
Simple title, emoji, and callout addition
Desktop screen, webcam, and voiceover recording
Price:
Starter: $15/mo; Pro: $30/mo; Growth: $48/mo
Final Thought
If you want to make your video more amazing and appealing to your audience, then you must use these tools to add effects to videos online. A simple video of yourself without any effects does not properly let you convey your information. If you have a video with proper effects and editing, there are more chances that your video will get more views along with more popularity. You can convert your normal-looking video into an awesome video that people will love watching. Just like movies, if you have ever noticed that the movies you watch are all editing combined with proper acting. If there is no editing in your movies, then they will be just like normal videos.
Also read: TOP 10 AI Video Generators Review
FAQs
How to crop video in after effects?
There are specific tools that provide proper crop, cut, and trim features. You can use them to crop videos in after-effects properly without any mistakes.
How to export video in after effects?
You can easily export video to your device by completing all the video editing that you desire. In the end, you can export your video to any platform you want. Additionally, there is a feature sharing that allows you to share videos wherever you want.