WhatsApp is undoubtedly the most popular chatting platform with over 1.2 billion active users. Initially, the developers tried to limit it to chat only, but the popularity encouraged developers to bring more updates. So now, users can do free chats, voice messaging, audio calls, video calls, and much more. Amazing right? You probably have installed WhatsApp on your phone and use it as a default app for interaction. However, there are some advanced features you might be unaware of. Next, I'll share some of the excellent WhatsApp tips tricks, and hacks to turn you into a Whatsapp veteran. So without any delay, let me share the mastery secrets with you. Let's start by making a stunning WhatsApp profile picture.
As your WhatsApp profile picture bring to other the first impression people have for you, and doubtlessly, pay more attention on your WhatsApp profile picture will draw a lot of interests from people.  But how can we make it? Here are the tips for you.
10 Tips to Make Yourself A Whatsapp Veteran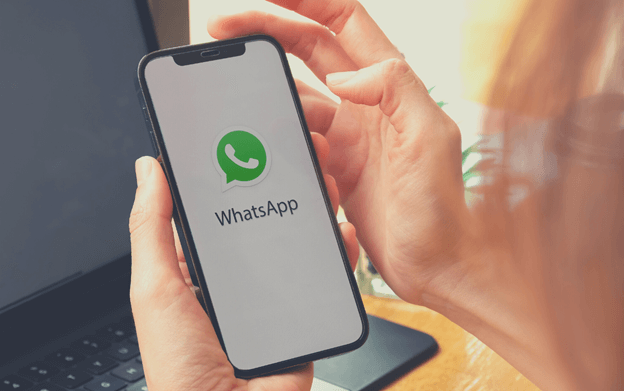 Here are 10 next-level pro hacks that you can learn to become a WhatsApp veteran. Check them here.
1. Pinning Chats
Do you have any chat you want to keep on top priority? Well, Whatsapp allows you to pin chats at the entire head of your screen. This feature is quite helpful in preventing meaningful conversations from getting lost.
Tap a bit longer on the desired chat, and you'll see a few options pop up on the top. Select the "Pin" sign, and from there onwards, your selected conversation will be shown top on-screen. You can also unpin the chat the same way; long press on the pinned chat and tap on "Unpin."
2. Disappear Messages
Here comes another fascinating hack on WhatsApp. If there is any message you want to deliver silently without leaving a history, you can turn on the "Disappearing" feature. Disappearing features allow your messages to disappear automatically after a certain period. However, a person on the other end can screenshot your messages.
To turn on, open the chat you wanted to send disappearing messages. Click on the profile and scroll down. There you'll see "Disappearing Message" mode; turn that on.
3. Read Pop Up Messages
There are some messages we don't want to reply to instantly. But the problem arises when you accidentally open it, and the ticks turn blue. It notifies the other person that you've read the message, and now a pressure reply is imposed on you.
To not let that happen, you can read the message from the pop-up. Open the settings of your smartphone> click on apps> open WhatsApp settings. Turn on the "Notification" mode to get a pop on your screen the next time.
4. Send Broadcast Messages
Did you know there is a handy feature in WhatsApp that allows you to send the same message to different contacts without making a group? You can send a personalized message to every single contact without letting them know.
To do it, click on your Whatsapp menu and tap on "New Broadcast." Afterward, you can select contact recipients to whom you want to send a message. Type your message click send; your selected contacts will receive the message individually.  
5. Change Fonts
You can stand out from the crowd by sending messages in a different font. Yes, it's right! There are some secret ways you can change your chat fonts. The most trending one is "Typewriter Font" by enabling this mode, the alphabets of your message will appear in a typewriter-style. Add three slanted ``` apostrophes.
Similarly, you can type bold, italic, and crossing text to make that chat interesting. Use *asterisk* on either side of the message to bold and _underscore_ for italic.
6. Reply Specifically
Group chats are long threads that can sometimes become a pain if you don't get your message across. Different participants send messages simultaneously, which makes it quite challenging to reply individually. So Whatsapp features a "Specific" option to respond to an individual message.
To do that, swipe right the message you want to reply to. Then type your message. This will keep your reply beneath the news and help other participants read.
7. Use Whatsapp stickers and WhatsApp profile picture
Whatsapp has enabled some great features to keep the chat fun and entertaining. Whatsapp stickers are short image gifs that you can download from the internet. You can send stickers to another person while chatting. To send stickers, click on the emoji icon on the left side of your typing cursor. There you'll see a sticker sign, click on it, and send the most relevant to your chat.
For more, using a neutral or lighter background in your WhatsApp profile picture is better. Softer and natural light are the best. Showing your most genuine smile will help a lot with the face detail. And Give your appearance a boost by a dose of Touch Up.
8. Customized Tones
Customized tones are one of the smartest features that Whatsapp offers. With customized techniques, you can identify the recipient without checking your phone. This way, you'll be able to prioritize the least interactive chats.
You can tap on the chat menu for a group chat and scroll down a bit. There you'll see a "Custom Tones" option; click on it and set the desired tone. This will help you know you're safe or not to ignore a chat.
9. Ensure Privacy
As you know that Whatsapp has a feature that allows you to upload your current status and informs your friends know what you are doing. However, there are some contacts you wanted to hide your status from. Or someone not necessarily needs to be alert about. Either way, you can ensure privacy.
Open the Whatsapp menu and tap on "Privacy." Click on "who'll see your status" and restrict the contacts from your list. Similarly, you can also block annoying connections or unknown numbers from messaging you.
10. Whatsapp On Laptop
Whatsapp is also widely used for commercial purposes, and sometimes there comes a need to use WhatsApp on big screens like laptops or PCs. Connect your phone to your PC using WhatsApp Web if you want to use WhatsApp on your PC and benefit from the ease of a large physical keyboard and a huge screen.
Go to 'web.whatsapp.com' and use your phone to scan the QR code on the screen (from settings and WhatsApp web). On your browser, you'll be able to access your whole WhatsApp conversation.
Wrap Up
Whatsapp is no longer a chatting app only; the developers have upgraded it with loads of stunning features to enjoy. Hopefully, this list will have provided you with some valuable Whatsapp tips, techniques, and modifications in becoming a Whatsapp veteran. There are some beautiful tactics here for all users of the famous WhatsApp messaging network, from purchasing time to responding to messages to make your messages stand out with a different typeface.
FAQs:
Can We Make Whatsapp Profile Pictures Online?
Whatsapp profile picture is the number one thing that users note while chatting. Hence, it is imperative to create stunning visuals to leave a great impression on your recipients. And to answer your question, yes, you can create a WhatsApp profile picture online. Numerous tools are available that help you customize your image with attractive visuals. Moreover, you can also set your picture's size according to the WhatsApp frame, 192x192 pixels.
Next time, apply these tricks and see how your chat buddy reacts.
More information about social media also read: How to Use The Time Warp Scan Filter on TikTok?