This article reviews the top 10 random cartoon character generators, both free and paid, that can create unique and quirky characters for a variety of purposes. The review covers factors such as customizability, user-friendliness, output quality, and compatibility with different devices and formats. Ideal for artists, writers, or anyone looking for inspiration in creating their own cartoons.
Remember how expensive it used to be to create random cartoon characters? When could only experienced animators make a brief 30-second explanation video? Fortunately, technology has progressed in a positive direction. What was once a complicated procedure is now a mood-boosting and straightforward experience? Owing to the numerous free random cartoon character generators accessible online: Cartoon production apps that allow anybody to create mood-boosting random cartoon characters without needing an expert. Let's find out the best random cartoon character generator for you.
So, how do you choose which app to use? How do you know which cartoon character generators would best meet your needs? Because not everyone has the time to experiment with various platforms, we have done it for you.
Top 10 Mood-Boosting Random Cartoon Character Generator Review 2023
If you want to amaze your friends with your cartoon character styles, or Do you want to provide a surprise gift to your best friend on her or his coming birthday? Then cartoon character generators will be the best partner for creating the best gift for your loved ones. It allows you to generate random cartoon characters and funny-looking cartoon characters automatically.
This post will go through the top ten Mood-Boosting Random Cartoon Character Generators in 2023, including AI cartoon generators and traditional but equally helpful cartoon character generators. Most AI random cartoon character generators are web-based and straightforward to use. The others are applications or online tools that offer more than just cartoon generation.
We shall rate them according to their functions, interface, speed, and genres provided. For additional information, see the Top 10 Random Cartoon Character Generators in 2023.
| Product Name | Mood-Boosting Level | Processing Speed | User-Friendliness | AI-Based | Free/Paid | Suitable for |
| --- | --- | --- | --- | --- | --- | --- |
| GeneratorMix | ★★★★☆ | ★★★★☆ | ★★★★★ | ❌ | Free | Cartoon enthusiasts or casual users |
| Randommer.io | ★★★★☆ | ★★★★☆ | ★★★★☆ | ❌ | Free | Artists, writers, or game developers |
| Cool Generator | ★★★☆☆ | ★★★★★ | ★★★★☆ | ❌ | Free | Creative professionals or advanced users |
| Random Lists | ★★☆☆☆ | ★★★☆☆ | ★★★★☆ | ❌ | Free | Students or amateur cartoonists |
| Get Random Things | ★★★☆☆ | ★★★☆☆ | ★★★☆☆ | ❌ | Free | Social media marketers or bloggers |
| Ecityworks | ★★★☆☆ | ★★★☆☆ | ★★★☆☆ | ❌ | Free | Job seekers or recruitment agencies |
1. GeneratorMix

Enter the number of characters you want and press the green button to get a list of random cartoon characters.
Pros
You can make a high-quality random cartoon characters generator.
It has 150 vintage characters for your viewing enjoyment.
Cons
Only basic cartoons are supported.
Not great for individuals looking for Changing a photograph into a comic
2. Randommer.io

We like this generator because of its many variations; over 200 cartoon characters are waiting to be created for you. These are the most popular cartoon characters from studios such as Disney, Marvel, Looney Tunes, and LucasFilm. The generator also generates characters from popular film franchises such as Star Wars, X-Men, The Simpsons, and Pokemon. Are you a fan of cartoons? Why don't you turn your knowledge to the test?
Pros
Cartoon Character Generator at Random Because of the 16 functional outcomes.
Drawing can provide you with a plethora of options for saving money.
You may receive the highest price of up to 55% off.
Cons
It's not a free tool.
You may produce many random lists to suit your needs; Because the lists are all generated at random, the outcomes will vary each time.
3. Cool Generator

Cool Generator have gathered 300 of the most famous cartoon characters, and funny looking cartoon characters ranging from well-known cartoon characters such as SpongeBob Square Pants, Bugs Bunny, Tom Cat, and others to cartoon characters who have fallen out of favor. These characters have made us happy. Some personalities have even spread over the world.
Pros
This cartoon character generator can produce cartoon characters at random, and it can also teach you about the history of cartoon TV.
Simple and quick to use
Cons
Lack of editing tools
It doesn't provide any feature to convert a photograph to a cartoon online.
4. Random Lists

You may generate a well-known cartoon character at random. Characters from The Simpsons, Disney cartoons, South Park, breakfast cereals, classic Saturday morning cartoons, Hanna Barbera, Looney Tunes, and other shows are included.
Pros
You could create a well-known cartoon character at random.
It features a wide range of cartoon characters from which to choose your favourite.
Cons
Inadequate editing tools.
It lacks an online capability for converting a photograph to a cartoon.
5. Get Random Things

This generator will assist you in creating Cartoon Characters. A two-dimensional picture in the form of a cartoon. The persons, animals, or insects in it are the characters. Addresses, animals, music, creatures, celebrities, sports, geography, food, architecture, and so on are all included in this generator.
Pros
You may produce various random lists from all generated material from the Internet, books, encyclopedias, and so on to satisfy your needs.
Simple to use.
Cons
Lack editing tools
Because the lists are all generated randomly, the outcomes will differ each time.
Not recommended for individuals hoping for a photograph conversation into cartoon appearance.
6. Ecityworks

This adorable exhibit Random Cartoon Network Character Generator is intended to generate creative cartoons and assist you in finding fresh and distinctive cartoon character concepts. Make your gamer tag or use one of the current ones.          
Pros
Various functions: Items in the "Cartoons in Use" section discuss the style utilized in logos, films, TV series, video games, books, and other media.
The "Cartoon Generators" section contains an online tool, which enables you to generate cartoons online effortlessly.
Cons
Inadequate editing capabilities;
No online option for transforming an image into a cartoon.
7. Avatoon.me

Are you seeking a cartoon character generator that generates characters at random? If you've scrolled through this tool for pages and the results haven't surprised you, why not create your characters?
Pros
They'll create your customized cartoon avatar based on your answers to eight questions.
You can create a cartoon rendition of yourself.
You can customize your avatar in great detail.
Cons
With various functionalities, it is not user-friendly for novices.
Beginners will find it difficult to utilize.
8. Spin The Wheel App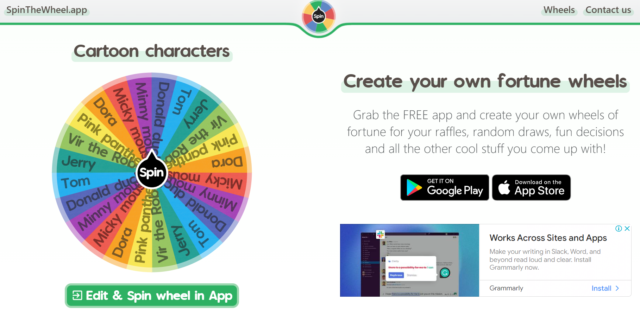 You may download the FREE software and make your wheels of fortune for raffles, random drawings, entertaining decisions, and anything else!            
Pros
Interact with other individuals who are spinning the same wheel.
There are no limits to the number of labels that may be applied to the wheels of fate.
A large color palette and the option to utilize custom colors
Cons
It is not user-friendly for novices due to its varied functions;
It is tough to use for beginners.
9. Bardot Brush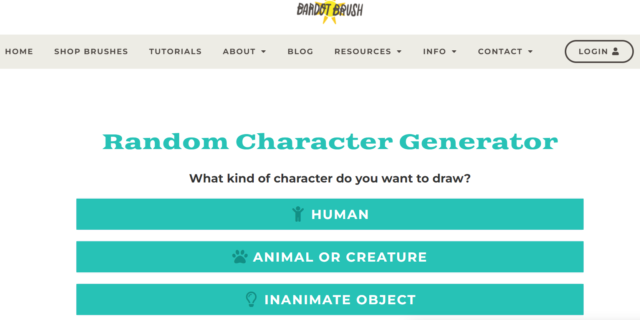 This tool will benefit you to come up with distinctive characters to sketch! Use the description to decide the physical look of the character and their surroundings, dress, accessories, emotions, and so on.
Also available on this website are brushes designed with handcrafted textures and rigorously tested to be incredibly adaptable, allowing you to make many unique marks with a single brush. Each brush collection is extensive and spans the spectrum of a certain media with various brush types. So, if you're seeking depth and variety, this tool is your next best friend.
Pros
With many tools and mediums at our disposal, you can create art almost anywhere.
They provide a year-long series of prompts, lessons, and inspiration to help you overcome creative concerns and develop a daily painting practice.
In addition, to procreate brushes and tools, they provide materials, classes, tips, and tutorials to assist anybody experiencing the joy of digital art production.
Cons
Not free to use.
If you are under the generation of 18, you may only use our website with the consent of a parent or guardian.
10. BestRandoms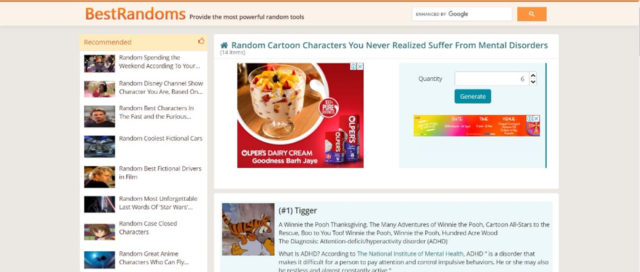 This tool will see many cartoon characters facing mental disorders like, What Exactly Is BPD? A borderline personality disorder is defined as "inappropriate or severe emotional reactions, extremely impulsive behaviors, and a history of unstable relationships," according to PSYCOM. Symptoms of BPD differ from person to person.
A distorted sense of self, difficulty understanding empathy for others, highly changeable moods that can last for several terms or just a few hours, hostility, and a record of unstable relations that can change drastically from extreme love and idealization to intense hate are some of the more common symptoms. So, if you're seeking depth and variety, this tool is your next best friend.
Pros
You may design such characters who have mental illnesses using the free tool.
It features a wide range of cartoon characters from which to choose your favourite.
Cons
Only jpeg and Png picture file formats are available.
Editing skills are limited.
There is no online option for turning an image into a cartoon.
Conclusion
The advancement of AI-powered gadgets allows us to live in a more creative environment with limitless, wonderful ideas. However, there is still a long path before AI takes over creative tools like random cartoon character generators, amazing cartoon character generators, and funny-looking cartoon characters. Random Cartoon Network Character Generator and Random Cartoon Character Generator are my favorite tools because of their variety and fast generating process.
For boosting your mood, there are many other ways besides random cartoon character generator. You can try some creative tools like image generators, cartoonizers, or sketch makers that can convert photo to sketch automatically.
FAQ
1. How do Random Cartoon Character Generators function?
Powerful AI technologies often drive random Cartoon Character Generators learned through deep learning. Millions of models have been used to instruct this technology, allowing these tools to generate high-quality cartoon characters intelligently. You may use these tools to add cartoon filters to your work to be more creative.
2. How can you use Random Cartoon Character technologies to get a variety of cartoon characters?
Several online AI Random Cartoon generators are available to help you get your favorite character. If you want to get it for free, a Spin the Wheel App is advised, which uses AI technology to create free cartoon characters. To create cartoons in seconds, upload the cartoon character's name or some cartoon characters you want to create to this online AI cartoon generator.
More funny generators also read: Top 10 Best AI Quote Generators Review.