The article lists the top online tools for converting photos into sketch art. Each one of them is described with its features, user-friendliness, output quality, and suitability for various purposes, making it a useful resource for anyone looking to create digital sketches from their photos.

Have you ever found yourself staring at a beautiful photograph and wondering how it would look as a sketch? Are you tired of struggling to recreate the artistic charm of hand-drawn sketches from your favorite photos? Imagine you have a cherished photograph and you wish to transform it into a beautiful sketch, capturing the essence of the moment. How can you achieve this without the time-consuming and often challenging task of manual sketching?
Now a photo to sketch converter can solve your problems. It help you convert your photos into sketches effortlessly, without requiring any special skills or expensive software. These innovative tools utilize the power of artificial intelligence to automatically transform your photographs into stunning sketches or other types of sketches, replicating the fine lines, shading, and textures that give sketches their unique appeal.
Here we list the 10 best best free online photo to sketch converters that can turning photographs into line drawings:
Top 10 Tools to Turn Photo to Sketch 2023
Note: As professional reviewers, we have personally tested and evaluated a range of photo to sketch converters. Our ratings are based on an objective analysis of each product's performance, features, user-friendliness, and overall results.
If you think using photoshop is a little bit challenging and want to find some easier tools to convert photo to sketch for free, please read on and we list the 10 best online photo to sketch converters for you. They're really good alternatives to photoshop.
| Photo to Sketch Converter | Processing Speed | Output Quality | Free or Paid | AI-Based | Suitable for |
| --- | --- | --- | --- | --- | --- |
| VansPortrait | ★★★★✩ | ★★★★✩ | Free | ✅ | Creative Projects, Personal Use |
| Funny.photo.to | ★★★★✩ | ★★★✩✩ | Free | ❌ | Personal Use, Social Media |
| aiportraits.online | ★★★★✩ | ★★★★✩ | Free | ✅ | Creative Projects, Personal Use |
| Lunapic | ★★★✩✩ | ★★★✩✩ | Free | ❌ | Personal Use, Social Media |
| Image Online | ★★★★✩ | ★★★✩✩ | Free | ❌ | Personal Use, Social Media |
| Photofunia | ★★★★✩ | ★★★✩✩ | Free | ❌ | Personal Use, Social Media |
| photofunny.net | ★★★★✩ | ★★★✩✩ | Free | ❌ | Personal Use, Social Media |
| Snapstouch | ★★★★✩ | ★★★✩✩ | Free | ❌ | Personal Use, Social Media |
| Convertimage.net | ★★★✩✩ | ★★★✩✩ | Free | ❌ | Personal Use, Social Media |
| Tuxpi | ★★★✩✩ | ★★★✩✩ | Free | ❌ | Personal Use, Social Media |
1. VansPortrait
Driven by deep learning and AI technology, VansPortrait can not only transform your portrait into sketch but also the entire photo into a sketch. Photos with multiple portraits can also be converted quite accurately thanks to advanced algorithms.
Also, it allows you to turn photo into cartoon portrait within 10 seconds. If you have some memorable photos shot during a birthday party or journey, try this AI to convert them into sketches or cartoon style images before you share them on social media.
But one thing to mention, VansPortrait's photo to sketch converter doesn't provide a free version. That means for its feature, you need a monthly or yearly subscription.
VansPortrait is on ProductHunt. Click to give it an upvote if you like it >>>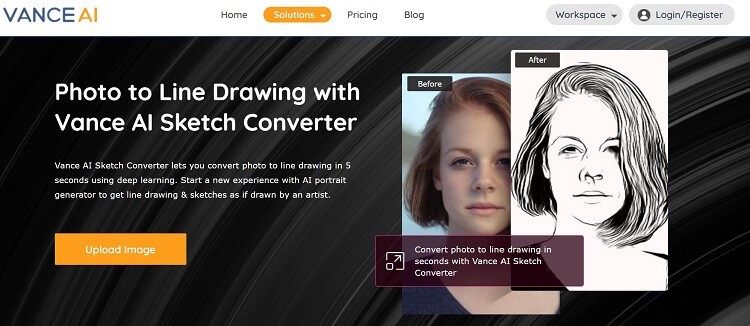 Features
Use AI to turn photos into sketch
Convert portrait or entire photo into sketch or anime portrait 100% automatically
Deliver more accurate results than conventional tools
Turn photo into sketch or anime portrait in seconds
  Limitations
Lack editing feature
Upload image less than 5MB
This tool is paid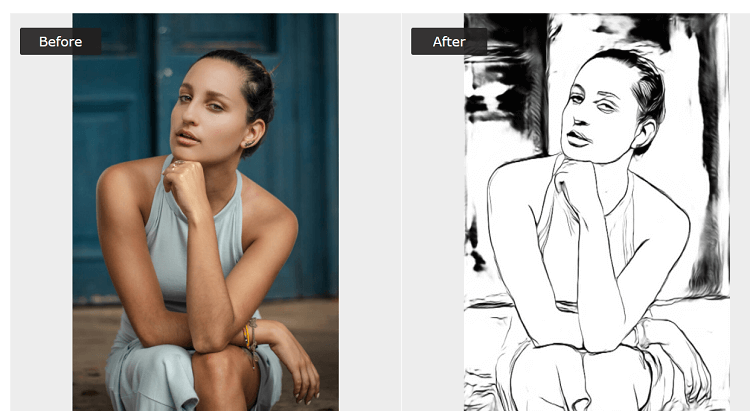 Photo to Sketch Result
Here's a video that teaches you how to use VansPortrait to convert photo to line drawing online.
As you can see here, VansPortrait outlines the overall shape of the portrait, and the figure's posture and clothing are also well reflected in the sketch. The blurring of the background is just fine.
Also read: Top 10 AI Stencil Maker Review 2023.
2. Funny.photo.to
Funny.pho.to sketch converter allows you to upload images from the computer, by URL, or from Facebook. If you don't have a decent photo and just want to test if this web tool works well, you can pick one image from your listed images.
This photo to drawing converter features that when your image is done, you can download the processed image directly, get links, and share it with social media accounts, like Facebook, Twitter, and Pinterest, or save it to Dropbox.
On the result page, you'll notice that there are some additional features available, like frames, stickers, and custom text. But when you click these features, you'll be redirected to an editing panel which is also an online tool of funny.pho.to. When we were testing the product, we noticed that it may not accurately capture the colors or shading of the original photo, resulting in a sketch with limited depth and nuance.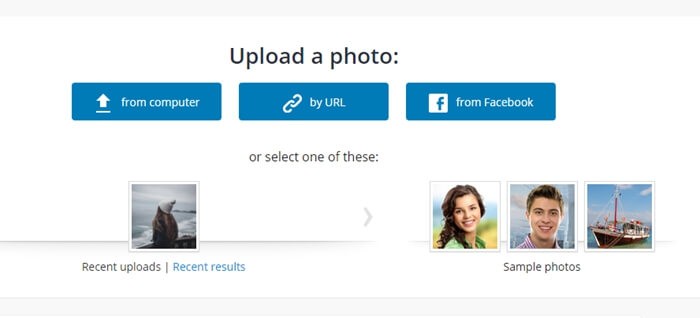 Easy & fast process
Upload image through several methods
Support share with social media & cloud drive
Other tools available
Limitations
Not supporting Before and After comparison.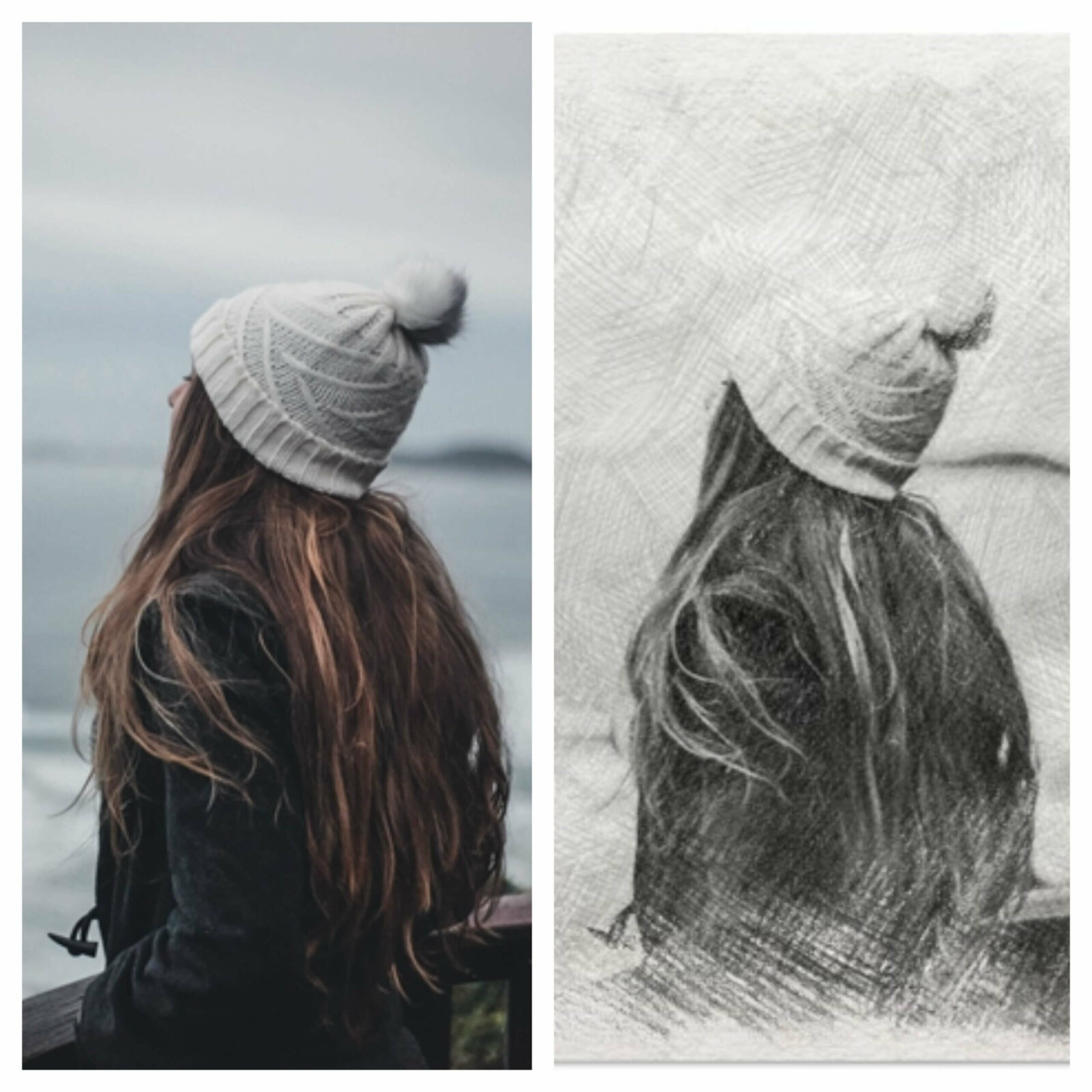 Comparison
3. aiportraits.online
aiportraits.online is a well-performed photo to sketch converter that utilizes AI technology to turn image into sketch or lifelike portrait paintings.
This is an amazing image to drawing converter you can use to convert portraits, pets, products, or any photos into sketches. Trained on millions of real-world photos, AI Portraits Online is more intelligent at detecting the lines in photos and turning them into sketches.
You can simply drop your image on the product page or click to upload and select from a range of styles, including Renaissance or Modern, and watch in real-time as their photo is transformed into a unique work of art. However, we found that this platform doesn't allow you to fine-tune your final results, you can just download the sketch photo once it's generated.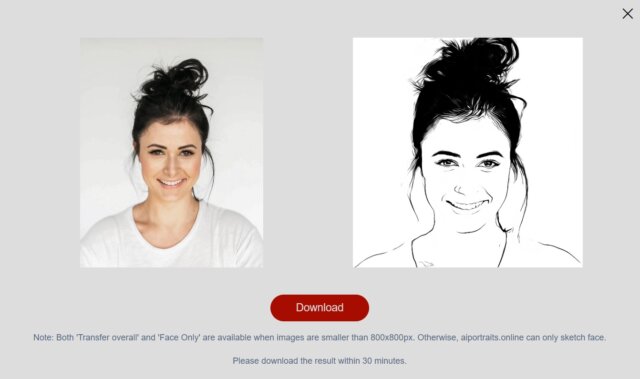 Features
Free to use
Automatic sketch converter
Turn photos into sketches effortlessly
Limitations
Can't make adjustments to the result pencil sketch

                                                                              Comparison
4. Lunapic
Lunapic is another free online photo to pencil sketch converter. For its sketch maker tool, you can find a great number of editing features through its navigation bar.
This tool offers several different sketch styles, including pencil, charcoal, and pen&ink, giving you the freedom to choose the perfect look for your image. Additionally, you can adjust the sketch level to fine-tune your final results. If you are looking for a tool that can turn photo into line drawing online free, this should be it.
It's intuitive to use it. Just upload a photo and adjust to get the result you want. Then you can save it to your device or share it with social media. A lot of editing features are available if you want to edit the result to get a more custom photo. Like Funny.photo.to, this tool doesn't provide before and after comparison, but its sketch level adjusting can somewhat be helpful.

Upload images from device, Facebook, its stock, or through URL
Share the result to Facebook, Imgur, Pinterest, Twitter, Google photos
Able to adjust the result
  Limitations
The output is not very closed to a pencil sketch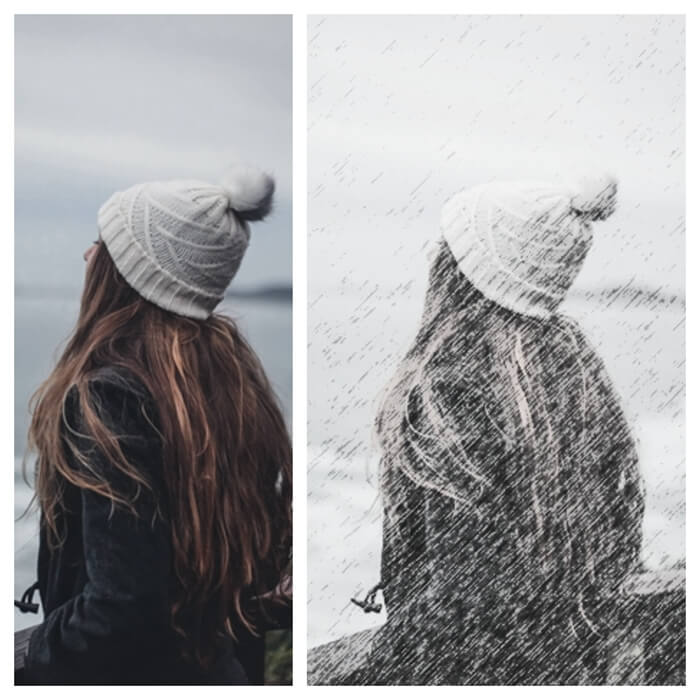 Comparison
5. Image Online
Image Online lists a large number of tools on the left hand of its web page which is quite overwhelming. Although not many options are provided during your use of this free photo to pencil sketch converter, for example, you can only upload an image from device and download to it, the output is really not bad.
Unlike some other photo to sketch tools, Image Online has no built-in sketch style. You can only preset the sketch level before you convert it. And if you are not satisfied with the result, you can only set the pencil shadow and process the image again. It's somewhat inconvenient for you if you want to get your desired sketch quickly.
What's more, Image Online's photo to sketch converter may not accurately capture the texture or details of the original photo, producing a sketch with less clarity and definition. Have a try to convert images to sketches with this tool and experience the effect.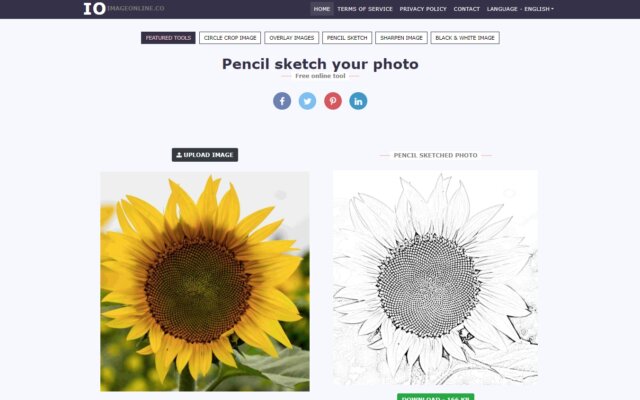 Able to adjust pencil shadow before processing
  Limitations
Can't make adjustments to the result pencil sketch
Upload images only from the device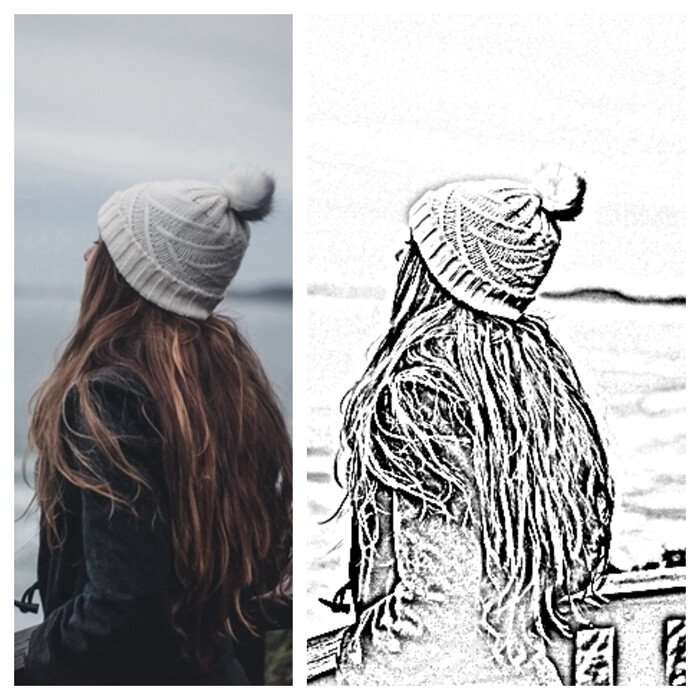 Comparison 
6. Photofunia
Photofunia's pencil drawing tool is able to sketch a person from a photo in an easy and quick way. You can easily turn photos into drawings with this tool because it has am intuitive interface.
It is an innovative tool that transforms any uploaded image into a hand-drawn pencil sketch with remarkable accuracy. The feature allows users to choose from various sketch styles, including texture, colour and white pencil.
Photofunia allows you to generate HD sketches, making it an excellent option for creating personalized artwork or promotional materials. Besides the pencil drawing effect, it provides a variety of delicate and magic effects for your design. However, it doesn't support before and after comparison either.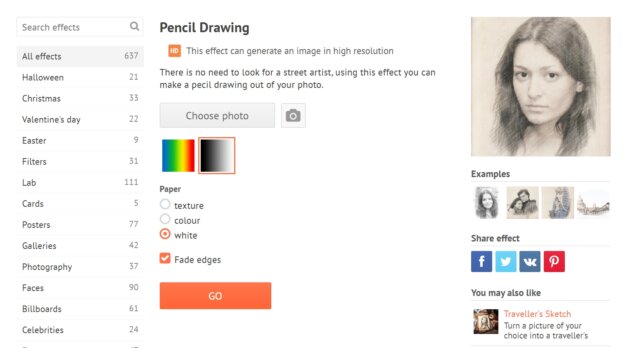 The produced pencil sketch looks not bad
Easy steps & quick process
  Limitations
Not able to adjust or edit the output
Can't upload from or share with social media
The area for upload is too small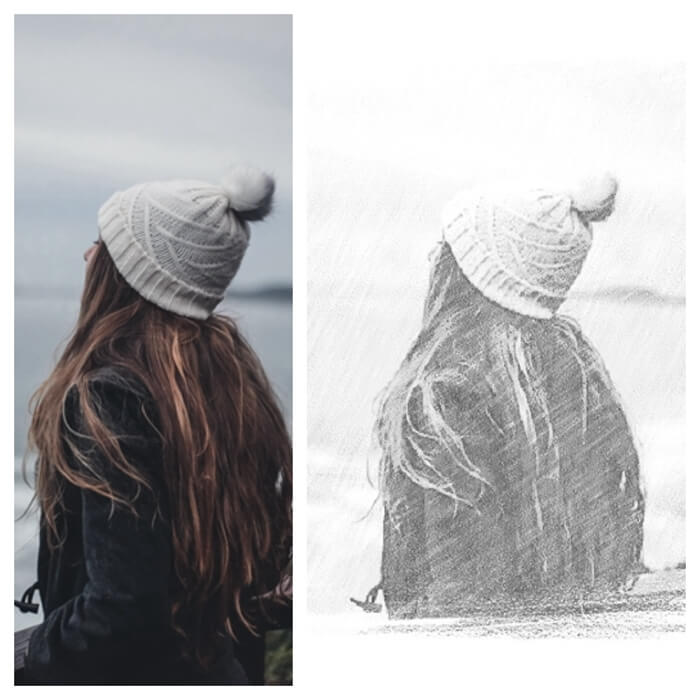 Comparison 
7. photofunny.net
Photofunny.net's converter allows you to add custom text or captions to the final sketch and crop or rotate the image after you convert photo to line drawing online. Unlike other sketch tools, you can add emojis and customized text to the output image. And you can even directly draw on it.
Photofunny supports photo to sketch online for free. After you upload an image, it will produce the result in almost 3 seconds. You can preview it before going to the editing workspace. This tool also has several preset effects for you, simply choose your favorite one and start processing.
In our use of this tool, we didn't find big limitations. But it would be great if it developed a function to adjust the sketch shadow level.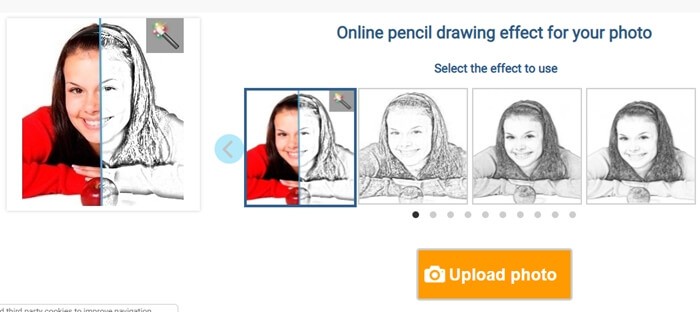 Allow to add text, automatically adjust and add a filter
Good output  performance
You can choose to download or share the results.
Editing features included
  Limitations
Can only upload image from device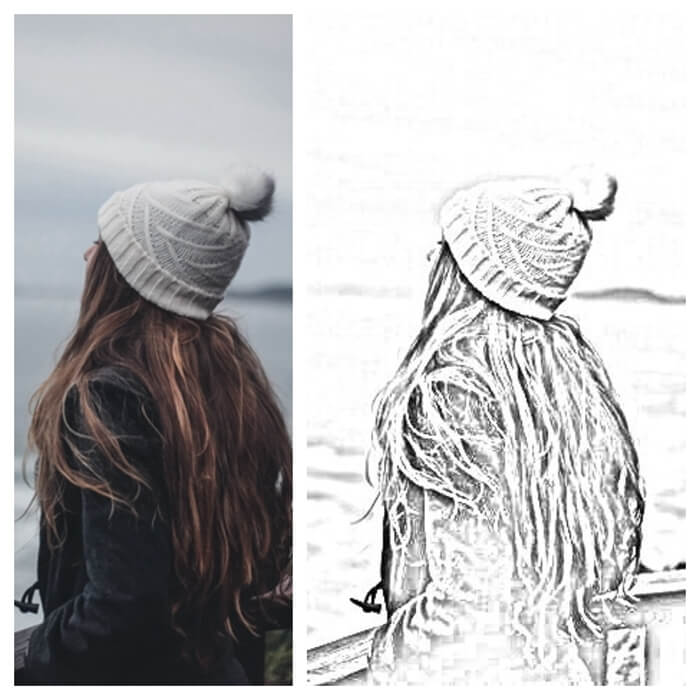 Comparison
8. Snapstouch
Snapstouch is another advanced app that turns pictures into drawings. It offers an array of features for transforming photos into stunning sketches. When using this tool to convert photos, you can add artistic effects like cross-hatching, stippling, and hatching to the final sketch.
It subdivides its sketch image effect to sketch, pencil sketch, painting, outline, drawing and color. You can choose any one of them before you upload your image. And after uploading an image, you can select a pencil color. A couple of seconds later, you'll get your custom pencil sketch.
One Shortage is that the interface of Snapstouch is a little bit confusing because you have to click the button UPLOAD after clicking the button Choose File and selecting an image. Then you can make some adjustments and click PENCIL IT.
 Limitations
Only upload image from the device
Result of color sketch may lose details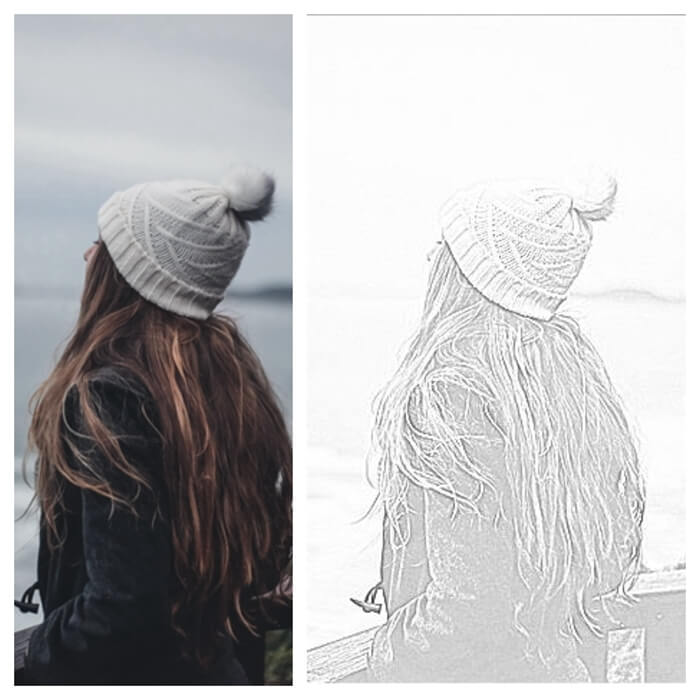 Comparison 
9. Convertimage.net
Convertimage.net is a famous image converter. But besides converting images to various formats, Convertimage.net also serves as a free online photo to sketch converter.
This sketch maker offers a sketch style, which is Sketch Drawing effect. One unique feature of Convertimage.net's sketch converter is that you can directly share your sketch to Twitter, Pinterest, or Facebook.
However, every time you process a photo through this web tool, you have to click to agree with its terms of use, which is a little bit troublesome. From our experience of this product, the processing time depends on the file size of your image.  And once the sketch is produced, it is available for just 15 minutes.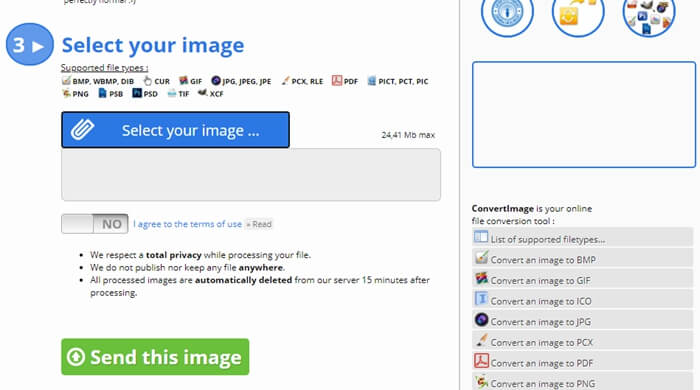 Many additional tools available
Supports many image files.
  Limitations
The interface is a bit confusing
Can't adjust or edit the result
Only upload from the device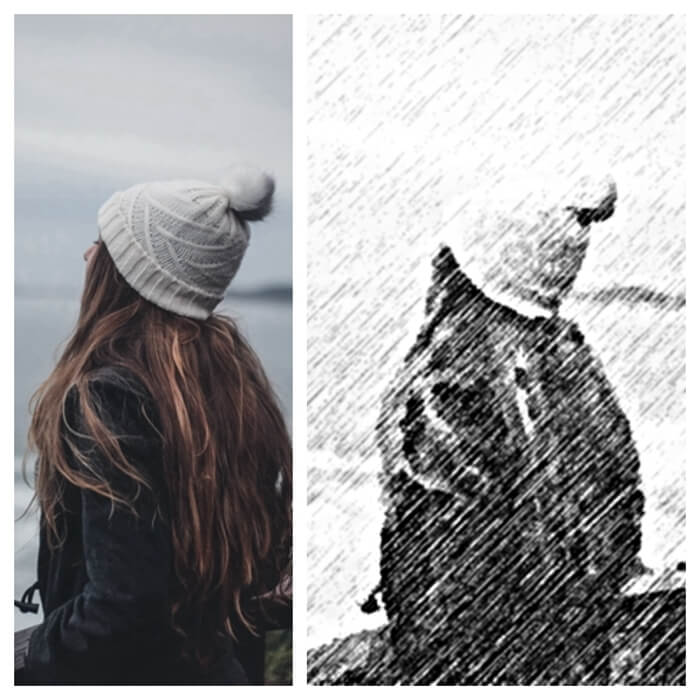 Comparison 
10. Tuxpi
Tuxpi's photo to sketch maker offers you a range of options for creating unique and personalized sketches from your photos.
It provides the result image with different effects, including editing edges, recoloring, adding frame & borders and so on. And it even supports photomontages for fun. With Tuxpi's photo to sketch maker, you can quickly and easily transform any photo into a beautiful and artistic pencil sketch.
Upload an image and you can get the result within seconds. This free photo to sketch converter allows you to make adjustments to the result pencil sketch, like adding text, changing color and contrast, rotating, resizing, and cropping. But we have to say, this tool is more like a pure photo filter rather than a sketch generator.

The preview is available while adjusting color and contrast
Able to download and share the output
  Limitations
Not very closed to pencil sketch
You can only upload an image from the device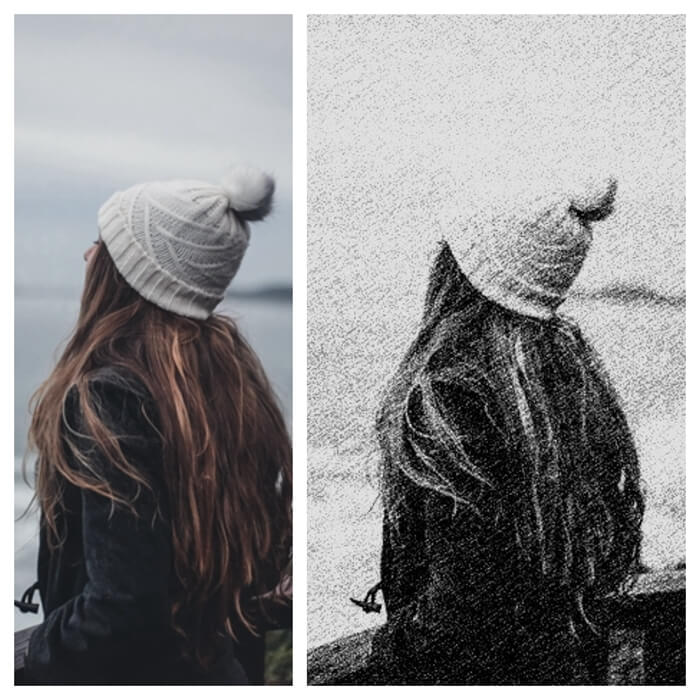 Comparison
Conclusion
In conclusion, this article has provided a comprehensive overview of the best free online photo to sketch converters available in 2023. Each tool was evaluated based on its features, ease of use, and overall performance. These tools are part of the artistic style transfer tools. And within abundant apps that turn pictures into drawings, online photo to sketch converters are quite easy to find and most of them are free. Most of them are designed just for fun so the output pencil sketch perhaps looks not very real. Well for me, I don't need to sit down for a long time to get a sketch of myself. More importantly, it's totally free. Then why not?
Overall, these free online photo to sketch converters offer a convenient and accessible way for anyone to transform their digital photos into unique and eye-catching artworks. However, it's important to note that the quality of the output depends on the original image and the chosen conversion settings.
Also read: How to Convert Photo to Line Drawing & Sketches with aiportraits.online? 
FAQ
You can also check out more creative AI tools from our previous post.
1. What's the Best Photo to Drawing Converter?
There are several good options for converting photos into sketches, including VansPortrait, aiportraits.online, and Snapstouch. It ultimately depends on personal preference and the desired style and level of customization.
2. How to turn a picture into a sketch with VansPortrait?
To turn image into sketch with VansPortriat, you need to go to its product page first. And then click "Upload Image" to upload your image, choose a portrait style and click "Start to Process". Next, wait for it to automatically convert it. Last step, preview your sketch and save it to your device.
3. How to convert photo to sketch in Photoshop?
Speaking of editing images, the first tool that comes to your mind is probably Photoshop. It's no doubt that Photoshop provides a feature for you to turn your pictures into sketches. You can refer the steps that we provide you:
Method1:
Step1: Import an image and make a copy of it
Step2: Click on the Adjustment layer button and choose Hue/Saturation
Step3: Reduce Saturation to -100
Step4: Click on the thumbnail to make it active
Step5: Change the blend mode to Color Dodge
Step6: Invert it and go to Filter and choose Blur - Gaussian Blur
Step7: Slide the Radius to adjust
Method2:
Step1: Import an image and make a copy of it
Step2: Click Filter and choose Filter Gallery
Step3: Choose graph pen under the Sketch category
Step4: Adjust stroke length and other elements
Or Check out this clip for quick tutorial:
You can also check out more creative AI tools from our previous post.