This article lists the top 10 online AI Cartoon Yourself tools that allow you to turn your photos into cartoons. Each tool is rated based on its ease of use, customization options, and output quality.
Are you tired of the same old photos and looking for a fun way to spice them up? Picture this: you have a beautiful photo of yourself, but wouldn't it be amazing to transform it into a vibrant, eye-catching cartoon? If you've been yearning for an easy and free way to cartoonize yourself online, we've got the perfect solution for you. Welcome to our comprehensive guide on the 10 best AI cartoonizers of 2023!
In this article, we'll explore the most innovative and user-friendly AI tools that will effortlessly cartoonify an image into a captivating cartoon character, giving you a real taste of what AI can do to turn your selfie into a cartoon character. We also hope you find the right AI cartoonizer in this guide!
Anime filter on TikTok is also very popular, you can learn from AI Anime Filter Perfectly on TikTok
Top 10 AI Tools to Cartoon Yourself (Updated July 2023)
Here is a chart summarizing the comparison between the given cartoonization tools:
Tool

Output Quality

Processing Speed

AI

Multiple Options

Suitable Audience

Toongineer
Cartoonizer

★★★★☆

★★★☆☆

✔️

✔️

Artists, businesses, and individuals seeking

advanced customization options.

Toonify - Cartoon
Yourself

★★★★☆

★★★★☆

✔️

❌

Casual users looking for a simpleand free-to-use

tool for cartoonizing their photos.

Befunky

★★★☆☆

★★★★☆

❌

 

✔️

Beginners or casual users looking for an
easy-to-use basic cartoonization tool

Cutout.pro

★★★★☆

★★★★☆

✔️

✔️

Designers, artists, and photographers who require

high-quality output

Image to Cartoon

★★★☆☆

★★★★☆

❌

❌

Casual users looking for a free-to-use online tool

without advanced customization options.

Picsart Cartoon
Yourself

★★★★☆

★★★★☆

✔️

✔️

Casual users and social media enthusiasts who
want to create cartoonized images

Colorcinch

★★★★☆

★★★★☆

✔️

✔️

Photographers and designers who need advanced

customization options

Media.io

★★★★★

★★★★☆

✔️

✔️

Artists, designers, and professionals who require

high-quality output

AI.IMAGE
ENLARGER

★★★★☆

★★★★☆

✔️

❌

Professionals who need to enlarge their images

without losing quality

Photo Cartoon

★★★☆☆

★★★☆☆

❌

✔️

Casual users and beginners looking for a simple

cartoonization tool with basic editing options.
As professional and objective reviewers, we have personally tested and evaluated a range of AI animation character generators. We give ratings for these products by comparing the output quality, processing speed, customization, and suitability of each product, you can more clearly find the AI animation character generators that suit you.
Please note that prices and detailed features of the following products are subject to change as products are updated. We will try to update the articles as much as possible so that the information presented is correct.
1. Toongineer Cartoonizer
 Price: $4.95/100 images; $6.95/200 images; $11.45/500 images
 Notable features: Supports Avatar, Character, Manga styles, Batch processing, Quality Adjustment
Rating: 10/10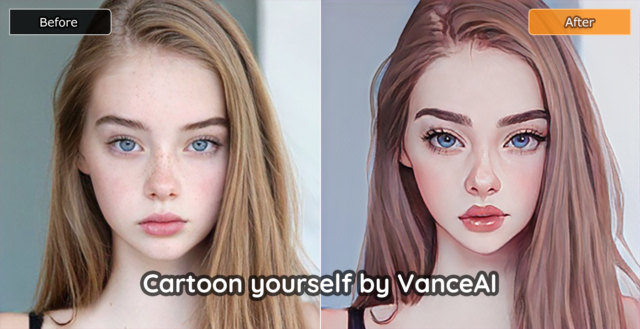 During my in-depth testing, I found Toongineer Cartoonizer, designed by VanceAI, to be a dynamic tool catering to anyone who seeks a myriad of animation styles including Avatar (An electronic depiction, often seen in video games, that portrays and can be altered by a computer operator), Character, and Manga. Its excellence lies in the power to swiftly customize cartoon pictures, making it an ideal choice for individuals with time-sensitive projects.
What makes Toongineer Cartoonizer stand out from the crowd is its efficient batch-processing capability. It allows you to upload and modify multiple images simultaneously, which drastically optimizes the workflow. However, its performance in processing images with complex backgrounds falls short of expectations.
This time I am going to use this photo (the first one from the left, download from Unsplash) to test all tools that I reviewed today so that you could see the difference more clearly.

I tried animate the girl image three times, in models like Character, Avatar, and Sketch Avatar. The images processed by these models are able to satisfy me. Both in terms of color and accuracy, Toongineer Cartoonizer has achieved good results. I would also be surprised if I zoomed in to see the details of the eyes and hair. Every hair, even the eyelashes, look like they were realistically drawn with a pen. For such simple backgrounds, it also handles them very well.
Also, I should tell you, when the background of the image is complicated, there might exist some small errors.
Pros:     

Cons:

- Easy and fast to use 
- Cartoon yourself online for free and 100% automatically
- Output clear and natural images based on the photo you upload

- Not that perfect when it comes to
caricature images with complex background
Also read: Best Anime Character Creator Review from TopTen.AI
2. Toonify - Cartoon Yourself
 Price: Free; Paid start at £3/10 images
Notable features: Offers API, Diverse art styles, High-resolution output
Rating: 9/10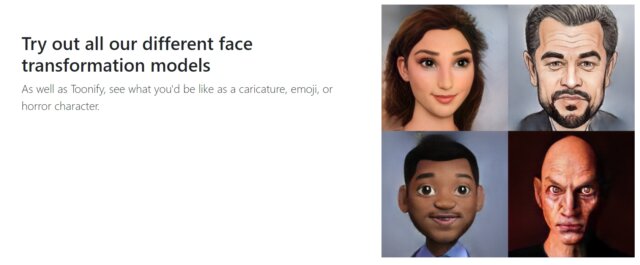 Toonify API, created by AI enthusiasts Justin Pinkney and Doron Adler, proves to be a capable web-based application for turning photos into cartoons. It is ideally suited for developers looking for an AI model for their apps or websites.
Toonify API's strength lies in its ability to blend faces with its cartoon model to produce Pixar-like (Pixar's animated movies are very popular all over the world, and now you can turn yourself into an animated character too.) results. Its impressive range of styles such as Adventure Time, Rick and Morty, and Bob's Burgers, offers an abundance of options for customization.
Here is the testing image processed by the free version of Toonify:
Looking at this photo, Toonify has handled the details of the face very well, the eyes and eyelashes are drawn in a very pleasing way, and the lips are very much like the style of Princess Disneyland. However, Toonify has made some mistakes in the hair details, the edges of the hair have been mixed with the background.
The image is cropped, and the body and background are missing in this image. There are many other interesting styles and models to be chosen, however, they are all available in paid versions.
| | |
| --- | --- |
| Pros:    | Cons: |
|  Convert a photo of any face into a cartoon | Limitation on a free trial |
|  High-Resolution Output | Only preserve the head part image |
|  No Watermarks |   |
How to Use Toonify API to Cartoonify an Image Online?
It is quite easy to use Toonify API to toonify yourself in only one click.
Step 1: Open the website and select the transformation model.
Step 2: Go to the Toonify API website and upload your photo.
Step 3: Save the download.
3. Befunky--Cartoonify an Image Effortlessly
Price: $9.99/mo
Notable features: Intensity adjustment, High-level customization
Rating: 8/10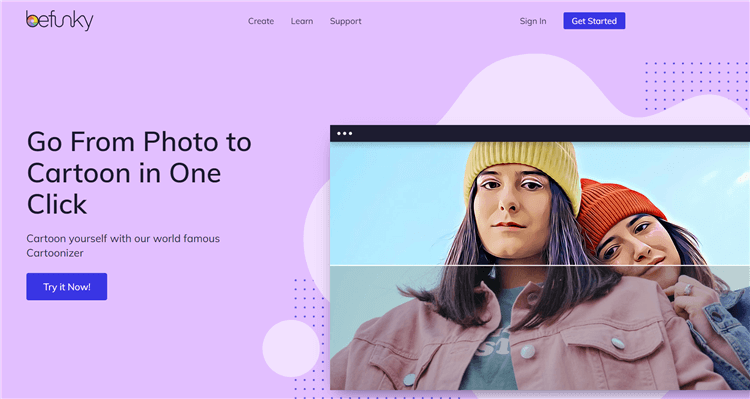 Befunky, a web-based photo editor, allows for effortless drawing style creation through a single click. Best suited for artists and businesses seeking to imbue photos with an artistic touch, it stands out with its user-friendly interface.
The strong suit of Befunky lies in its ability to adjust the intensity of effects. Its advanced AI algorithms render the tool versatile and efficient, providing users with personalized cartoonized images that closely mirror their preferences.
Now, look at these images we made with Befunky:

In the process of using it, we can find that Befunky is cartoon yourself by adding filters and we can make an adjustment of the intensity of the filters, which is better. Among the following four styles, we think the other three images are more satisfactory, except the third one which is not so good (blurring).
Despite its capabilities, the product's main drawback is its complexity, since it is an all in one image editor, you will need to learn more to use it. And you should note that they caricature an image by adding a filter with AI, not redrawing it.
Pros:

Cons:
- Powerful to deal photo with complex background
- Turn picture into cartoon online
- Enhance the photo details while make it sketch style
- Not friendly to beginners with multiple functions
- Not free to use
4. Cutout.pro
Price: Starts at $5 for 40 credits/mo
Notable features: Customizable cartoon avatars, Variety of art styles, Custom text addition
Rating: 8/10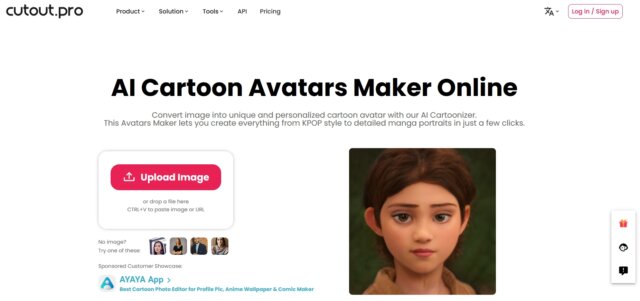 From my research and testing, Cutout.pro, an AI Cartoonizer, offers a simple and engaging way to transform photos into custom manga avatars. Ideal for creative enthusiasts, it offers everything from KPOP-inspired visuals to intricate manga portraits.
Its strength lies in its extensive customization options and a variety of art styles, making it possible for users to create anime images personalized to their taste. It even allows for adding custom text or speech bubbles, further expanding the creative options.
Here are 4 images draw by Cutout.pro with 4 styles, K-pop, k-pop avatar, Disney style and Pixar style. The K-pop style is good, just like the first product, VanceAI Toogineer Cartoonizer. However, the girl in the photo using the Disney style seems to have gained a lot of weight and should be a great photo if she can slim down. Also using the Pixar-style picture, the girl's eyes seem to have a little problem.

Another shortcoming of Cutout.pro is the limitation on the free trial version, and some features remain locked behind the paid plans. Moreover, the resolution of output images could be a disappointment for users seeking high-resolution results.
| | |
| --- | --- |
| Pros: | Cons: |
|  Wide range of art styles to choose from. |  Limited free trial version available. |
|  Wide range of art styles to choose from. |  Some features are only available in paid plans. |
|  Batch processing capabilities for multiple selfies. |  Output image resolution is limited. |
5. Image to Cartoon
 Price: $4.9/day; Premium: $6/mo; Pro: $14/mo
Notable features: High-resolution output, No watermark, Affordable pricing plans
Rating: 7/10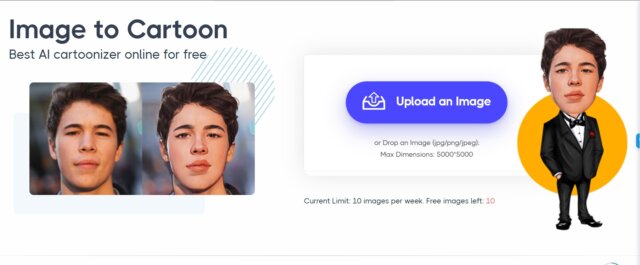 Image to Cartoon, it became clear that this is an intuitive platform for cartoonize a picture into unique comic-style representations. The service is perfect for anyone desiring high-quality images for various digital mediums or printing purposes.
This tool offers notable features such as high-resolution outputs, up to 3000x3000 pixels, and watermark-free images. The affordability of its pricing plans with unlimited feature access makes it a cost-effective choice for creating unique comic-style images.
These two images are generated using Image to Cartoon, you can see that the first one works well, the girl becomes still good looking, inside this image. And the other picture, same as the previous tool, the girl's face is much fatter. But its details, such as hair strands, eyebrows and eyes, are handled really very well.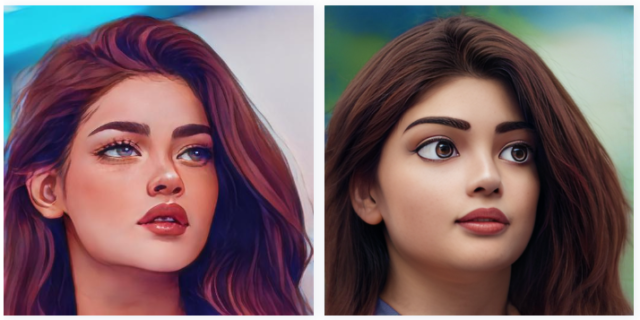 The main drawback, however, is its limited customization options, which might not be sufficient for those seeking more creative control. Furthermore, the free version of the service includes a watermark and the output resolution could be improved.
| | |
| --- | --- |
| Pros: | Cons: |
|  Quick and easy cartoon conversion |  Limited customization options |
|  No software download required |  Watermark on free version |
|  User-friendly interface |  Low resolution output |
6. Picsart Cartoon Yourself
 Price: Free; $13/mo
Notable features: Comprehensive features, User-friendly interface, Community and social sharing
Rating: 7/10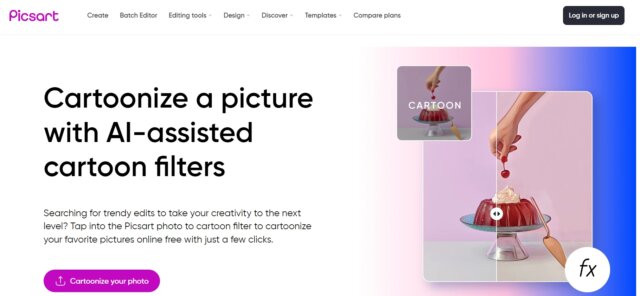 From my experience, PicsArt proves to be an efficient platform for those seeking a quick and effortless tool. It's particularly useful for social media enthusiasts who wish to add a fun twist to their pictures.
Its Photo to Cartoon tool, based on my observations, is feature-rich, enabling fine-tuning of images. It offers settings for hue, saturation, brightness, and contrast adjustments, giving users the ability to produce highly customized artwork. A unique "Magic" effect brings an array of filters such as Flora, Pastel, and Pop Sketch.
As Befuncky mentioned above, PicsArt is also a versatile image editor, and its sketch effects are actually filters. As you can see from our experience with them, some of these filters work well, but some of them are not really qualified cartoon pictures. These filters, you may need to learn these and try them yourself.
However, the advanced features require a subscription which might be a drawback for some. Additionally, we found the app to be resource-intensive during our testing phase.
Pros:

Cons:
- Offers a comprehensive set of features,
   including filters, effects, stickers, text
- AI-powered and User-friendly interface
- Community and social sharing
 Advanced features require a subscription
 Resource-intensive
7. Colorcinch
 Price: $8.99/mo
Notable features: One-click cartoonization, Variety of filters
Rating: 8/10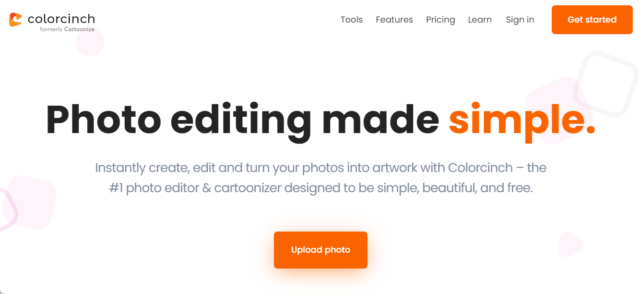 Colorcinch stands as a reliable cloud-based app, empowering users to cartoonize a picture. Its user-friendly interface caters to all users, even those without a technical background.
The platform's distinct feature of one-click cartoonization makes it a practical choice. A wealth of filters for customization allows users to adjust the intensity and achieve the desired look effortlessly. But not all of these filters can cartoon yourself well, many errors in some of them.
Here are some images that I made with Colorcinch:

You can see that the first two filters are not perfectly animated, and the girl in the second filter even has a strange crack near her mouth, but her hair is better depicted. The third filter is the one I'm more satisfied with because there seem to be no mistakes here, however, this is not strictly speaking cartoonization, it's just a filter.
Like Befunky, Colorcinch is an all-in-one photo editing tool and you may need to spend some more time with this software to get better results. Also, the processing takes longer and the free version comes with an annoying watermark.
| | |
| --- | --- |
| Pros: | Cons: |
|  A great number of filters for you to choose |  Not free |
|  Can be used online |  Slow processing speed |
|  Good image quality |   |
8. Media.io
 Price: Free and paid 19.99$/month
Notable features: Provide multiple Cartoon Styles
Rating: 7/10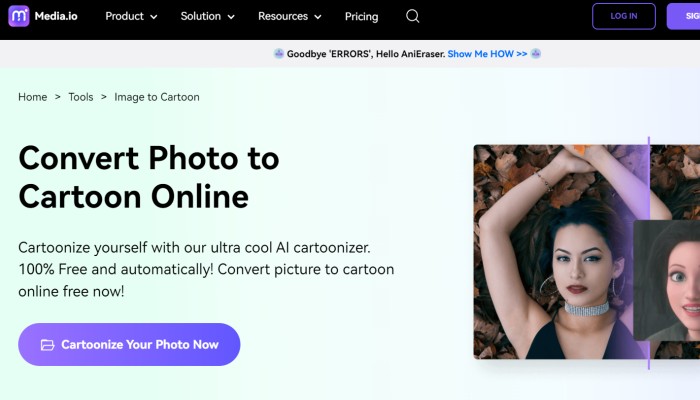 Media.io Image to Cartoon is an online tool designed to transform regular images into cartoon-like illustrations. With its easy-to-use interface, users can quickly convert their photos, artworks, or graphics into cartoon versions, adding a fun and artistic touch to their visuals. Except Image to Cartoon Conversion, it also supports customization Options, there are multiple Cartoon Styles and the online platform supports batch processing
| | |
| --- | --- |
| Pros: | Cons: |
|  User-Friendly Interface |  Limited Fine-Tuning |
|  Customization Options | Quality Variation |
| Multiple Cartoon Styles |   |
9.

AI.IMAGE ENLARGER

 Price: Free & Paid

Notable features: Simplicity, Disney character style, 2D & 3D styles

Rating: 6/10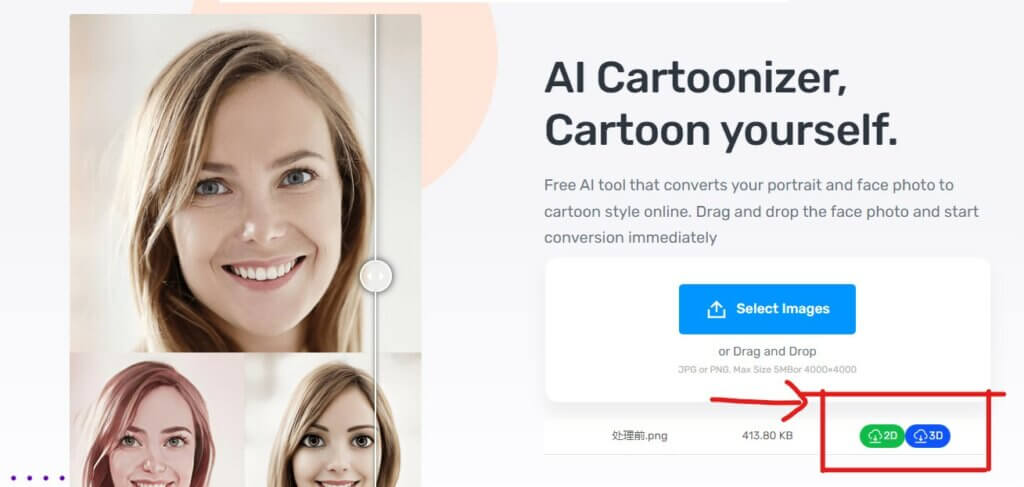 In my experience, AI. IMAGE ENLARGER is a convenient and straightforward app. It's particularly suited to those seeking a quick way to caricature themselves for social media sharing.
The key feature that caught my attention is the app's simplicity. With just one touch, users can turn their photos into Disney 3D face style. IMAGE ENLARGER will turn you into an animated princess in Disney, and you only need to choose 2D or 3D to download.
However, this tool also misses a lot of customization options because it is too simple, such as custom style, size, etc. Output quality may not meet some people's needs for HD pictures.
Much like Image to Cartoon's style, the girl's face becomes fatter in the 3D style. And in 2D style kind, the background is not handled as well as Image to Cartoon, there are some small mistakes.
Pros:

Cons:
 Easy to use
 Too simple that many functions
and customization are missing
 Turn photo into cartoon online free
 
 Download for free
 
10. Photo Cartoon
 Price: Free
Notable features: Wide effect range, User-friendly
Rating: 6/10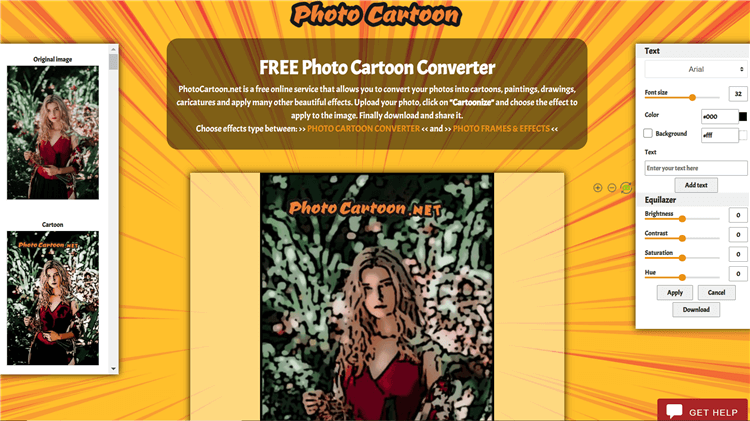 After experimenting with Photo Cartoon, it emerged as a versatile online tool offering free services. It is ideal for users looking for a quick and no-cost way to transform their pictures into appealing cartoons, paintings, or caricatures.
Based on my observations, the platform provides over 50 captivating photo manga effects ready to be applied to images. The process is simple: upload the photo, select the desired effect, and download the image.
Here are the testing image that made by Photo Cartoon: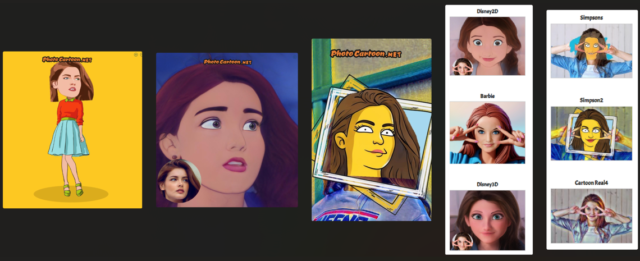 This picture tool provides a comic style that is different from other products, such as Simpson style, Disney 2d style, etc. These are the styles that I find more interesting. But the pictures it generates are quite different from the original ones and can be said to be changed.
However, from our hands-on experience, we found the AI performance to be subpar in cartoon creation. Moreover, to remove the watermark from the final product, users are required to purchase a premium version, which may deter some from using the service.
More tools to toonify yourself in our previous post: Top 10 AI Painting Generators 2020
| | |
| --- | --- |
| Pros: | Cons: |
| Can used online and free |  Not perform well |
|  Easy to use | Large difference from the original picture |
Verdict
In conclusion, the article provides a comprehensive overview of the top 10 online AI Cartoon Yourself tools. These tools offer users the ability to transform their photos into cartoons, catering to a range of preferences and needs. The analysis delves into each tool's features, output quality, processing speed, AI-based capabilities, and customization options. However, the article also acknowledges certain limitations, such as the challenges faced when processing complex backgrounds and the varying degrees of accuracy across different tools. It also reminds readers to consider potential changes in prices and features as the tools are updated.
Overall, this article provides valuable resources and honest advice for you who are looking to cartoonize your photos, in order to provide you with the most suitable photo cartoonization tool.
Besides cartoonizing, you can try another way to make your portrait creative, such as converting your photo to sketch or oil painting. Follow us to find the best pencil sketch converter and pick your most desired one.
FAQ
1. How to cartoonize a photo with AI tools?
1. Enter the Toongineer Cartoonizer, and then drag & drop your images.
2. Select the style that you want for you image and click "start to process" to cartoon photos online. Or you may directly go to VansPortrait Workspace.
3. Preview and download the cartoonized images.
2. How does AI cartoon tools work?
AI caricature tools are generally powered by advanced AI technology taught by deep learning. This technology has been trained by millions of photos which helps these cartoon tools process the photos intelligently. By using these tools, you can apply AI filters on your image to toonify photos.
3. How to cartoonize a photo in photoshop?
1. Add your image. Choose the image you want to cartoonize into Photoshop.
2. Convert your image into a Smart Object so you can make non-destructive edits. Go to the Filter menu and click Convert for Smart Filters.
3. Apply the Poster Edge effect. Click Filter › Filter Gallery › Artistic: Poster Edges. From here, you can set a high Edge Thickness, set the Edge Intensity to a low value or add a low Posterization value depending on the image.
4. Save your cartoonized photo. Use Save As to convert your photos into any format you need — from JPGs to PNGs, TIFFs and beyond.
Learn more detail: Turn Photo to Cartoon Effect (Cartoonize Yourself) - Photoshop Tutorial