Do you want to have perfect-looking real-type portraits to share with your friends and family? If yes, you are at the right place. VanceAI Portrait Retoucher permits you to customize your portraits as per your likeness and see pictures the way you like. It is a portrait retoucher with AI technology to optimize the enhancement process. You can also edit our pictures to get the younger, wrinkle, and blemish-free version of yourself every day. It empowers us to retouch the portrait online and boost the way we look with the power of AI. VanceAI Portrait Retoucher is a fun way to play around with our portraits and offers solutions to fix minute details. 
Let us start this VanceAI Portrait Retoucher review to learn about this fantastic AI-powered tool in detail.
What is VanceAI Portrait Retoucher?
VanceAI Portrait Retoucher is an online portrait enhancer tool using artificial intelligence for portrait retouch. This portrait retoucher allows users to boost how a photo looks when taken from a camera. It eliminates the rigorous job of photo editing and replaces it with AI-based retouch portrait software. AI automatically works on the user's requirements by detecting the parts of the portrait the user is willing to enhance using the portrait retoucher. The professional blemish remover comes at a nominal subscription charge and is a great value for money that users pay happily to get the services it offers. 
Users enjoy this tool, and it has many options and features for improvising portraits at many levels. It is an online tool allowing portrait retouch at a single click without downloading or setting up complex software. The VanceAI Portrait Retoucher provides numerous exciting features for improving productivity, creativity, and image editing. Anyone can sign up at the VanceAI Portrait Retoucher website to access all the AI features and enjoy flawless portraits every time. 
How to Retouch Wrinkle from Photos with Portrait Retouchers
Here is a step-by-step guide to using VanceAI Portrait Retoucher to retouch photos' wrinkles. 
Step 1:  Open VanceAI Portrait Retoucher and click "select image" to upload the image on an online portrait retouch.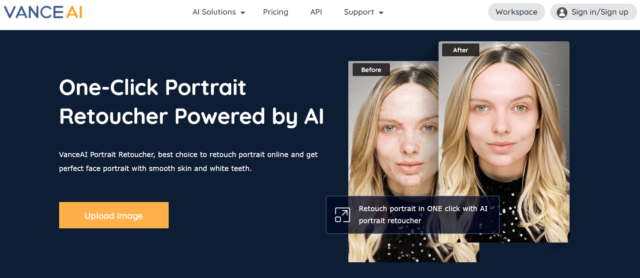 Step 2:  Now use AI tools to enhance the photos and get perfect-looking images with a single click. You do not need to manually perform any editing or instruct the portrait enhancer to work on certain face areas. Instead, it detects the blemishes, marks, acne, dark circles, wrinkles, freckles and removes them to give your portrait flawless clear skin with no flaws.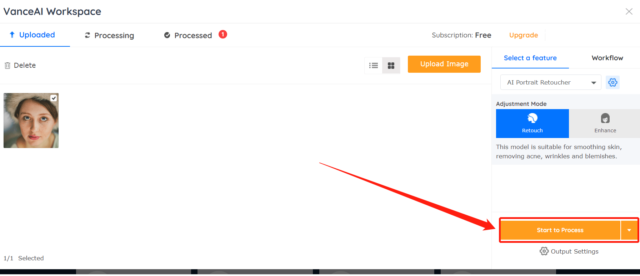 Step 3: You can view the processed photo, then click "Download Image".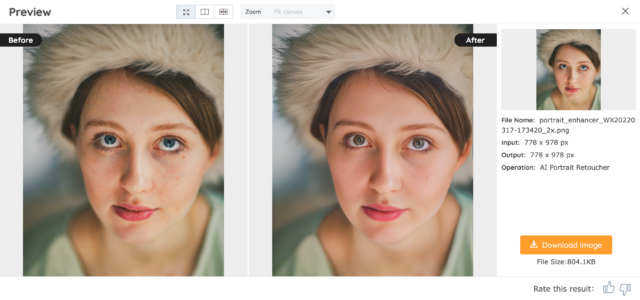 This is how VanceAI Portrait Retoucher performs. It is an excellent tool offering ease of use and excellent results at the end. Using this tool, you eliminate unwanted marks and blemishes from your face, make you look perfect, and save you from unnecessary hassle. It helps you get top-quality photo portraits by working hard on editing manually. Instead of spending hours on setting resolution, color contrasting, and many other tiresome steps, this portrait retoucher offers a one-click solution where you upload your photo and let powerful AI improvise your portrait to its best.  
Conclusion
VanceAI Portrait Retoucher is an advanced portrait retoucher available online for everyone. Users use it to enhance their looks and achieve perfect images. It has many features that focus on a specific portrait area and beautify it without hassle. Users worldwide can subscribe online to unlock all the AI features, access free credits, and download high-resolution images. 
People enjoy using this tool as it automatically enhances a portrait on multiple levels, including image resolution, details, and colors. Although some other similar online portrait retouch tools are available for free, they do not meet the quality offered by VanceAI Portrait Retoucher. With this portrait retoucher, users get a money-back guarantee, so if they are not satisfied with the service, they can claim their amount before using 50 credits. 
Other Choice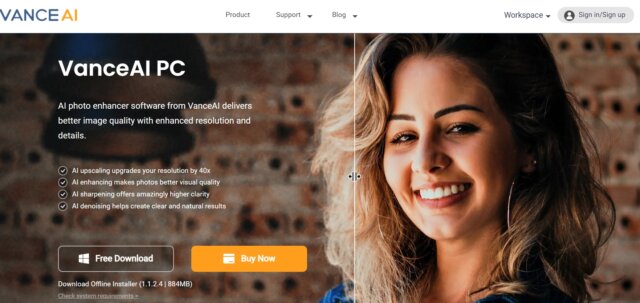 VanceAI just released AI picture enhancement software that can be downloaded to your home PC in addition to online resources. You are free to use it without visiting the VanceAI website. VanceAI PC is the ideal way to save valuable time. Users can edit photos using AI using VanceAI PC's equivalent online capabilities. Upscaling, enhancing, and retouching images with artificial intelligence Everything you need is in the VanceAI PC.



FAQs
Q1: Can this Portrait Retoucher remove my acne and dark circles from my photo?
Yes, VanceAI Portrait Retoucher is an advanced tool that retouches portrait photos and focuses on beautifying the features. It efficiently removes active acne, acne marks, and dark circles from your image using its AI-based snapshot enhancing technology. It makes your portrait perfect without hassle and wastes time on photo editing. 
Also read: Top Ten Online Portrait Retouchers Review.