There is a really good chance that you might have heard about the Uberduck.AI application. After the recent changes made to TikTok regarding its voiceover features, a vast majority of users and creators have shifted to the Uberduck text to speech app in order to elevate the quality of their content. To put it quite simply, the Uberduck app converts text to speech. While that's pretty normal, Uberduck additionally makes the text sound like it is being read by a famous figure, such as a celebrity or even a fictional character. In this guide, we will take a closer look at the app and provide you with everything you need to know about Uberduck.AI. You can then use this app and engage audiences better.
What is Uberduck.AI?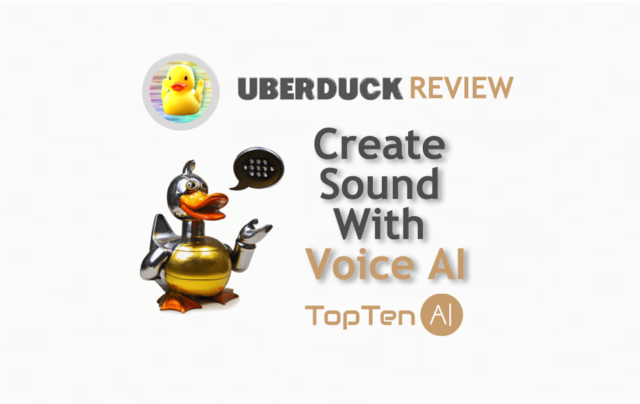 The Uberduck.AI TikTok app is actually an independent project hosted over on a website. This app is now a comprehensive voice making and editing tool that provides users with many tools for creativity. If you are looking for an Uberduck AI alternative, you can instead make use of the online app through its API version. This makes the app much more accessible to professionals, especially. The app offers many voices that you can use for your texts and captions. Uberduck AI also offers multiple paid options and a free account. Even as a free user, you can access more than 2000 voices, get up to 1 GB of storage, and more. It offers 3 plans for users, $0 for free, $9.9 for creators, $23.99 for clones, and people can choose the plans they like.
Know more about Uberduck AI: Rappers and TikTokers favourite AI tool: Uberduck AI
Uberduck.AI Review:
It's time to review as you know many online and offline editing tools allow users to record, edit and customize any file but Uberduck.AI is very excellent with its unique features that not any other tool offers.
Let's see what it has for users.
Custom voice clones
One of the best functions of Uberduck.AI is to offer a range of voice cloning services that make it easy for individuals and organizations to create their own custom voice clones. AI voice can create stunning 3D representations of products with visual and audio narratives.
The process of creating a custom voice clone with Uberduck AI Tiktok is relatively simple and users can use them for Tiktok videos. This tool allows the users to create a personalized voice that sounds like them or someone else like their favorite actors, politicians, or even family members. Like Uberduck AI discord it can help the users stand out from the crowd.
Text to speech
Uberduck.AI offers a wonderful function that is quality based text to speech conversion. It allows users to convert any written text into natural-sounding speech. It provides the best free text to speech technology that will be helpful for various applications including e-learning, audiobook creation, and podcast production.
Uberduck AI text-to-speech boasts an extensive library of voices for users, especially for those who need to produce voiceovers quickly and efficiently. So this is a top contender for the best free text to speech service with its high-quality voices. It offers a user-friendly interface that allows users to speed, pitch, and volume of the audio output.
AI-generated raps
The use of cutting-edge and deep learning technology enables Uberduck AI voice to produce creative and original rap music tracks that are matched with a beat and spoken in a natural-sounding voice. These lyrics and music can be used by music enthusiasts, content creators, and social media influencers.
In recent times Uberduck has also generated traction with Uberduck AI Tiktok where the users can generate music raps and tracks to enhance their videos and create engaging content. It is the right way to consume rap music and make the music more accessible and enjoyable for everyone.

Features of Uberduck.AI
AI voice converter has an intuitive interface that is very easy to use even for beginners.
It has 150,000 original rap tracks and lyrical videos by using AI and neural voice synthesis to create a virtual assistant.
It allows users to customize different settings to a unique voice that suits their needs.
AI voice creator is compatible with various platforms like Tiktok, Discord, and more.
AI offers the best text to speech functionality, which is ideal for users who prefer to listen to content rather than read it.
AI also integrates with Discord, providing users with an easy way to connect with friends and colleagues.
Pricing: Free and paid
Rating: 9/10
Pros
Cost-effective
High-quality voiceovers
Fast and efficient
Cons
Limited voice clones
Limited language options
Improper security concerns
Read more: Top 10 Realistic Text to Speech Tools Review 2023
How to use Uberduck.AI to convert text to speech?
The Uberduck AI application is relatively easy to use due to its design though users should be familiar with the steps so let's go through them briefly.
Step 1: By clicking on this uberduck.ai website, you can access the website of the app and start using it. But you need to sing up first.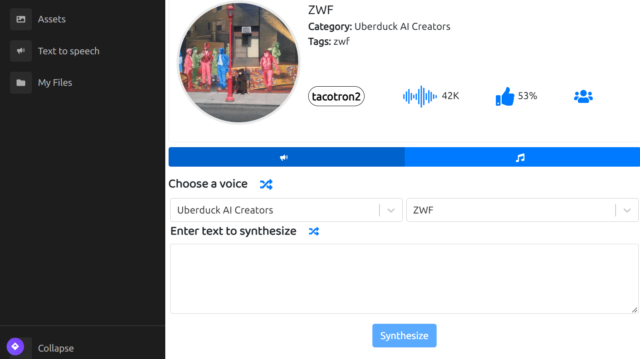 Step 2: Select a type of voice, followed by the name of the person or character.
Type in any text you'd like to convert to speech and hit enter.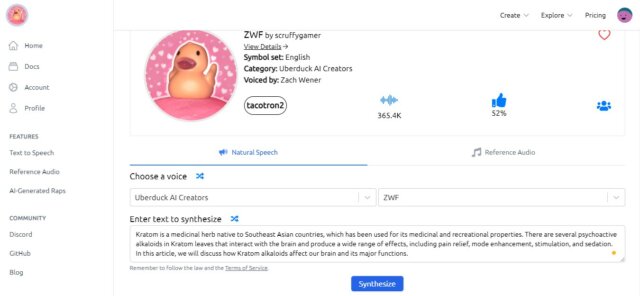 Step 3: After a few seconds, you will receive the result. You can use the play button to listen to the audio generated from the text. You can keep changing characters and experiment with different voices.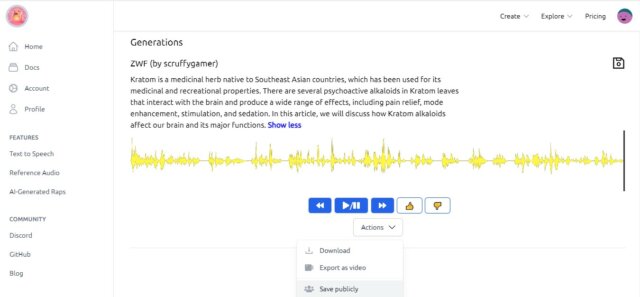 Performance and Features of Uberduck.AI
Considering that the application is built on AI based technologies, you can expect to get results in a short amount of time. The Text to Speech feature of this app offers quite a good selection of Uberduck AI voices, though there could be more. Moreover, there can certainly be more voices from the franchises that the app already has. If we take Valorant again as an example, the game has around 15 unique characters while Uberduck AI features just 2 of them so far. They can increase the number there. Regardless, when it comes to the actual quality of the results, this app is definitely one of the best. Additionally, it also offers really good features for anything to do with voice based creation.
Uberduck.AI Vs Murf
Uberduck.ai and uberduck ai alternative--Murf are both powerful AI platforms that utilize natural language to develop chatbots, voice bots, and virtual assistants. Both of text to speech converter provide a better experience for users.
Differences between Uberduck AI and Murf
There are some differences between Uberduck AI and Murf. The first is usually for small to medium-sized businesses while Murf targets enterprise-level businesses. Uberduck AI voice has 5000 voices on the other hand Murf has 120 voices for users. It provides five languages including English, Portuguese, Dutch, Spanish, and Polish while Murf.AI provides above than 20 languages for the users. Uberduck.ai offers 4000 voices for a single person as a free trial while Murf.AI offers only 120.
Similarities between Uberduck.AI and Murf
Despite these differences, there are also some similarities between Uberduck.AI and Murf as both platforms use natural language processing to interpret user input and respond with appropriate actions. Uberduck ai voice and Murf use AI technology to improve chatbot performance. Both platforms support multiple communication channels like the Web, chat, messaging apps, and social media. Both are user-friendly, reliable, and easy-to-use applications.
Here is a visual table of Uberduck.AI and Murf that you might want to refer to before you make your choice:
| Feature | Uberduck.AI | Murf |
| --- | --- | --- |
| Target Audience | Small to medium-sized businesses | Enterprise-level businesses |
| Number of Voices | 5,000 | 120 |
| Languages Supported | English, Portuguese, Dutch, Spanish, Polish | 20+ languages |
| Free Trial Voices | 4,000 | 120 |
| Technology | Natural Language Processing | Natural Language Processing |
| Communication Channels | Web, chat, messaging apps, social media | Web, chat, messaging apps, social media |
| User Experience | User-friendly, reliable, easy-to-use | User-friendly, reliable, easy-to-use |
Conclusion
Uberduck AI is by no means a completely flawless app for voice based features but it is definitely one of the best. The app, whether on the website or on the API, is simple to understand and use. Users can easily navigate through the app without much trouble and get results fast. The quality of the results is great too, as it accurately resembles famous voices from the world rather effortlessly. Moreover, it offers other useful features as well. The only drawback is that it can include a lot more voices from many other popular series and franchises.
Clone ANY Voice Using AI Text To Speech! (Uberduck TTS)
FAQs
Q1. Any more details about using uberduck.ai?
Using this app is relatively easy and direct. First, you would need to use the link given to access the website. From there, you can simply go to the top toolbar and select the feature that you want to use. If you want to use Text to Speech, select that and use the drop down menu to choose exactly the voice that you want. Simply type some content or click on the button to generate some written content automatically. Finally, click on Synthesize and wait for a few seconds as the app generates the voiced version of the text. You can now listen to the audio by clicking on the Play option.
Q2. What does uberduck.ai do?
Uberduck AI is an app that converts text to speech through the use of AI and similar technologies. Additionally, the app contains a few other voice based features such as cloning your own voice, reference audio, and it also offers an audio studio for users to work on. With this app, you can make use of customized audio and voice overs for your content. Many use this for their TikTok videos and you can use it too for captions and similar tasks.
Q3. Who made uberduck.ai?
Uberduck is made by a group of developers who also work on other speech and voice based apps. They also have a Discord channel wherein you can learn more about the developers while meeting new people and getting to know more about their latest projects and of course, about Uberduck itself.
Q4. Is uberduck.ai safe?
This app only requires your Google account details to function. In fact, you can even avoid that by directly signing up from their website rather than other platforms. You can also freely download your work from this website without requiring to provide any other info from your account.
Also read:  Top 10 Voice Generator Review 2023