Have you ever been bothered by removing a single item from your photo? You might take a lovely picture at the seaside with your sexy bikini and cool surfboard; however, there are two or four irrelevant people or objects that take some of the space of your photo. You must be pissed off when you see perfect you in such an imperfect photo. What can you do to save your picture from those irrelevant items? You adore the background and only the other people and unwanted things you want to remove. What can you do? Is there anything to teach you how to remove a person from a photo online free? Or any remove people from photos apps available? I'm sure such situations happen to you quite often. Finding a way to solve the problem permanently is the key. And here, this article will show you an image remover that can remove people from photos online. Now follow my lead. Let's try how to remove people from photos now.
What is Cleanup.picture?
Price: Free/$5 per month/$48 per year

Cleanup.picture is a web application that lets you clean up unwanted items from photos quickly in seconds. Without any installation requirements or complex software such as Adobe Photoshop, only three steps can have your needs done, upload a picture, remove the items, then save the photo. It is an AI-powered image remover, and it can clean all unwanted things from the photo. No matter a single man, a graphic, a bag, or a card, this tool can recognize all different subjects and remove them according to its accurate AI algorithm. As we know, there are many similar image removers on the market, but this one, you should have it. And for further approval and user guidance, I've managed my experience into concise guidance below. And it has three versions, free, monthly, and yearly subscription, but luckily the price is low. You can have a monthly subscription for a try, and their free trial is also lovely. With cleanup.pictures you can achieve professional image results in a few clicks, get it a shot now.
How to Remove People from Photos with Cleanup.pictures?
As there is a specific paragraph on how to remove people from photos, I choose to remove people from an image for testing.
Step 1: Open the web page, then upload a photo with objects you want to remove.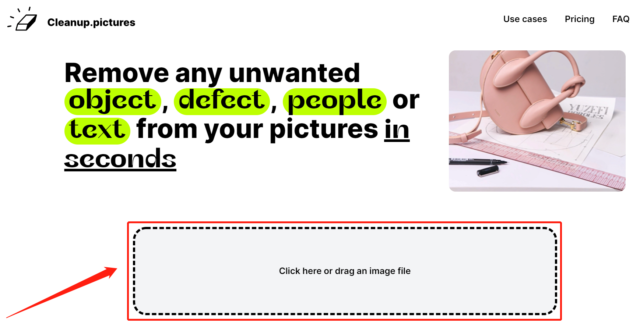 Step 2: Click the eraser, and adjust the brush with a suitable moveable size. For example, if you want to remove people from photos, brush the person, then wait for seconds; he will disappear from the picture ideally. And here, I use this photo as an example. You can have a straightforward comparison between the before and the after. Tips: Select a bigger brush and don't hesitate to cover more areas than you want to retouch (especially to cover shadows), it helps the algorithm create the best results.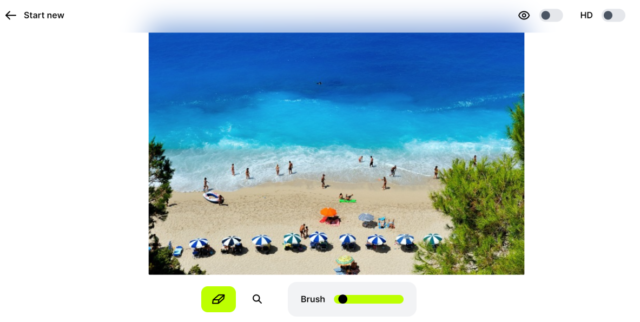 Step 3: Once you clean all the unwanted subjects, you can click "Download" to save the picture. There's a view option on the upright side, and you can check the comparison before and after. It charges extra if you want to save it as an HD-quality picture.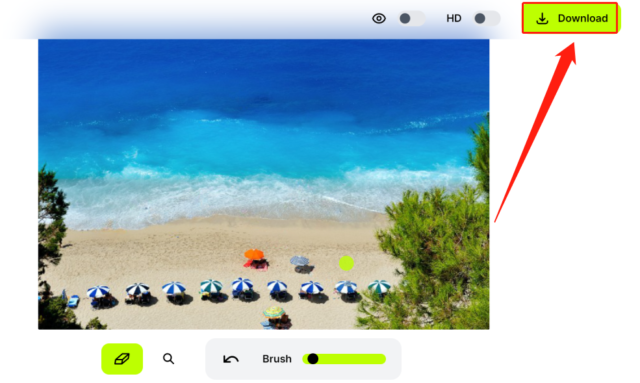 As you can see from this picture, the beach was full of people, now it has become empty, and all separated single person is removed. The only shortcoming of this tool is that when you remove people from photos, if there are many people or objects you want to clean from the picture, you have to do it one by one. Though it is a bit annoying, it does assure the accuracy of the operation. No unnecessary stuff gets removed. All the items left are all you need.
Conclusion
AI has been used in our daily life for a long time. For photo editing, AI works more efficiently and accurately than human beings. When you think of how to edit someone out of a picture, AI-powered image removers perform better, and this tool helps you remove people from photo online in only three steps. See, it is so simple. Since you know, any tiny object on an image can ruin the entire composition or even produce an opposite effect to what you initially want. Using cleanup.picture to remove people from photos is the best way to handle such works. Get it started, try it now!
For more articles about removal tools, you can also read Top 10 Inpaint Alternatives in 2023 to Remove Object from Photo Review.
FAQs
1. What tools can be used to remove unwanted objects?
AI inpainting tools like Adobe Photoshop's content-aware fill, DeepAI's AI Inpainting, and Inpaint are effective options for removing unwanted objects from photos by intelligently filling in the missing areas.