Getimg.ai revolutionizes digital content creation with AI-powered image outpainting, enabling users to create captivating visuals effortlessly and for free.
In the ever-evolving world of digital content creation, visual aesthetics play a pivotal role in captivating audiences and leaving a lasting impression. As a result, artists, designers, photographers, and content creators constantly seek innovative tools and techniques to enhance their imagery and push the boundaries of creativity. One such groundbreaking method that has gained immense popularity is image outpainting. Image outpainting involves expanding an image beyond its original boundaries, seamlessly adding new content to the existing frame. This technique has opened up a world of possibilities, enabling users to create more captivating compositions, extend panoramas, or restore historical photos with missing parts.
In this article, we will delve deeper into the functionalities and features of Getimg, understand its role in revolutionizing the art of image outpainting, and explore various scenarios where this innovative tool proves to be a game-changer. So, if you're eager to take your creative endeavors to new heights without breaking the bank, Getimg.ai might just be the key to unlocking your artistic potential.
What is Getimg.ai?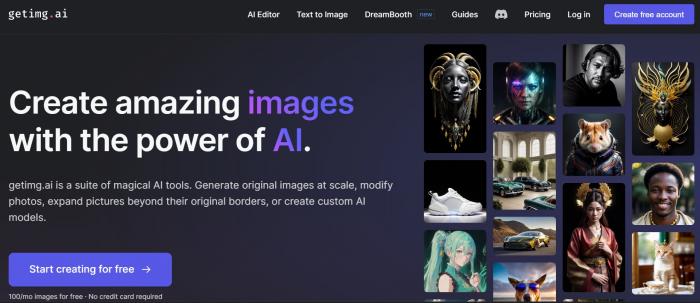 Getimg.ai is an advanced image outpainting tool powered by artificial intelligence. Its primary purpose is to expand images in a natural and coherent manner by leveraging state-of-the-art algorithms and deep learning models. By analyzing existing image patterns, Getimg.ai intelligently generates plausible extensions, allowing users to create larger and more captivating compositions. With its user-friendly interface and seamless integration, the platform enables both novices and professionals to harness the power of image outpainting with ease.
Why Do We Need Getimg.ai?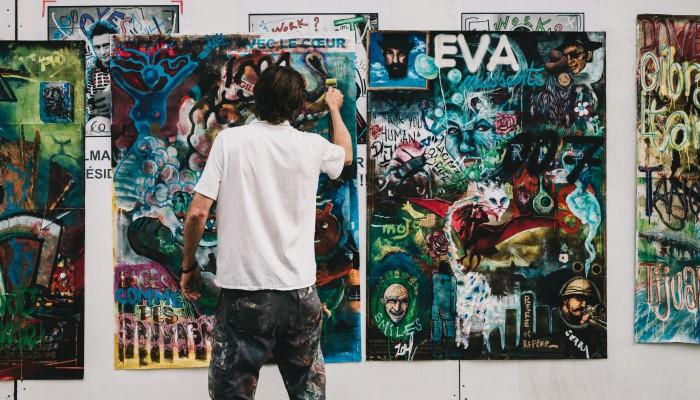 By leveraging the power of artificial intelligence, Getimg overcomes the limitations of traditional methods, offering an automated and streamlined process that extends images seamlessly. Its AI-driven algorithms, based on deep learning principles like convolutional neural networks (CNNs), have been trained on extensive image datasets, enabling the platform to intelligently predict and generate new pixels that blend harmoniously with the original content. This ensures that the extended portions of an image look natural and coherent, elevating the overall visual quality.
The versatility of Getimg.ai is evident in various use cases and scenarios. Landscape photographers can create captivating panoramic shots with ease, while graphic designers can expand compositions for web banners and hero images. Historical photo restoration becomes feasible, allowing for the reconstruction of missing areas in vintage photographs. Social media content creators can produce larger-than-life visuals to grab their audience's attention. Getimg empowers users to explore creative horizons, unleashing their artistic potential.
Furthermore, the free accessibility of Getimg.ai is a significant advantage. Anyway, Getimg.ai is an indispensable tool that addresses the limitations of traditional image editing, provides efficient outpainting solutions, and empowers users to explore creative possibilities.Whether you are a professional artist or an aspiring enthusiast, Getimg.ai offers a user-friendly platform to elevate your image outpainting endeavors and bring your creative vision to life.
Features of Getimg
Text-to-image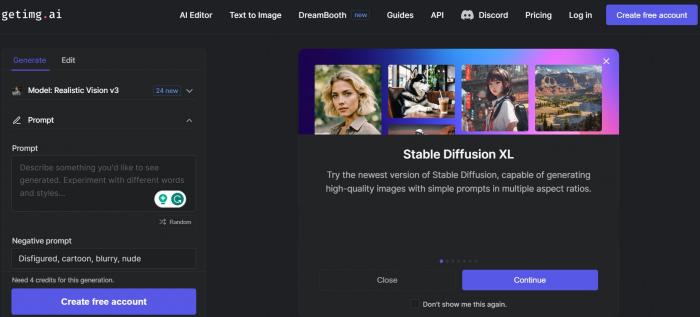 Getimg.ai's text-to-image allows users to generate original images at scale by describing what they want to see and watching the AI bring their ideas to life. Users can mix different art styles or apply one of 20+ community-trained models to their creations, or train custom models based on their own art. The AI Editor tool also allows users to expand pictures beyond their borders and create stunning large art pieces on infinitely sized canvas, making the artwork creation process faster and more efficient.
Know more about Image To Text Tools
AI Editor
AI editor allows users to easily modify small details or change whole visual features on any picture with just text. Users can remove unwanted objects from images or alter any other elements, just by erasing part of the image and telling the AI what to render in the empty space. The DreamBooth tool also allows users to create their custom AI models with just 10 pictures.
Pros and Cons
Pros
Free access for all users.
Advanced AI-driven image outpainting.
User-friendly interface.
Realistic and high-quality results.
Cons
Requires an internet connection.
Steps to Using Getimg.ai for Image Outpainting Free
To access Getimg.ai, simply visit their website and create an account, which allows users to upload images and process them through the outpainting algorithm. Once logged in, follow these steps:
Upload Image: Select the image you want to extend and upload it to the platform.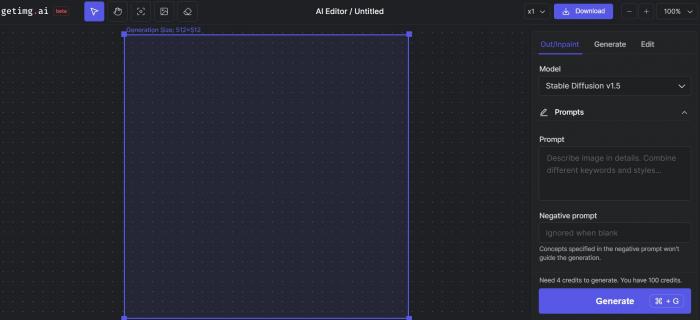 Set the layer where you want to outpaint and adjust the desired parameters.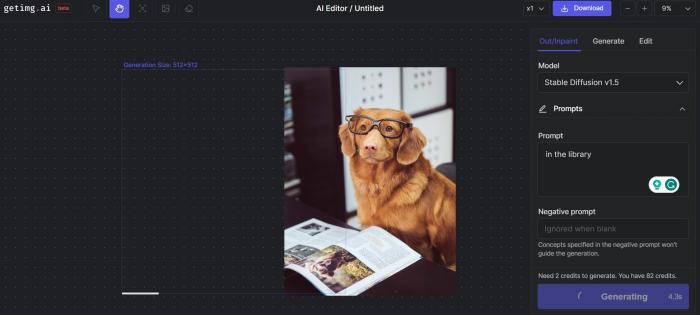 Start AI outpainting free: Initiate the image ai outpainting process by clicking on the corresponding button.
Review and Download: Preview the generated extension and, if satisfied, download the final image.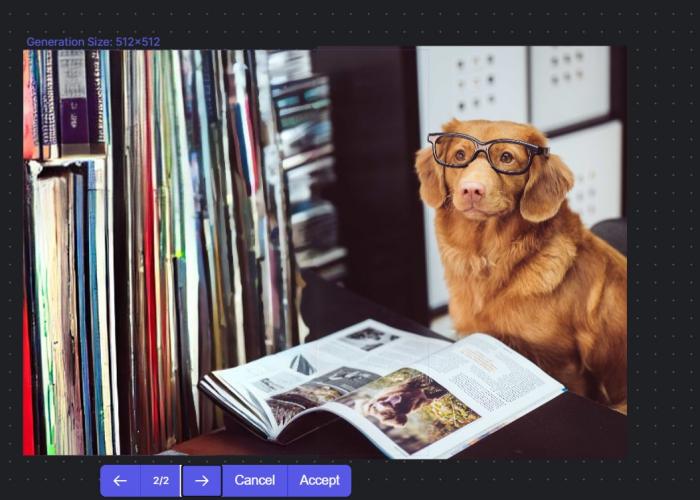 For the best results, it's recommended to use high-resolution images with clear borders. Experiment with various settings to find the optimal balance between image extension and realism.
Getimg.ai vs. Stability.ai Clipdrop
The following table is about the comparison between Getimg and its alternative stability. We compare the two products in the following aspects through the real use, so as to provide you with the most valuable reference.
| | | | | |
| --- | --- | --- | --- | --- |
| Products | Price | Performance | Stability | User-friendliness |
| Getimg.ai | Free and paid | High-quality results | ⭐⭐⭐⭐⭐ | Intuitive interface |
| Stability.ai Clipdrop | Paid subscription | Good | ⭐⭐⭐⭐ | Easy-to-use |
Stability.ai Clipdrop is another excellent image outpainting free tool that offers similar features, but it requires a paid subscription for full access. Depending on individual preferences and budget, users can choose the tool that best suits their needs.
Conclusion
In conclusion, Getimg.ai offers a powerful AI-driven solution for image outpainting, providing users with high-quality and realistic results effortlessly. Its user-friendly interface, free accessibility, and versatile applications make it a valuable tool for artists, designers, and content creators seeking to enhance their visuals. I encourage readers to explore the creative potential of Getimg and also consider trying other options like Stability.ai Clipdrop to find the perfect fit for their specific image outpainting needs. Embrace these innovative tools to elevate your artistic endeavors and unlock new possibilities in visual storytelling.