Summary: Discover the enchanting world of AI VTuber Makers! Explore the top 10 platforms for lifelike virtual avatars and captivating content creation.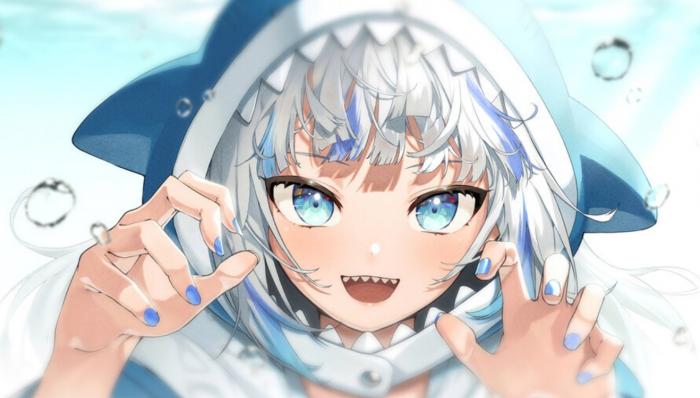 Imagine you're an aspiring content creator, eager to embark on a thrilling adventure in the world of online entertainment. You dream of captivating audiences with your unique personality, creative storytelling, and immersive gameplay. However, the thought of stepping in front of a camera or revealing your true identity seems daunting. This is where the remarkable world of AI VTuber Makers comes to the rescue!
In this article, we will explore the magic of AI VTubers and present the top 10 AI VTuber Makers available in the market today. Each platform is equipped with its own set of unique features, catering to different styles of content creation and diverse user preferences. This article will provide valuable insights to help you choose the best AI VTuber Maker to suit your specific needs.
What is an AI VTuber?
An AI VTuber, short for Artificial Intelligence Virtual YouTuber, is a digital avatar created using advanced AI algorithms. Unlike conventional virtual YouTubers who may rely on motion capture or manual animation, AI VTubers can generate lifelike movements and expressions in real-time through deep learning and machine learning techniques. These AI VTuber Makers employ sophisticated computer vision and natural language processing to simulate the appearance and behavior of a virtual character, making them appear remarkably human-like.
The underlying technology of AI VTuber Makers involves training neural networks on extensive datasets of facial expressions, voice samples, and body movements. This allows the AI to analyze and interpret live input from a creator, such as their facial expressions, gestures, and voice, and then map them onto the virtual character in real-time. The result is an interactive and immersive experience that resonates with audiences on a personal level. And AI VTubers have found applications in various content creation fields, including gaming, entertainment, education, marketing, and live streaming. With their ability to establish a strong emotional connection with viewers, AI VTubers have become powerful brand ambassadors and influencers in the digital landscape.
Best 10 AI VTuber Makers Review
The following table summarizes the performance of each product based on our real-life use to provide you with the most direct and objective product experience.
1. Fotor
Price: Free & Paid 8.99$/mo
Rating: ⭐⭐⭐⭐⭐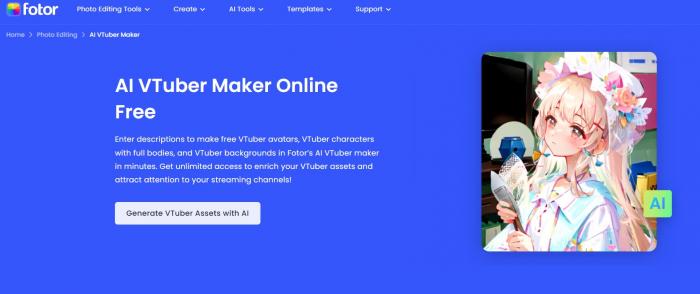 Fotor's AI VTuber Maker offers an intuitive and user-friendly platform that caters to both beginners and experienced creators. Its real-time facial tracking and expression mapping capabilities enable seamless avatar interactions, making it ideal for live streams and gaming content. Fotor's diverse style options allow personalized virtual characters, and its affordability makes it a popular choice among content creators on a budget. Fotor can also help you generate any other interesting avatar.
Pros:
- User-friendly interface
- Real-time facial tracking
- Affordable pricing
Cons:
- Limited advanced customization options
2. Live3D
Price: Free & Paid 3.9$/mo
Rating: ⭐⭐⭐⭐⭐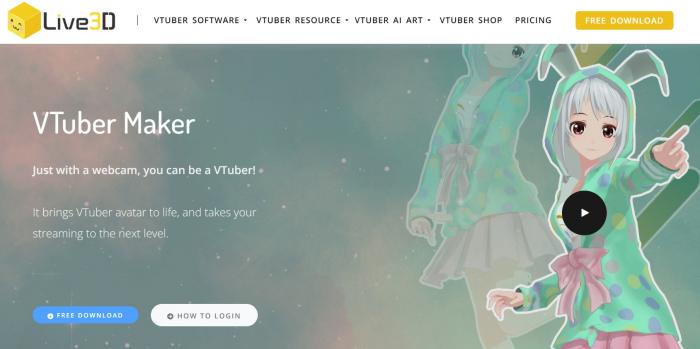 Live3D sets itself apart with its stunning graphics and high-quality animations. The platform offers a wide range of facial expressions and gestures, ensuring engaging and emotive virtual characters. Additionally, Live3D's integration with popular streaming software makes it a top choice for live content creators and virtual YouTubers. 
Pros:
- High-quality graphics
- Extensive facial expressions
- Compatible with major streaming software
Cons:
- Limited features on the Free version
More about Live3D VTuber Model Maker 
3. VanceAI VTuber Maker
Price: Free & Paid 4.95$/100 Credits
Rating: ⭐⭐⭐⭐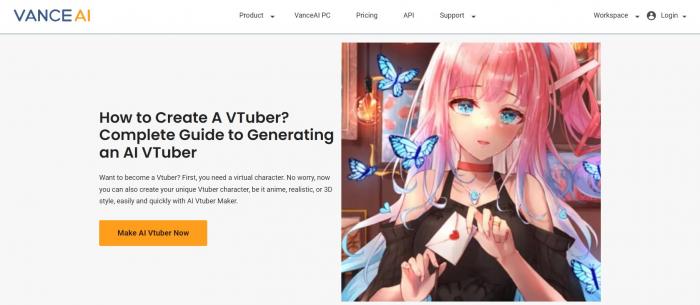 VanceAI VTuber maker is an AI tool launched by VanceAI, which can generate 2D, 3D VTuber, VTuber Background, and PNG VTuber. And this tool offers a variety of VTuber styles and artistic styles. And you also can provide reference images to make the VTuber more perfect. With this tool, users will be able to find their favorite VTuber style and generate a satisfied AI generated VTuber.
Pros:
- Various styles
- Multiple formats supported
- Provide customization features for character appearance
Cons:
- Long processing speed
More about VanceAI Imgae and Art Generator
4. Neural.Love
Price: Free & Paid 10$/100 Credits
Rating: ⭐⭐⭐⭐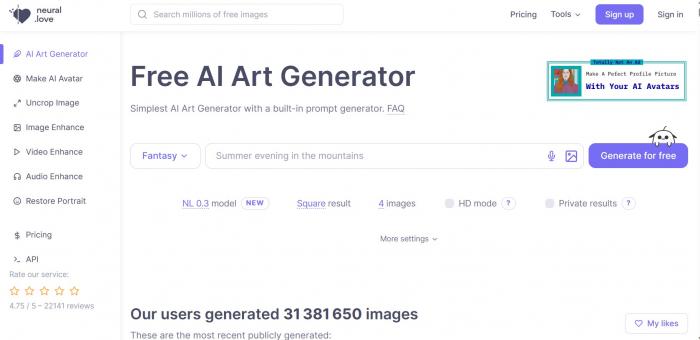 Neural.love offers a comprehensive suite of AI-powered tools for content creators. Its VTuber Maker boasts a wide selection of character styles, ensuring that creators can find the perfect match for their brand. And provide a variety of sizes and result options to achieve satisfactory results for every user.
Pros:
- Diverse character styles
- Provide more results options
Cons:
- Some advanced features may require a learning curve
- Expensive subscription costs compared to other competitors
5. Yodayo
Price: No Free Plan; Paid Plans Starts From $5.
Rating: ⭐⭐⭐⭐
Yodayo's AI VTuber Maker stands out for its impressive performance and stability. Creators can expect smooth and responsive character animations, making it an excellent choice for fast-paced gaming and live content. Yodayo also offers a range of special effects to add flair to virtual character performances.
Pros:
- Smooth animations
- Stable performance
- Special effects options
Cons:
- Limited style variety
6. Vroid--3D VTuber Maker Software
Price: Free to download
Rating: ⭐⭐⭐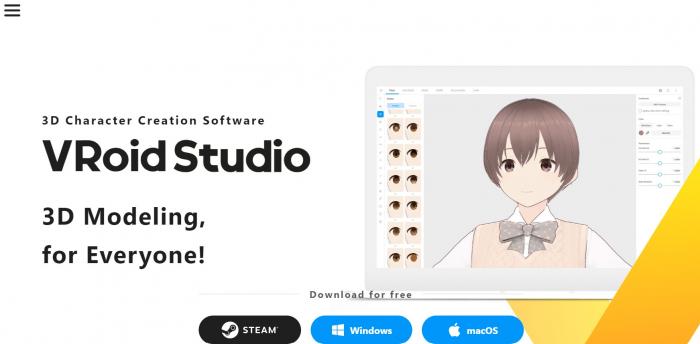 Vroid is a 3D VTuber Maker software. Vroid caters to content creators prefer a more hands-on approach to character creation. This platform allows users to design and customize their virtual avatars from scratch, offering many options for facial features, hairstyles, clothing, and accessories. Vroid's versatility makes it a favorite among artists and designers.
Pros:
- Extensive character customization
- Artist-friendly features
- Multiple Platform Versions
Cons:
- More time-consuming than other AI VTuber Makers
7. Avatoon.me--Free AI VTuber Generator Online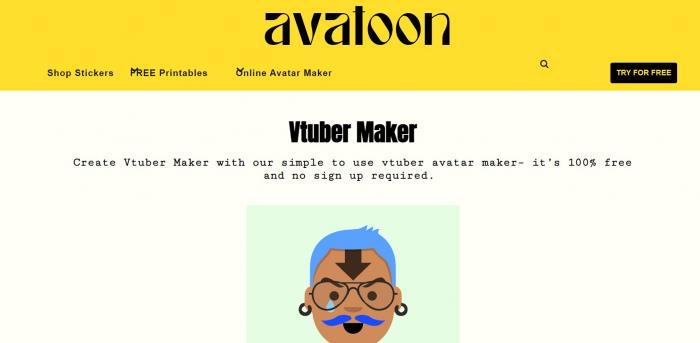 Avatoon VTuber Maker revolutionizes content creation with its AI-powered platform. With intuitive avatar customization and real-time animation, creators of all levels can design lifelike virtual characters that mirror their facial expressions and movements, captivating audiences with authentic interactions. The extensive library of expressions and gestures adds depth and emotion to content, creating immersive audience experiences. And it is also a free AI VTuber generator, which is suitable for users without a budget.
Pros:
- User-Friendly Interface
- Free to use
Cons:
- Limited Advanced Features
- Long processing speed
8. VTube studio-- Live VTuber Maker App
Price: Free to download
Rating: ⭐⭐⭐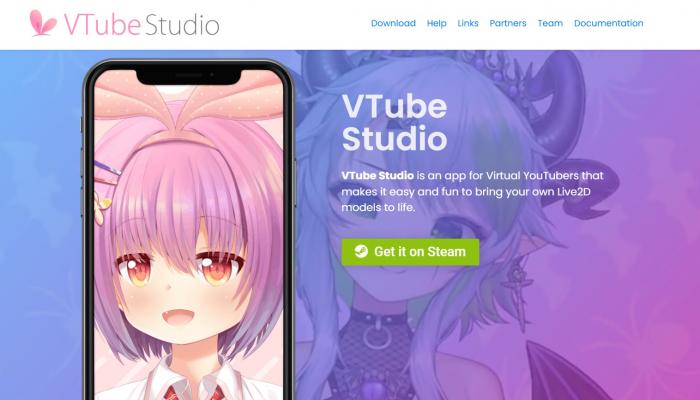 VTube Studio is available for iOS (iPhone/iPad), Android and Steam (PC/Mac). VTube Studio supports face tracking via webcam (using OpenSeeFace) or by using a connected iPhone/Android device as face tracker.
And users can attach props to their AI generated VTuber via the Live2D model by simply uploading them. This supports images, animations and even highly-customizable Live2D props with their own tracking and hotkeys. 
Pros:
- Real-time face tracking
- Compatible with major video editing software
Cons:
- Limited customization options
9. Animaze
Price: Free & Paid plan start from 3.99$/mo
Rating: ⭐⭐⭐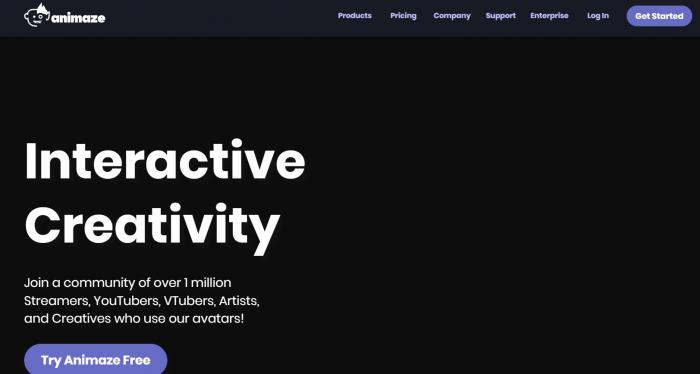 Animaze impresses with its comprehensive animation features, enabling creators to produce dynamic and captivating content. Its AI-powered motion capture allows for realistic body movements, making virtual characters come to life. And support multiple platforms to download and use.
Pros:
- Dynamic animation capabilities
- Realistic motion capture
- Multiple platforms supported
Cons:
- No desktop version
10. Restream
Price: Free & Paid plan start from 16$/mo
Rating: ⭐⭐⭐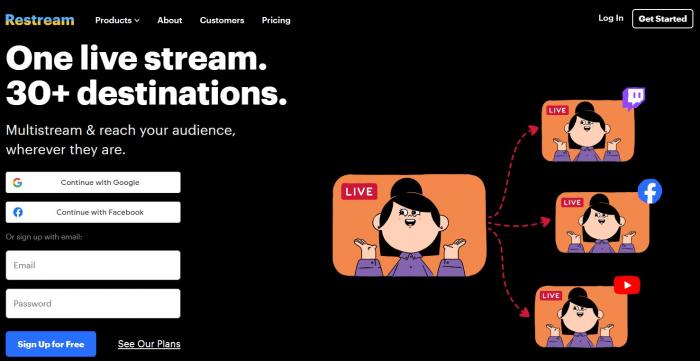 Restream focuses on live streaming and multi-platform content creation. Its AI VTuber Maker allows creators to broadcast their virtual avatars across multiple platforms simultaneously, making it an efficient choice for expanding audience reach.
Pros:
- Multi-platform live streaming capabilities
- Simultaneous broadcasting
Cons:
- Limited advanced customization options
Conclusion
The world of AI VTuber Makers offers an exciting array of possibilities for content creators looking to engage their audiences with lifelike faces and captivating storytelling. Each of the top 10 AI VTuber Makers presented in this article has its unique strengths, catering to different use cases and scenarios.
Ultimately, the decision depends on individual preferences and content creation goals. As technology continues to advance, we can expect even more exciting developments in AI VTuber technology, further blurring the lines between virtual and reality. For now, we encourage content creators to explore the vast opportunities offered by AI VTuber Makers and embrace the magic of lifelike faces and engaging content in their digital journeys.

FAQs
How Can I Make My Own VTuber Model?
Take Fotor AI VTuber Generator as an example. Follow the steps to make your own VTuber model:
1. Enter the Fotor VTuber maker, and click Generate VTuber assets with AI.
2. Upload your photo and choose your favorite style.
3. Click generate to wait for the magic results.
4. Preview and download it.
Who is the Best VTuber Avatar Maker?
Live3D. Live3D is suitable for every user and every scene. Live3D is dedicated to building an amazing creativity platform for VTubers. It has fast and high-quality face tracking, rich public 3D VTuber avatars, and creative VTuber interactive effects. Both beginners and professionals can gain satisfactory AI generated VTuber in live3D. More avatar makers you can choose from Top 10 AI Avatar Generators to Make Unique Avatars for You