Summary: Here are the 10 best car picture editing products, including services for background removal and special effects, to assist beginners with editing their car pictures for social media and other platforms.
There's a saying that 'Men love women, but even more than that, MEN LOVE CARS.' Many people agree with this quotation; others might disagree. There is a valuable chance that the person reading this article is more into editing his/her car picture to step up their social media activities; Instagram, Facebook, Whatsapp, etc.
Car picture editing is somewhat of a passion and dream job, as people have been doing this kind of work for a long time. For beginners, there could be a lot of problems when it comes to car picture editing, including:
Zero Editing Knowledge

Unaware of Free Platforms

Difficulty using online tools
We are here to cure this problem once and for all, as the readers will be able to get ahold of the '10 best car picture editing products in 2023'. Moreover, to perform special effects on backgrounds, including; environment changing and swapping, we have the VanceAI BGremover discussed below the product list.
The 10 Best Car Picture Editing Products 2023
We know about most people's struggles and problems while performing car picture editing. Some editing products are free in this list, while others need to be subscribed to enjoy premium features.
| Product Name | Price | Function | Output Quality | Compatibility |
| --- | --- | --- | --- | --- |
| VanceAI BGremover | Free (limited) | AI-powered background removal in 5 seconds | ★★★★☆ | Web |
| Clipping Path Deal | $0.29-$1 | Manual background removal and image retouching | ★★★☆☆ | Web |
| Pixelster | Quoted on work load | Manual color correction, brightness adjustments, and background changing | ★★★★☆ | Web |
| Color Experts International | $0.49+ | Professional car photo editing services with bulk discounts | ★★★★☆ | Web |
| Zenith Clipping | $0.39+ | Inexpensive editing with free revisions and 50% discount on bulk orders | ★★★★☆ | Web |
Let's start by finding out crucial information on multiple platforms for your ease.
1. Clipping Path Deal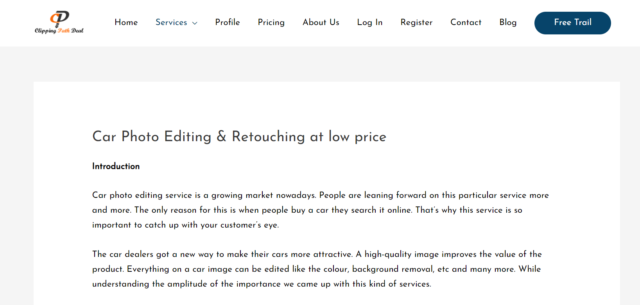 The platform knows that, presently, car photo editing is a growing niche and market. Clipping Path Deal is all about ensuring the importance of car photo editing so that the editor can have a great experience. Each tool available on this website has its own price quotation that ranges from $0.29 to $1, meaning that you will only need to pay for what you require.
Pricing: Background Remove Service $0.35 - Image Retouch Services $0.99
To find out the prices for other Clipping Path Deal tools, check its pricing page. With a relative market plan, this platform holds a quick and steady place in the world of car picture editing.
Pros
Low Prices

High Definition Services

Multiple Tools
Cons
User-interface not assuring
2. Pixelster
Pixelster is yet another reliable option for its background changing and editing facilities. The platform offers excellent car photo editing services, including several highly acknowledged and skill-oriented editors that are easy to use and quality-driven. Pixelster provides color correction, variations, brightness adjustments, and many other things that really make a car picture step up from its originality.
Pricing: Quoted On Work Load
Pricing could be a bit dodgy for some people as they will have to contact the company first in order to get a price. In the end, if everything goes well, you will be able to find exclusive quality work done.
Pros
Effective Customer Support

High Definition Services

Discounts On Bulk Orders
Cons
It brings second thoughts about contacting

No on-page pricing section
3. Color Experts International

Automotive Photo Editing Services are pretty fascinating when done by Color Experts International. The company is always looking to oblige its clientele with pocket-easy discounts on different orders and with supreme quality car photo editing. Color Experts BD is a professional business that helps scale up pictures in a short period of time.
Pricing: Starting from $0.49 (Per Image)
Get your pictures stapled in up to 40% discounts on bulk. If you are looking to edit a bulk load of pictures, this platform claims to provide a record-breaking total of 5000 images per day.
Pros
Effective Customer Support

High Definition Services

Discounts On Bulk Orders
Cons
4. Zenith Clipping
Whether the client is a photographer, car dealer, magazine worker, or advertising agency personnel, Zenith Clipping has worked as an ideal editing firm for everyone. The company sells its services for an In-budget price range, and if the editing requires any revisions, they will be done free of charge.
Pricing: Starting from $0.39 (Per Image)
Zenith Clipping has yet to turn the page of its price discount numbers to 50% on a bulk order with 5000 edited images per day. This platform provides a detailed car picture editing output, a sight of beauty for the eye.
Pros
Effective Customer Support

High Definition Services

Discounts On Bulk Orders
Cons
5. Clipping Way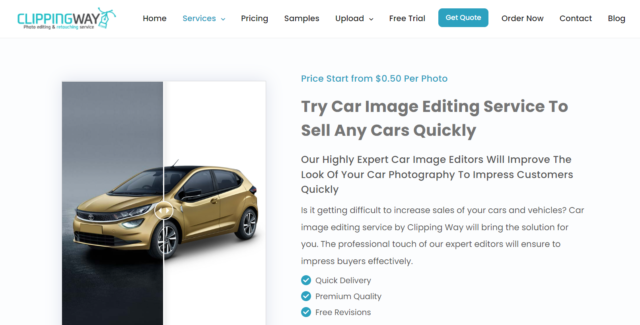 Turn your raw photos into background clipped and retouched ones. Clipping way is a great asset for the car editing industry as it turns out to be very sharp. This platform envisions a broader picture claiming that car editing services can help grow and make your car sell faster.
Pricing: Starting from $0.50 (Per Image)
Clipping Way also has a free trial system that encourages its users to try things for free. If they like it, only then should they purchase the price plan.
Pros
Effective Customer Support

High Definition Services

Free 2 Images in 30 minutes Via Email

Multiple Delivery Modes
Cons
A bit pricy compared to its competition
6. Image Pixelator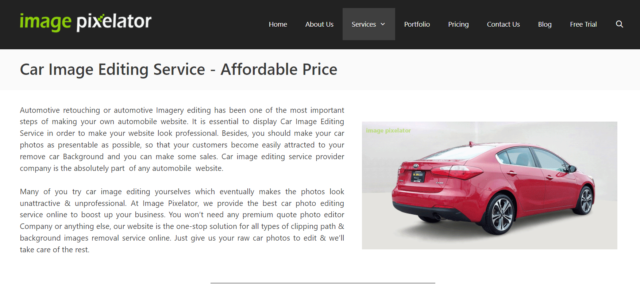 Your essential car displays are edited with pride here, as Image Pixelator is another excellent fit for getting car picture editing. Outsourcing car image services to this platform can bring uncompromising quality, Maintaining Photo Requirements, Unbeatable price, and 24/7 support. Overall, the Image Pixelator is yet one of the finest in its price range.
Pricing: Background removal $0.35 (Per Image)
You can have thought about getting serviced by Image Pixelator using its free trial system. The company is always open to getting contacted by its clientele.
Pros
Effective Customer Support

High Definition Services

Maintaining Photo Requirements

Budget Price
Cons
7. Car Pics Editing

This platform makes it easy to add customized templates or replace the background for car picture editing. A lot of services can be obtained using 'Car Pics Editing,' including; background cut out, Template adding, color enhancement, retouching, interior design, etc. You can virtually make your vehicles more attractive using this option from the top 10 products. 
Pricing: Starting from $0.50 (Per Image)
Although this price per image is affordable still a bit thought-worthy when it comes to what other platforms are offering. The level of detail is yet a factor that can shadow the high price range here.
Pros
Effective Customer Support

High Definition Services

Maintaining Photo Requirements
Cons
8. Adobe Car Photography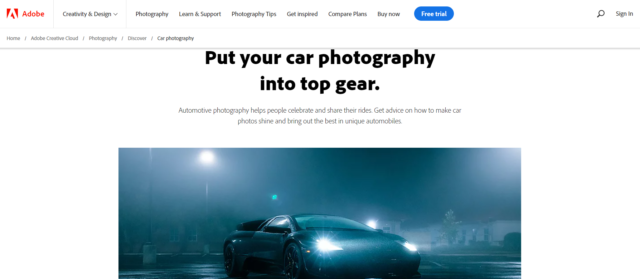 Enjoy the fast and photogenic experience of adobe by using its car editing features to make improper environment settings into proper ones. There are a valuable number of insights given on this link that can help in arranging and preparing for a car photoshoot in the first place. However, if you are looking to get background adjustment facilities from adobe, there wouldn't be a better choice, but there will be a price difference that will make you walk away.
Pricing: 20GB Photography Plan for $9.99
This pricing quotation is for the whole software and not for the services. The user will have to do all the editing in photoshop to get the edited picture in place.
Pros
Professional Editing Software

Tons of tools and features

Ultra High-definition 
Cons
Expensive to buy

Learning knowledge required
9. Graphic Design Eye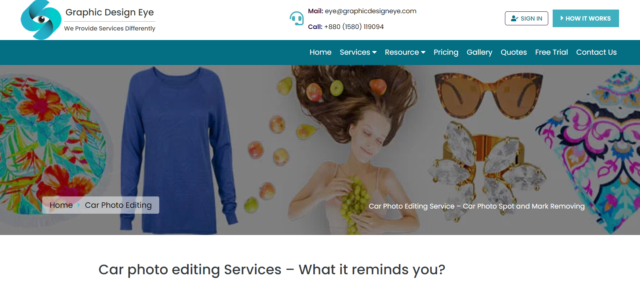 This platform has 30+ services to offer its customer, including car photo editing. Graphic Design Eye is always looking to help clients make their general-looking car pictures into professional ones. After the edited image is ready, advertising and sales pitch could be done with the proper expertise, turning it into a high-definition image that sells.
Pricing: Simple Background Clipping $0.40 (Per Image)
Graphic Design Eye has a pretty expensive price portfolio as compared to others on the web. Users can get access to a free trial run as well.
Pros
Effective Customer Support

High Definition Services

Maintaining Photo Requirements
Cons
The user interface is not very appealing to consider
10. Best of Clipping Path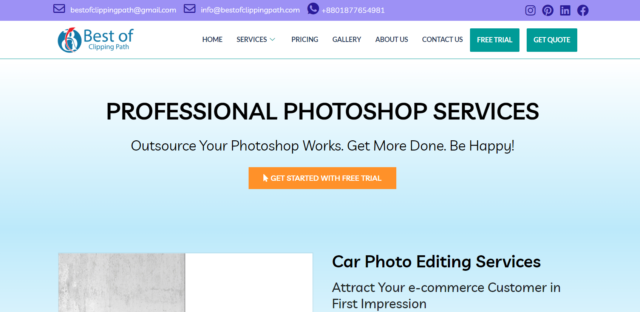 Whether trying to attract your e-commerce audience or stepping up on Instagram, Best of Clipping Path could help you bring more attention to your car pictures. This platform makes the route easy; send a sample and get results fast, ensuring all the complexities are gone within a suitable time stamp.
Pricing: Basic Clipping Path for $0.39
No matter whether the price is manageable, we would advise getting the trial run first before proceeding with further payment quotations.
Pros
Reasonable Prices

High Definition Services

Maintaining Photo Requirements
Cons
It may take a while to reply.
Alternative Recommendation For Car Picture Tools
BGremover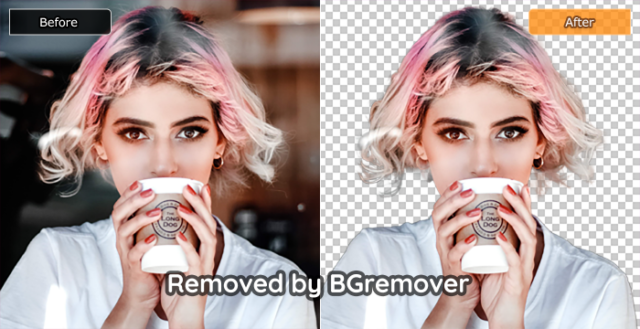 VanceAI is a leading cutting-edge digital business that operates and helps its customers with multiple editing services. Bgremover is a great fit if you want to get even smoother and sharp car picture editing outputs from online tools.  BGremover by VanceAI allows its users to remove background from images free online within 5 seconds. Artificial intelligence technology helps simplify the workflow and makes your pictures stand out from their original presence.
This tool benefits its user by using its one-click and high-definition outputs based on the mode of editing selected on the editing menu.
Conclusion
There you have it, a complete list of online tools to make your car pictures much more appealing to watch. If we were to give any two recommendations, the first would be Zenith Clipping, based on its price would be an excellent suggestion to promote. On the other hand, the second recommendation would be Adobe Online because of its professional and detailing outputs, but it requires you to train more on how to use it.
If you think  Adobe is out of the budget, then VanceAI BGremover would be an appropriate fit for your work. It's free and effective; what more could be required.
Here is another post for background removel tools you may need: Top 20 Background Remover Tools to Remove Background from Image Free.
FAQ's
Q1. How much time will it take to get the car picture background removed?
 VanceAI BGremover only takes 5 seconds to give you a crystal clear output.