Summary: These top 10 AI-based transcription software can convert your audio or video files into text documents with high accuracy. Choose the best one for your needs and reduce your workload.
Got dozens of audio files need to be converted to text format? It'll be tedious work unless you make use of audio transcription Software. Well, the same applies for a video file that needs to be converted to audio or text files, in this case, you have to seek help from a video transcription Software.
Here are ten of the most popular AI Transcription Software on the market today.
The ranking is made through our experience, usage tips and information from the official website.
Top 10 AI Transcription Software
This is the preview table we created after reviewing and summarizing the top five products. Continue reading if you want to know more.
| Product Name | Price | Function | Output Quality | Reliability | User-friendliness |
| --- | --- | --- | --- | --- | --- |
| Trint | $48/month | Quickly transcribes audio, video, and text files by accurately recognizing human voices | 99% accuracy | ★★★★☆ | ★★★★★ |
| Sonix | $10/hour | Quickly transcribes audio and video files with real-time transcription progress | 90% accuracy | ★★★★☆ | ★★★★☆ |
| Otter | Free/month (600 minutes) | AI-powered real-time speech-to-text transcription tool for desktop and mobile devices | 80% accuracy | ★★★☆☆ | ★★★★☆ |
| SpeechText | $9/hour | Multilingual and industry-specific AI audio and video transcription software with high accuracy | 95% accuracy | ★★★★☆ | ★★☆☆☆ |
| Verbit | $0.03/word | AI-based transcription software for various industries including education, media, and enterprise | 98% accuracy | ★★★★★ | ★★☆☆☆ |
1. Trint
Notable features: Advanced AI technology, 99% accuracy, available for both Android and iOS.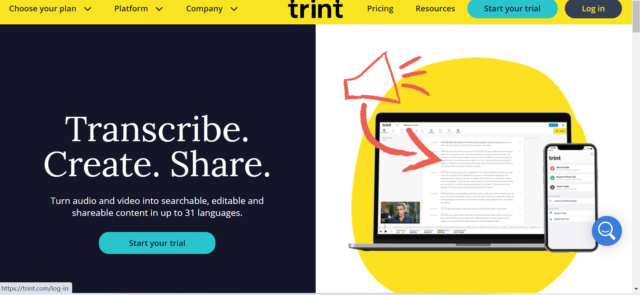 Trint is a highly efficient audio transcription software that leverages advanced AI technology to quickly recognize human voices and convert them into readable text files. It is compatible with both Android and iOS platforms, as well as macOS and Windows OS.
Some of Trint's key features include an impressive 99% accuracy rate, making it a reliable choice for various transcription needs. The mobile version of Trint enables users to input contact numbers, upload files, and record phone calls, further enhancing its practicality.
However, one limitation of Trint is the restriction on the number of files that can be transcribed daily. If a user exceeds 30 files daily, they may lose access to the platform after a week. Additionally, there may be occasional bugs that need to be addressed.
Pros:
A user interface that is easy to use.
The transcription speed of a file is fairly good compared to other platforms.
Cons:
There are limitations in the number of files you transcribe, that is, if you are transcribe 30 files daily, you will not be able to access the platform after a week.
2. Sonix
Notable features: Real-time transcription progress, 90% accuracy, trusted by major companies.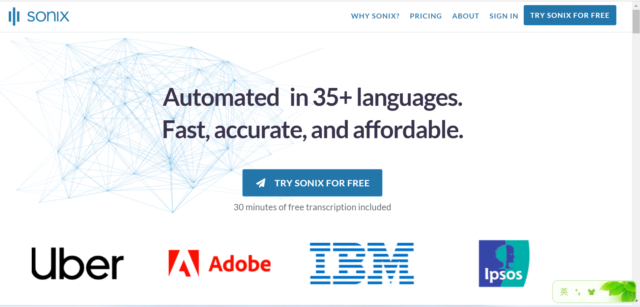 Sonix is a widely used AI transcription software, trusted by major companies such as Adobe, Uber, and Warner Bros. It has garnered a massive user base of nearly 40 million people worldwide, providing solutions for audio and video transcription needs.
Some of the key features of Sonix include real-time transcription progress and a 90% accuracy rate. Its interface is user-friendly and provides quick, straightforward transcription. The customer service is responsive and ready to assist at any time.
On the downside, access to Sonix is limited to paid memberships, and users are charged based on their usage. Additionally, it may experience occasional bugs, which may impact its performance.
Pros:
The transcription speed is quick and simple and the interface is easy to use.
If you are facing any sort of issues on the Sonix website, the customer service is always ready to help you, at any time.
Cons:
You can access Sonix website only if you have the paid membership and you will be charged a fee based upon your usage.
3. Otter
Notable features: Real-time speech-to-text, AI-powered, free basic plan with 600 minutes per month.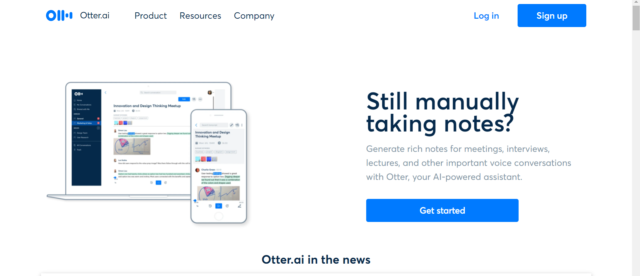 Otter is an AI-powered automatic transcription software that excels in transcribing audio files to text files in real-time. It is compatible with desktop computers and mobile devices, allowing users to record and transcribe audio files from various sources.
Otter's key features include its AI technology, enabling real-time transcription and a free basic plan that offers up to 600 minutes of transcription per month. It is powered by Ambient Voice Intelligence, which enhances its efficiency and accuracy.
However, Otter has some shortcomings, such as slow uploading times for audio or video files and lower accuracy compared to other transcription software. These limitations may affect its overall performance and user satisfaction.
Pros:
This platform helps you by providing a written transcription, even for a previously fetched file of yours.
Cons:
The time it takes for uploading your audio or video file is too much.
The accuracy of the transcribed work is not upto the mark.
4. SpeechText
Notable features: Multilingual, industry-specific, 95% accuracy.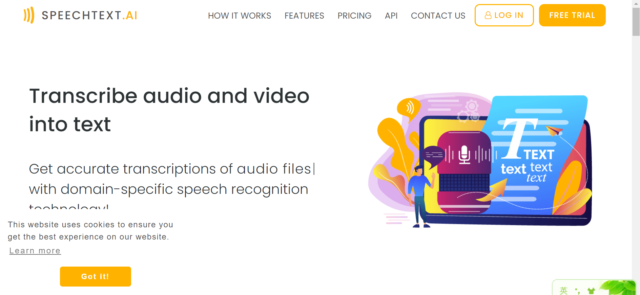 SpeechText is a pioneering transcription software that supports multiple languages and is industry-specific. It is capable of transcribing audio and video files with high accuracy, rivaling human transcription. It is a powerful AI software that effectively converts speech to text for various applications.
Key features of SpeechText include its multilingual capabilities and 95% accuracy rate. The software is particularly useful for transcribing conference calls and audio files, catering to various industries and sectors.
However, SpeechText's primary limitation is its support for only the English language, despite its multilingual claim. This constraint can be a major drawback for users who require transcription services in other languages.
Pros:
This platform can transcribe conference calls, audio files with great accuracy.
Cons:
The only language that the SpeechText platform supports is English.
5. Verbit
Notable features: AI-based, 98% accuracy, versatile industry applications.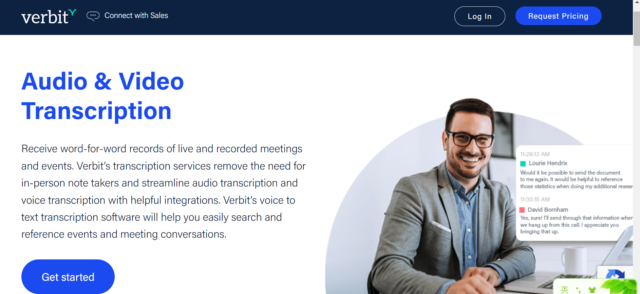 Verbit has emerged as a top AI-based transcription software in 2021, gaining a large user base across various industries, including education, media, and enterprise. It is known for its Automated Speech Recognition (ASR) technology, which ensures precise transcription of files.
Verbit's key features include an impressive 98% accuracy rate, making it a reliable choice for various transcription needs. It is user-friendly and offers a comprehensive toolkit for freelance transcribers, catering to a wide range of applications.
One drawback of Verbit is that it operates as a paid platform, with the only payment method being PayPal. This limitation may deter potential users who prefer alternative payment methods or seek a free transcription service.
Pros:
It is user friendly and offers a good package of tools for a freelance transcriber.
Cons:
It is a paid platform and the only payment mode it allows is PayPal.
6.  Scribie
Notable features: Affordable, accurate results, cloud-based platform.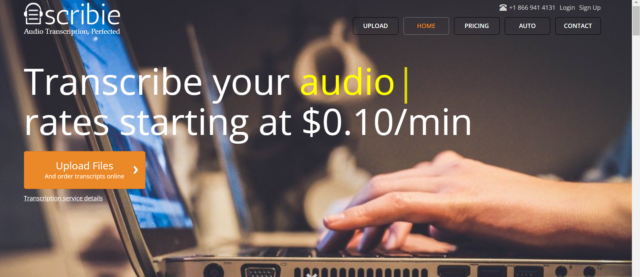 Scribie is a well-regarded transcription software known for delivering accurate results at an affordable price. However, it has a few limitations, such as a less streamlined user interface and the lack of an Android app for smartphones.
Despite its limitations, Scribie can be incredibly helpful for busy professionals who need to record and transcribe meetings. Its cloud-based platform allows users to upload files, wait for a short period, and then download the transcribed text with high accuracy.
On the downside, Scribie's lack of a mobile application may hinder its usability for those who require transcription services on the go. Additionally, occasional bugs and interface issues may impact the overall user experience.
Pros:
This platform promises to deliver accurate results in its work, at a good and low price.
Cons:
This platform lacks a mobile application.
7.    Amazon Transcribe
Notable features: Amazon-backed, fast transcription, multiple applications.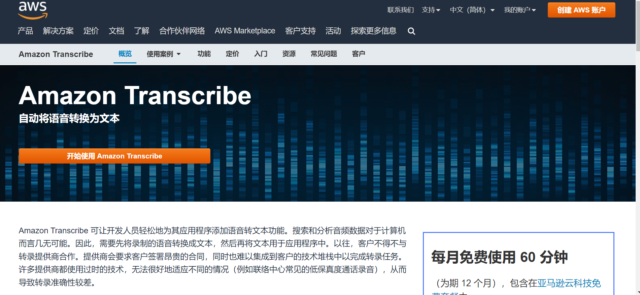 Amazon Transcribe is an AI-based transcription software backed by the renowned tech giant, Amazon. In 2021, it has proven to be a reliable and efficient transcription solution, offering its services to various enterprises, including VOD, contact centers, and more.
Key features of Amazon Transcribe include its ability to dictate content for transcription, reducing the need for typing long passages, as well as its quick and accurate transcription capabilities. The software streamlines the transcription process, making it ideal for a range of applications.
However, there are a few shortcomings when using Amazon Transcribe. For example, while dictating content, the software may occasionally miss a word or produce inaccurate punctuation. These minor errors can impact the overall quality of the transcribed text.
Pros:
You can dictate your content that needs to be transcribed, instead of typing long passages for hours.
The time taken for transcribing a file is quick and the accuracy of the work is appreciable.
Cons:
When you are dictating your content, the transcription can miss a word in between and the punctuation will not be up to the mark.
8.  Jog
Notable features: AI and NLP-based, phone call transcription, user-friendly interface.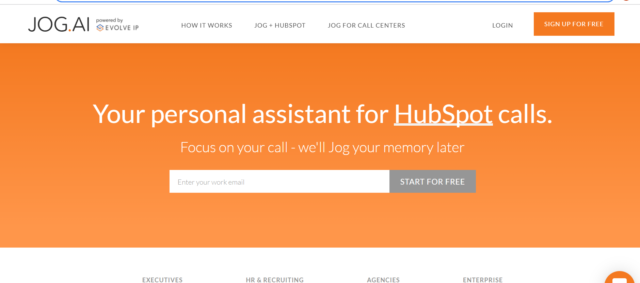 Jog is an innovative transcription software that combines AI and Natural Language Processing (NLP) technologies to provide efficient audio transcription services, particularly for phone calls. As an intelligent personal assistant, it caters to both large companies and small organizations.
Jog's speech recognition platform is activated whenever a user makes or receives a call, ensuring seamless transcription of phone conversations. The software's user-friendly interface makes it simple to navigate and utilize its various features.
However, Jog does have some limitations, such as its insufficient international support for conference calls. Additionally, some users may experience unfixed bugs, which can detract from an otherwise smooth transcription experience.
Pros:
The user interface is simple which makes the platform easy to use.
Cons:
The platform has some unfixed bugs like the international support is not strong enough for making conference calls.
9.  Descript
Notable features: Feature-rich, podcast and video editor, speaker identification.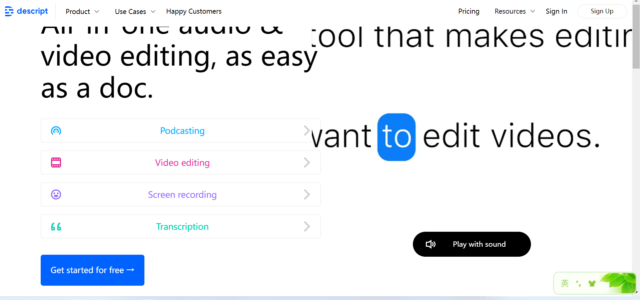 Descript is an audio transcription software packed with an array of impressive features, making it an ideal solution for various transcription needs. Its extensive functionality includes a full-fledged podcast editor, video editor, screen recorder, and more.
One standout feature of Descript is its speaker identification capability, which allows users to add speaker labels for improved organization and clarity. The software also enables file sharing through web links, making it convenient for collaborative projects and team-based work.
A potential drawback of Descript is that its default options may not always function properly. This issue could lead to inconsistencies in performance and user experience, hindering the full potential of this otherwise feature-rich transcription software.
Pros:
All your work will be automatically saved to the cloud.
Cons:
The default options of the application do not work properly.
10. Fireflies
Notable features: AI-based, meeting transcription, voice conversation search.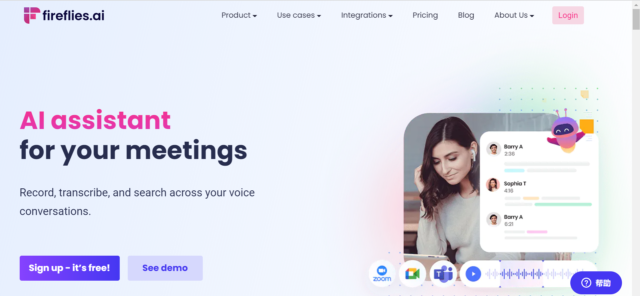 Fireflies is an AI-powered transcription software designed primarily for transcribing meetings and offering search capabilities across voice conversations. Established in 2016, it is predominantly used as a meeting assistant for businesses and teams rather than individuals.
The software can efficiently transcribe and record meetings, and it also allows users to search within their meetings for specific information. Fireflies provide several valuable features, such as integrations with dialers and CRMs, making it a powerful tool for business collaboration.
One notable limitation of Fireflies is that it continues to run in the background even after a meeting has concluded, which users may not always be aware of. This issue can lead to potential privacy concerns and unnecessary resource consumption on devices.
Pros:
The platform keeps track of your work and you will be able to fetch the files or calls later if you want.
Cons:
Even after a meeting is over, the fireflies platform keeps running in the background, which you may not know sometimes.
Conclusion
If you are struggling to convert your audio or video files to text documents, get the help of these top 10  best transcription software that will reduce your workload by half. The best transcription software can swiftly turn anything, from video lectures to audio files, voice notes to text.
FAQs
1. Is there a free transcription app?
Google's Live Transcribe is an Android App, capable of transcribing audio to your phone's screen live as it "hears" it. You can also transcribe audio using Google Docs. While these are free, they're not as accurate as the AI software mentioned above.
2. What is the best way to transcribe audio?
You can use AI transcription software like Scribie, Jog, Otter, Sonix, and more.
3.  Can voice memos be transcribed?
There are some apps for iOS and Android that can do this, but you need to pay for the transcription. You may have to pay anywhere between 79 cents to $1 per minute of audio. Many of the same tools are available for dictation and transcription, for those who use Android.