Summary: Online audio extractors make it easy to convert audio formats and extract audio from videos. This review of the top 8 online audio extractors helps readers choose the best one for their needs.
If you've ever wished to extract audio from a movie or video, and if you're viewing a film or movie online and want to hear the background music or some great lines, you might be wondering how to extract audio from video, you're in the right place.
With so many audio extractors available online, it can be challenging to choose one that delivers high-quality results. That's why we've compiled a list of the eight best audio extractors, including MiniTool's top-rated tool, to help you make an informed decision. This article addresses the common pain point of users who want to extract audio from videos and provides solutions in the form of recommended audio extractor tools. By using these tools, you can easily extract audio from videos, allowing you to enjoy your favorite music and soundbites.

What Can a Powerful Audio Extractor Do?
Power Audio Extractor is unparalleled. Video to MP3 conversion is just one feature. Let's examine the Power Audio Extractor's holistic solutions.
Flexible Output Profiles
The software's configurable profiles allow for several device-specific outputs. Specify output folders and click a button to open them. You can auto-play the MP3 after processing.
Video-to-audio conversion
Power Audio Extractor lets you extract audio from music videos and movies to produce ringtones and other applications. YouTube videos, live performances, and other video inputs can be removed.
Video-to-MP3 batch conversion
You may convert any movie to MP3 and other current audio formats. The software's batch-processing capability is excellent for converting multiple movies and saving time and money.
Top 8 Audio Extractors Online
| Product | User Interface | Output Formats | Batch Processing | Compatibility | Cost |
| --- | --- | --- | --- | --- | --- |
| Audio-Extractor.net | ★★★ | MP3, AAC, OGG | ✗ | Any | Free |
| Audio Extractor | ★★★★ | MP3, WAV | ✓ | Any | Free |
| Fileconverto Audio Extractor | ★★★☆ | MP3, WAV, FLAC | ✓ (limited) | Any | Free |
| Online Audio Converter | ★★★ | MP3, WAV, M4A | ✓ | Any | Free |
| Convertio | ★★★★ | MP3, WAV, M4A | ✓ (up to 100MB) | Any | Free |
| Aconvert | ★★★☆ | MP3, WAV, WMA | ✓ (limited) | Any | Free |
| MiniTool MovieMaker | ★★★★ | MP3, WAV | ✓ (limited) | Windows | Free |
| Movavi | ★★★☆ | MP3, AAC, WAV | ✓ | Windows, Mac | $39.95 |
There are several audio extractors on the market. Here is a list of the outstanding eight audio extractors to provide you with the specifics, including benefits and downsides, so you can select an appropriate audio extractor online to extract audio from video. Let us go over them one by one.
1. Audio-Extractor.net
Notable features: Supports various audio formats, extracts audio from local videos, iPhone ringtone output format
Audio-Extractor.net is a versatile and easy-to-use audio extractor that allows users to upload videos and choose the desired audio format for extraction. It supports an impressive array of audio formats, such as MP3, WAV, M4A, FLAC, OGG, MP2, and AMP. Additionally, it offers the iPhone ringtone output format, simplifying audio extraction for iPhone users.
The main drawback of Audio-Extractor.net is its limitation to extracting audio from locally uploaded videos, as it cannot extract audio from online video clips.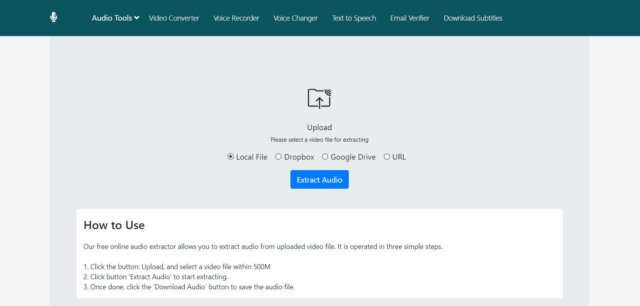 Pros
Completely free to use.
There is no stress in loading or installing anything.
Capability to extract sound from a collection of videos
Cons
It is impossible to extract audio from internet video snippets.
Features are limited.
There is no built-in audio player.
To use, you must have an internet connection.
2. Flixier's Audio Extractor
Notable Features: Supports multiple audio formats, easy-to-use interface, cloud-based extraction, customizable output settings.
Flixier's Audio Extractor is a cloud-based tool that provides an effortless way to extract audio from video files. The tool supports a wide range of audio formats such as MP3, WAV, M4A, FLAC, OGG, and more. The interface is easy-to-use, and users can extract audio from their videos with just a few clicks.
One of the significant advantages of Flixier's Audio Extractor over Audio-Extractor.net is its ability to extract audio from online video clips. Users can extract audio from any online video by simply providing the URL. This feature makes it more versatile and convenient than Audio-Extractor.net.
Flixier's Audio Extractor also offers customizable output settings, which allows users to adjust the audio quality, bitrate, and sample rate to meet their specific needs. Additionally, it provides a built-in audio player that enables users to preview the extracted audio before downloading it.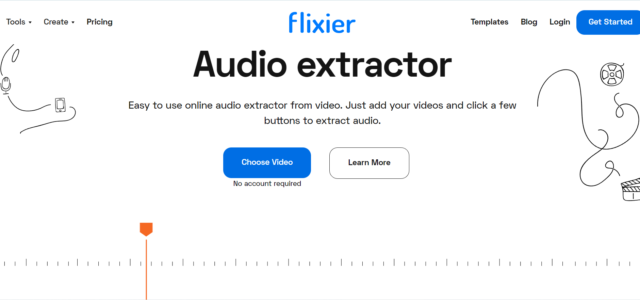 Pros:
Cloud-based extraction allows users to extract audio from online video clips.
Customizable output settings.
Built-in audio player for previewing extracted audio.
Cons:
Requires an internet connection to use.
Limited audio format support compared to some other audio extractors.
3. Fileconverto Online Audio Extractor
Notable features: Supports multiple languages, converts video and audio files, web-based service
Fileconverto Online Audio Extractor (www.fileconverto.com/extract-audio-from-video/) is an application for extracting audio from various video formats, including MP4, MOV, AVI, and MKV. The tool is entirely free to use and can be accessed through a web browser. It is available in multiple languages, catering to users worldwide.
However, the editor has limited options, an unwieldy timeline marker, and longer videos may experience audio lag.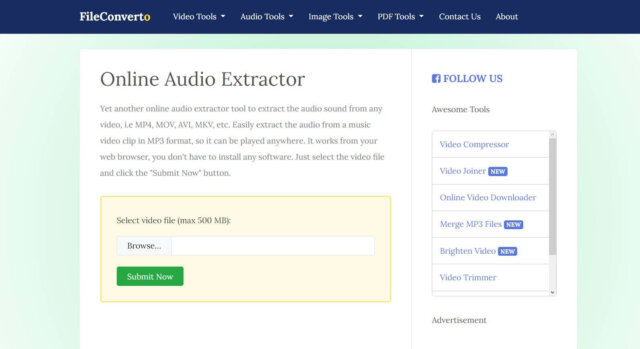 Pros
It is offered in a variety of languages to assist people worldwide.
It can convert video and audio files and picture files, archives, presentations, and other formats.
The tool is entirely free to use.
Cons
Limited possibilities for the editor
Longer films suffer audio lag;
Unwieldy timeline marker
4. Cyberlink
Notable features: Fast rendering, user-friendly interface, multiple effects and tools, multi-camera editing, motion detection, screen capture
Cyberlink Power Director (www.cyberlink.com)is a video editing software that bridges the gap between professional editing and user-friendliness. It is often ahead of professional offerings in terms of format and technology support. The software provides tools to create stunning digital movies with transitions, effects, and titles while maintaining ease of use and quick rendering.
The main drawback of Cyberlink PowerDirector is the overwhelming number of options available, which may make the user interface seem cluttered.

Pros
The quickest rendering
Simple user interface
A plethora of impacts
Editing using several cameras
Motion detection
Screen capture
Cons
The number of options available might make the UI appear overwhelming.
5. Poweraudio Extractor
Notable features: Low system resource usage, batch file conversion, high-quality post-extraction audio
Poweraudio Extractor (free-sound-editor.com/poweraudioextractor/) allows users to extract audio from various video sources, including live performances, YouTube videos, and more. It supports batch file conversion and retains excellent audio quality after extraction. The software has minimal system resource demands during use.
Drawbacks include its availability only for Windows operating systems and its ad-supported nature, which may lead to third-party download offers. Additionally, it does not allow direct transcoding of YouTube files after recovery.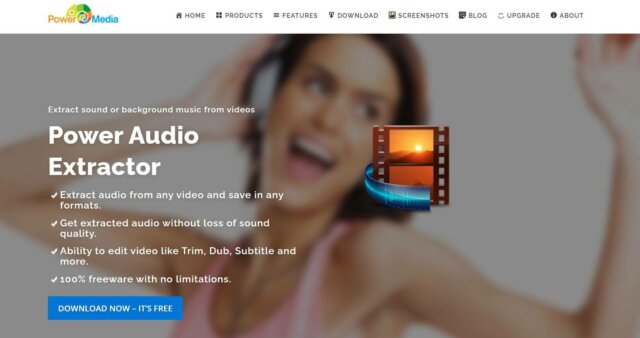 Converting files into batches—conversion without temporary files for maximum conversion speed and hard drive resource conservation.
Pros
During use, there is minimal demand for system resources.
Batch file conversion capability
After-extraction audio that retains its excellent quality
Cons
Only available for Windows operating systems.
Ad-supported software - anticipate several offers for third-party downloads.
It is not possible to transcode YouTube files right after recovery.
6. Free convert
Notable features: Batch conversion, configurable audio parameters, supports over 300 file types
Free convert is a free online audio extractor and converter that supports a wide range of file types and provides an easy-to-use editing interface. The software allows users to extract audio from video files, but its editing capabilities are limited compared to other editors. (www.freeconvert.com/audio-converter)
Cons of Free convert include minimal support and troubleshooting, reliance on internet connection, and limited features compared to similar apps.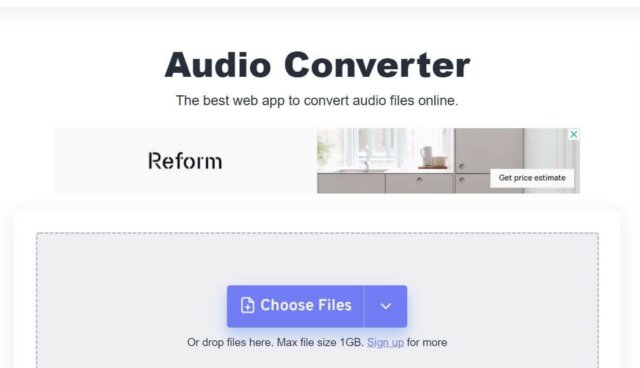 The editing interface of the Audio Converter is simple and easy to use. You may also select the amount of quality for your extracted audio, which is a good addition.
Pros
Converts audio files in batches.
Configurable bitrate, frequency, quality, and other parameters.
Cons 
Minimal assistance/troubleshooting
To use, you must have an internet connection.
Features are limited when contrasted to other similar apps.
7. MiniTool MovieMaker
Notable features: Free and ad-free, quick media clip preview, suitable for novice editors
MiniTool MovieMaker is an ideal program for extracting audio and editing videos, requiring no prior knowledge. Users can import files and apply various effects and transitions, making it perfect for those looking to create movies quickly and easily. However, MiniTool MovieMaker falls short in terms of powerful software and professional editing capabilities, making it unsuitable for intricate and customized editing.(moviemaker.minitool.com)
Drawbacks of MiniTool MovieMaker include limited editing tools, an unwieldy timeline marker, and potential audio latency in lengthier videos.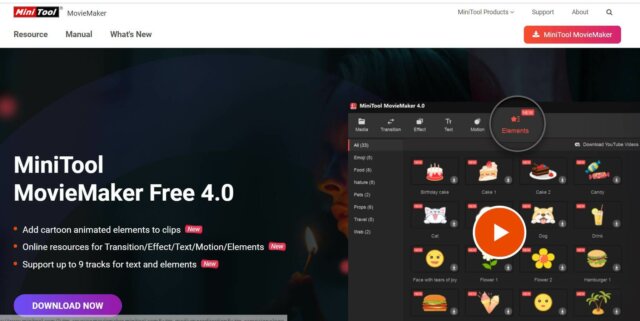 MiniTool Movie Maker, on the other hand, falls short of powerful software and professional editing skills. If you want to get into intricate and bespoke editing, look elsewhere. This tool is fantastic for quick, basic editing.
Pros
There are no advertisements, and it is entirely free to use.
Obtain a quick glimpse of your media clips
For new editors, this is an excellent option.
Cons
Tools for editing are limited.
Timeline marker that is difficult to utilize.
In lengthier videos, there may be some audio latency.
8. Movavi
Notable features: Intuitive user interface, fast video rendering, compatibility with Windows 7 and higher, premium features, built-in training, 4K rendering
Movavi Video Editor Plus 2020 is an intuitive video editing software with a sleek, straightforward interface that makes it easy for users to access primary features. The software boosts compatibility with Windows 7 and higher, and a range of premium features such as timeline markers, animation options, and video track editing. Additionally, it includes built-in training modules to help users learn the software quickly.
Next Movavi Video Editor 2020 pros The video rendering speed is noteworthy. I quit using Adobe Premiere Pro because of its slow video rendering performance. When I try a new video editor, I worry about this. Movavi video editor plus 2020 renders videos faster than comparable pricey suites.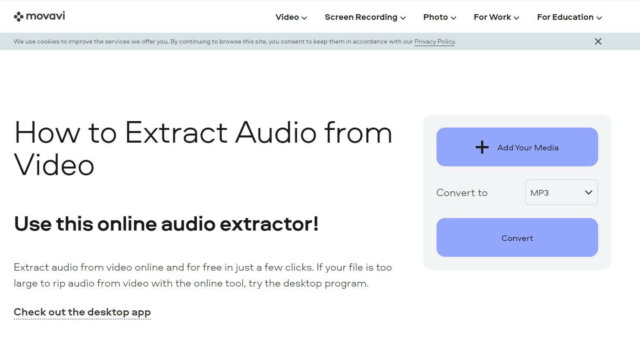 Pros
Intuitive: Movavi makes video editing incredibly simple for novices with no prior knowledge.
Windows 7 and Higher: The program is compatible with Microsoft Windows 7 and up. The program is also compatible with Apple's Mac OS.
Premium Features: Movavi provides many premium features, like timeline markers, animation choices, video track editing, etc.
Built-in Training: Movavi software has a built-in training module to help you get up to speed.
4K Rendering: This capability allows 4K videos to be processed even quicker.
Cons:
Slow Rendering: The program might become slightly sluggish when rendering large video files.
265, which Movavi does not support, has limited support.
Lack of Control: Some effects are outside the video editor's control (e.g., title addition and editing).
Download Free & Best Video Sound Remover Software
You now have all of the knowledge you require to choose which audio extractor software is the best fit for all of your audio extraction and video editing needs. Some of the most significant features we evaluated are the ability to record and add voiceovers and instantly download clips from YouTube for audio extraction and video conversion.
Indeed, the availability of additional features was a crucial aspect that distinguished the best software from the competitors. PowerDirector emerged as the most acceptable alternative for a straightforward approach to extracting audio from video and a comprehensive range of sophisticated features. It includes the most editing tools and big banks of stock pictures and music to utilize in your works.
Not only are PowerDirector, Audio-Extractor.net, and Audio Extractor appropriate for all ability levels, but it's also a lot of fun to get lost exploring the many editing effects.
FAQs
1. What Is the Favorite iOS and Android App for Removing Audio from Videos?
One of the major turnoffs for video editing software is limited compatibility in today's digital world. PowerDirector was the only program we tested that was fully compatible with iOS and Android.
Here are the top five audio extraction applications available for iOS and Android devices.
PowerDirector
Videos should be muted.
Replace Video Mix Remove Audi
Remove Audio Sound from Video
Video Mute, Video Silence
2. What Am I Looking for in Audio Extractor Software?
If you're looking for the best audio extractor software, be sure it has the proper tools for easy editing. The following are the key features to look for:
A wide range of file types is supported.
Simple audio extraction tools
The straightforward editing interface
All operating systems are supported.
AI-powered editing tools that are cutting-edge
Various output formats
Audio level adjustment and mixing software
Quick rendering and performance
Also read: Best 10 AI Audio Editors Review