This article provides a review of the top 10 Waifu2x tools that use AI to upscale images while reducing noise and preserving detail. The article highlights the features, compatibility, and pricing model of each tool, including both online and offline options.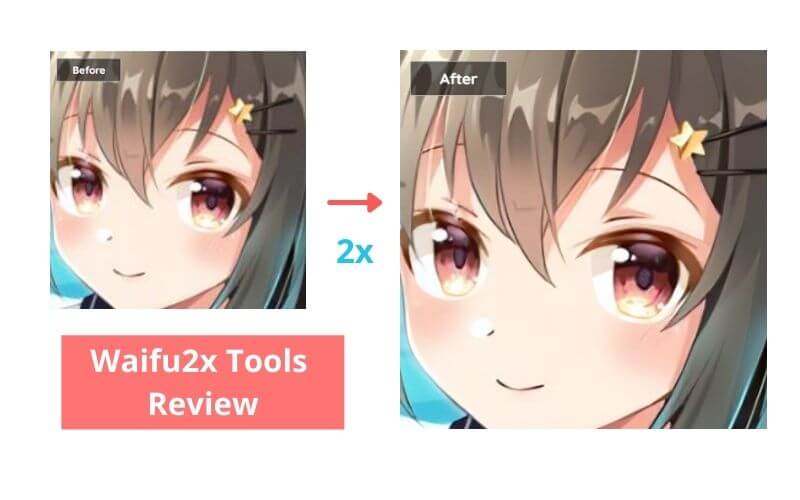 Estimated reading time: 11 minutes
We may face difficulties in image-enhancing in our daily life. We want to search for some photos, but what we need may have low resolution. When it comes to this situation, we need a tool to enlarge our photos. Waifu2X is a well-known tool to enlarge photos. As you would have guessed already, this article is set out to give you the best of waifu2x tools that you can find.
What is Waifu2x?
A waifu2x based tool, online or offline, is an application that specializes in doubling the size of an image with a specialization for anime and waifu pictures. The concept of waifu is a fun little fantasy for millions of people wherein they idealize anime characters as the 'perfect wife' or even husband in some cases. Considering this, many applications have been developed for fans to use waifu2x type tools to get the perfect image of a waifu.
In this list, we will show you waifu2x windows, waifu2x mac, and all kinds of waifu2x tools that you can start using right now. Even if you are not particularly into anime, the feature to double image size can prove useful on its own. As the phenomenon of anime grows everyday, so does the popularity of waifu2x.
Best Waifu2x Alternative—VanceAI Anime Upscaler
VanceAI Anime Upscaler is an amazing waifu2x alternative that allows you to double the size of images all the while improving their image quality. Not to mention that this Waifu2x alternative allows you to go beyond just doubling the image size. You can go up to 8x or even 16x with this anime upscaler which adopts advanced Waifu2x algorithms. It is one of the online tools that VanceAI offers.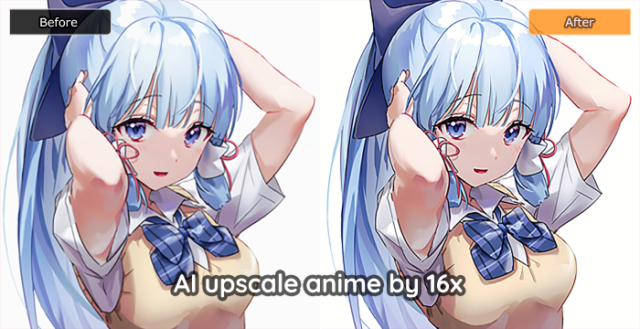 When you access VanceAI, you may also find another useful Waifu2x alternative-VanceAI Image Enlarger. With it, you can easily get amazing clear and super HD waifu2x images for posters or wallpapers.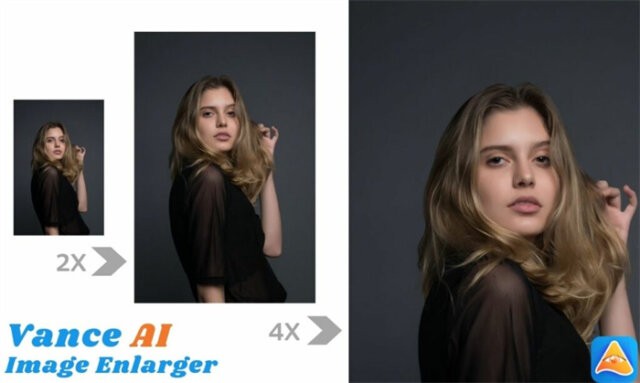 processed by AI image upscaler from VanceAI
Why do you need this Waifu2x Alternative?
One of the main reasons that VanceAI Anime Upscaler is a great alternative to waifu2x is the fact that VanceAI also provides an image enhancer tool that utilizes AI and Deep Learning techniques in order to give you the best of the best images. Moreover, it is also an automatic tool that does not require much from the users besides the upload. 
Part 1: Top 10 Waifu2x Applications Listed
| Tool | Processing Speed | Output Quality | User-Friendliness | Free/Paid |
| --- | --- | --- | --- | --- |
| Waifu2x.org | ★★★★★ | ★★★★☆ | ★★★★☆ | Free |
| waifu2x.udp.jp | ★★★★☆ | ★★★★☆ | ★★★☆☆ | Free |
| Waifu2x.online | ★★★☆☆ | ★★★★☆ | ★★★★☆ | Free |
| Waifu2x.booru | ★★★★☆ | ★★★☆☆ | ★★★★☆ | Free |
| Waifu2x Github | ★★★★☆ | ★★★★☆ | ★★★☆☆ | Free |
| Waifu2x.pro | ★★★★★ | ★★★★☆ | ★★★★☆ | Paid |
1.Waifu2x.org
Waifu2x.org is a new Waifu2x tool that makes enlarging waifu images effortless. I have tested 3 sample images and several waifu pictures from my collection and the results are quite amazing. Despite the single function, this waifu2x tool also allows you to remove blur and noise when making waifu images larger by 2x and 4x. Based on deep learning, waifu2x.org has a great potential to top even waifu2x.udp.jp in the future.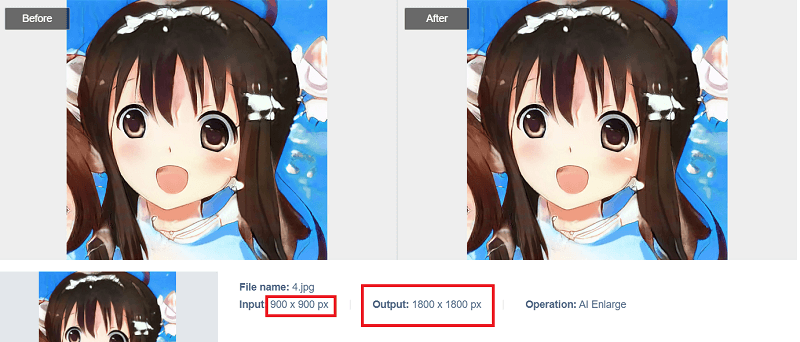 How does waifu2x work? 
Does waifu2x really live up to your expectation? How are the enlargement effects? Compare waifu2x tool with Gigapixel AI & more in this video: 
2. waifu2x.udp.jp
Price: This waifu2x tool is completely free to use for all users.
When you come across the official page of this website, you will instantly see that this tool makes use of ConvNet technology for its image processing tasks. Usually this technology not only makes the application run much faster than average but it also assists in better quality results. Besides that, there are some cool features that this tool offers. First, you can simply paste the image URL instead of bothering with downloads. Second, you can choose if you want your output to be like an artwork or a standard photo. Finally, you can choose the degree of noise cancellation and resolution increase in the settings.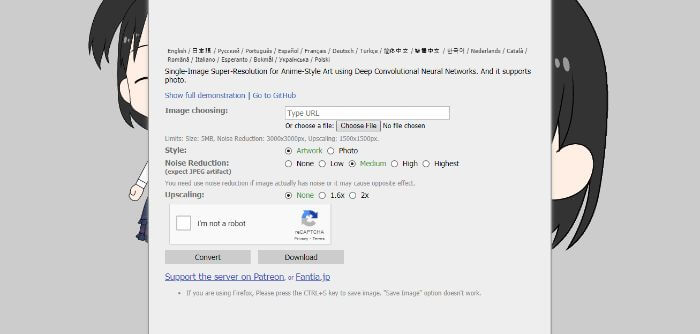 Pros:
Enough features for you to have the perfect image.
Cons:
The UI could be better organized.
3. Waifu2x.online
Price: Free
Waifu2x.online is a free online tool that allows you to upscale your image by 2x automatically. Powered by AI, it has been trained thousands of times to smartly improve the size of the image without sacrificing quality. Also, it is extremely easy to use with a simple UI design. All you have to do is to upload your waifu image or any other kind of image and wait for the output image in a few seconds.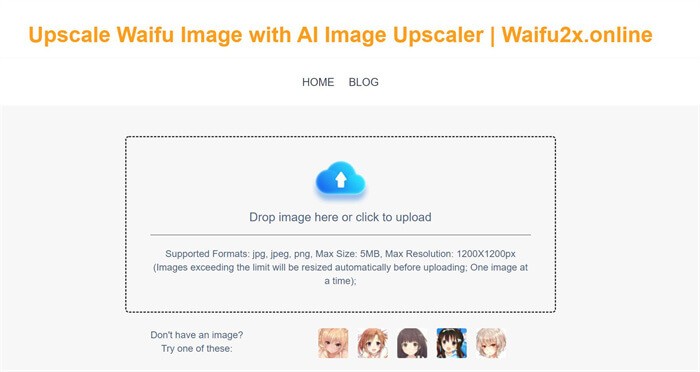 Pros: 
Free to use.
Cons:
It can only upscale your image by 2x.
4. Waifu2x.booru
Price: This alternative to waifu2x is free to use as well. You can support them on Patreon if you want.
The great thing about this tool is that you can use it easily with a good amount of control on your output. When it comes to uploading images, you can either take the normal route of uploading images from your device or you can drop a URL of the image. Next, you also have noise reduction options ranging from none to high. You can double the size of your images as well, just by selecting the option. The tool is lightweight, meaning your images will probably be processed pretty quickly.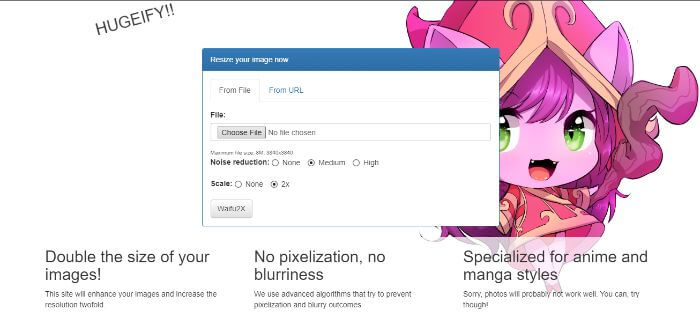 Pros:
Simple to use and delivers well.
Cons:
It is more specifically a tool for anime or waifu images and so it does not work equally well on other kinds of images.
5. Waifu2x Github
Price: This waifu2x offline and online tool is fully free to use.
This tool is basically a repository of the image processing application. You can find the link to the demo version of this tool just below the list of files. The link is basically the same as the first tool of this list, however, you can still make use of the files that are provided in the Github page of the application. The code can be downloaded and used in various ways.
Pros:
A sort of open source application with all the files accessible.
Cons:
The process of using the code cannot be done by every kind of user.
6. Waifu2x.pro
Price: This 2xwaifu tool is free to use online as well as on mobile.
This is one of the rare waifu2x tools that you will find online and on mobile devices too although it is only available for Android. When it comes to settings and features, it offers the standard. You will come across functions like noise reduction, increasing image resolutions, etc. As for uploading, you can click on the box to select the image from your device and upload it. This tool does manage to pull off impressive outputs. It would be better if there was an option to go beyond doubling the size of the image. It supports PNG and JPEG image file formats, which cover many images.
Also read: Top 15 Best Image Enlarger Review.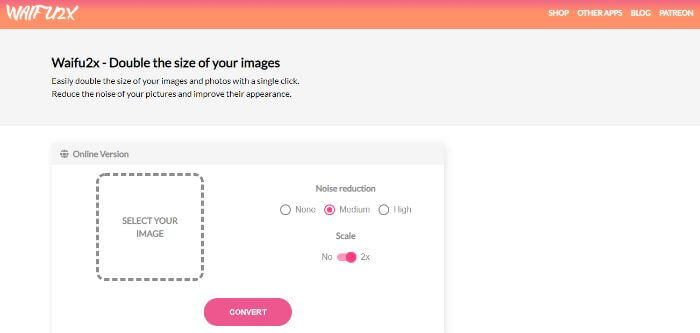 Pros:
Good features.
It has a mobile version in addition to the standard online one.
Cons:
It can still use an upgrade on its existing features.
7. Waifu2x Multi
Price: You can use this waifux2 tool for free but with certain limitations. For access to all of its features, consider buying its Pro version.
With this tool, you can expect to have some great features that you can use to enhance your outputs even further. You can choose to have your output style in standard or like an artwork, similar to the first tool in this list. You can upload your images that are under 10 MB file size and batch process up to 5 images. By using the Pro version, you can of course stretch this limit further and get new features. For instance, you can store 10 images for batch processing and enable an email notification for when the application is done processing all the images.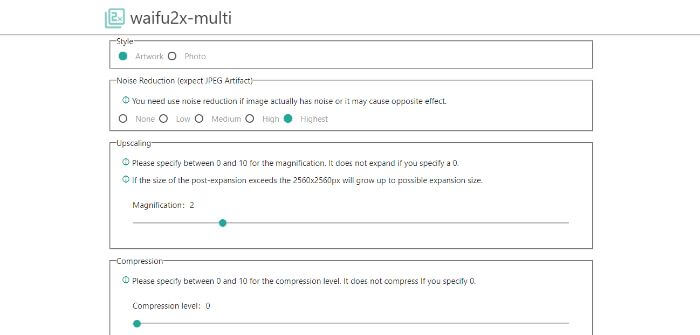 Pros:
This tool has one of the most detailed features out of the list.
Simple to use.
Cons:
The free version may be too limiting and restricted.
8. DeepAI
Price: This waifu2x tool is free to use.
This application is primarily designed for doubling the size of images while reducing their noise at the same time. This tool was made in the style of waifu2x, hence mainly for converting waifu images. However, you can still use this application for enhancing other kinds of images. This tool is also an automatic tool, meaning that you do not need to manually edit or make changes for the images. The tool does everything for you thanks to its AI based design.
Pros:
This tool has noise reduction and doubling of size automated.
Good results.
Cons:
It can sometimes be slower than usual.
9. Bigjpg
Price:  Though you can easily use this waifu2x website for free, you can still go all-out with this application by opting for a paid subscription.
This tool is similar to most waifu2x tools in the sense that it also offers noise reduction and overall image enhancement for the images that you double in size. The process is simple too. Once you reach the website, just click on the upload button and after that, the application will handle the rest easily. It is an automatic waifu2x site which is powered by AI based methodologies for image processing and enhancing.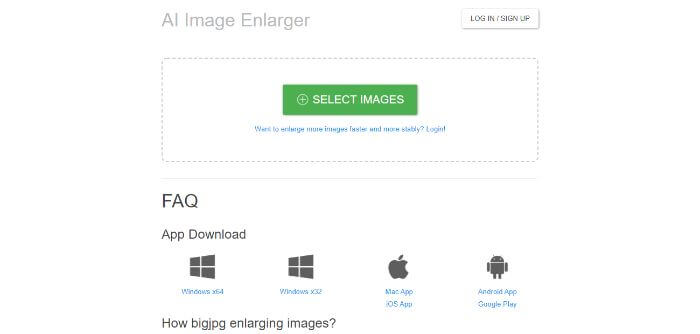 Pros:
This is an easy to use, automatic waifu2x site.
Cons:
The paid version is not useful for all.
10. Waifu2x Caffe
Price: This is free to use and downloadable.
This too is a waifu2x Github repository. Although the page is in another language, the GUI of the tool supports languages such as English, French, Spanish, Russian, and many more. You can read all about it by using the link given above.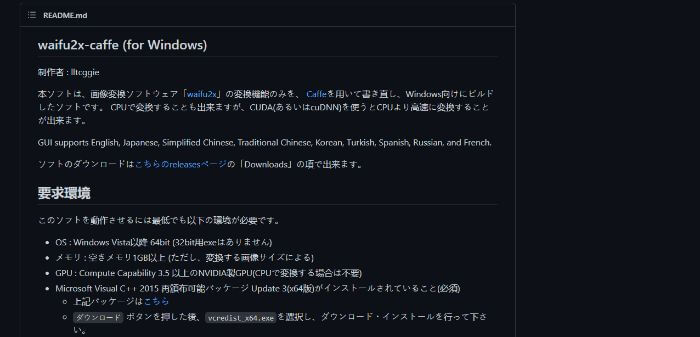 Pros:
Sophisticated tool.
Cons:
It is still a repository.
FAQs
1. How to use waifu2x?
The usage of most of these tools is similar and easy. First, look for the upload button which usually sits at the center of the page anyway. Use it to select images and upload them. The tool will then process them and provide output. Use the download button to save the images.
2. Is Waifu2x down?
The original waifu2x is temporarily down but of course, as a user, you cannot wait around forever if you want to process some images. Not just a fan, but a professional can make use of such tools and they need regular access too. The original site may get back to running soon but till then, you have these alternatives to work with.
3. Is Waifu2x not working?
The site is down for unknown reasons. Maybe it has encountered some severe server issues or not, no one is really informed. Either way, the waifu2x online website is currently unusable and users will have to wait a while before it's available again.
Conclusion
In this article, we went through a big number of waifu2x styled applications, some of which barely resemble the original while some of them even surpass it. Nonetheless, you can be rest assured that these tools can work well with waifu images and improve their quality as their size keeps increasing. If you are a casual user who does not frequent image editing sites often, sites like DeepAI and Waifu Booru are suitable due to their ease of use and speed of access. Waifu2x.udp on the other hand, offers a lot of settings and such which can be appealing to more serious users. The VanceAI Image Enlarger is a good middle ground, for it can be used by any user and it will yield equally or even better image outputs.
Related article: Top 10 Anime Image Enlargers Review 2023