VanceAI Art Generator: A New World Of Images Out Of Your Imagination
Everyone faces issues when it comes to drawing images with pencils or manually. As VanceAI is working on image editing and the things that have a direct relation to art. VanceAI has launched an art generator based on AI its usage is the same as the previous tools.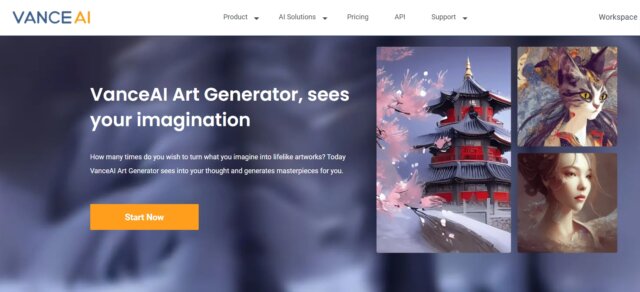 For the newly launched tool VanceAI Art Generator, there is no change in its usage, so people would not face any difficulties. Like if you are bored with drawing art manually, then you can switch to artificial intelligence programming that has helped millions of people. In old times there used to be a trend of doing work manually; now, everything is advanced, and no one does work manually. All the big projects are done with the help of machines, then why would you waste your time on manual artwork.
Nowadays, hiring professional costs a lot; if you want to create images for your project and hire someone to do the job, it will cost a lot. Not only it is a waste of money, but also it takes more time to create art by a professional than by artificial intelligence. Money can't buy everything, but with the improvement of VanceAI, money can help you with art-related tasks. VanceAI provides a free overview of tools. You can get three credits for free if you want to check the performance of the tools provided by VanceAI. Just sign in to the platform and get 3 free credits and check the performance of every tool instantly.
VanceAI promises quality, as all its tools provide authentic results without errors. You can generate art that is relevant to your project. You can generate images that relate exactly to your requirements. dont worry about the result provided by AI tools as all its tools are tested on millions of images so that the users will not have to face any type of issue related to the tools. All its tools are well known for their performance. They will perform according to the requirements you will give them. You can have accurate results based on artificial intelligence programming in a few seconds without any problem. The generated art is directly proportional to the type of information you have provided to the platform.
As people are getting busier, not everyone has the time to operate manual tools on regular bases. This is the main reason most people usually quit artwork. VanceAI can handle both situations professionally by generating AI art images instantly. It can generate art by text. All you have to do is to provide text and generate art related to it. You can generate wonderful images with the help of AI art-generating tools. You can create unique drawings with the AI drawing tools provided by the AI art generator. Simplify your workflow with advanced technology and instantly take down those time-consuming tasks that are wasting your time. Switch yourself to the modern world and say goodbye to manual tools as no one is using them; most of the people that are progressing rapidly in artwork are adopting this system.