Summary: Novel AI: AI-powered platform for writers, overcoming writer's block, generating high-quality work. Offers human-like writing experience, story development, and image generation.
Have you ever wanted to write a novel yourself but were uninspired or unable to carry it out? The need of the hour instigates that writers often get congested and brain-blocked, due to which ideas and plans start to get significantly decreased in their imaginations. In order to help get quicker ideas for multiple types of writing, AI tech can come in real handy. So, here is Novel AI.
Novel AI, an AI-powered story generator for writers, helps overcome writer's block and generates high-quality literary work. By leveraging natural language processing, it offers a human-like writing experience and aids in developing storylines and authorships. The platform's key use scenario addresses the challenge writers face in generating ideas and sustaining creativity. This article explores Novel AI's features, pros, and cons, aiming to provide insights based on the official website, user feedback, and personal experience.
Note: Our review will be based on the information provided on the official Novel AI website, user feedback, as well as our own experience using the platform. It's worth noting that the product may update over time, and we will strive to keep this article as up-to-date as possible. 
What Is NovelAI?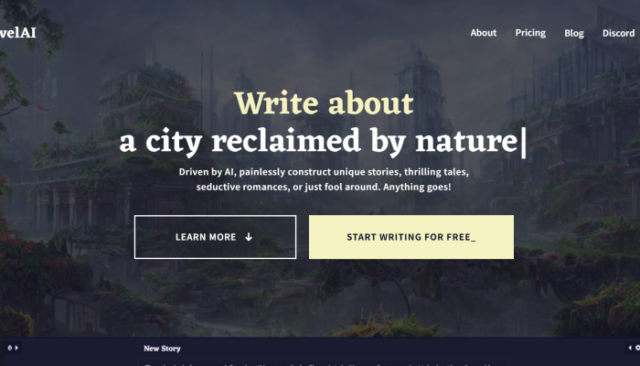 NovelAI uses GPT-based Large Language Models(LLM) to  ai generate story or prose. All of the working mechanisms of this platform are based on natural language processing, enabling things to seem as humane as possible. Novel AI, as a GPT-Powered AI story generator that is created for the purpose of getting massive ideas for people that suffer from writer's block, will help attain great quality literary work and profound sustenance regarding what the user requires.
With its AI Technology, users can also generate images from texts using Novel AI. NovelAI has started getting a lot of attention as its working mechanism portrays quality over quantity. However, in the coming future, we will hear more about it and experience advanced tools using AI.
Know more about NovelAI.
Features
Its automated system incorporates advanced quality sustenance measures, ensuring a high standard of output. It possesses the remarkable capability to reestablish and make amends to older contexts, enhancing the coherence and flow of the generated content. Moreover, the system has the ability to generate images, adding visual elements to complement the written text.
Powered by the 'Sigurd' storytelling model, the system of NovelAI excels in crafting engaging narratives, making it particularly suitable for the creation of novels and short stories. With a free-trial option available, users can easily experience the system's capabilities and assess its quality before committing to a subscription.
In addition, the system is GPT-powered and has been trained by EleutherAI, a leading organization in the field of artificial intelligence research. This combination of cutting-edge technology and rigorous training ensures that the system delivers exceptional performance and satisfies the needs of a diverse range of creative writers and storytellers.
Pricing
Paper Tier (Free Trial)
The most basic NovelAI subscription is the Tablet tier, with a cost of $10 USD monthly.
The second tier of NovelAI subscription is Scroll Tier, costing $15 USD.
The most premium of the NovelAI subscription tiers is Opus Tier, which costs $25 USD per month.
Pros 
Customizable Editor For User Convenience.
NovelAI is reachable and portable.
Thoroughly secure and privacy-oriented - Only you can read your writing.
Pocket-friendly packages.
Cons
NovelAI is not a complete 100% human text.
You can mostly rely on ideas and write something on your own.
You might get totally dependent on the tool.
It could be costly for some users as well.
In my experience, using NovelAI has been a fun and creative experience. I have found the ai story generator to be very helpful in providing inspiration and ideas, especially when experiencing writing difficulties or creative bottlenecks. By entering a brief synopsis or idea, NovelAI was able to generate a complex and engaging storyline that provided new directions and themes for my writing.  And I can get articles that meet my requirements by using the ai generator free.
The quality of NovelAI's story ai generator is impressive. It produces smooth, coherent and expressive sentences and paragraphs that make my work more vivid and compelling. However, there are times when it generates content that does not quite meet my expectations or needs further revision, Therefore, when using text generated by NovelAI, I still need to review and edit it myself to ensure that the final piece matches my intentions and style.
In addition, NovelAI's image generation feature is an interesting addition. It was able to generate images to match my text descriptions, adding a visually appealing and authentic feel to my stories.
Overall, NovelAI has provided me with a powerful creative tool that has helped me to overcome my writing challenges and inject new ideas and elements into my work. Although it sometimes needs some review and revision, it is still a valuable and exciting resource, especially for writers and storytellers who need inspiration and ideas.
How to Use NovelAI?
NovelAI can get a little bit of information by the name itself. It writes novels automatically with the help of your imagination. All you have to do is just imagine a story in your mind, write the text at NovelAI and generate beautiful images online with artifificla intelligence software designed in NovelAI. GPT-powered sandbox converts text from the story into an image. It can auto-generate pictures according to the Novel you are writing. No need for any manual drawing. It reduces the effort to write an article by auto image-generating powered tools provided by NovelAI. Follow the steps below to experience how to use NovelAI!
How to Use NovelAI Image Generation
Here is a complete guideline by which you can generate images relating to your story online in no time.
Step 1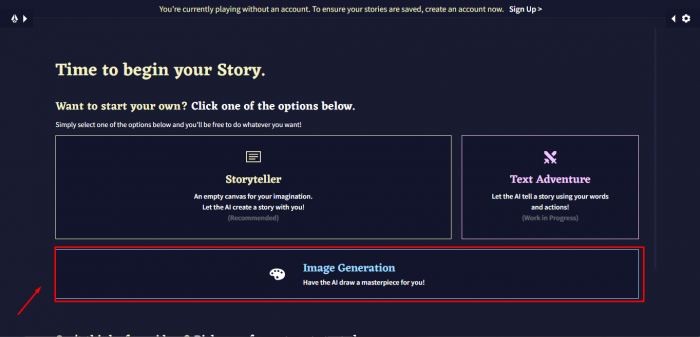 First of all, you would have to open the platform by clicking here: NovelAI and click on image generation; they will ask you for an account, but you have an overview with a free trial; just click on it.
Step 2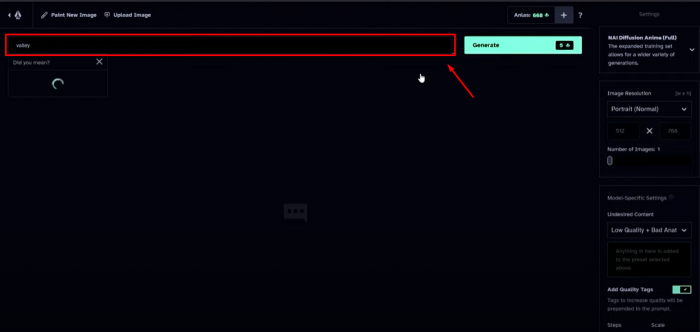 Type a word like a valley in the given column above. After typing the NovelAI prompts, it will start generating images relating to your word automatically.
Step 3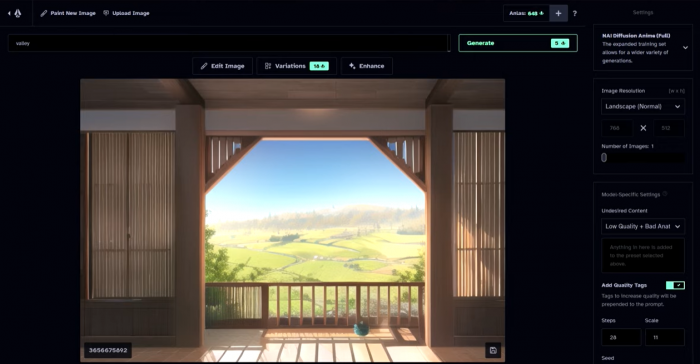 Within 3 to 4 seconds, it will generate an image that is precisely related to you and also create a story-type intro image. The above NovelAI image generated by AI looks like someone is looking at a valley.
How to Use Story Generation
1. Access AI writing generator NovelAI, click on the "Start writing for free" button to start a new story generation session.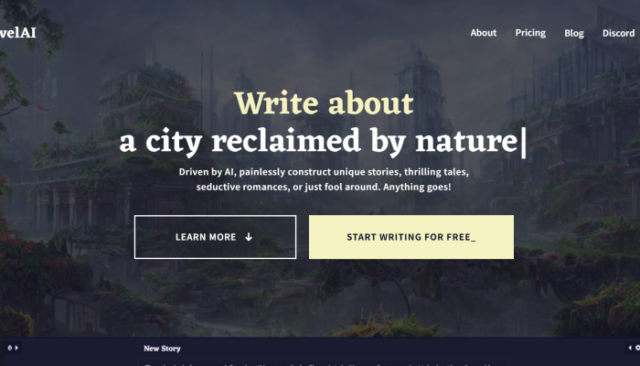 2. follow the tutorial. Feel free to add to or replace the existing NovelAI Prompt for writing if you like, then hit Next.
3. Hit Send and watch the AI do the rest of the work.
4. When you are not satisfied with the generated contents, go ahead and hit the Retry button to make the AI replace what was just generated with something else until it meets your standard.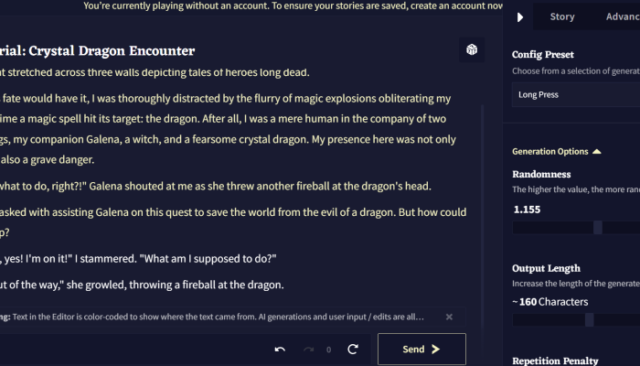 5. Go ahead and click the Story Title to edit your Story's name. And you can click the Edit icon to edit the Story's info.
6. Then you'll find story-unique options at the sidebar that let you influence the AI's outputs. You can also Export, Duplicate or Delete your story, and much, much more.
7. When the generated article has been modified to your satisfaction, it can be downloaded!
Want to know more: Trying Out NovelAI - "Is it any good???"
NovelAI's Difference from Other AI Image Generators
NovelAI Image generator has many advantages and more benefits that other AI image generators do not provide. AI image generator like MidjourneyAI only offers ai image generation based on your text. NovelAI not only creates beautiful images related to your reader but also writes a  story related to your image.
NovelAI's main aim is to generate a Novel based on imagination, while other AI image generators only create images related to your written text. If you are looking for something that makes more information rather than just generating photos, then you can use NovelAI. If you are looking for simple AI image generators, there are more than a lot available on google.
Will NovelAI's Popularity Keep?
NovelAI popularity will keep until there is no competitor for this platform. NovelAI work is unique to most other media. It has created a wave of relaxation among most writers. Most new beginners have a craze for writing an article, but don't have enough time and experience to start their work.
They can visit NovelAI to begin their field of writing. It will keep its popularity as most writers have started their careers at NovelAI. Even if some new shark emerges with the same services, it could not quickly overtake NovelAI. Almost every new beginner article writer who has started his work At NovelAI will not let go of it because he is attached to its usage.
It would be tough to adopt a new platform because writers would have to start from zero again to understand the new platform. Why would anyone waste their time understanding the same thing again? They would continue using NovelAI and will not leave it until NovelAI creates any issues.
Final thoughts
In conclusion, Novel AI serves as a valuable tool for writers seeking inspiration and assistance in their creative process. By harnessing AI technology, it offers an automated system for generating stories, creating images, and enhancing written texts. Writers can save time and effort by leveraging Novel AI's powerful tools to produce engaging and well-crafted articles. As Novel AI gains popularity among aspiring writers, it is poised to remain a leading platform in the field, providing a unique and valuable resource for creative endeavors.
We should also note that these AI writing tools should be seen as aids, not as a substitute for human creativity and effort. When using them, we should follow the ethical guidelines of scholarship and creativity, keeping the importance of creativity and independent thinking.
FAQs About NovelAI
1. Is NovelAI free?
NovelAI is not exactly free, but rather it has some of its features that are available for free. You can use it without consuming any money. Start the free trial that can provide a variety of free text-generating articles to give you an overview of its performance.
2. Are there any other NovelAI alternatives?
NovelAI is the best AI writing platform, doesn't mean that it is the only one. There are also a lot of other image-generating and text-generating platforms that can create a whole story with one single word. There is a massive list of platforms with the same performance as NovelAI.
3. Does NovelAI provide API?
Yes, NovelAI does provide API; however, there are some specific other APIs that this platform does not use, including Hugging face and Inferkit, etc. Mostly, the NovelAI REST API kit is used by developers to keep things organized by their users.
4. What if I need higher-resolution images generated by NovelAI?
An useful image editor gives you a solution. NovelAI can indeed generate amazing images. But when you enlarge your AI-generated images for printing, wallpapers or posters with normal upscaing, their resolution will be lost. Image editors can perfectly help you improve resolution of image online or offline.