This article introduces the top 10 random song generators available for music enthusiasts, covering their unique features, output quality, AI-based nature, and user-friendliness. It aims to provide readers with information on various aspects of each generator, such as instrument selection and customization options, to help them choose the best tool for their needs.
A random song generator can be an excellent resource when you're looking to create something new and need inspiration. It can help you develop new lyrics or give you the right name for your band's next single, just by answering a few questions!
No matter what kind of music you prefer listening to, there's probably at least one random song generator specializing in it, so here are the top ten random song generators you should know.
What Is a Random Song Generator? 
Random song generators are applications or websites that randomly generate songs from a library of songs. These song generators are fun to add some excitement to your day. 
Whether you're looking for a way to kill time or just make things a bit more interesting, these tools can come in handy. What is great about them is that you can generate various songs, from country to rap, and everything in between.
Top Ten Random Song Generators
Whether you're looking for a quick pick-me-up or need some background music for that next project, these ten generators will have you covered. These generators will have something for everyone, from classic rock to modern-day hits.
Check out a few of the top-rated generators below and see if they fit the bill for you!
| Music Generator | Output Quality | AI-Based | Free or Paid | Suitable for |
| --- | --- | --- | --- | --- |
| Chosic | ★★★✩✩ | ❌ | Free | Personal Use, Basic Music Discovery |
| Randommer | ★★★★✩ | ✅ | Free | Personal and Professional Use, Creative Inspiration |
| Random Lists | ★★★✩✩ | ❌ | Free | Personal Use, Basic Music Discovery |
| Song Lyrics Generator | ★★★✩✩ | ❌ | Free | Personal Use, Basic Lyric Writing |
| Spotify | ★★★★✩ | ✅ | Free/Paid | Personal Use, Music Discovery and Streaming |
| GeneratorMix | ★★★★✩ | ❌ | Free | Personal and Professional Use, Creative Inspiration |
1. 
Chosic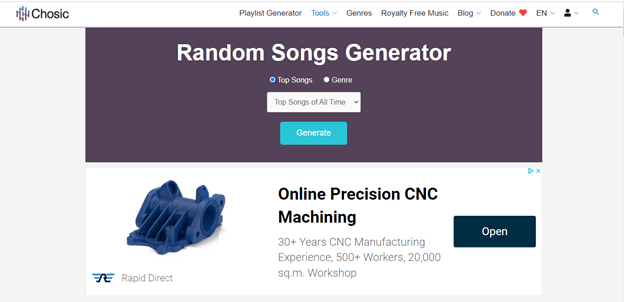 This random song generator allows you to generate an unlimited number of random songs with various genres, moods, and instrumentation. The best part is that it automatically links to Spotify and YouTube so you can easily listen to your generated track. 
It also lets you choose from various themes, including Apocalyptic-sounding songs and a fun Coffee Shop theme for generating simple tracks for background music. Even better is that it uses lyrics, so you know what exactly will be in your track. 
You might want to generate multiple tracks then save them as a playlist for future use on a movie or presentation. After creating a track on Chosic's random song name generator, click Create Track Link where it asks.
Pros:
An authorized website

Trusted by 

Trend Micro

 

Variety of options available
Cons:
The website is cluttered with ads
2.
Randommer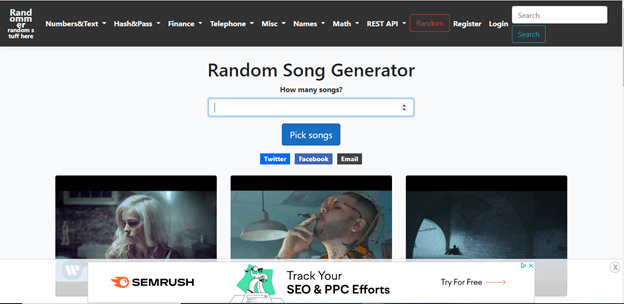 It is a random song genre generator. This random music generator gives you a random genre, instruments, a title, and even fake band members. It also lets you decide if your new band is old or new school. 
Basically, it is just one big old musical mess of things that don't make any sense but are fun to play around with. It can be used for various purposes, including creating random character songs or random weather/general songs.
Pros:
Pick unlimited random songs

Free
Cons:
You need to log in or register first.
3. 
Random Lists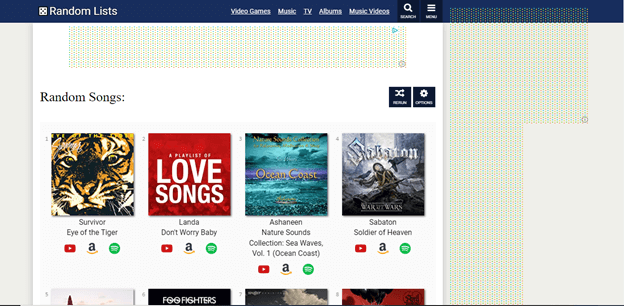 This site offers random song generators for all genres. If you click on Pop & Rock and then Random Song, it will generate a random rock or pop song title and artist name. There is also a section that allows you to choose any year from 1900 to now and get a specific genre of music for that time.
Or, if you prefer hip-hop songs, there's an option. There are also lists based on themes such as historical events or notable people in history. 
The only downside to using this site is there isn't much information about what inspires each generator, so if your writing needs some extra details with your randomness. You might have to come up with them yourself.
Pros:
Cons:
Limited options available
4. 
Song Lyrics Generator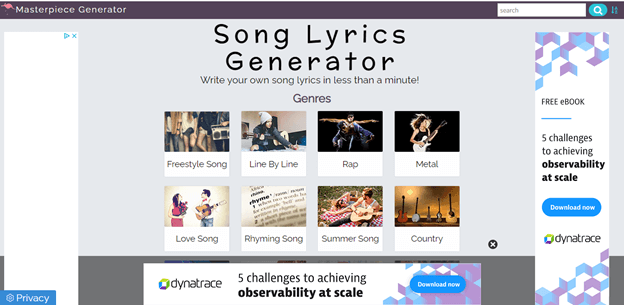 With over 300,000 words in its database, generating a random song with lyrics became a lot easier. After hitting generate on our website's nifty Random Lyric Generator, you can copy and paste your newly generated lyrics into an existing song or use them as inspiration for your masterpiece. 
For example, if you want to write a rap but aren't sure what to say, type rap into our lyric generator and see what happens! In addition to being great fun, there are plenty of educational uses, too; try typing science into our lyric generator to give your class something new to discuss. 
Most teachers will tell you that music is one of their favorite ways of engaging students—with these clever random song generators in hand, you'll be able to create interactive activities (or liven up a lesson) without breaking a sweat.
Pros:
Variety of genres and artists options available
Cons:
The website is cluttered with ads
5. 
Spotify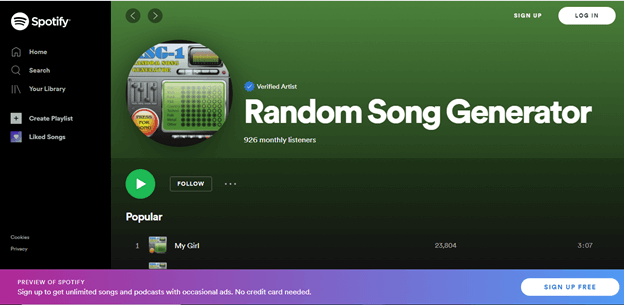 Spotify has a random song genre generator that can be easily modified to list out different genres of music. It is excellent for those who want to add some new flair to their playlist while also mixing up their listening habits. 
Using it can make your music taste more eclectic, often leading you to discover something new! They have different themes ranging from classical to hip-hop, so plenty of options are available. To use it as a random song name generator, change the genre to name.
Pros:
Best in class features

Great user-experience

The expansive selection of music and podcasts
Cons:
Expensive

Not available in all countries
6. 
GeneratorMix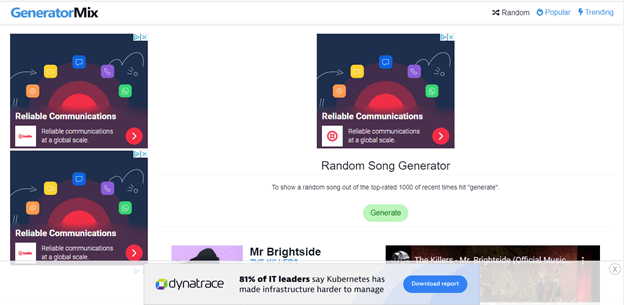 The Generate Mix is a great way to pull out a genre for your random songs. This generator doesn't seem to be updated too often, but it still works fine for my purposes. I recommend using it only for random song ideas, though. It seems more intended for having fun with genres on paper than in actual music creation. 
When using a random song genre generator like this one, use common sense when deciding if you should take an idea from a randomizer or not. There are entire few bizarre ideas that come from online generators and even books that could never actually end up in a quality piece of music. Don't just accept everything thrown at you blindly!
Pros:
Cons:
7. 
Cool Generator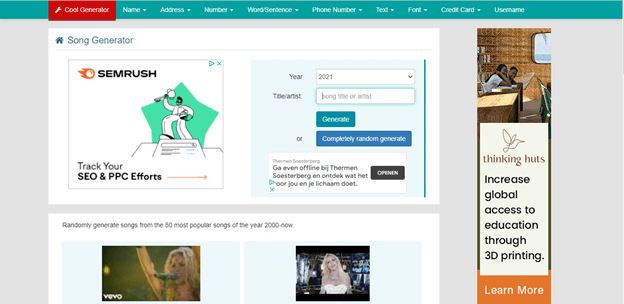 Create random song names, Random song genre generator, Random song, Fiction songs. Get lyrics. Make a beat. Use your voice to make music. Free and legal! 
This is cool stuff, yo! A free random music creator lets you pick any genre of music you want to create a random song name for or excellent rap lyrics for your songs! It's perfect if you're looking for some randomness in your life – try it out and see what it does!
Pros:
Generate random songs easily

Other options are also available on the website
Cons:
8. 
Random Music Generators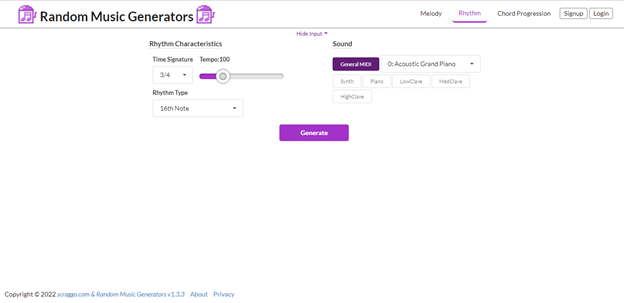 This is one of my favorites. The melody generator is straightforward and quick to use. Just type in a title and watch your song begin to appear. The songs are randomly generated with catchy lyrics, cool instruments, and a simple melody that makes you want to sing along. 
I like how many of these services allow you to search through songs already generated by others to find something that inspires you instead of starting from scratch all on your own!
Pros:
User-friendly interface

Variety of options available
Cons:
Need login to create preset
9. 
Autocode Random Music Generator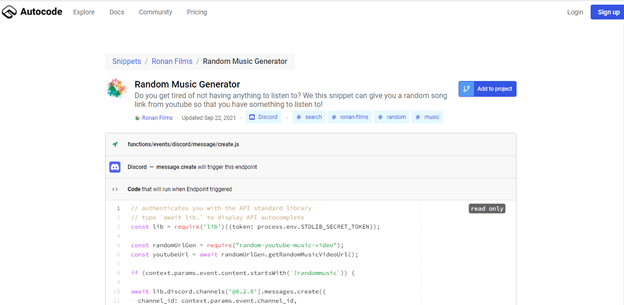 There is a random song name generator, a random band name generator, and a completely customizable random song title generator. It's pretty amazing what you can come up with if you just let it think for a few seconds. 
If you want to start experimenting right away, click on either of these options: 
• A random six-word song (which is actually an instrumental), or 
• A random six-word band name. 
With only a few simple tweaks—you have hundreds of combinations at your fingertips.
Pros:
Generate random songs with coding
Cons:
Not user-friendly 

Difficult to understand for beginners
10. 
Amazon Music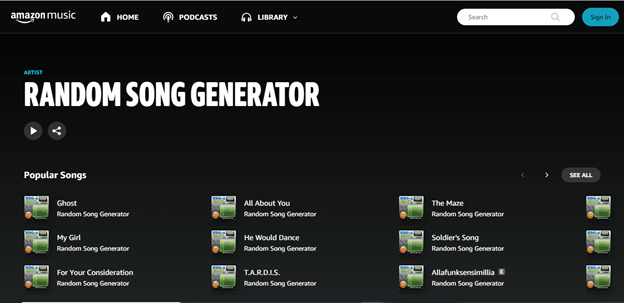 This random song name generator creates a full, legal UPC/EAN barcode for any track you want. Plug in your track's name and it will give you both sides of a CD (tracks 1 and 11), an ASIN-13 code that works with Amazon, and a track listing with each song's length, rating, and BPM info.  
You can then use these codes to play around with different randomizer software like iTunes or MediaMonkey to find something new or plug them into Spotify to create your streaming playlist from scratch. It also has a handy search feature if you're looking for something specific, like four four-time dance music about whiskey and cheap hotels.
Pros:
A good place to stream music and podcasts

Prime membership at no extra charge

Features 2 million songs
Cons:
Unfriendly interface (according to many)

The music library is smaller than Apple
Conclusion
We hope you enjoyed this list of top ten random song generators! Knowing about these handy tools lets you generate various melodies for your enjoyment or use in your creative projects. We would love to know what you think about these generators and if you have any suggestions for more songs to be added to the list. Leave a comment below and let us know!
Also read: Top 10 Lyric Generator Review 2023.