Summary: AI-powered photo culling software simplifies the photo selection process for photographers, saving time and effort. This article lists and ranks the top 10 photo culling software, including their features and compatibility with different systems.
The culling stage, or photo selecting, is a crucial aspect of a photographer's work. It involves sorting through hundreds of images from a single session, which can be both time-consuming and overwhelming. The pressure to choose the best representation of one's work intensifies when dealing with a vast number of photos.
To address this issue, AI-powered photo culling software has emerged, streamlining the process and saving photographers significant time. This article aims to explore the various photo culling software options available, focusing on their features, prices, and ease of use to help photographers find the right solution for their unique needs.
Top 10 AI Photo Culling Software
| Features | After Shoot | Filter Pixel | Photo Mechanic | Narrative | Optyx |
| --- | --- | --- | --- | --- | --- |
| Price | Paid | Paid | Paid | Free | Paid |
| Compatibility | Mac & Win | Mac & Win | Mac & Win | Mac only | Unknown |
| AI capabilities | Yes | Yes | No | Yes | Yes |
| Photo formats | RAW, JPEG, PNG | RAW, JPEG | Unknown | Unknown | Unknown |
| Culling speed | Unknown | 10x faster than LR | Unknown | Unknown | 1000 photos/minute |
| Additional features | Local system control | AI sliders, Auto Group, Sleek layout | Editing and browsing | SEO blog posting | Face analysis, automatic selection |
1.  After Shoot
Notable features: AI-powered photo culling, local processing, compatibility with multiple formats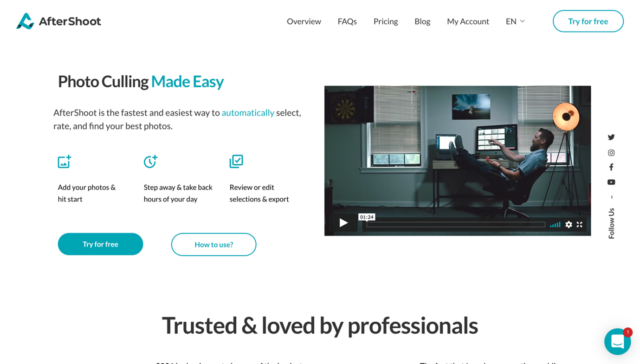 After Shoot is an AI photo culling software designed for photographers who handle high volumes of images. The software runs locally on both MacBook and Windows systems, allowing users to maintain full control over the process.
The key features of After Shoot include its ease of use, compatibility with various photo formats (RAW, JPEG, PNG), and its ability to work seamlessly with other software. The user interface is straightforward, making it easy to review and edit AI-selected images.
On the downside, After Shoot is a paid software that requires installation, which may be a drawback for some users seeking a free or web-based alternative.
Pros
Easy to use
Is compatible with other software
Can work locally on any system
Supports many picture formats
Cons
It is paid
Has to be installed
2.  Filter Pixel
Notable features: Fast importing, AI-based selection, compatibility with editing software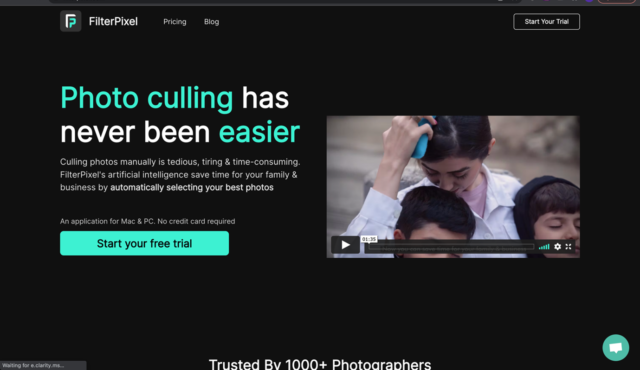 Filter Pixel is an advanced photo culling software that imports photos up to 10 times faster than traditional software like Lightroom. It processes JPEGs extracted from RAW format photos without altering the original RAW files.
The software's AI system automatically selects the best images based on over 20 parameters, including lighting and composition. It also zooms in on faces, allowing users to quickly decide whether to keep or discard photos. After culling, the software easily exports images to editing software such as Lightroom or Bridge.
Although Filter Pixel offers impressive features and speed, it is a paid software that requires downloading before use, which might deter potential users.
Pros
It is compatible for both Windows and MacBook
It has great synergy with editing software, thus making your workflow smooth
Has many tools such as AI sliders, Auto Group, Sleek layout etc.
Cons
It is paid
Has to be downloaded before use
3.  Photo Mechanic
Notable features: Comprehensive media browser, editing and culling capabilities
Photo Mechanic is an all-in-one media browser that simplifies editing, browsing, and culling in photography. Users can start culling photos after ingesting them from memory cards to hard drives, followed by the option to edit within the software.
One of the primary advantages of Photo Mechanic is its range of features combined into a single app. It streamlines various photography tasks and allows users to manage their images efficiently.
However, Photo Mechanic is not specifically designed for culling and may be better suited for other functions, such as editing. Users seeking dedicated culling software may want to explore other options.
Pros
Offers many features in one App
Cons
Not made for culling specifically
More suited for other options such as editing
4. Narrative
Notable features: AI photo culling, worst photo alerts, free option available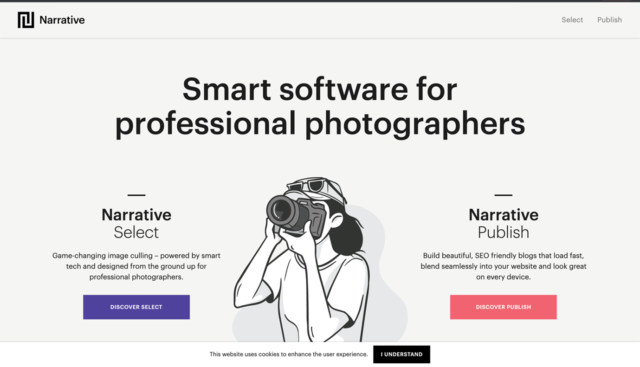 Narrative Select is an advanced AI photo culling software that helps photographers make quick decisions while selecting photos. It automatically zooms in on faces for easy review and alerts users about their worst photos to expedite the culling process.
The software is quick and user-friendly, making it easy for users to discard poor-quality images. It also offers a free option, making it accessible to a wider range of photographers.
Unfortunately, Narrative Select is only compatible with MacBook, which limits its availability for users with other operating systems.
Pros
Is very quick and easy to use
Gives you an alert on your worst photos so you can quickly discard them
Has a free option
Cons
Is only compatible with MacBook
5. Optyx
Notable features: AI-powered, lightning-fast culling, face analysis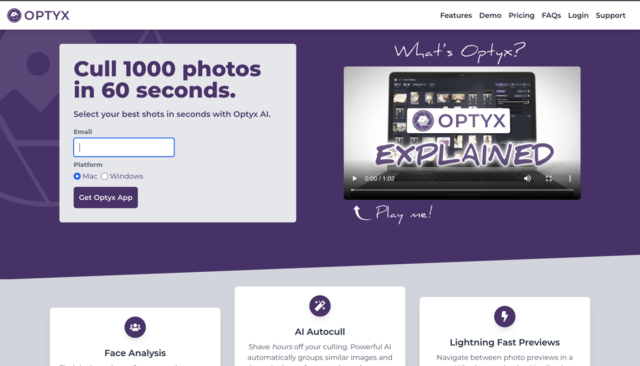 Optyx is a photo culling software capable of processing up to 1,000 photos per minute. Powered by AI, it offers features such as face analysis to evaluate expressions, blinks, and focus.
The software can automatically select the best photos using advanced evaluation options and provides lightning-fast previews for easy decision-making. This speed and automation significantly reduce the time spent on culling.
On the downside, Optyx requires installation, which may not appeal to users seeking web-based solutions or software that doesn't require downloading.
Pros
Is extremely fast
Auto culls photos for you
Cons
6.  Camera Futura
Notable features: Automated culling, advanced AI, acutance test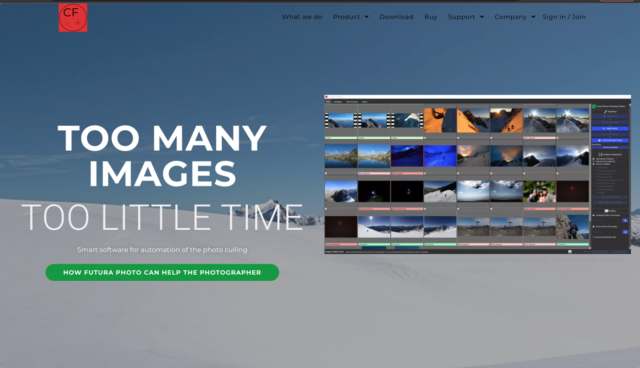 Camera Futura (camerafutura.com) is an AI photo culling software designed to save time through automation. Its AI system groups similar photos, proposes discards, and detects poorly focused or motion-blurred images.
The software's acutance test identifies closed eyes and differentiates between RAW and JPEG formats, allowing users to process and decide which images to keep or discard. The advanced AI ensures efficient culling by eliminating subpar images.
However, Camera Futura must be purchased and downloaded, which could be a barrier for users seeking free or web-based options.
Pros
Is mostly automated
Advanced AI which discards useless images
Cons
Has to be purchased and downloaded
7.  Post Pro
Notable features: Lightroom plugin, customizable, time-saving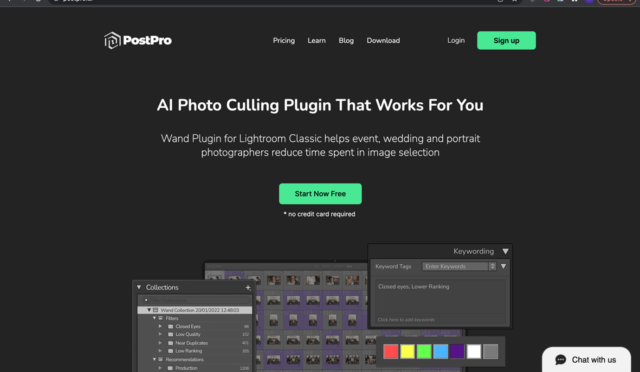 Post Pro (www.postpro.co) is an AI photo culling plugin for Lightroom Classic, designed to provide detailed information about image flaws and streamline the editing process.
The Utilize Wand tool automatically hides similar or flawed images, cutting culling time by half. Users can customize the tool to suit their preferences and ensure a smoother, faster culling experience.
The primary drawback of Post Pro is that it requires Lightroom Classic, making it unsuitable for users who don't already have that software.
Pros
Works with lightroom and makes editing a lot faster
Discard similar and flawed images automatically
You can customize how to use this tool
Cons
Cannot use it if you do not have Lightroom
8. Dope AI (CullAi)
Notable features: Advanced culling features, automation, customization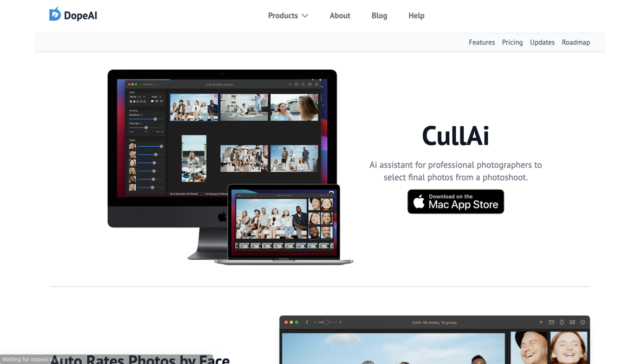 Dope AI (CullAi: https://dopeai.tech/)is a photo culling app available on the Mac App Store, compatible only with MacBook. It offers various features such as auto-rating pictures by face quality, grouping similar pictures, and prioritizing important people in images.
The app's AI evaluates photos based on parameters such as focus, camera shake, closed eyes, and lighting conditions. Users can choose to let the AI work automatically or customize the process according to their needs.
Despite its advanced features, Cull AI is limited by its compatibility with only MacOS, making it unavailable for Windows users.
Pros
Has advanced features which makes culling in photography easier
Can work automatically or you can customize each process
Cons
Is only compatible with MacOS
9.  Photo Culling
Notable features: Grouping, evaluation, mobile compatibility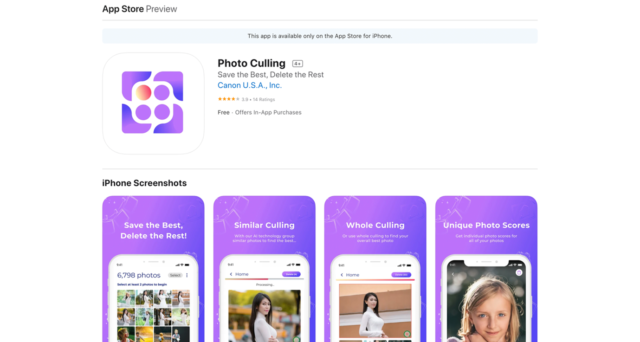 Photo Culling is an app available for iPhone and iPad, offering basic culling features along with advanced options such as scoring photos through set parameters and searching images by date.
The app helps users free up storage space on their devices by grouping similar photos and evaluating image quality. This makes it convenient for casual photographers looking to manage their images on the go.
However, Photo Culling may not be suitable for professional photographers due to its limited capabilities and compatibility with only iOS devices.
Pros
Has several features which help cull photos
Is available on your phone
Cons
Cannot be used by professional photographers
Only compatible with iOS
10.  Fast Stone
Notable features: Basic culling, compatibility with multiple formats, editing capabilities
Fast Stone is a basic photo culling app with a simple interface that allows users to view images in full screen, zoom in, and edit photos after selection.(https://www.faststone.org/FSViewerDetail.htm)
The app works with a variety of picture formats and offers basic editing tools, making it a suitable option for users looking for simple culling and editing functionality.
Fast Stone's main drawback is its poor interface and lack of advanced features, which may not meet the needs of users seeking a more comprehensive and visually appealing culling solution.
Pros
Can work with many picture formats
You can edit your photos on it too
Cons
Very poor interface
Does not provide a lot of options
Frequently Asked Questions
1. What is culling in photography?
It is the process through which a photographer chooses the pictures from the many he captured and delivering it to the client. It is a difficult process because there are usually hundreds of photos to choose from.
2. What is a culling tool?
A culling tool is anything that helps you sort pictures. It is powered by AI which can detect similar photos and flaws such as out of focus, poor exposure, and closed eyes, and groups such pictures, making it easier for you to discard them. Some of the best culling tools are mentioned above.
3. How do you cull a picture?
You can either use one of the tools mentioned above or cull manually. Doing it manually involves sifting through images manually, discarding and choosing each one. This can be a huge chore especially when you have hundreds of photos.
Conclusion
These photo culling software make your job very easy. They cut down the process and save a lot of time. Moreover, a lot of them are compatible with or have built in photo editing software which makes the whole photography process very smooth. Read more: VanceAI's New API Service Makes All Kinds of Photo Editing Effortless