Though it does depend on the kind of project you're working on, video editing in general is a highly complicated and time-consuming task. Serious video making requires you to pay close attention to each detail because as humans, we can easily sense something out of place. In addition to that, we also have to make sure that each second of the video is entertaining and valuable to the viewers.
Now, we have a brand new way of video editing thanks to Runway ML, also written as Runwayml. In short, what this awesome new app does is use Machine Learning and other new tech to minimize all kinds of tedious tasks of video making to make the process smoother and automatic. We will be examining the Runway online app to see how it works and if it's worth using.
What is Runway ML?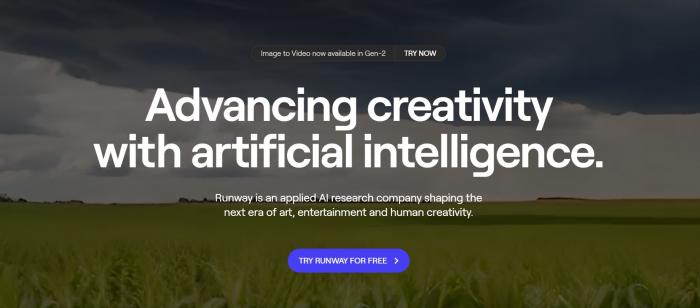 If there were two keywords to be given for Runway ML, they would be 'online' and 'machine learning'. By combining each of them, the Runway ML application aims to provide users the ultimate video editing experience by eliminating the unnecessary time spent on editing while also giving them access to the application online.
With this, the app also removes the need to install and store an app that would take up a lot of space on the local device. Not to mention that the updates would be equally heavy and tedious. The Runway ML AI is something that has never been attempted in video editing software tools before, at least not on this scale.
The application also aims to provide users with the experience and results they'd easily get with the top-tier video editors such as After Effects, DaVinci Resolve, and more. You can edit and export videos in 4k while the cloud rendering allows it to process content in PNG, ProRes, and more. Lastly, Runway is an app that is still actively updating, but it's all online, so users don't have to worry about downloads and storage.
How does Runway ML work?
Runway ML and Runway features in general, such as the Runwayml green screen are designed to be as automatic as possible. What this means for the user is that they are now able to create and edit things such as green screens with just a few clicks. For instance, if you want to apply a green screen over a background or an object, all you have to do is select it and export. Some of the features include the green screen, removing objects, adding optical flow, and more. It can also learn new patterns and graphics if you select the ML Lab section and provide different images.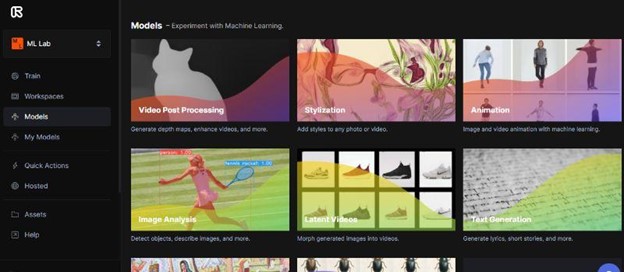 Runway ML offers you all the standard features, 1 GB of storage, export options up to 720p quality, and unlimited projects under the free account. You get access to more features and storage as you go up the payment editions. The paid editions start from the Starter version that costs $15 per month and goes all the way up to the Pro edition with $100 per month cost.
What can Runway ML offer you?
The Runway ML is an excellent application to use if you are into green screen editing or if you want to optimize your video in a matter of seconds. The biggest advantage that this tool offers, however, is the sheer speed of producing a video. You can upload videos and make huge edits in just a few minutes, which is simply not possible with standard video editors. However, it must be noted that the majority of features provided by Runway ML are provided under paid accounts only. As a free user, you can mainly deal with basic editing at high speed. Also, since this application is somewhat recent, it still doesn't have the range of other premium apps such as After Effects though it has the time to reach there eventually.
How to use RunwayML green screen?
As mentioned before, the good news is that users don't have to worry too much about the how-to of using Runway ML since it is mostly an automatic video editing tool. So, let's go over the basics of using the green screen with the application.
Make use of this link to access the Runway ML website and click on the Try Runway button. You can quickly sign up with your Google account. It is free of cost.
2. Under the Shortcuts sidebar on the left, click on the Green Screen option to initiate it. Choose a clip and drop it on the timeline below.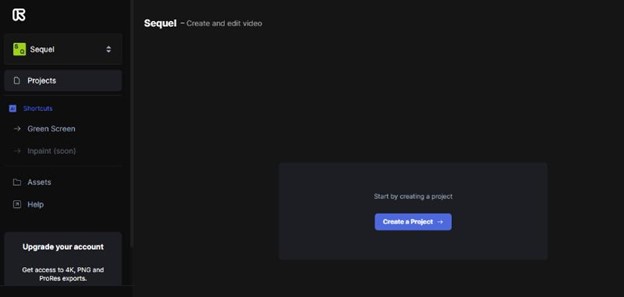 3. Mark the area that you want and click on Export. You can choose the export settings as per your preference.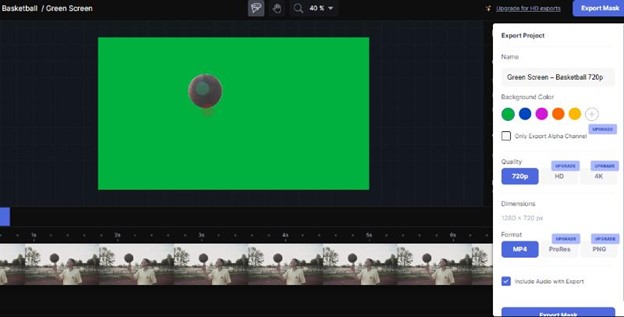 The app will offer a tutorial for this as well.
Conclusion
Runway ML is a highly innovative piece of software online that makes great use of Machine Learning and AI to eliminate a lot of the tediousness attached to traditional video editing and instead gives a refreshing way of production. It also achieves what it aims for, which is providing a premium, hassle-free editing experience online. Though it is yet not comparable to the likes of After Effects or Luminar, it offers enough incentive anyway for all kinds of users.
Also read: Top 10 Rotoscoping Software Review
FAQs
1. Is Runway ML free?
Runway ML is definitely free to use and so is the account creation. With the free edition, you can create unlimited projects and export your videos at 720p quality at max, which is decent. For more features and storage, you can upgrade to a paid account starting from $15 per month.
2. How do I download RunwayML?
That's the neat thing about RunwayML, you don't. This video editing application is designed to be online and does perfectly well as an online product. You can instead start using the online app immediately by clicking on the link given above and doing a quick sign up. It offers an editor akin to most professional editing tools.
3. What does RunwayML do?
In simple terms, RunwayML streamlines your entire video editing process. With the help of Machine Learning technology, it has managed to automate the tedious tasks of editing such as working with green screens, using brushes and such to mark areas in detail, spending hours making art, etc. It uses ML and AI to produce graphics by itself and selects areas for editing by itself through predictions and pattern recognition.