This article reviews the top 10 rotoscoping software for creating detailed animations or effects by tracing over live-action footage frame-by-frame. The review covers factors such as ease of use, processing speed, output quality, and compatibility with different devices and platforms. Ideal for animators, filmmakers, or anyone who wants to create professional-level animation.
Rotoscoping animation is a technique that enables creators and VFX artists to trace objects and animate them with unparalleled realism, applicable to both characters and other objects. This method addresses the challenge of achieving lifelike animation in movies and video games, and has been employed in popular productions such as Marvel's Guardians of the Galaxy (2014) and The Lord of the Rings (1978). Invented in the early 1900s, rotoscoping has become a vital tool for artists worldwide.
This article will provide an overview of rotoscoping and present a list of applications, helping users find the right solution for their animation needs based on my extensive experience in the field.
What is Rotoscoping?
Rotoscoping animation is an entire process of creating lifelike animations and movements of characters. This animation process involves tracing footage of the character in extreme detail, usually frame by frame. This makes rotoscoping animation a complicated and demanding task. However, the results you get from rotoscoping are in most cases highly immersive and remarkable, which is why it has been utilized by visual mediums such as films and games to this day.
You can see the earliest example of rotoscoping animation here. As mentioned before, the rotoscoping animation process was first developed in the early 1900s, with the animated film Out of the Inkwell being the first major breakthrough. This film is simplistic but follows the core principle of rotoscoping, that is, making animation by tracing a real-life object or person. In this case, the clown costume is worn by a person and the actions were performed by the actor as well. They were then taken to the next level through rotoscoping to create animations.
Best 10 Rotoscoping Software Review
| Product Name | Processing Speed | Output Quality | User-Friendliness | Online/Offline | AI-Based | Free/Paid | Suitable for |
| --- | --- | --- | --- | --- | --- | --- | --- |
| Adobe AE | ★★★★☆ | ★★★★☆ | ★★★☆☆ | Offline | ❌ | Paid | Professional animators or visual effects artists |
| Boris FX | ★★★☆☆ | ★★★★☆ | ★★★☆☆ | Offline | ❌ | Paid | Independent filmmakers or small production teams |
| Nuke | ★★★★☆ | ★★★★☆ | ★★★☆☆ | Offline | ❌ | Paid | High-end post-production studios or VFX houses |
| Synthetik | ★★★★☆ | ★★★★☆ | ★★★★☆ | Offline | ✅ | Paid | Digital artists or 2D animators |
| Runway ML | ★★★★☆ | ★★★★☆ | ★★★★☆ | Online | ✅ | Freemium | Machine learning enthusiasts or researchers |
| Comixify | ★★★☆☆ | ★★★☆☆ | ★★★★☆ | Online | ✅ | Paid | Comic book creators or graphic designers |
1. Adobe After Effects
Price: The rotoscoping software offers a free trial of 7 days, which includes other Adobe products as well. Apart from that, the software offers 3 paid plans, starting from the $20.99 per month (annual) plan.
Notable features: Comprehensive rotoscoping, 3D effects, tracking, high compatibility with other tools.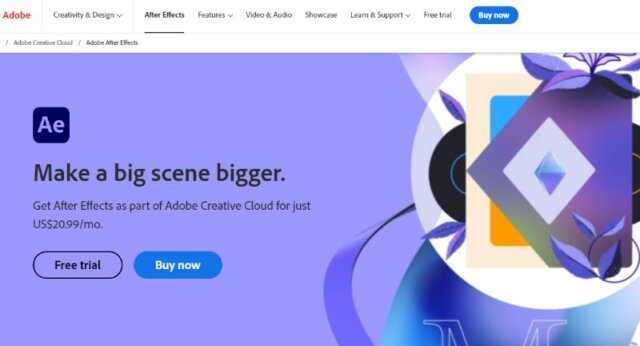 After Effects from Adobe is essential software for rotoscoping animation and various types of video editing, suitable for professionals in the industry. Its compatibility with numerous other tools ensures quick and impressive results.
Key features include robust rotoscoping capabilities, 3D effects, and tracking. The software's integration with other Adobe products makes it a versatile option for post-production work.
The main downside is its limited free trial and expensive pricing. Additionally, mastering After Effects requires a significant time investment, and it demands a high-performance system.
Pros:
A comprehensive rotoscoping app.
Delivers great results in all aspects.
Highly compatible with other software apps.
Cons:
Limited free use and expensive.
Need a really good system regardless of rotoscoping.
Learning After Effects takes time.
2. Boris FX
Price: There are many paid offers provided by this rotoscoping software. You can download a free trial for testing. As for the paid versions, the monthly plan costs $100 and the annual plan costs $695. However, they offer different plans for academias, enterprises, and students.
Notable features: Industry-standard rotoscoping, composite blend modes, used in major films and shows.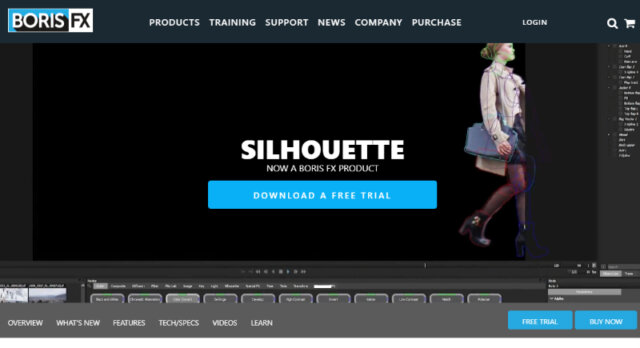 Boris FX is an industry-standard rotoscoping software that enables users to create realistic animations from scratch. Its extensive feature set makes it ideal for professionals working on high-profile projects.
Notably used in Avengers: Endgame and Game of Thrones, Boris FX offers 22 new composite blend modes and advanced paint features in its 2021 update. The software supports Windows, Linux, and MacOS operating systems.
Despite its impressive capabilities, Boris FX's limited free trial, expensive pricing, and occasional performance issues may deter some users.
Pros:
Sophisticated rotoscoping app.
Offers great features.
Used in notable films and shows.
Cons:
Limited free use.
Paid options are expensive.
It can have performance issues at times.
3. Nuke
Price: You can try the free rotoscoping software version for a short period of time with a free trial. Apart from that, it offers a variety of paid options, starting from the Nuke Render that costs $622.
Notable features: Industry-standard rotoscoping, 3D tracking, compositing, building models, efficient performance.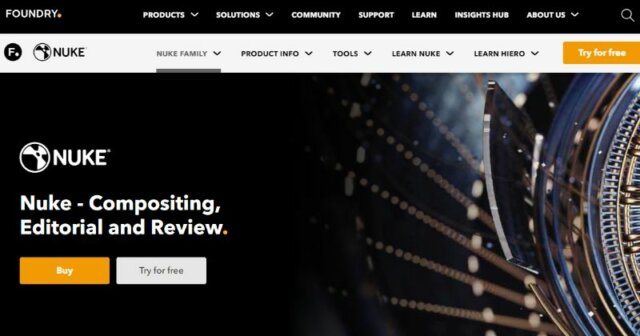 Nuke is another industry-standard rotoscoping software used in large-scale projects, catering to experienced professionals in the field. It covers various aspects of post-production with ease.
Nuke's advanced features include 3D tracking, compositing, and model building. It stands out as one of the few rotoscoping apps with minimal system resource demands.
Although Nuke offers excellent results and generous student offers, its high price point, steep learning curve, and unsuitability for beginners are notable drawbacks.
Pros:
Highly efficient.
Offers great results.
Generous student offers.
Cons:
Really expensive.
Takes time to learn the app.
Not suitable for absolute beginners.
4. Synthetik
Price: The rotoscoping software offers a free trial available from the website. When it comes to the paid options, you can purchase a new edition for $199 either on Mac or Windows.
Notable features: Automated rotoscoping, artistic capabilities, automatic sketches, animation and auto-rotoscoping, one-click art evolver.
Synthetik is a unique rotoscoping software that streamlines the animation process with automation, making it faster and easier for users. Its artistic capabilities are well-suited for those looking to create drawings or paintings from recorded content.
Key features include automatic sketches, animation and auto-rotoscoping, and one-click art evolution. Synthetik offers a more creative approach to traditional rotoscoping.
The software's limitations include its limited free trial, suitability as an online tool rather than traditional rotoscoping software, and lack of certain features present in other tools.
Pros:
Automatic processing.
Unique use of technology and animation.
Offers good features.
Cons:
Limited free use.
Can be better used as a rotoscoping online tool.
Not suitable for traditional rotoscoping.
5. Runway ML
Price: Runway ML is a rotoscoping online free of cost app but with storage and export limitations. To exceed those, you can purchase a paid account starting from $15 per month.
Notable features: Highly automatic, intuitive UI design, innovative video editor and animator.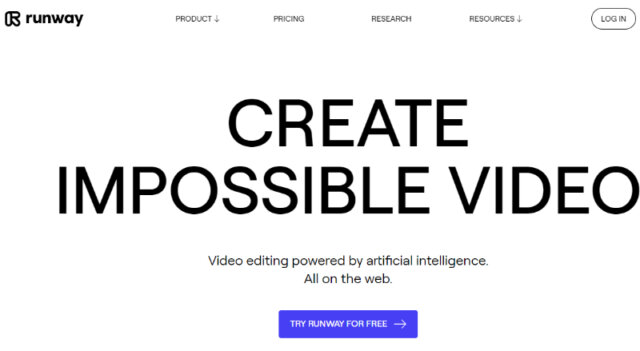 Runway ML is a top choice for those seeking high-end results with minimal manual work. As an online video editing and rotoscoping tool, it caters to users who value efficiency and automation.
The software leverages Machine Learning algorithms to perform much of the heavy lifting, allowing users to focus on the creative aspects of their projects.
Runway ML's limited free version, relatively few rotoscoping-specific features, and storage constraints are its main drawbacks.
Pros:
Highly automatic.
Intuitive UI design.
Innovative video editor and animator.
Cons:
Limited free use.
Can have more features for rotoscoping.
It should offer more storage.
Also read: Runway ML Review: Creating Impossible Video with AI
6. Comixify
Price: This rotoscoping app works on credits and the paid packages start from $10 though you can use the tool for free with limitations after a quick sign up.
Notable features: AI-based rotoscoping, lightweight application, 4k resolution support.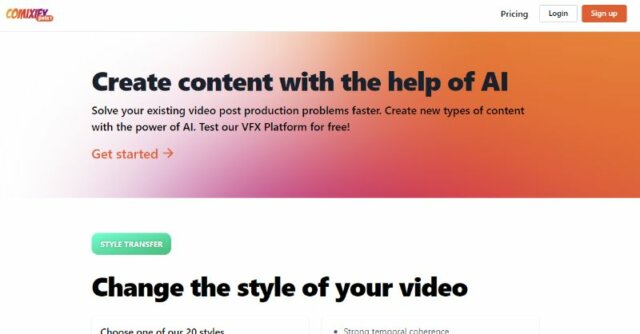 Comixify is an AI-based rotoscoping tool that simplifies the animation process by automating many manual tasks. It's suitable for users who want to create animations quickly and efficiently.
Despite being a lightweight application, Comixify supports 4k resolution, providing high-quality results for users.
The software's limitations include its limited free version, relatively few features compared to other tools, and occasional slow performance.
Pros:
AI based rotoscoping.
Lightweight application.
4k resolution provided.
Cons:
Limited free use.
Could have more features.
The app can be slow sometimes.
7. Rokoko Studio
Price: The rotoscoping software grants access to standard features and three collaborators on the free mode. The paid versions extend this and start from $19 per month for each creator.
Notable features: Body and face recording, accurate motion capture, editing options like filters and creating loops.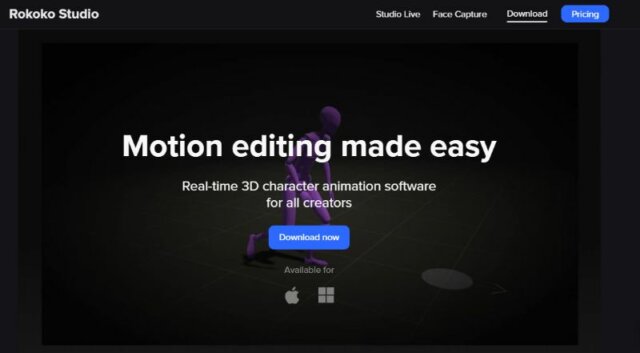 Rokoko Studio is a powerful video editing and rotoscoping application, ideal for users seeking accurate motion capture and a variety of editing options.
Key features include highly accurate body and face recording, as well as editing options like filters and loop creation. The software is easy to download and doesn't consume many system resources.
Rokoko Studio's limited free version, occasional bugs, and lack of some features are its main drawbacks.
Pros:
Great design.
Pretty good UI design.
Relatively easy to understand.
Cons:
Limited free use.
It may have the occasional bug.
Could add more features.
8. Blender
Price: Blender is a free rotoscoping software as well as open source. Along with that, you can download the setup easily from the website without any signups.
Notable features: Open-source, versatile for various projects, innovative and user-friendly.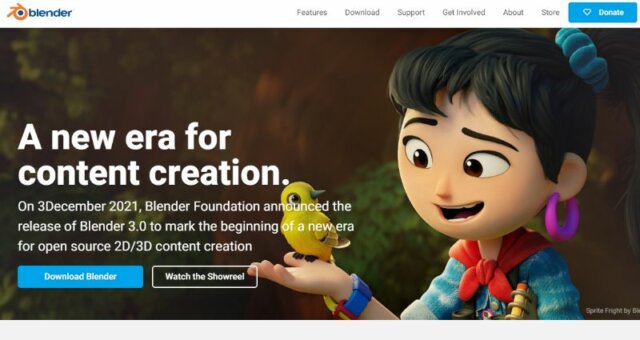 Blender is a highly accessible, open-source program popular among creators of all types, including those working on YouTube videos and rotoscoping projects.
The software covers a wide range of capabilities, such as rotoscoping, rendering, sculpting, and modeling, making it a versatile choice for different needs.
Despite its many advantages, Blender has a steep learning curve, occasional performance issues, and requires regular updates to stay current.
Pros:
Most accessible.
Useful app for all kinds of projects.
Innovative and user-friendly.
Cons:
Learning Blender takes time.
Can have occasional performance issues.
Need to keep upgrading.
9. Pencil2D
Price: This rotoscoping app is free to download and use without requiring any account sign ups.
Notable features: Simple to use, quick processing, cross-platform support.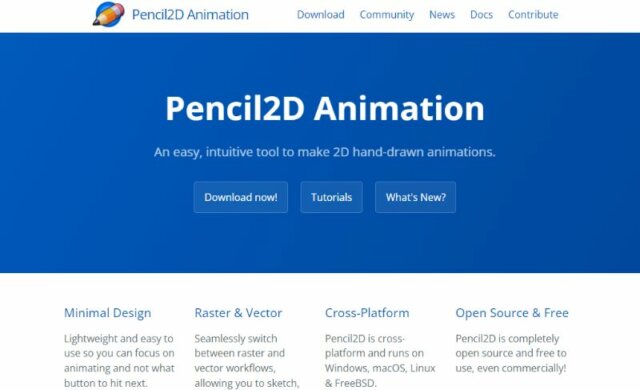 Pencil2D is a user-friendly application that, while simpler than other tools on this list, offers an intuitive UI design and a wealth of tutorials on its website.
The editor provides multiple layers to work on, enabling users to learn traditional animation workflows. Pencil2D is also available on various platforms, such as Ubuntu, Linux, and more.
Limitations include its restricted free version, a lack of some features found in other tools, and unsuitability for intensive animation projects.
Pros:
Simple to use.
Quick processing.
Cross-platform support.
Cons:
Limited free use.
Needs more features.
Not suitable for intensive animation.
10. Synfig Studio
Price: This rotoscoping software is an open source program and has two different download options: Stable and Development. Either can be bought for $5 for permanent use.
Notable features: Easy to use, good compatibility with platforms, multiple download options.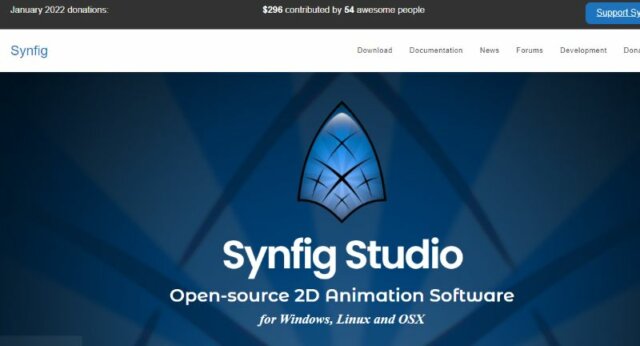 Synfig Studio is a decent video editor that runs on various systems, such as Windows, Linux, and OsX, catering to users seeking a straightforward animation creation experience.
The software allows users to work with layers and filters, vectors, animations, and more. The editor's design makes it easy for users to create standard animations with convenience.
Synfig Studio's main drawbacks include its unsuitability for intensive animations, limited feature set compared to other tools, and restricted 3D options. However, its affordable price and ease of use make it an appealing choice for beginners and those with simpler animation needs.
Pros:
Easy to use.
Good free trial.
Good compatibility with platforms.
Cons:
Not suitable for intensive animations.
Needs more features.
Limited 3D options.
Conclusion
Rotoscoping software applications can be an important tool for you to have because of their variety in features and mostly great technical performance. Apart from that, there are enough kinds of rotoscoping software apps to suit your own needs. When it comes to online editing and animations, Runway ML is an excellent choice whereas apps such as After Effects and Nuke are evergreen, go-to tools for all kinds of intensive animation work.