In this review, we thoroughly look into Quizizz AI, an AI-powered application on desktop and mobile that is taking education to a new level with its fun quizzes and content.
TLDR
Quizizz is an education-based online platform for creating fun quizzes and more. It enables teachers to create engaging quizzes and assessments that can provide instant feedback as well. It fosters active student participation.
Quizizz AI offers many different features. For instance, Quizizz for school caters to education while it has another section for employees. Teachers can use it to create customized quizzes, helping them assess students' knowledge, track progress, and make learning more enjoyable through gamification of learning. Students benefit from Quizizz as it offers an interactive and fun way to review and reinforce their learning, improving retention and comprehension.
What Is Quizizz For School?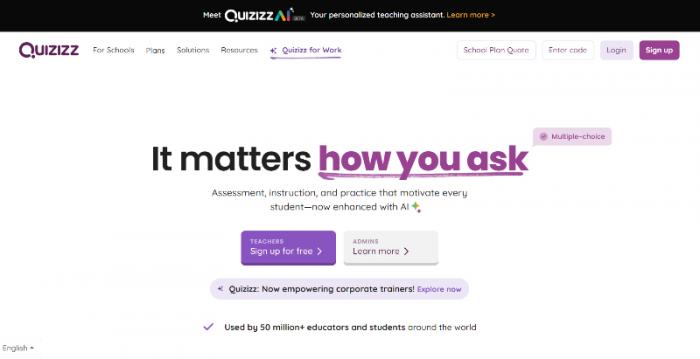 Quizizz is a versatile and user-friendly educational platform designed to elevate the learning experience for teachers, students, and parents. This interactive tool allows educators to create engaging quizzes and assessments with ease. Quizizz is a well-established and reputable brand in the realm of educational technology. Known for its innovative approach to learning, the app has gained recognition for its user-friendly platform that transforms traditional assessments into engaging and gamified experiences.
Price: Quizizz AI does not display prices for all exclusive features except Quizizz Super, which costs $12 per month. Prices also depend on the user's location.
It offers a free trial, but if users want to get better access, they can request a quote using their work email.
Platforms: You can use Quizizz join or sign up option to get an account first and use it online on desktops. It is also available on mobile devices running on iOS and Android.
Quizizz for school has many cool features that make education more approachable and fun. You can create a sports quiz, college quiz, and more. Here are some of its prominent features:
Feature 1: High Accessibility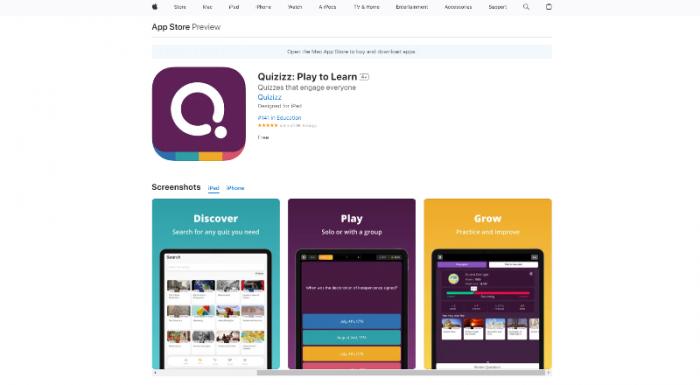 Be it a desktop, tablet, or mobile phone, you can access Quizizz from anywhere. A school or a workplace well-equipped with technology can make full use of Quizizz. Moreover, it enables students and teachers to get quick access to their work within seconds. Not to mention that the app is continuously improved so that it can provide smooth performance.
Feature 2: Quizizz Live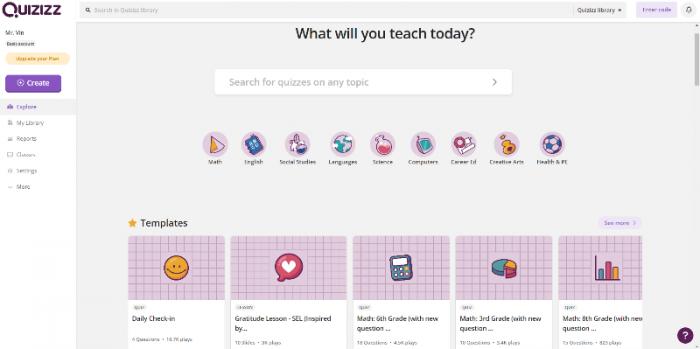 The platform enables users to create live quizzes, which can drive the participation of students ahead. This can be a valuable tool for educators to engage with their students in real-time and assess their understanding of the material during live lessons or virtual classes. Live quizzes can enhance the interactive and participatory aspects of remote learning. Here are some other best virtual classroom apps to consider.
Feature 3: Real-time Feedback & More
Quizizz provides instant feedback to students after every question or quiz. This allows them to recognize and rectify the mistakes they may have made earlier. The benefit of this feature is that students become much more eager to test their knowledge and with instant feedback, they can quickly learn more.
Feature 4: Gamified Learning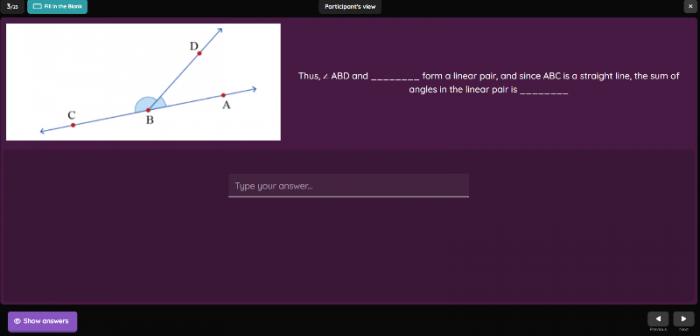 Gamified learning features, such as gamified quizzes, are what typically define Quizizz. It gamifies the learning experience by turning quizzes into fun and engaging games. It uses features like leaderboards, scores, avatars, and more, to not only make each student feel like a part of the learning process but to also motivate them to perform better. Gamification can significantly increase participation rates and make complex subjects seem doable.
Quizizz For Work
Besides education, Quizizz provides impressive tools and features for work as well.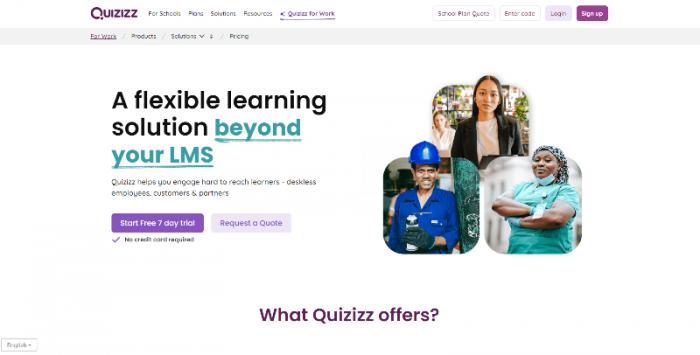 Feature 1: Live and Remote Onboarding
Quizizz for work can ensure that the process of onboarding is as smooth as possible. It supports both live and on-the-go courses, making it easy to engage new hires from day one with interesting tests. There's also an increase in productivity for companies as Quizizz for work is easy to use.
Feature 2: Interactive Lessons
Beyond quizzes, Quizizz for Work allows for interactive lessons. You can easily embed images and videos, import existing slides, and seamlessly integrate assessments into the lessons. You can also use whiteboards for collaborative sessions.
What is Quizizz AI?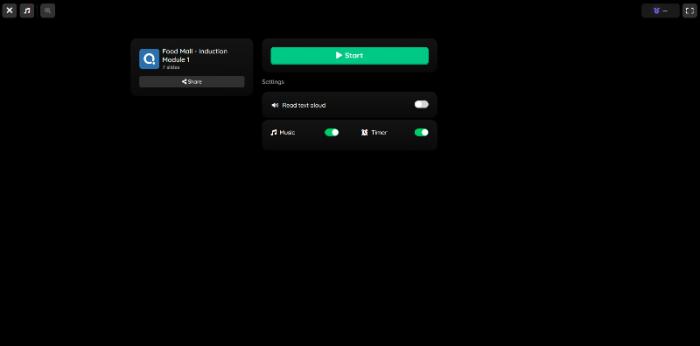 Quizizz makes use of AI technology in many aspects of its design. It is used for automatic grading, content and quiz creation, suggestions, etc. It also uses data analytics to provide insights into student performance and offers a personalized learning experience. Quizizz AI also helps with difficulty setting according to the students' levels. Additionally, AI aids in enhancing user experiences, suggesting relevant content, and detecting irregular quiz behavior for security purposes.
Various Use Cases of Quizizz AI
The features of Quizizz AI can be applied to many fields for better grading, evaluation, and more. Primarily, this platform is suitable for teachers, professionals, and students.
Efficient Quiz Creation: Quizizz's AI assists educators in generating quizzes by suggesting questions based on topics and difficulty levels. It can import content from documents, expediting the creation process.
Intuitive UI Design: It is essential for an education or learning-based application to have the sort of UI that anyone can get behind, especially when it could be used by teachers who aren't tech savvy. Quizizz makes sure its UI is beginner-friendly and quick.
Data-Driven Insights: AI analyzes data generated from quizzes, offering insights into student performance and identifying areas that may require additional attention. Educators can tailor their teaching accordingly.
Personalized Education: Quizizz, with the help of its personalized features and feedback system, can make each student feel involved in their own learning journey.
How to Generate Quizzes Using Quizizz AI?
Step 1: You can first sign up or login to your account on Quizizz. This will take you to the admin dashboard. Click on "Create" on the left toolbar.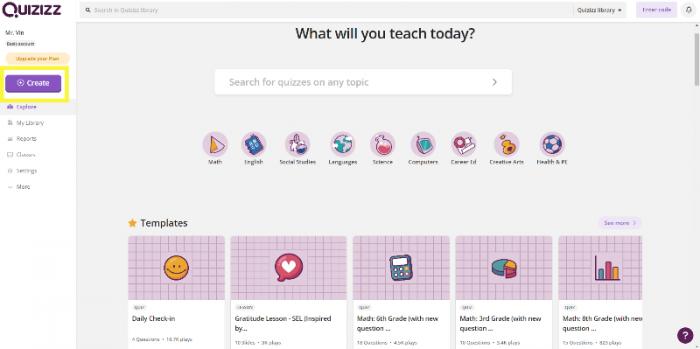 Step 2: Click on "Quiz" and then you can choose the type of quiz that you want to create. There are many options to choose from. Once decided, click on the option. You will then be taken to the editor page.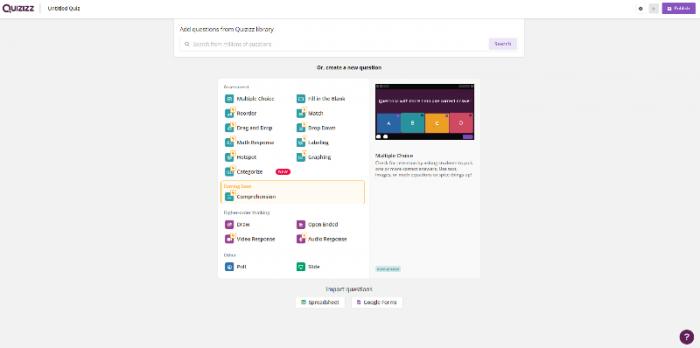 Step 3: Design the quiz as you see fit. You can use various tools to make your questions interesting, such as adding images to the quiz. To finalize, click on the "Save question" button. You will also receive a score indicating how good your quiz is, so you can always go back and make changes.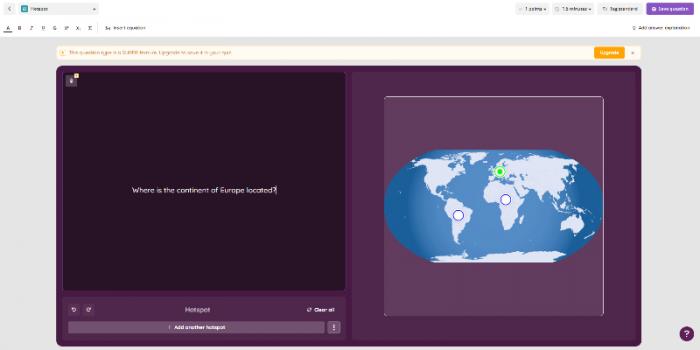 Pros and Cons of Quiziz
Pros

Cons

Highly useful and innovative features.
Highly accessible, thanks to its presence on mobile devices.
Extremely responsive and good UI design.

It can be a bit confusing to use at first.
Quizizz for work c an include more features.
Quizizz vs Quizlet
Quizlet is another learning app that makes use of AI and modern technologies to improve the education process.
Products

Price

Quality and

Quantity of Features

UI Design and

Ease of Use

AI Tools

Speed

Quizizz

 

Quizizz Super costs

$12 per month.

High quality and plenty

of features.

Quizizz is extremely easy

to use and responsive.

Incorporates AI into

design.

Pretty quick all

across the board.

Quizlet

Quizlet's premium

version costs $7.99

per month.

Great features, but not

as many as Quizizz.

Responsive and cool UI.

A bit confusing to use.

AI-based design plus

special AI features.

Quizlet is really

quick.
Conclusion
Utilizing AI and other modern technologies in education is absolutely essential in propelling learning into the future and equipping students with the skills and knowledge needed for success.
Quizizz stands out as an impressive platform that effectively harnesses these advancements to enhance the learning experience. With a wide range of features tailored to engage both teachers and students, Quizizz goes beyond the classroom to cater to corporations, making it a versatile and valuable tool for diverse learning environments.
One of Quizizz's standout features is its user-friendly interface design, which is simple yet attractive, ensuring an intuitive and enjoyable experience for both educators and learners.
FAQs
How to join Quizizz?
It is easy to sign up on Quizizz. Follow these steps to know more.
Step 1: Use this link to access Quizizz online and click on the Sign Up option.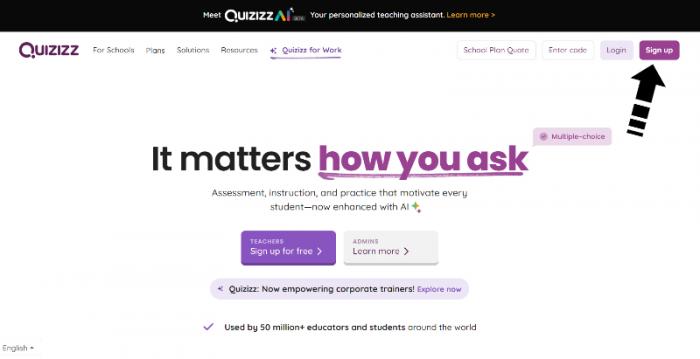 Step 2: Enter your email or phone number and choose the right option. You may be asked to add more details, such as your name and password. After this, you can use Quizizz.