Discover the top 10 AI-powered plant identification apps for iOS and Android devices in this comprehensive review. With features such as accuracy, processing speed, and user-friendliness, these apps are perfect for nature lovers looking to identify plants with ease. Find the best app for your needs and explore the world of flora like never before!
Having the correct information and knowledge about the plant is essential for ensuring healthy growth. Using AI technology, searching for plants and their types has become super simple. With just pictures of plants, you can get all the necessary data for nurturing the perfect plant. For many people plants are like babies, they require care, love, and support too. Hence knowing whether your babies are "safe and sound" is important, and with a free plant identification app you can easily find that out!
Top 10 AI Plant Identification Apps
| Product Name | Identify Speed | AI Based | Free/Paid | Suitable for |
| --- | --- | --- | --- | --- |
| Picture This | ★★★★☆ | ✅ | Freemium | Casual plant enthusiasts |
| Pl@nt Net | ★★★★★ | ✅ | Free | Botany professionals or hobbyists |
| Plant.id | ★★★☆☆ | ✅ | Free | Amateur gardeners or students |
| PlantSnap | ★★★★☆ | ✅ | Freemium | Outdoor adventurers or travelers |
| Nature ID | ★★★☆☆ | ✅ | Free | Wildlife and biodiversity fans |
| Flower Checker | ★★★☆☆ | ❌ | Paid | Professional landscapers or florists |
1. Picture This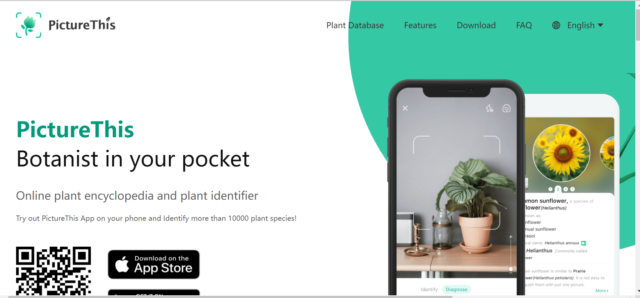 All you need to do is take and upload any pictures of plants and this app will do its magic. It is like an encyclopedia of plants that have details stored of about ten thousand different types of plants. Something that makes it beneficial to use is that it helps users learn facts about the plant and even understand the basic maintenance of the plant.
Pricing: Paid application with a 7-day free trial available.
Pros:
It is one of the fastest and most accurate applications made for plant identification.
It is specific in giving details.
All the information that it provides is known to be quite interesting.
Provides diagnosis for sick plants and gives a detailed explanation about the problem.
It consists of guides designed by experts to ensure efficient and healthy plant growth.
Unlike some applications, it has the feature to identify toxic plants as well.
You can also consult experts online and share your problems to receive instant solutions and treatments for plants.
Cons:
Tends to be slow when used in an unstable network, therefore problematic while traveling.
Can't save images to share with friends.
The interface is slightly difficult to use.
2. Pl@nt Net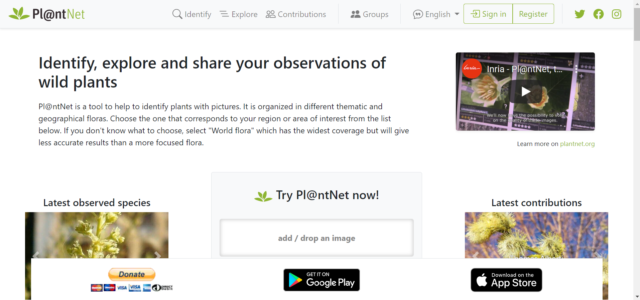 Another one of the best plant identification apps, other than the basic identification through pictures, this app has a unique feature. It has an organized thematic and geographical flora section.
You can select the area or region that you are interested in and get to know various new details. If you are confused about which area to dig through you can select the option "world flora". It will cover the entire earth and scan for you.
Pricing: It is free of cost.
Pros:
It has great themes built in to study, search and understand plants in a better way.
It provides a list of useful plants as well.
Searching is very easy and efficient because of the geographical search feature.
It constitutes data about all parts of the world including Garden by the Bay and several micro-projects.
Can search with ease using just pictures of plants.
Cons:
The world flora option provides fewer details than the other specific geographic area-based options.
The AI plant identification is slightly slow.
3. Plant. id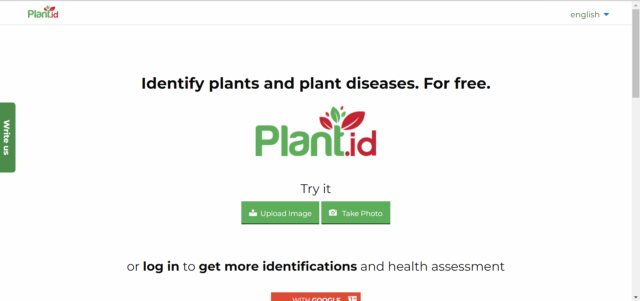 This application is more focused on the identification of diseases in plants. Just by uploading a bunch of photos, this app will help identify the disease within a few seconds.
Pricing: App is not free, the cost starts from 0.5 dollars.
Pros:
The database has records of over twelve thousand plants.
It can identify up to a hundred plant diseases.
Provides care tips as well.
Cons:
Have given the wrong details a few times.
The free version can be used only for 5 plants in a week.
4. Plant Snap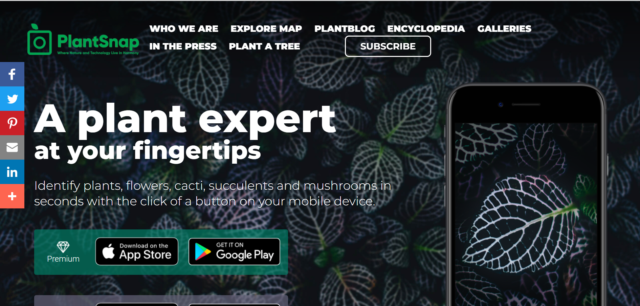 This app can identify all kinds of plants, flowers, cacti, trees, and even mushrooms in just a blink. It can even perform the identification of types of succulents.
Pricing: Free application with a paid version available.
Pros:
It is in partnership with Snapchat to identify and record all existing species of plants.
Several news channels are also in partnership with Plant Snap; it has a separate section for the press.
A complete plant encyclopedia is available to all users.
Results are available in thirty-seven languages.
A special community group is also created for users.
Cons:
Disease identification is not as accurate as plant identification.
An account needs to be created to use.
Details about certain plants are fewer than others.
5. Nature ID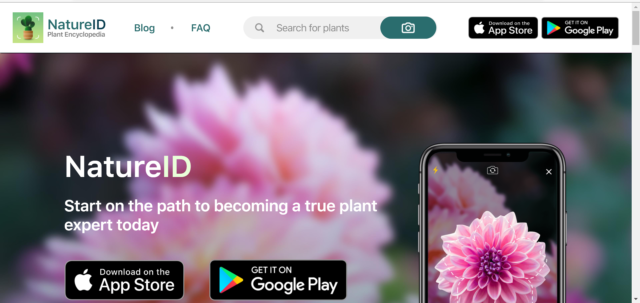 This platform can identify several unique species using a few pictures of plants. It is one of the best plant identification apps.
Pricing: The application is completely free of cost.
Pros:
Several blogs are accessible to all users to help them have a good gardening experience.
Identification of succulents is also possible.
Toxic plants can be scanned and healed easily using the app's advice.
Cons:
The interface is not very user-friendly.
Searching can take extra time sometimes.
6. Flower Checker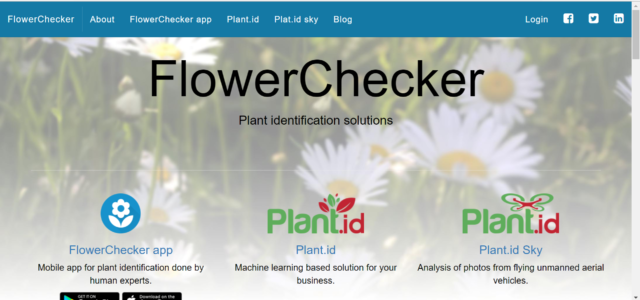 Flower Checker is unique because it is not computer-based. Instead, a team of plant experts works on the images shared and provides all details to the searcher!
Pricing: App costs 1 dollar for each correct identification, the first three are free.
Pros:
Human-based Identification.
Easy to use app.
Cons:
Tends to be slow at certain times because no machinery is involved.
For every correct answer, a fee is required.
7.  Garden Answers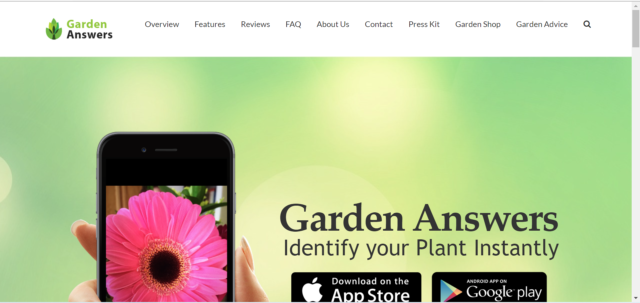 Garden answers can identify all kinds of plants, diseases, and even pests. You can talk to experts over chat as well for detailed consultations.
Pricing: Free as well as a paid version available.
Pros:
Can identify even if the picture is not so clear.
Great for traveling.
Easy to use and fast interface.
Cons:
Can't provide solutions for plant diseases.
Several ads in between every search.
8. LeafSnap- Plant Identification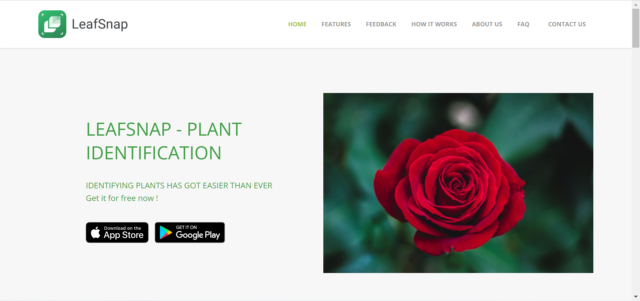 Being one of the best plant identification apps, with LeafSnap you can easily identify over ninety percent of the plant species that are known to man.
Pricing: Free with a premium version available. In-app purchases range from 1.99 dollars to 18.99 dollars.
Pros:
Easy to use.
A geotagging feature is also available.
Visual recognition technology is used.
Can create collections of the plants you love.
Cons:
Ads can be slightly annoying sometimes.
9. Flora Incognita
You can use this app by simply clicking a picture of the plant and the leaf to identify the species. It further provides details like protein status, scientific name, etc.
Pricing: Free for use.
Pros:
The database consists of above forty-eight thousand European species.
Results can also be shared on social media networking sites.
Plant observations can be saved for further later use.
No ads even when it's free of cost.
Cons:
Indoor plants cannot be identified.
Certain plants have no details or characteristics mentioned.
10. Plantifier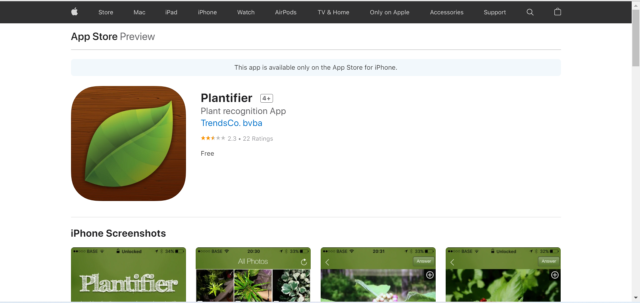 Plantifier is a human-based app, where users can upload pictures and a team of experts provides results to the image. It usually takes about 1 hour to identify and receive all details about the plant.
Pricing: Free of cost.
Pros:
Easy to use and very helpful.
Free of cost yet completely ad-free.
Responses are super quick.
Cons:
Not very technologically advanced.
Several minor issues have been reported.
The Notification system is not good.
Conclusion
Plant identification apps are designed with AI technology to create an easy and user-friendly application for hikers, nature lovers, gardeners, or newbie planters. The above-mentioned applications are some of the best plant identification apps available online. This article compares them to help you pick the most suitable app that'll aid in the identification of your plants as well as any diseases in them if any. Read more: Top 10 Dog Scanner Apps Review.