This article reviews the top 10 dog scanner apps for identifying dog breeds or checking the health and well-being of a pet. The review covers factors such as accuracy, user-friendliness, compatibility with different devices, and availability of additional features such as online forums or veterinary support. Ideal for pet owners or animal lovers who want to learn more about their furry friends.
Dogs, cats, and many other types of pet animals are extremely beloved and there's no need for justifying that. Naturally, as humans, we would love to know more and more about such animals, especially dogs since there are so many breeds of them and their behavior always interests us. Thanks to advanced AI and Deep Learning technology, we have something called AI dog scanner applications that give us a lot of insight about dogs that will never fail to fascinate you. With that said, we will be going through a list of the ten best dog scanner applications that no dog lover can miss. We will summarize them but highlight the prices, pros and cons, and features as well.
Best 10 Dog Scanner Apps Review
| Product Name | Processing Speed | User-Friendliness | AI-Based | Suitable for |
| --- | --- | --- | --- | --- |
| Dog Scanner | ★★★★☆ | ★★★★☆ | ✅ | Pet owners or animal lovers |
| Dog Identifier | ★★★☆☆ | ★★★★☆ | ❌ | Casual users or anyone with basic needs |
| Dog Breed Scanner | ★★★☆☆ | ★★★☆☆ | ❌ | Veterinary professionals or animal shelters |
| DoggyApp | ★★☆☆☆ | ★★★★☆ | ✅ | New dog owners or families with children |
| Dog Breeds Identifier | ★★★★☆ | ★★★★☆ | ❌ | Professional breeders or animal welfare groups |
Price: This dog scanner app offers all the basic features free of cost but for the premium version with no ads, you will need to buy a paid subscription.
This mobile application is an AI dog scanner that is worth checking out for every dog enthusiast as it offers many informative tools in the app that lets you know about each breed of dogs in high detail. For instance, when you are able to scan a dog, the app recognizes its breed and displays a page with content written about the dog. Not to mention that it does so pretty quickly. In situations where there are no dogs around, you can instead scan humans, such as yourself or friends, and see which dog you most resemble to. Finally, this app also offers a community of fellow dog lovers and you can share pictures to get likes and connect.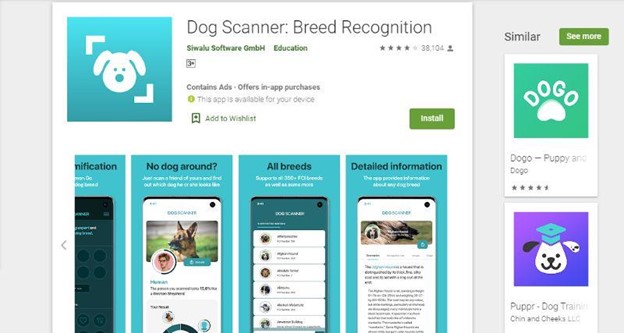 Pros:
Really good features.
It has a good design.
Good content database.
Cons:
Contains in-app purchases.
Limited free use.
Too many ads.
Price: This mobile dog scanner application is free to use but it does contain in-app purchases, which depend upon the nature of the purchase.
This application combines the power of AI and Machine Learning to form an automatic dog identifier application that works really well and accurately. With this app, you simply need to have an image of the dog that you want to know more about. So, you can simply click a picture of the dog and upload it later on the app to get info. It works pretty fast and provides you with ample data about the type of dog plus it provides you with blogs and videos. You can also watch funny videos of dogs if you don't happen to be near any in real life.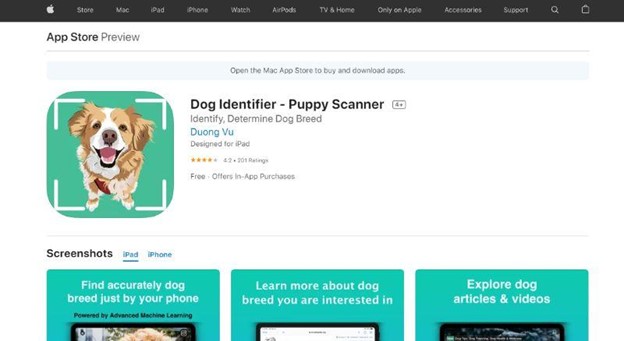 Pros:
Pretty good features.
Offers info from reliable online sources.
No ads.
Cons:
The app can crash on occasion.
The free trial tends to get cancelled randomly.
The in-app purchases can be expensive.
Price: While this dog scanner application is free to download, it does contain many ads and information regarding potential in-app purchases isn't given.
This AI dog scanner is a rather simple application that is mainly meant for scanning and fetching information related to the scanned dog. The UI design of this application is easy to follow as well, as it displays a clear image of the dog and states the breed below it. If it happens to be a hybrid, you will see the breeds and the divisions among them in percentages. You can also be redirected to the breed's Wikipedia page so that you can read more about them.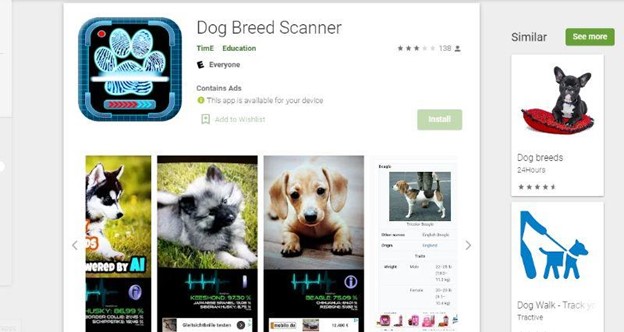 Pros:
Simple to use app.
Provides quick results.
High number of breeds recognizable.
Cons:
Can have inaccuracies.
Too many ads.
Tends to have performance issues.
Price: This dog scanner app contains ads but can be downloaded for free. When it comes to in-app purchases, there is nothing given as of yet.
Similar to the first two AI dog scanner apps on this list, DoggyApp can also scan and recognize dog breeds through simple pictures while also providing a few other cool features to make users come back regularly to the app. For example, you can have fun sharing dog pictures with the community and browse through other's pictures as well. It can also recognize hybrid dogs and displays their info in percentages. Also, it can take you to sources with detailed info about the dogs you scanned.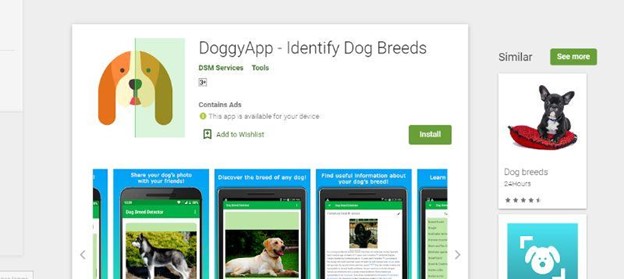 Pros:
Easy to use.
Free to use.
Has a good UI.
Cons:
Too many ads.
Could add more features.
Can be inaccurate at times.
Price: While there are no payment details mentioned specifically, you can download the dog scanner app for free of cost. The app does contain ads and an optional premium version, however.
When it comes to the core functionality, this dog scanner app works similar to other AI dog scanner tools since this app is built from AI and neural networks as well. However, you can create a profile based around your dog and add pictures to it as well. It makes a small social media for your dog, basically, which can then be used for sharing with others. Apart from that, the app has a camera tool for you to click dogs better. The premium version can open up a couple of more features, such as faster results and more breeds.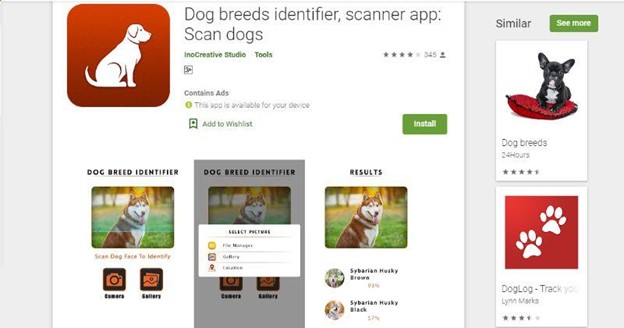 Pros:
Good features.
Easy to use.
Accurate results.
Cons:
Limited free use.
Can have more features.
The premium version can be improved.
Price: This fun application can be downloaded and used for free but it will contain ads. The premium version for this tool may arrive later on.
You can consider this app to be a dog scanner app but in the opposite way. What this app does is ask you quizzes about the dogs themselves and give you the correct information about them after the quiz. So, you don't really have to scan or take pictures of dogs but instead participate in more quizzes to learn more about all kinds of breeds. Also, it contains information about dogs from all over the world, most notably from Russia, China, USA, etc.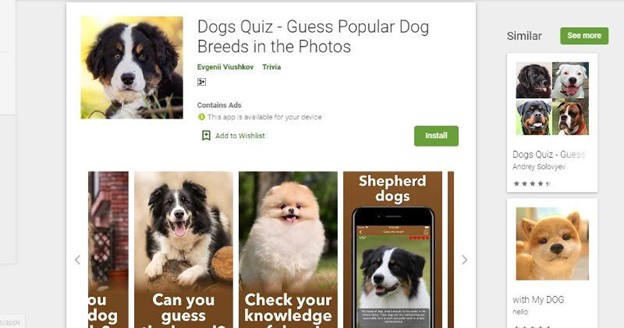 Pros:
Unique dog based app.
Free to use.
Fun to use.
Cons:
Contains ads.
Needs more features.
Can have a better UI.
Price: While you can download and use this dog scanner app for free, it will offer limited features only. For full access, you will need to purchase the premium version from the app.
This is a rather simple dog scanner app that pulls data from an established database and matches it with the images that the user uploads. While it doesn't really have any more features, it does manage to offer the core feature well enough. It has an UI which is easy to understand by any kind of user and offers results clearly as well.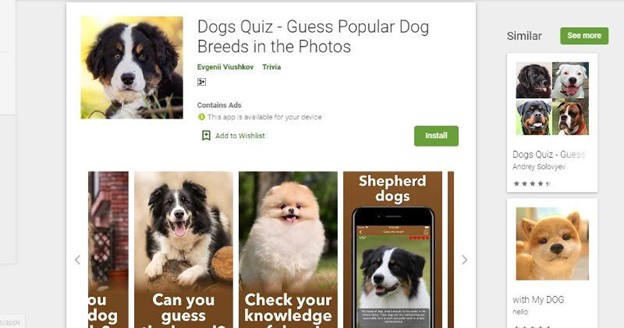 Pros:
Easy to use.
Simple and direct UI.
Quick results.
Cons:
Limited free use.
The premium version doesn't add enough to the experience.
Needs more features.
Price: This application is available for free to all users but it does contain ads. The info regarding a premium version is not given at the moment.
This dog scanner application is definitely one of the more reliable ones as it is quite used to a bunch of different breeds and has data regarding all of them as well. With this app, you can scan or upload an image of the dog and get really well presented information in a matter of seconds. Moreover, you can share your results instantly with the help of the app. They also have their own database of dog pictures which you can access to get a better look.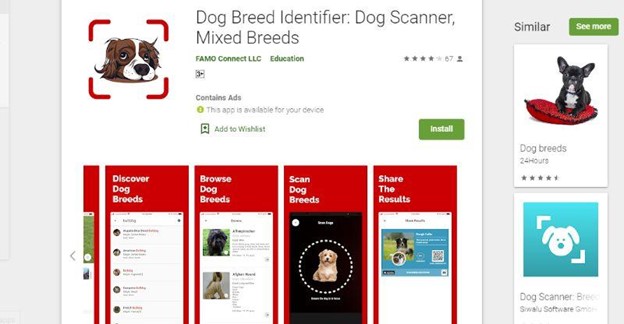 Pros:
It has a good presentation.
Pretty easy to use.
Sharable results.
Cons:
Intrusive ads.
Can be made to work smoother.
Occasional bugs.
Price: The AI dog scanner app is free of cost for downloading and using. It contains ads and currently there is no info about a premium version.
This application is surely an accessible one, providing a really simple to understand UI along with support for multiple different languages. When it comes to the main features, users merely need to have an image of the dog and upload it to the app. The app also offers an integrated camera tool which makes it easier for the user to click pictures.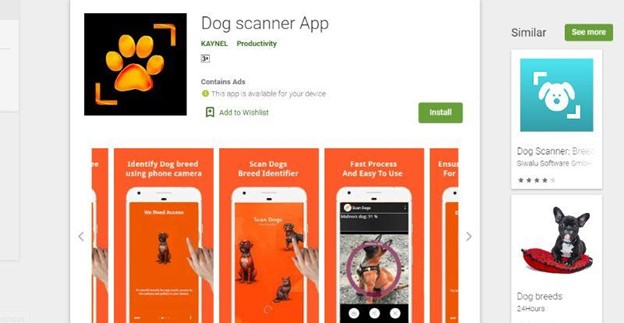 Pros:
Easy to use.
Free to use.
Provides quick results.
Cons:
Can be inaccurate on occasions.
Needs a better UI.
Can add more features.
Price: The app is available for free but has a couple of features behind a paywall for which you will need a premium account. The dog scanner tool also contains ads.
This dog scanner application certainly has a lot going for it. Speaking of the fundamentals, it functions like most AI dog scanner applications in the sense that users can get quick results simply by uploading images of the dog. Moreover, this application also has the integrated camera as well as social features, allowing you to take pictures and share them instantly. You can also take short video clips of dogs to get more accurate results.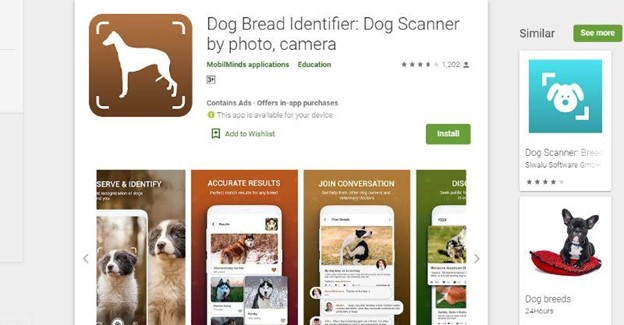 Pros:
Offers many features.
Offers a good UI.
Good performance.
Cons:
Limited free use.
Too many ads.
Has the occasional bug.
Conclusion
Dog scanner applications are an absolute delight to have even if you don't have a pet dog yourself. These apps are designed to give you instant results and easy to use UI, making them really attractive to use for practically everyone. If you want to learn about dogs in a more traditional way, you can try out the Dogs Quiz app. As for the first two apps, Dog Scanner and Dog Identifier, these apps offer you an all-around experience that goes beyond the scanner functionality.
FAQs
1. How can I identify the breed of my dog?
Identifying the breed of your dog is entirely possible, and even easy, with applications such as the Dog Scanner App or any other from this list. All you need is to upload an image of the dog you want to identify into the app and scan it. The app makes use of AI and Deep Learning to give you the results within seconds. Read more: Top 10 AI Plant Identification Apps Review.